Boston Celtics:

2014Game14
November, 23, 2013
11/23/13
7:00
AM ET
Headlines after the Indiana Pacers defeated the Boston Celtics on Friday night at TD Garden:
November, 23, 2013
11/23/13
3:33
AM ET
BOSTON -- The magic number appears to be 14. If the Boston Celtics commit anything north of that number in turnovers, go ahead and put a tick in the loss column.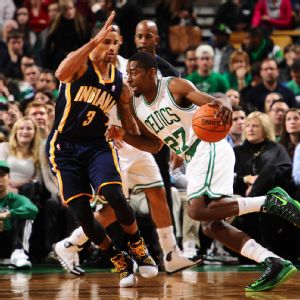 Brian Babineau/NBAE/Getty ImagesJordan Crawford made 10 of 12 shots and finished with 24 points but also had six turnovers.
Nine times this season the Celtics have committed 15 turnovers or more, and nine times this season the Celtics have lost. In fact, the only time Boston has lost when dipping below that number is in Houston, where Boston turned the ball over five times in the opening quarter while the Rockets built a 22-point cushion. No amount of ball security was going to bring the Celtics back in that one.
After being plagued by ball security issues early in the season, Boston appeared to have halted the turnover locomotive by inserting Jordan Crawford at starting point guard with the goal of easing the ballhandling duties on Avery Bradley. Sure enough, Boston's team turnover percentage dipped from a league-worst 22.4 percent over its first four games to a mere 13.9 percent (fifth-best in that span) during a four-game winning streak.
Now Boston has dropped six games in a row and that turnover percentage has spiked back to 17.8 percent (fifth-worst in the league in that span). Boston is giving the ball away 16.8 times per game during the losing streak.
Maybe it should come as no surprise, but during this six-game losing streak, Boston owns the worst offensive rating in the NBA (90 points per 100 possessions). A group that already struggles to put points on the board is further shooting itself in the foot by regularly giving away the ball.
It really boils down to a very simple truth: The Celtics have a minimal margin for error and cannot afford careless turnovers if they want to be competitive.
Even rookie Kelly Olynyk admits it's pretty elementary.
"If you limit your turnovers, you're going to have a great chance to win the game," he said. "The more shots you're getting up, the more chances you have to make it, the more points you're going to put on the board."
And putting points on the board has been no easy task for these Celtics. When the team has struggled to generate offense, their frustration tends to seep into the defensive end, where they lose focus -- even if for brief spells -- and opponents go on runs that Boston simply is not able to overcome.
(
Read full post
)
November, 22, 2013
11/22/13
10:00
PM ET
BOSTON -- Frank Vogel was leaving dinner at Abe & Louie's in Back Bay on Thursday night when a fellow patron shuffled over to intercept him.
"You the new coach?" the man asked.
Vogel nodded, but politely noted that he'd actually been a head coach in the NBA for the better part of three years. That only perplexed the man, who wondered out loud about how that could be if the
Boston Celtics
had only this summer hired their new head coach.
"I'm not the Celtics coach," Vogel explained for the second time that night, having been mistaken for Brad Stevens by his server a short time before.
Such are the perils of being a fresh-faced professional basketball coach. The 40-year-old Vogel admitted the error happens even more frequently in Indianapolis given 37-year-old Stevens' success at Butler University.
Stevens and Vogel became friends during their time together in Indy, often exchanging basketball-related text messages. With Stevens' head still spinning after being hired as Celtics coach in early July, he met up with Vogel at the Orlando Summer League and the pair dined for close to three hours while talking about the NBA transition.
"I was picking
his
brain," noted Vogel, suggesting it wasn't the other way around. "He's a brilliant basketball mind. We were just sharing what the NBA is like, just some of the decisions he's going to have to make, and I gave him some of my insight."
Much of that advice centered on Stevens being himself at the NBA level. Vogel implored Stevens not to change his demeanor or style from the collegiate level, suggesting that the bonds that Stevens forged with his players at Butler would be just as important as those he would form with his players in Boston.
"A lot of college coaches don't run their team like this, where it's kind of a partnership with your players, not a boss-employee relationship," said Vogel. "It's a partnership. I think he's always done that, so it's just a matter of him continuing to be himself. And he'll be successful."
Like any team in transition, the Celtics have endured their lumps this season, losing five straight heading into Friday's visit from the East-leading Pacers. Vogel reminded Stevens to embrace the process while navigating those rough waters.
"Frank was really helpful and really great to me," said Stevens. "We went out to dinner in Orlando at summer league soon after I got the job and talked for a good three hours just about all the little things that are coming. I'd probably ask all different questions now that I've lived it, that I've started to see it. It's definitely different than what I was used to. But he, like everybody else that I've talked to, and all the coaches that I've talked to, have been great about, 'Just stay the course and know that you've got to keep the big picture in mind,' especially when you're going through stretches like this."
It's probably not a surprise to learn that Stevens grew up a Pacers fan, so he was actively rooting for Vogel as recently as five months ago. Before Friday's game, Stevens playfully joked, "I grew up a Pacers fan and really that was the team I rooted for for the first 36 years of my life. And now, they've got their best team that I've ever seen in my lifetime. Of course that's how it works, right?"
Then he added, "It's fun a team to follow, a great organization, great leadership all the way throughout the organization. And I couldn't be happier for Frank Vogel. I think he does a great job. I wish them all the best, just not three times a year."
Vogel likewise wants the best for Stevens. Even if he can't walk around Boston without people confusing him for the new Celtics coach. Did it at least get him a free meal?
"No, if I said I was Brad Stevens it probably would have," said Vogel. "I wasn't very smart with my answer."
November, 22, 2013
11/22/13
9:45
PM ET
BOSTON -- Here's a look at how the
Indiana Pacers
defeated the
Boston Celtics
97-82 Friday night at TD Garden:


THE NITTY-GRITTY
As well as the Celtics played for the first two quarters (building an eight-point halftime advantage), they were twice as atrocious over the final two frames as Indiana made this a laugher. The Celtics couldn't stop turning the ball over (21 giveaways for 30 points overall) as the Pacers cranked up their defensive intensity and ran away with the game after the intermission.
Paul George
scored a game-high 27 points on 9-of-20 shooting, while
Lance Stephenson
quietly posted a triple-double (10 points, 11 rebounds, 10 assists) to lead the Pacers. Boston got a team-high 24 points from
Jordan Crawford
, who did most of his damage before the intermission by hitting his first eight shots.
Jeff Green
added 20 points for Boston.
TURNING POINT
The Celtics played a stellar first half, but everything fell apart in the third quarter. Indiana cranked up the pressure and Boston gave the ball away 11 times (leading to 13 points) in the frame. The Celtics were 3-of-14 shooting for a mere eight points and Crawford, who couldn't miss in the first two frames, missed twice in the quarter (and was minus-17 during his 11 minutes of floor time in the frame). The Pacers outscored Boston 25-8 and owned a nine-point lead heading to the final frame (where they pushed that lead as high as 20).
LOOSE BALLS
Rookie forward/center
Kelly Olynyk
departed in the second quarter with a
sprained right ankle
and did not return. ...
Keith Bogans
(illness) did not dress for Boston. ... The Celtics had a measly 11 assists overall.
WHAT IT MEANS
The Celtics (4-10) now have lost six straight and head right back out on the road as part of this stretch that features five games in five cities over seven nights. They play the tail end of a back-to-back Saturday in Atlanta before visiting Charlotte on Monday. Boston is home for Thanksgiving with visits from Memphis and Cleveland sandwiched around the holiday.
November, 22, 2013
11/22/13
6:55
PM ET
BOSTON -- The
Boston Celtics
will stick with the frontcourt tandem of
Jared Sullinger
and
Kelly Olynyk
for Friday's visit from the Eastern Conference-leading
Indiana Pacers
.
Despite Indy's big front line (
Roy Hibbert
and
David West
), Celtics coach Brad Stevens didn't make the switch back to rookie
Vitor Faverani
to add some bulk up front. He likes how the Sullinger/Olynyk combo performed in San Antonio.
"I think the two bigs have complemented each other pretty well ever since Kelly arrived," said Stevens. "They both can pass. They both can shoot. They both can space the floor. You can run things through them, which is unique for 4s and 5s. We have to decide how we want to be and what team we're going to be. Everybody gives us a little different feel when they're on the court.
"Those guys gave us a nice little offensive rhythm, and to be quite honest, after starting down 18-1 against Houston, I didn't want to start off with one point in the first nine minutes [against San Antonio]. And I felt like they would give us the best chance, offensively, of starting well as a group. But like I said, that could change tomorrow. We've just got to keep searching and find the best things for this team."
A few more quick hits from pregame access:
BOGANS OUT AGAIN: Keith Bogans, who has played just 15 minutes in two appearances this season, is out again due to illness.


C'S VS. SCHEDULE: The Celtics continue to endure a daunting November schedule, but Stevens was asked if he liked how his team bounced back from a drubbing in Houston with a competitive effort in San Antonio. "They've played 13 games since Oct. 30. Tonight will be the 14th and, like I said, we've had five practices since then," said Stevens. "They're going to have nights that aren't great and hopefully those are few and far between. But I think the most important thing is how you respond after that night. And they did a good job."


VOGEL BACK IN BOSTON: Frank Vogel started his career as a video guy in Boston. Asked if he ever gets the urge to go check out what new technology the Celtics have for their current video staff, Vogel said, "I do. I always get flashbacks. Every nook and cranny of this building has some sort of memory of a win or a loss or an experience. Just like this whole city, when you walk around the city, there's so many memories here. It's always great coming back here."

November, 22, 2013
11/22/13
10:30
AM ET
The Boston Celtics (4-9, 2-3 home) host the Indiana Pacers (10-1, 4-1 away) on Friday night at TD Garden (7:30 p.m., CSN). Here's what to watch for:


CAN'T CATCH A BREAK: After closing out a (winless) three-game road trip with a loss to the Western Conference-leading San Antonio Spurs, the Celtics return home to host the Eastern Conference-leading Pacers. San Antonio owned the second-best defensive rating in the league (91.9 points per 100 possessions) and Indiana is the only team in front of them (91.3). The Pacers allow a measly 0.821 points per possession, tops in the NBA, according to Synergy Sports data. Indiana is limiting opponents to 39.5 percent shooting overall and doesn't put the opposition on the foul line very often. The Pacers are limiting opponents to a league-best 87.2 points per game. For Boston's anemic offense, this means another daunting challenge while trying to snap a five-game losing streak.


GEORGE VS. GREEN: Indiana's Paul George is having a monster season, particularly on the offensive end where he's averaging 24.4 points on 46.5 percent shooting overall. The task of slowing him down will likely fall to Jeff Green, who has the length and athleticism to make him work. This is one of those nights where Green needs to bring his A-game on both ends of the court in order for Boston to have a chance. You'll remember his heroics in Indiana last year, sinking a late-game winner for one of the Celtics' most-exciting comebacks of the 2012-13 season.


GET KELLY GOING: Alright, so a frontline of David West and Roy Hibbert isn't the ideal combo to try to get your rookie center going offensively. But part of the reason first-year coach Brad Stevens shuffled Olynyk and Jared Sullinger to the starting lineup is their offensive potential (whether facilitating with their skilled passing, or using their range to spread the floor). Stevens remains adamant that the shots will eventually start falling for Olynyk and, if he can avoid foul trouble, one of these nights he's going to bust this rookie shooting slump.


WHAT ELSE?: For Stevens, this is a matchup against his "hometown" team. He'll have plenty of friends back home in Indianapolis watching from afar (if they haven't been keeping tabs via League Pass already). ... Brandon Bass has often struggled to find a rhythm off the bench, but the Celtics need him to be a second-unit spark if Olynyk and Sullinger are with the first unit. Bass can bring a defensive spark off the pine, but the Celtics need his scoring, too.

(
Read full game preview
)