Boston Celtics:

2014Game15
November, 24, 2013
11/24/13
8:05
AM ET
Headlines after the Boston Celtics defeated the Atlanta Hawks on Saturday night:
November, 24, 2013
11/24/13
12:12
AM ET
Broadcast ScreenshotJeff Green is helped up after helping Boston maintain possession late in the game.
The play blends harmlessly into the box score with a mere notation of "Celtics Rebound." It deserves much better.
With Boston clinging to a three-point lead with little more than a minute to play,
Jared Sullinger
misfired on a 3-pointer that could have iced the game. Instead, the ball popped up off the rim for what should have been an easy rebound for Atlanta's
Paul Millsap
(who had position on
Brandon Bass
).
But Millsap's teammate
DeMarre Carroll
failed to put a body on
Jeff Green
and Boston's swingman swooped in from the 3-point line to contest the rebound. Green knocked the ball out of Millsap's hand and towards the Atlanta bench, leaving the two stumbling and bumping into each other on the baseline while trying to corral the loose ball. Both Millsap and Green went to the floor, crashing hard to the ground as the ball ticked off Millsap and -- confirmed by the referees' video review -- remained Boston's ball.
That sequence defined the fourth quarter, one in which the Celtics rallied from a 12-point deficit to post a 94-87 triumph and snap a six-game losing streak.
Green gets a lot of grief for being passive and often looking like he's waiting for the game to come to him. On Saturday night, he made something happen with a little bit of hustle. If Millsap gets the rebound cleanly, the Hawks have a chance to tie the game. Instead,
Jordan Crawford
made a runner to put Boston up five with 58 seconds to go.
Green had another quiet fourth quarter against the Hawks, going scoreless over 7:33 (missing two shots and committing a turnover). But Green was plus-13 in plus/minus for the frame and aided the rally effort, particularly on the defensive end where the Hawks missed 10 consecutive shots as part of a five-minute scoring drought.
It's the little things that decide these types of games and Green's effort on that team rebound deserves more recognition than the box score provides.
November, 23, 2013
11/23/13
11:35
PM ET
Was Saturday's effort the best game of
Jordan Crawford
's career?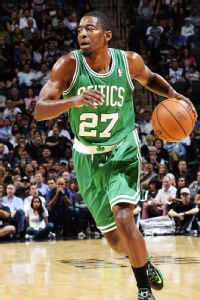 D. Clarke Evans/NBAE/GettyJordan Crawford has given Boston's sluggish offense a boost this season.
If you judge solely by plus/minus, you can actually make that case. According to Basketball Reference's plus/minus data, Crawford matched a career high by finishing plus-24 while helping the
Boston Celtics
rally past the
Atlanta Hawks
94-87 on Saturday night at Philips Arena.
The Basketball Reference data also suggests that Crawford has finished in the positive in little more than 30 percent of his career games. So just being on that side of the ledger is noteworthy. But Crawford didn't just chip in 12 points, 10 assists and three rebounds on Saturday. He made two key buckets in the final two minutes to help Boston snap a six-game losing streak.
That plus-24 matches Crawford's career best effort, from Valentine's Day 2012, when he scored 21 points off the bench in a 124-109 win in Portland. Crawford scored a team-high 24 points in a loss to Indiana on Friday night but lamented the team's inability to finish out the game as the Pacers motored away in the second half.
On Saturday, Crawford struggled with his shot early on, but the Celtics put the ball in his hands during crunch time and he rewarded their faith. After rallying from a 12-point deficit, Boston was up one with two minutes to go when Crawford came off a high pick-and-roll and blew past
Al Horford
to get into the lane. Two Hawks stepped up to defend, but Crawford gently floated in a layup for an 88-85 lead.
With a minute to go and Boston still up three, Crawford took the shot clock down before attacking the basket. He got a step on
Jeff Teague
and attacked Horford in the paint, finding a sliver of space to deliver a little 13-foot runner for a five-point cushion.
"He really wanted the ball in those moments, and I thought it was the best thing to get it to him," said Celtics coach Brad Stevens. "After he made the first couple of moves, the guys came back to the huddle and said, 'Put it in his hands.' Maybe it will be somebody else some other night, but tonight it was him."
So what do we make of Crawford's recent play? After joining the starting lineup early in the season, Boston reeled off four straight wins with his help. As the team endured a six-game losing streak, it appeared Crawford was coming back to earth a bit with his turnovers on the rise. He still gave the ball away four times on Saturday, but the Celtics were able to overcome it because of their team defense in the fourth quarter and Crawford's offensive exploits.
Through 15 games, Boston's offensive rating is 10 points better with Crawford on the floor (99.9) than off (89.9). Not surprisingly, the team's defensive rating is 2 ½ points worse than the season average with Crawford on the court, but the offensive burst negates that, considering Boston's offensive struggles this season. The Celtics rebound better with Crawford on the court and they turn the ball over fewer times as a team. Boston's pace perks up and its shooting percentages climb both overall and especially beyond the 3-point arc. Crawford is minus-24 overall in 412 minutes of court time, but the Celtics are minus-58 in the 308 minutes he's off the floor.
All of which suggests the team needs Crawford and his ability to make plays. Crawford handed out 10 assists Saturday, which included a pair of beautiful first-half alley-oop feeds to
Brandon Bass
and
Jeff Green
. He's not perfect and he's not a pure point guard, but the good tends to outweigh the bad with Crawford.
The only real downside is his struggles to prevent dribble penetration. Opponents have a habit of getting past Crawford and into the paint, which causes cracks in Boston's help defense. But Crawford uses his long arms and herky-jerky style to fluster opponents at times. His individual defensive numbers are surprisingly decent (he allows 0.761 points per play, ranking in the 75th percentile, according to Synergy Sports), but that data often ignores the times when teammates are forced into help situations to cover for him.
Saturday wasn't Crawford's best career outing, but the results are hard to argue against. Crawford continues to be a key element for Boston early in the season as the team waits for
Rajon Rondo
to navigate the final stages of ACL rehab. Crawford's role could get murkier from there, but for now he's averaging 12.1 points, 4.4 assists and 2.9 rebounds over 26.9 minutes per game.
Reflecting on Saturday's win, Crawford told reporters, "It feels good to win because it didn't seem like we were supposed to win."
Few expected Crawford to be a key part of any success Boston tasted this season, but he's been an integral part in all five victories. Maybe that's why his effort Saturday seemed so good.
November, 23, 2013
11/23/13
10:05
PM ET
Rapid reaction after the
Boston Celtics
defeated the
Atlanta Hawks
94-87 on Saturday night at Philips Arena:


THE NITTY GRITTY
Despite turning the ball over 19 times (leading to 29 points for Atlanta), the Celtics overcame a 12-point, fourth-quarter deficit to clip the Hawks and end a six-game losing streak.
Jordan Crawford
finished with 12 points, 10 assists and three rebounds. He was a team-best plus-24 in plus/minus and hit a pair of big shots down the stretch to help Boston emerge.
Brandon Bass
, back in a starter's role after
Kelly Olynyk
sprained his ankle, led six Boston players in double figures with 17 points to go along with seven rebounds and two blocks.
Jared Sullinger
(15 points, nine rebounds) and
Jeff Green
(16 points, five rebounds) had solid nights as well.
Al Horford
scored a game-high 18 points to pace Atlanta.
TURNING POINT
The Celtics were down 12 after a
Shelvin Mack
jumper with 11:14 to play in the fourth quarter. But the Hawks went on a five-minute scoreless streak -- missing 10 shots during that stretch -- and Boston whittled its deficit down to one. A pair of Bass free throws with 3:31 to play pushed the Celtics ahead, and Crawford made a pair of driving baskets in the final two minutes as the Celtics surged to the finish line.
SULLINGER TAGGED WITH FLAGRANT-1
Sullinger got whistled for a flagrant-1 penalty after a hard, two-handed foul on
DeMarre Carroll
midway through the third quarter. With Carroll on the break, Sullinger struck down on Carroll's head/shoulders, knocking him to the floor. A flagrant-1 foul is defined as unnecessary contact committed by a player against an opponent. The opposing team is awarded two free throws and possession (Atlanta used that to open a three-point lead in a game that had been tied at 59). Sullinger's flagrant was the team's first of the season. The league reviews all flagrant calls and can reclassify the foul. It can also elect to fine or suspend the player for his actions.
LOB CITY?
The Celtics had been credited with only one alley-oop dunk this season, but had two in this game. Crawford zipped a beautiful pass high above the 3-point arc near the Celtics bench that Brandon Bass threw down in the first quarter. Later in the first half, Green completed a lob from Crawford. OK, so nobody will mistake this for Lob City, but the Celtics showed they can play above the rim (occasionally).
LOOSE BALLS
The Hawks took 21 more shots than Boston but shot just 38.7 percent overall. Boston connected on 45.8 percent of its shots. ... The Celtics lived at the free throw line, making 24 of 31 attempts (the Hawks shot just 12 freebies). ... Boston finished with a 47-38 advantage on the glass. ... Neither Olynyk nor
Keith Bogans
(illness) made the trip to Atlanta. ...
MarShon Brooks
logged a healthy DNP.
WHAT IT MEANS
Threatening to taste its first seven-game losing streak since April 2007, Boston (5-10) got its first win since Nov. 11. The Celtics get a day off Sunday as they come off their fifth back-to-back of the season but are off to Charlotte, where they'll complete a stretch of five games in five cities over seven nights (the second such stretch of an insanely game-heavy November). With the possibility that the Celtics will own Atlanta's 2014 first-round draft pick (if the Hawks execute a swap with the
Brooklyn Nets
), Boston aided its chances at a better pick with Saturday's win.
November, 23, 2013
11/23/13
7:20
PM ET
With
Kelly Olynyk
out with a sprained right ankle, the
Boston Celtics
will reinsert
Brandon Bass
into the starting lineup for Saturday's visit to the
Atlanta Hawks
.
Bass started the first 12 games of the season before coach Brad Stevens shuffled the Olynyk/
Jared Sullinger
combo onto the first unit earlier this week. Bass will start up front with Sullinger, while
Avery Bradley
,
Jordan Crawford
and
Jeff Green
round out the starting 5.
Bass is averaging 10.6 points and 4.7 rebounds over 27.9 minutes per game. During his time in Boston, he has posted far better numbers as a starter while struggling in reserve roles.
Stevens suggested to reporters in Atlanta before Saturday's game that Olynyk could miss a couple weeks due to the sprained ankle, which could keep Bass back with the starting group for a bit.
November, 23, 2013
11/23/13
10:30
AM ET
The
Boston Celtics
(4-10, 2-6 away) visit the
Atlanta Hawks
(8-5, 4-1 home) on Saturday night at Philips Arena (7:30 p.m., CSN). Here's what to watch for:


AN UNRELENTING SCHEDULE: The Celtics will play their 15th game in 24 days on Saturday. This is Boston's fifth back-to-back of the season and the team is 0-4 on the second nights thus far. Saturday's visit to Atlanta comes amid a stretch of five games in five cities over seven days (the second time this year the team has had such a stretch). How does Stevens feel about the craziness? "I think the thing you don't like about it is we just haven't had time to practice," said Stevens. "Even after a back-to-back, you get in at 4:30 in the morning and you're not practicing [the next day]. We really have had limited practice time and that's why December will be a welcome [break] regardless of how we're playing because you get a little bit more chance to get on the practice court together and try to get better."


A CHANCE TO HELP THEIR FUTURE: Keep in mind that Atlanta's 2014 draft pick is likely ticketed for Boston. The Celtics own the Nets' pick via the summer blockbuster, but the Hawks have the right to swap spots with Brooklyn via the Joe Johnson trade. Plenty can change before the end of the season, but given the Nets' slow start, Boston has to hope Atlanta endures some struggles as well to better that pick. The Celtics can help their own cause in the first of four head-to-head meetings this season.


HAWKS QUIETLY SOARING: The Hawks will look a little different without Josh Smith (Paul Millsap joined their frontcourt this offseason) and with a coaching change (Mike Budenholzer replaced Larry Drew). But Atlanta is actually playing some of the best ball in the East with an 8-5 record (sitting third behind Indy and Miami). The Hawks rank 11th in offensive rating (103.4 points per 100 possessions) and 10th in defensive rating (100.8). They share the ball well (second best in assist ratio), protect the defensive glass (fourth in defensive rebound percentage), and take decent care of the ball (11th in turnover percentage). That's giving them a chance to win games and they've won two in a row (both over old friend Smith and the Pistons).


WHAT ELSE? If Stevens watches film of last year's meetings he'll know to keep a body attached to Kyle Korver, who shredded Boston from 3-point range. As usual, Korver is near the tops of the league in points per possession (1.242), according to Synergy Sports data. and he's shooting a scorching 52.9 percent beyond the arc (36-of-68 overall). ... Keep an eye on the turnover total. As we noted today, the magic number is 14 for Boston. Anything north of that has assured a loss so far this season. ... Watch Boston's shooters coming off pick-and-rolls. The Celtics have found success having Avery Bradley and Jordan Crawford fire away dribbling off screens, but the Hawks are the second-best team in the league defending pick-and-roll ball-handlers.

(
Read full game preview
)