Boston Celtics:

2014Game16
November, 25, 2013
11/25/13
11:35
PM ET
Boston Celtics
undrafted rookie point guard
Phil Pressey
is impossible to ignore on the floor and it's not just his typically vibrant footwear that's turning heads lately.
[+] Enlarge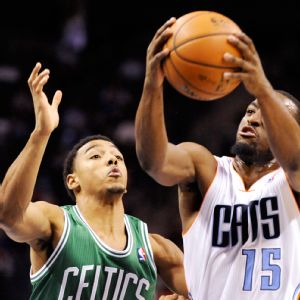 Sam Sharpe/USA TODAY SportsPhil Pressey applies defensive pressure in Charlotte.
Pressey handed out a career-high eight assists and didn't turn the ball over during 20 inspired minutes while helping the Celtics rally for a 96-86 triumph over the
Charlotte Bobcats
on Monday night at Time Warner Cable Arena.
Pressey finished with two points, three steals and a rebound to go along with those eight helpers. He was plus-14 in plus/minus, combining with
Gerald Wallace
,
Courtney Lee
,
Kris Humphries
and
Vitor Faverani
to provide sustained bench output on a night in which Boston's second unit carried the team.
Half of Pressey's assists came in the fourth quarter on Monday and two of those set up Lee 3-pointers as Boston's lead hovered around double digits for much of the frame.
In his last seven appearances for the Celtics, Pressey has posted 21 assists against a mere four turnovers in 86 minutes of floor time. As Boston navigates the early part of the 2013-14 season without a pure veteran point guard as
Rajon Rondo
rehabs from ACL surgery, 22-year-old Pressey has been a calming influence. That's unusual for a rookie, particularly one that every team in the league essentially passed on twice in June.
For the season, Boston's offensive rating (points per 100 possessions) is 99 when Pressey is on the floor -- that's nearly three points higher than the team's season average (96.3) and 4 ½ points better than when he's on the bench (95.5). Likewise, Boston's defensive rating is 98.5 with Pressey on the floor, which is 3.3 points lower than the team's season average (101.8) and 4.3 points lower than when he's off the court (102.8). Not surprisingly, Boston's assist-to-turnover ratio bloats from .96 without him to 1.3 when he's on the floor and the team turnover percent dives nearly three percent (to a crisp 15.6 percent).
For a Boston team that struggles to generate consistent offense (or simply generate quality opportunities without turning the ball over), Pressey's impact is undeniable. He endured an up-and-down preseason and was prone to spikes in his turnovers, but his regular-season play has been incredibly steady. And while he still struggles to generate his own offense, his playmaking talents are helping the Celtics generate much-needed bench scoring.
The knock on Pressey coming out of Missouri was an inability to keep opponents honest because of his offensive struggles. Through 13 appearances, Pressey is shooting just 26.2 percent from the floor. What's more, he's averaging a mere 0.583 points per possession, according to Synergy Sports data, which ranks him in the sixth percentile in the league. Of all players with at least 60 offensive possessions this season, Pressey ranks dead last out of 251 qualifiers.
But maybe that only speaks volumes to his impact as a facilitator. Pressey is averaging a mere 2.4 assists per game, but according to the league's new SportVU player tracking data, through Sunday's games, Pressey was averaging 15.2 points generated by assists per 48 minutes. That's second on the Celtics behind only
Jordan Crawford
(17.8) and that number will go up a bit after Monday's outing.
Defensively, Pressey came out of college with a reputation for being a pest. The early numbers at the pro level haven't been great, but Pressey showed on Monday night how those quick hands can make an impact with three steals (two of which led to layups the other way; he missed a layup of his own on one of the swipes). As coach Brad Stevens noted after Monday's game, "Phil Pressey's pressure might have been one of the key factors in changing the game."
Pressey's role will get a bit murkier when Rondo is able to return. The addition of the All-Star point guard will thin available backcourt minutes, with Crawford likely to slide to the top backup point guard role. All of which makes these early-season reps all the more important for Pressey. His contract is not guaranteed beyond this season, but Boston has him under its control for three more seasons at pocket change and he's exactly the sort of young depth ball-handler that the team has sorely lacked in recent seasons.
One thing is certain: The 5-foot-11 Pressey doesn't lack for confidence and Stevens has often noted how he plays with a chip on his shoulder. There's plenty of room for growth in his game, and Boston must nurture his development. But the spark and security he's providing as a rookie is certainly beyond his years.
November, 25, 2013
11/25/13
9:30
PM ET
Rapid reaction after the Boston Celtics defeated the Charlotte Bobcats 96-86 on Monday night at Time Warner Cable Arena:


THE NITTY GRITTY
Maybe it shouldn't surprise us that Gerald Wallace felt particularly comfortable in Charlotte. Back in his old stomping grounds (Wallace played 5+ seasons in Charlotte, leading the expansion Bobcats to the postseason), he scored a season-high 17 points on 6-of-10 shooting to go along with four rebounds, three assists, two steals and a block over 35:44. Jordan Crawford scored a team-high 21 points (4-of-6 beyond the 3-point arc), while Brandon Bass added 16 points and five rebounds while staying in the starting lineup. Kemba Walker (28 points on 11-of-17 shooting) and Gerald Henderson (20 points) paced the Bobcats.
TURNING POINT
The Celtics were up 10 in the third quarter before the Bobcats rallied to tie the game late in the frame. Unfazed, Boston embarked on an 11-0 burst during a 3:24 stretch spanning into the fourth quarter. Early in that final frame, Jeff Green had a driving layup, Courtney Lee hit a 3-pointer, and Kris Humphries had consecutive buckets to put Boston out front 77-66 with 9:15 to play. Phil Pressey (team-high eight assists off the bench) sparked the second-unit's efforts with his playmaking abilities.
LOOSE BALLS
Jared Sullinger had five points and a team-high eight rebounds, but his biggest contribution might have been on defense pushing around Al Jefferson and never letting the Boston draftee get too comfortable. Jefferson finished with 14 points on 6-of-14 shooting and had only three rebounds. ... Kelly Olynyk (sprained ankle) Keith Bogans (illness) remained out for Boston. ... MarShon Brooks was the only healthy DNP. ... Avery Bradley finished 1-for-6 for two points over a mere 8:42, sitting much of the second half in part because of foul trouble. But the inspired play of Pressey and Crawford allowed Bradley to take it easy on a night when he struggled. ... Lee was a team-best plus-18 in plus-minus while scoring 11 points over 15 minutes, and Humphries (plus-17 over 16:20) was right behind him.
WHAT IT MEANS
The Celtics have now won two straight, finishing strong during a stretch of five games in five cities over seven nights. Boston heads home for Thanksgiving, but it has a pair of games sandwiched around the holiday with visits from Memphis (Wednesday) and Cleveland (Friday). Regardless, a daunting November schedule is winding down and the team will have additional practice time and fewer games as December arrives. It's a chance to build off a dizzying streak-filled start to the 2013-14 season.
November, 25, 2013
11/25/13
10:30
AM ET
The Boston Celtics (5-10, 3-6 away) visit the Charlotte Bobcats (7-7, 3-4 home) on Monday night at Time Warner Cable Arena (7 p.m., CSN). Here's what to watch for:


A DEFENSIVE BATTLE?: Well, it's a matchup of two of the worst offenses in the league. The Bobcats rank 27th in offensive rating (95.1 points per 100 possessions) and 28th in scoring average (89.6 points per game). Charlotte is last in the league in both field goal percentage (40.9 percent) and free throw percentage (69 percent). The flip side: Charlotte ranks fifth overall in defensive rating (97.9) and fourth in points allowed per game (91.6).


LIMITING SECOND CHANCES, TURNOVERS: The Bobcats may not be a particularly good offensive team, but here's how they are winning games: Play serviceable defense, rebound the basketball (fifth in defensive rebound percentage), and take care of the basketball on offense (sixth in turnover percentage). Boston has played some inspired defense as well, but they have 10 losses in part because of turnover woes and an inability to limit second-chance opportunities.


WIM: WANT IT MORE: The Bobcats were quicker to the ball and simply hungrier when the two teams met in Boston earlier this month. Charlotte set the tone early and Boston only played in spurts. The Celtics played gritty down the stretch in Atlanta, making all the hustle plays to aid a rally from a 12-point deficit. They'll need more of that scrappiness against the Bobcats.


WHAT ELSE?: This is the second of three meetings this season. The Bobcats posted an 89-83 win in Boston earlier this month. ... Green skies ahead: The Celtics play 11 of their next 15 games in Boston to close out the 2013 calendar year. ... With Kelly Olynyk out with the sprained right ankle, there's a chance here for a big -- Vitor Faverani or Kris Humphries -- to state their case for more consistent playing time. Faverani seems to be trending back in the right direction.

(
Read full game preview
)
PODCASTS
Peter King, NFL
Play Podcast Sports Illustrated's Peter King weighs in on the Patriots' offensive line, the outlook for New England, Jim Harbaugh's relationship with his team and the Cowboys' success.
Opening Rant, 9/30
Play Podcast Colin Cowherd shares his thoughts on the state of the Patriots, New England's offense and Brady Hoke's future at Michigan.
First Take
Play Podcast Skip Bayless & Stephen A. Smith debate if the Patriots dynasty is over, if the 49ers have stopped listen to Jim Harbaugh and more. Plus, they make their World Series predictions.