Boston Celtics:

2014Game18
November, 30, 2013
11/30/13
1:35
AM ET
BOSTON -- Boston Celtics coach Brad Stevens, basking in the glow of his team's most complete effort and a lopsided 103-86 triumph over the visiting Cleveland Cavaliers, was asked if he had caught a glimpse of the Gino Time celebration video that ran with two minutes to go.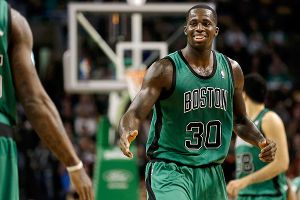 Winslow Townson/USA TODAY SportsBrandon Bass got in on the Celtics' 11-of-23 3-point barrage, banking home his first career triple.
"What is it?" asked an amused and confused Stevens.
Media members did their best to quickly explain the American Bandstand mash-up that features a smooth-grooving, bearded man in a Gino Vannelli T-shirt as the Bee Gee's "You Should Be Dancing" blares. It has served as the team's victory cigar of sorts since before the Big Three era.
Some wondered if it might have been traded to Brooklyn as part of the summer blockbuster, particularly given the affection owned for the clip by Kevin Garnett (who should be credited with turning Gino Time into a phenomenon). But there it was on Friday night, bringing the Garden faithful to their feet with Boston out front 101-80 with 1:56 to play.
Stevens apologized for not knowing what was being referenced and suggested that maybe his kids had caught it. It was further explained that it almost exclusively runs during the final full timeout of lopsided victories, of which there, obviously, have been none of this season at TD Garden.
"Do you think that maybe nobody thought we'd have a game out of reach?" Stevens asked with a smile. "I don't know."
For at least one night, these transitioning Celtics could do no wrong. Jeff Green put on his aggressive shoes and scored a season-high 31 points. Brandon Bass banked in the first 3-pointer of his nine-year NBA career. Jordan Crawford asked for a little trash-time action and completed the third triple-double of his career.
Boston scored 18 of the game's first 20 points and put the game on cruise control. Sprinkle in the sweet-shooting exploits of Avery Bradley (21 points on 9-of-11 shooting overall) and Jared Sullinger (12 points on 4-of-5 shooting beyond the 3-point arc) and it all added up to the first Gino appearance of the season.
Sure, it was a bit bizarre without Garnett, a towel draped over his head, pointing up to the video screen with each appearance of the man nicknamed Gino, who has spawned everything from T-shirts to hats to Superfans with his moniker. Celtics fans still roared each time the man's long legs and jointless arms grooved for them.
(
Read full post
)
November, 29, 2013
11/29/13
9:55
PM ET
BOSTON -- Rapid reaction after the
Boston Celtics
defeated the
Cleveland Cavaliers
103-86 on Friday night at TD Garden:


THE NITTY GRITTY
In danger of posting the longest home losing streak since the pre-Big Three era, the Celtics feasted on the disheveled Cavaliers, scoring 18 of the game's first 20 points and leading by as much as 25 en route to a breezy (Big Three-like) triumph that snapped a four-game TD Garden losing streak.
Jeff Green
scored a season-high 31 points (10-of-19 field goals, 9-of-13 free throws),
Avery Bradley
added 21 on super-efficient 9-of-11 shooting (3-of-4 beyond the 3-point arc), and
Jordan Crawford
registered his third career triple double (11 points, 11 rebounds, 10 assists).
Dion Waiters
paced Cleveland with a team-high 21 points off the bench.
GINO TIME!
For the first time this season, the Celtics enjoyed Gino Time, when the popular "American Bandstand" clip rolled with Boston on top 101-80 with 1 minute, 56 seconds to play. Even without
Kevin Garnett
to raise his fist with each appearance of smooth-grooving Gino, the fans roared throughout the clip.
TURNING POINT
The Celtics opened the game on an 18-2 run, culminating with a pair of alley-oops from Crawford (the first of which was an emphatic throwdown by Green before a less graceful layup by
Brandon Bass
). Bradley scored a team-high eight points in that first quarter, while Crawford had 4 points, 4 rebounds and 3 assists as Boston led by as much as 18 (22-4 with 2:38 to go). Boston, which had struggled in first quarters, shot 61.1 percent (11-of-18), while the Cavs missed 15 of the 19 shots (21.1 percent) they took.
TECHNICAL DIFFICULTIES
Jared Sullinger
picked up his first technical foul of the season while barking at an official after picking up his third foul of the first half. Sullinger was being taken out of the game when he appeared to offer an unsolicited review of the calls against him. It was Boston's fourth technical foul of the season.
3-POINTER FOR BASS?!
This about sums up the night for Boston: On the final possession of the third quarter, Bass banked in the first 3-pointer of his NBA career. Bass had been 0-for-16 over the first eight-plus seasons of his career. It was only the fourth 3-point attempt of Bass' two-plus seasons in Boston. Not to be outdone by a fellow big man, Sullinger registered four 3-pointers on the night.
LOOSE BALLS
Keith Bogans
, who had appeared in only two games this season, got extended floor time, checking in late in the third quarter with Boston up 20. He played seven scoreless minutes. ...
MarShon Brooks
played the final two minutes with the game in hand. He had been a healthy DNP the previous five games. ... All five Boston starters finished in double figures and Boston shot 50 percent overall. Cleveland had one starter in double figures (
Kyrie Irving
, 17 points) and shot 37.2 percent.
WHAT IT MEANS
The Celtics wrap up this brutal November schedule with the tail end of a back-to-back set Saturday in Milwaukee. After that, Boston will have played 19 games over the first 31 days of the 2013-14 season. The schedule eases up in December with only 12 games in 31 days, including only three on the road (two of which are in New York, while the other is in Indiana with a five-day Christmas break following it).
November, 29, 2013
11/29/13
7:00
PM ET
BOSTON -- Boston's November schedule doesn't afford many breaks in the action (the Celtics play 19 games over the first 31 days of the 2013-14 season), but first-year coach Brad Stevens gave his players Thursday off and tried his best to enjoy the Thanksgiving holiday.
"Nice to spend one day with family," said Stevens. "It was great."
That said, you get the feeling that it was Cavaliers game film on a loop on the Stevens' living room TV rather than the Macy's Day parade or the three-game slate of NFL football. Stevens admitted he couldn't fully detach from hoops.
"No, just get up and work in the morning. Try to finish as much as you can throughout the day, so that we were ready for shootaround today," he said. "The next most important thing is the next practice, or the next meeting, or the next shootaround. I tried to get as much done as quickly as possible. You're still working like a normal in-between games."
A handful of quick hits before Friday's game:
November, 29, 2013
11/29/13
2:34
PM ET
Boston Celtics guard Courtney Lee is considered a game-time decision for Friday's visit from the Cleveland Cavaliers.

Lee suffered a sprained left knee in Wednesday's loss to the Memphis Grizzlies. X-rays on the knee were negative and the team listed him as merely having a sore left knee before Friday's game.

Lee is averaging 7.6 points on 51 percent shooting in 16 appearances this season.

The Celtics also noted that Kelly Olynyk (sprained right ankle) remains out for Friday's game.
November, 29, 2013
11/29/13
10:00
AM ET
The Boston Celtics (6-11, 2-5 home) host the Cleveland Cavaliers (4-11, 1-8 away) on Friday night at TD Garden (7:30 p.m., CSN). Here's what to watch for:


CLEVELAND ROCKED: Safe to say this isn't what most expected from the Cavaliers to start the season. A team that showed such potential last season has been slow out of the gates, ranking in the bottom half of the league in most major statistical categories, including offensive rating (94.1 points per 100 possessions, one spot behind Boston). What do the Cavs do well? Not a lot. They are in the top half of the league (barely at 14th overall) in defensive rebound rate (75 percent), but the Cavs are 28th in assist ratio, 20th in rebounding percentage, and 23rd in turnover percentage.


AVERY VS. KYRIE: After a bout with Memphis' Mike Conley (the Grizzlies guard had the upper hand early), Celtics guard Avery Bradley will be tasked with helping to slow down Kyrie Irving. You'll remember Bradley being a bit defiant last season after Irving had a big game against the Celtics in Cleveland. Bradley takes great pride in trying to slow opposing scorers, particularly some of the league's top young names like Irving. The young Cavs guard is averaging 21 points, 6.1 assists, and 3.5 rebounds in 34.5 minutes per game. The Celtics know Irving can single-handedly take over a game via the pick-and-roll, and Bradley will be needed to prevent that.


REBOUNDING IN FOCUS: Tristan Thompson and Anderson Varejao have dominated Boston on the glass in past seasons. The Celtics have been a poor defensive rebounding team this season (27th in defensive rebound rate) and need to keep those two off the glass. But when the Cavaliers do get offensive rebounds, will they convert them? They have really struggled to turn offensive caroms into points this season (particularly Thompson, who is shooting an impossibly low 31.8 percent off offensive rebounds, according to Synergy Sports).


WHAT ELSE?: As STATS LLC notes, the Celtics haven't lost five games in a row at home since before the Big Three of Paul Pierce, Kevin Garnett and Ray Allen united prior to the 2007-08 season. Boston is seeking to avoid losing five straight at TD Garden for the first time since 2007, while yearning to establish a home-court advantage. ... If Courtney Lee can't play due to a left-knee sprain, will the Celtics dust off MarShon Brooks? ... Cavs forward Anthony Bennett, the No. 1 pick in June's draft, has appeared in only 11 games, averaging 2 points and 2.7 rebounds in 11.1 minutes per game. ... Cavs guard Dion Waiters, the fourth overall pick in the 2012 draft, has seen his name bubble up in trade rumors during his sophomore season. ... Keep an eye on Cavs guard Jarrett Jack off the bench. Signed as a free agent after impressing with Golden State last season as a Sixth Man of the Year candidate, he can provide a second-unit spark.

Read full game preview