Boston Celtics:

2014Game23
December, 11, 2013
12/11/13
2:22
AM ET
NEW YORK -- As a rookie, Boston Celtics forward/center Jared Sullinger endured plenty of practice wars with Kevin Garnett. And while Garnett is often just as intense inside the practice facility as he is in front of the cameras on game night, Sullinger didn't quite know what to expect being on the opposite side of Garnett for the first time.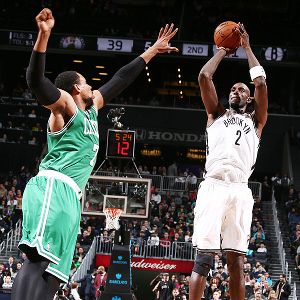 Nathaniel S. Butler/NBAE/Getty ImagesKevin Garnett exchanged pleasantries with Jared Sullinger, then had 11 points and nine rebounds in helping beat his former team.
So Sullinger was rather surprised when Garnett dapped him up before the game and offered a hug. He even asked Sullinger how his surgically repaired back was doing.
"Kevin said, 'What's up?' which doesn't really happen," Sullinger said with a smile. "He said, 'What's up?' He was talking to me, asking me how my back was. I wasn't expecting that, but it was Kevin. I guess we're special, I don't know."
Boston's reunion week got off on the wrong foot as the Nets held their own mini-reunion, getting both point guard Deron Williams and another of Boston's old friends, Paul Pierce, back for Tuesday's tilt at the Barclays Center.
Williams stole the show, scoring 25 points on 10-of-16 shooting with seven assists and three rebounds in a 104-96 Brooklyn win. Williams willed in some tough shots down the stretch and ultimately allowed the Nets to fend off Boston's late charge, snapping the Celtics' three-game winning streak in the process.
But Garnett and Pierce did their part, too. Garnett used the green jerseys on the opposite end to give himself a much-needed jump-start, and he chipped in 11 points on 5-of-10 shooting with nine rebounds. He hit a cluster of vintage Garnett midrange jumpers and was the chest-pounding, spit-spewing guy Boston fans remembers oh-so fondly.
Pierce, surprising most by returning early from a fractured right hand, played in a protective black glove. He missed all three shots he took and finished with only four points, but did his familiar give-the-game-what-it-needs routine, which included seven rebounds, three assists and one well-timed fourth-quarter drawn charge.
Both Garnett and Pierce, as well as the former teammates they played with on the Celtics, tried their best to downplay the emotional aspect of Tuesday's meeting.
(
Read full column
)
December, 11, 2013
12/11/13
2:05
AM ET
NEW YORK -- Boston Celtics coach Brad Stevens spent the past 48 hours telling anyone that would listen that the Brooklyn Nets were a different team with Deron Williams. He descried the difference as "night and day" and pegged Williams one of the best players in the NBA.
Turns out he wasn't just pumping his tires.
In Williams' first game back after missing 11 of the Nets' previous 12 games, Williams scored 25 points on 10-of-16 shooting with seven assists and three rebounds over 37 minutes. The Celtics had no answer for big man Brook Lopez (18 points) over the first three quarters, but it was Williams that helped generate easy looks for the 7-footer and controlled the game in the fourth frame.
"I think you saw what I was talking about with Williams," said Stevens. "End of the shot clock, guy makes a play, driving it in, kicking -- he made huge plays, I thought, for them. And, probably the most important thing was, when we got after them in the backcourt, they subbed him in, which was a good move. And they handled [the defensive pressure] better with him on the floor. I thought he was the biggest difference in the game, though the obvious difference was also Lopez's size."
If you're a Celtics fan, the spin you put on it: Imagine how good Boston can be when it gets its own All-Star point guard back in Rajon Rondo.
A few more notes from Brooklyn's triumph:
THE KG EFFECT: Stevens might not have got a chance to coach Kevin Garnett in Boston, but he now knows the perils of coaching against him. "They took us out of what we wanted to do, Garnett specifically," said Stevens. "Defensively, he did some really good things that took us out of what we wanted to do on a couple of occasions. Credit them, like I said, we weren't playing the [Brooklyn] Nets that played without D-Will for those [11] games. That is their team and they are a good basketball team. You add [Andrei] Kirilenko to it and it's scary."


C'S GO DOWN SWINGING: Stevens had a thin layer of perspiration around his face when he arrived for his postgame press conference outside the visitor's locker room; it's about as sweaty as reporters have seen him after a game. That was likely a product of feverishly coaching Boston's late rally (and the occasional bark at the officials down the stretch). Despite the loss, Stevens liked how his team went down swinging. "I thought we fought. I thought we played hard, I thought we played with effort," said Stevens. "I didn't think we played well, but I thought [the Nets] had a lot to do with it. I'm not going to get caught up in, necessarily, the little things as far as how we feel after winning or losing. I think you have to get caught up in, we came here, we took a really good shot from a really good team on their home court and played competitively, really competitively most of the night, when we could have gone away at points."


TOUGH TO SLOW LOPEZ: Lopez finished with 18 points on 10-of-13 shooting, much of his output coming in the first half when he simply bullied his way to the basket with none of Boston's big truly able to offer much resistance. The Celtics managed to slow Lopez in the fourth quarter with double teams, but the damage had been done. "Brook is tough," said Jared Sullinger. "He's a big dude. I mean, he's what 7-1? It's kinda hard to even contest his shot because he's just shooting right over us." Echoed Wallace: "He's 7-foot. He gives everybody in the league a hard time. ... We tried to do as much as we could to keep the ball out of his hands and control him on the block, but he's a great player and an All-Star and he did what he's supposed to do."

December, 10, 2013
12/10/13
6:35
PM ET
NEW YORK --
Brooklyn Nets
swingman
Paul Pierce
, who was expected to miss 2-4 weeks after breaking a bone in his right hand on Nov. 29, will suit up for Tuesday's game against the
Boston Celtics
, coming off the bench against his former team.
The Nets will get a double dose of All-Star infusion with the returns of point guard
Deron Williams
and Pierce. Nets coach Jason Kidd was coy with how much the duo will play, but it can only seemingly help a team that's staggered to a 6-14 start.
Pierce, who spent the first 15 years of his career with the Celtics, and
Kevin Garnett
, whose arrival helped spark Boston to its 17th world title in 2008, will play their first regular-season game against the visiting Celtics. What is Kidd's advice for them facing their former squad?
"To breathe and to relax and to enjoy the moment," Kidd said. "There will probably be, for Paul and KG, a period before the game of reflection of what they accomplished in Boston in winning a championship and then, being competitors, they'll be ready to play."
First-year Celtics coach Brad Stevens said his team prepared for Pierce to play after he returned to practice on Tuesday and said Pierce's presence won't alter Boston's approach. Stevens has noted that he hopes some of the emotions in playing Brooklyn dissipated during two preseason meetings (though Garnett sat out both).
"I don't have the emotional pull that our players will," Stevens said. "That being said, I just want to play good basketball. And that's my job, to figure out how we can continue to play good basketball."
Asked if he's noticed any change in his team's emotional state during this reunion week (Boston hosts former coach Doc Rivers and the
Los Angeles Clippers
on Wednesday), Stevens said, "[The Celtics players] are not a huge rah-rah group, generally. They are pretty business-like, so it's been pretty much like normal. ... I like that because it's pretty business-like and -- 82 games, boy, if you go up and down, you're in trouble because the down nights, you've got no shot. The up nights, you hope to give yourself a chance to win, [but] you better stay steady, just try to play as well as you can."
December, 10, 2013
12/10/13
12:25
PM ET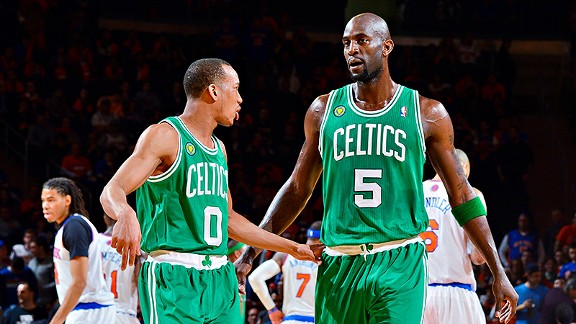 Jesse D. Garrabrant/NBAE/Getty ImagesAvery Bradley and Kevin Garnett together in Boston.
NEW YORK -- While most of his teammates downplayed the impending reunion, Avery Bradley couldn't help but admit that there will be some extra emotions in going against Kevin Garnett and the Brooklyn Nets on Tuesday night.
Garnett famously took a lot of Boston's young bigs under his wing during his time with the Celtics, but it was Bradley's work ethic and defensive talents that caused the two to bond. Bradley often gushed about what it meant to play with Garnett, calling him the "best teammate I ever had." Now, for the first time in Bradley's career, they will be on opposite sides.
"I think it's going to be pretty cool to be on the other side of playing him, seeing his intensity [after] being his teammate," said Bradley. "I think it's going to be fun."
Garnett might have scorned Ray Allen after he departed for Miami, but Bradley expects the two will share a moment at some point on Tuesday at the Barclays Center. Bradley reflected on what brought the two so close together.
"I think because I worked and I don't really say much, I just kinda come in, get my work in, and I think he respected that," said Bradley. "And once I got a chance to play and I was succeeding because of my hard work, he kinda respected me for that and it made him want to continue to help me become a professional, on and off the court. He was just the perfect role model for a lot of guys on the team. He was the best teammate I ever had."
Bradley said he's talked with Garnett occasionally since the trade and said Garnett offers encouragement whenever Bradley is playing well. Asked if it's hard to watch his former teammate struggle amidst the Nets' slow start, Bradley says he's been too locked in on Boston's schedule to pay too much attention to what the Nets are doing.
But make no mistake, Tuesday's game is more than just another game for Bradley.
A couple notes from the team's morning shootaround at Baruch College:
OLYNYK LIKELY OUT VS. NETS: Celtics rookie Kelly Olynyk has ramped up his on-court activities in recent days, but coach Brad Stevens said at Tuesday's shootaround that it's unlikely he'll play versus Brooklyn. "I've heard no," said Stevens. Olynyk would be in line to miss his ninth straight game with a right ankle sprain.


CRAWFORD DISHES TO TEAMMATES ON AWARD: Like a true point guard, Jordan Crawford dished the assist for his Eastern Conference Player of the Week honor to his teammates. "It just means we're playing good as a team," said Crawford. "My teammates are doing a real good job of helping and making it easier on me. I'm just happy with the award. I thank my teammates, though."

December, 10, 2013
12/10/13
10:30
AM ET
The Boston Celtics (10-12, 5-7 away) visit the Brooklyn Nets (6-14, 2-6 home) on Tuesday night at the Barclays Center. Here's what to watch for:


RENEWING ACQUAINTANCES: The Celtics and Nets are intertwined this season -- and for the foreseeable future -- after the summer swap that sent Kevin Garnett, Paul Pierce, and Jason Terry to Brooklyn in exchange for a package of players and future draft picks. There should be extra emotions (and motivation) on both sides, most notably with Garnett playing his former squad for the first time (Pierce, too, if he suits up despite recovering from a broken hand). Neither team is going to want to lose this game after the laundry swap this summer.


BAD TIMES IN BROOKLYN: It seems impossible for a Garnett team, but the Nets rank 29th in the league in defensive rating (107.9 points per 100 possessions) and 25th in defensive rebound percentage. Brooklyn is in the bottom third of the league in most of the major advanced stats categories -- except for turnover percentage (where they are fighting to stay in the front half of the league at 14th overall). The Nets are last in 3-point field goal defense (41.3 percent) and 26th in points allowed per game (102.3). Boston's offense has been crisp the last three games and must take advantage of Brooklyn's woes in order to keep its momentum going.


CALL AND RESPONSE: The big theme in the Celtics' locker room after Sunday's 41-point thrashing of the New York Knicks was how Boston couldn't get too high off the win. Coach Brad Stevens said it again at Monday's practice. "It counts as one. So we just told the players, 'It counts as one for us, counts as one for them.' Unfortunately, days like that, you don't get more points for it. So we just move forward and hopefully play well [vs. Brooklyn]." Boston has won six of its last eight, including its last three. But the Celtics have shown they can't take their foot off the gas.


WHAT ELSE?: On the injury front, will Deron Williams and/or Pierce suit up for Brooklyn? Stevens is prepping for Williams' possible return "Obviously, we're playing a team with great great talent... [and] is getting, probably, one of the better players in the NBA back tomorrow [in Williams]. You add all this stuff together, and you got your hands full." ... Rookie Kelly Olynyk could return from an eight-game absence for Boston, but was waiting to see how his ankle responds to Monday's workout.

December, 9, 2013
12/09/13
9:45
PM ET
NEW YORK -- Boston Celtics guard Keith Bogans still is friendly with many players on the Brooklyn Nets. He often trades text messages with Deron Williams, Joe Johnson and Andray Blatche, and is well aware of the team's early struggles.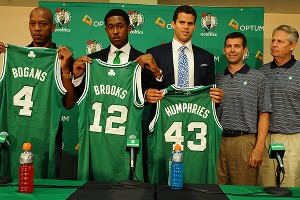 Brian Babineau/NBAE/Getty ImagesKeith Bogans and the former Nets didn't look thrilled at their summer introduction, but they're smiling now.
A wry smile forms when he's asked about the fact that Boston's "rebuilding" team currently sits atop the Atlantic Division with a three-game lead over the so-called dream team that he was traded from.
"Whoever would have thought when the trade went through that Brooklyn would have the record they have, and Boston would have the record that we have right now," Bogans said.
Probably not Bogans. A couple of weeks after Paul Pierce, Kevin Garnett and Jason Terry were introduced at a glitzy press conference at the Barclays Center, the Celtics held a small gathering at their practice facility in Waltham to introduce Bogans, MarShon Brooks and Kris Humphries. (Gerald Wallace was excused to run a youth basketball camp in his native Alabama -- and also to wrap his head around the deal.)
A photo-op led to a viral moment. The three new Celtics looked forlorn holding up their new jerseys next to first-year coach Brad Stevens and president of basketball operations Danny Ainge. Stevens is the only one smiling.
Bogans has only fond memories from his time in Brooklyn, where he got a chance to jump-start his career again after a broken ankle wiped out much of his 2011-12 campaign with the team. The trade earned him a hefty pay increase and the fact that Boston has a better record only sweetens things.
Asked if he needles any of his former teammates about their rough start, he smiled again.
"Reggie [Evans]," Bogans said. "I've got to let Reggie have it."
When the Nets visited Boston for the teams' preseason finale in October, Evans found a couple of lemons in the visiting locker room at TD Garden. He grabbed a marker and had teammates autograph them before having a ballboy deliver them across the hall to Bogans and Brooks.
The insinuation: Life handed them lemons, so enjoy the sour taste of losing.
"[Evans sent] me lemons and text messages, telling me how they're going to whoop our [butts] when we come to Brooklyn," Bogans said. Then he shook his head and smiled again. These Celtics have made lemonade.
(
Read full column
)
December, 9, 2013
12/09/13
2:05
PM ET
NEW YORK -- Before a reporter could even get through his first question, Gerald Wallace interjected.

"I don't want to talk about Brooklyn, so if you've got any questions about Brooklyn, I'm not going to answer them," he said.

Well ... umm ... so how about this weather?

As the Celtics (10-12) prepare to visit the Nets (6-14), reporters obviously wanted to know how Wallace felt about playing his former team. And while Wallace has been outspoken on plenty of topics, he has shown no interest in talking about his time in Brooklyn ever since training camp started. He maintained that Brooklyn silence on Monday after the Celtics went through an offday workout at Baruch College in the Flatiron District of Manhattan.

A reporter wondered if Wallace's gag order had come internally.

"That was suggested by my mom," said Wallace. "Keep my mouth shut. So I don't want to talk about it."

You'll remember Wallace got fined $10,000 by the NBA for dropping an expletive into his postgame thoughts after a tough loss to the Rockets. You can't help but wonder if he'd have a few choice words after what many perceived as a down year with the Nets.

Wallace did add, "Once [his mother] found out we play [the Nets on Tuesday], she was like, 'Keep your mouth shut.' She told me to put a piece of gum in my mouth, but they took all the gum off the table, so I'm just going to keep it to myself."

Wallace was, however, happy to expound on these surging Celtics, who have won six of their last eight games and sit atop the Atlantic Division (with a three-game lead over that team that Wallace won't talk about, no less).

Wallace said a hectic November, one that often left him exasperated by the team's inconsistencies, may have been the best thing for this young team. It forced them to bond and learn on the fly, and now it's translating to results on the court.

"Working in a new coach, putting in a new system, and then you add four or five brand new guys to the mix -- I think the first month of the season was a real true test for us," said Wallace. "We played almost, what, [18] games in November? Nineteen games [in the first 31 days]? So it was more of a learning on the job type of situation. I think we improved from it. We got better. We took a bump on the head the first four games. We got better from that. We had some setbacks, and we've came back from that, so I think we've gotten a lot better. That whole month of November was probably the best thing that could have happened to us as a young team."

So what is the ceiling for these transitioning Celtics? Wallace didn't want to look too far ahead, and dipped into the Brad Stevens process-oriented handbook for his answer.

"Our main thing is we just want to keep improving," said Wallace. "We want to keep getting better and better. We came out and had a great game against New York, but we also know we shot great [and] they didn't shoot good. It could easily have been the other way around, so we've got to keep improving, got to keep getting better offensively and keep getting better defensively."

Yes, Wallace didn't want to talk about the Nets, but let's just say that if he was picking a brand of gum to describe his emotions for Monday's game, he'd probably grab a pack of "Extra."

December, 2, 2013
12/02/13
3:05
PM ET
WALTHAM, Mass. -- The
Boston Celtics
and
Brooklyn Nets
are tangled like a strand of old Christmas lights this season given their summer dealings and especially with the first matchup of the regular season coming up next Tuesday at the Barclays Center. But apprised that
Paul Pierce
had suffered a broken hand that will sideline him for 2-4 weeks (forcing him to miss next week's tilt),
Jared Sullinger
politely wondered why his post-practice interview on Monday had opened with chatter about a former Boston player.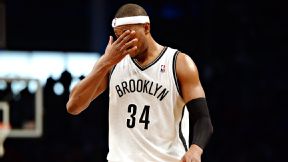 Joe Camporeale/USA TODAY SportsPaul Pierce has a fracture in his right hand that will force him to miss next week's game against Boston.
"I thought this was Celtics talk," Sullinger quipped. "Paul's a good guy and I wish the best for him. But we've got to worry about our season too."
Members of last season's Celtics squad were disappointed to learn of Pierce's injury, but they were more concerned with licking their own wounds after losing to Milwaukee on Saturday night. The Bucks, with two of their three wins this season coming against Boston, visit TD Garden for a third encounter on Tuesday night.
Courtney Lee
raved about Pierce's professionalism, particularly how he was one of the first players in the weight room and on the practice floor last season. But asked if he was disappointed the Celtics wouldn't see Pierce next week, Lee was brutally honest.
"If he's not playing, then that betters our chances of winning, so let him sit down," Lee said.
Like Lee,
Brandon Bass
sympathized with Pierce, lamenting the missed opportunity for him to play against his former team. But asked if had been looking forward to playing his old teammate next week, Bass likewise downplayed the significance.
"Nah, not really," Bass said. "It's just another game. I think all of us that played with him for a couple of years will be happy to see him or whatever, but it's another game. We approach each game with the same competitive spirit."
December, 2, 2013
12/02/13
11:45
AM ET

The
Brooklyn Nets
announced Monday that
Paul Pierce
suffered a non-displaced fracture of the third metacarpal of the right hand during Friday's game against the
Houston Rockets
. Pierce is
expected to be sidelined 2-4 weeks
, which means he will almost certainly be out when the
Boston Celtics
visit Brooklyn next Tuesday.
That could make the Nets' visit to Boston on Jan. 26 the first time Pierce suits up against his former team during the regular season. Pierce played against the Celtics during a preseason game in Brooklyn in October.
Pierce is averaging a career-low 12.4 points, 4.9 rebounds and 2.8 assists over 29.1 minutes per game in 15 appearances this season. The Nets are 5-12 (tied for the third worst record in the Eastern Conference).