Boston Celtics:

2014game25
December, 14, 2013
12/14/13
12:30
AM ET
BOSTON --
Jared Sullinger
feasted on the
New York Knicks
' interior defense (or lack thereof) to the tune of 17 first-half points (Sullinger was 5-of-7 shooting and got to the charity stripe for seven free throw attempts). Naturally, with the game in the balance in the fourth quarter,
Boston Celtics
coach Brad Stevens leaned on rookie center
Vitor Faverani
instead.
[+] Enlarge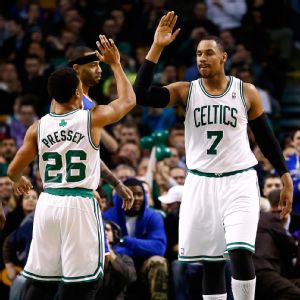 Mark L. Baer/USA TODAY SportsJared Sullinger (7) had a big first half before giving way to Vitor Faverani down the stretch.
Faverani, the Brazilian import who made a big splash early in the season but has been used sparingly in recent weeks, played a team-high 10:47 in the fourth quarter, chipping in five points and four rebounds while finishing plus-13 in plus/minus for the frame as the Celtics rallied from an 11-point deficit for a 90-86 triumph at TD Garden.
Asked to explain the decision to stick with Faverani, Stevens quipped, "Very little brain power put to it. All vision of, 'Hey, that guy's really in a nice groove.'
[Brandon] Bass
is our best bet on
[Andrea] Bargnani
if
Jeff [Green
is] going to guard
Carmelo [Anthony]
. And we've got a nice rhythm going. Vitor made a huge 3, made a huge catch-and-finish with a minute to go, but more than anything I felt like we had rim protection at a pretty good level down in the paint with him in the game and we were also rebounding. So, all gut, no math or science behind that one. That was just one of those lucky things that happened the right way."
With Boston down seven with less than nine minutes to play, Faverani drilled a 3-pointer to help aid the rally. Later, with Boston clinging to a two-point lead, Faverani worked a little pick-and-roll with
Jordan Crawford
that led to an easy layup and a two-possession lead with 1:07 to go.
Heck, Faverani even got switched onto Anthony at times during the fourth quarter and made it tough on New York's superstar with his length.
Stevens lamented not giving the first-year center more time during Wednesday's loss to the visiting
Los Angeles Clippers
. This time around he stuck with Faverani and was rewarded. And Sullinger was perfectly fine with playing the role of spectator down the stretch.
"I'm happy for Vitor," said Sullinger. "He's been a pro's pro, never complained. ... He played great [and] helped us win."
[+] Enlarge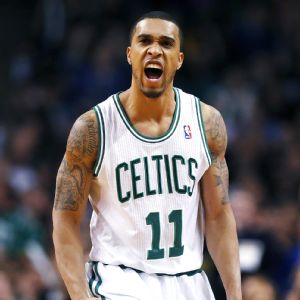 AP Photo/Michael DwyerCourtney Lee was feeling good after nailing a first-quarter buzzer-beater.
A handful of notes after Boston's come-from-behind triumph over New York:
LEE'S CONTRIBUTIONS: It'll blend into the scenery a bit, but Courtney Lee scored 14 of his 18 points in the first half Friday, helping Boston build as much as a 17-point first-half lead. He finished 6-of-8 shooting overall and made all three of his 3-point attempts over 19:05. Lee has noted he has put in a lot of work on his shot this season, and the results are obvious. "I've been satisfied with my shot," said Lee. "I knew it was going to get better, but I feel a lot better with the release and shooting and whatnot. And like I said, repetition, every day after practice."


OLYNYK'S RETURN: Rookie Kelly Olynyk returned from a 10-game absence to chip in four points, four rebounds and a block over 14:20 (he did a have a team-high three turnovers). Asked how the ankle responded to the activity, Olynyk said, "Pretty good. A little sore, obviously, but I was happy with it." Olynyk's night was highlighted by a third-quarter chasedown block. After committing a turnover in the offensive end, Olynyk hustled as Iman Shumpert streaked the other way and the Celtics big man produced an emphatic swat that left Olynyk tumbling to the ground on the baseline. Said Olynyk, "I don't remember [the block]. I made a bad post-pass to Brandon Bass, turned it over, so I had to do something."


C'S NEEDED THIS: Stevens took great pride in how his team gutted out this victory (especially after breezing to a 41-point win over the Knicks five days earlier). Said Stevens: "I wouldn't want to go through it again, but that's exactly what our team needed. We needed to have a lead, lose it, be backed up against the wall, and figure out a way to win. Because we talked about how in some of these games, like Wednesday night, the air kind of went out of the tires in the third quarter and we kind of -- we didn't feel like we just stayed connected throughout the whole last 24 minutes, which is easy to do. Ninety-nine percent of the teams in the world will do that in those circumstances, in circumstances like tonight. But what you want to do is tighten, tighten it even more, stay together, become even more accountable, more resilient, and even tougher together, and that was what happened tonight. We had 10 guys play well at different points in time throughout the game, but it was very unpredictable."


PRAISE FOR BENCH: Boston's bench combined for a measly four points in Wednesday's loss to the Clippers, but rebounded to register 38 points on 14-of-23 shooting overall (60.9 percent). Said Stevens, "Good to have those guys come in off the bench and play well. I thought Gerald [Wallace] was really good tonight. Courtney was obviously good. Phil [Pressey] was good and Vitor, obviously, in the second stint was very, very good and I thought Kelly ran out of gas in the fourth quarter, but looked pretty good in the first half."

December, 13, 2013
12/13/13
9:55
PM ET
BOSTON -- Rapid reaction after the
Boston Celtics
defeated the
New York Knicks
90-86 on Friday night at TD Garden:


THE NITTY GRITTY
Each team owned a double-digit lead at one point, but the Celtics rallied from 11 down in the fourth quarter and
Avery Bradley
's go-ahead 3-pointer with 2:38 to play helped Boston emerge.
Jared Sullinger
scored a team-high 19 points (though the team rode rookie
Vitor Faverani
as its center down the stretch).
Courtney Lee
scored 18 points off the Boston bench, while Bradley finished with 13 points and five rebounds and cranked up the defensive intensity in the final frame.
Carmelo Anthony
scored a game-high 26 points, while
Andrea Bargnani
added 22 points, 7 rebounds and 4 assists to pace the Knicks.
TURNING POINT I: C'S FIRST-HALF RUN
The Celtics tried to turn this into another laugher with a bench-propelled 14-0 burst early in the second quarter. What had been a one-possession game saw Boston live at the free throw line while opening a game-high 17-point lead. Sullinger -- running with four reserves -- scored half of Boston's points on the surge. New York went more than five minutes overall without a field goal, missing nine straight shots during the drought.
TURNING POINT II: KNICKS RALLY AHEAD
The Celtics were still up 13 with 2:18 to play in the first half, but New York trimmed that lead to six before the intermission. Less than five minutes into the second half, the game was tied and the Knicks soon surged ahead by as many as seven after a couple Bargnani jumpers put the visitors out front 69-62. New York would lead by as many as 11 points, but ...
TURNING POINT III: BRADLEY PUTS BOSTON AHEAD
Bradley's 3-pointer from the right wing gave Boston its first lead of the fourth quarter with 2:38 to play. Vitor Faverani added a layup off a feed from
Jordan Crawford
and the Celtics' defense made it stand up.
OLYNYK RETURNS
After missing 10 games with a sprained right ankle, Celtics rookie
Kelly Olynyk
returned to game action on Friday night. The rookie big man made his only shot while chipping in four points, four rebounds and a block over 14:19.
LOOSE BALLS
Lee gave Boston a first-half spark, scoring 14 over the first two quarters (making all four shots he took, including three triples in that span). He finished with 18 points in 19 minutes of action. ...
Phil Pressey
gave Boston some second-half energy reflected in his team-best plus-16 in plus/minus overall. ...
Kris Humphries
missed his second straight game with a sore right knee. ...
Keith Bogans
and
MarShon Brooks
were healthy DNPs. ...
Kenyon Martin
suffered an abdominal muscle strain in the fourth quarter and did not return.
WHAT IT MEANS
The Celtics snap a two-game losing streak while moving to 11-14 on the season. Boston gets the weekend off from game action with this five-game homestand continuing next week with visits from Minnesota (Monday), Detroit (Wednesday) and Washington (Saturday).
December, 13, 2013
12/13/13
6:45
PM ET
BOSTON --
Boston Celtics
rookie big man
Kelly Olynyk
will return to action Friday after missing the last 10 games with a sprained right ankle.
Celtics coach Brad Stevens said there were no limitations on Olynyk, but said he'll monitor his conditioning as the game goes on.
"[Conditioning] might be a factor. And you just gauge that," said Stevens. "Again, that'll be something where you just kinda gauge it as he goes along. Adrenaline plays a huge role, too. A lot of times the first game back, guys play really really well. You never can tell with those things."
Fellow backup big man
Kris Humphries
will miss his second straight game with a bruised right knee. Stevens said Humphries had been playing through pain, but the team drained the ailing knee during Thursday's off day, which should have him available again for Monday's visit from the
Minnesota Timberwolves
.
"I've been told that Humphries should be back on Monday," said Stevens. "He had a knee bruise that they actually drained [Thursday]. He played through it for a couple of games and it just got worse and worse. I thought it was smart for him to talk about it, rather than keep gutting it out because he needed to have something done."
Stevens is hoping that by getting Olynyk back, and possibly more floor time for
Vitor Faverani
, the Celtics can add some needed size to a second unit that generated a mere four points in Wednesday's loss to the Clippers.
"I probably have brought [the reserves] out a little too soon [on Wednesday]," said Stevens. "I thought I played Jeff too long of a stretch in the second half. I didn't like the small lineup as much as I thought I would the other night. We didn't really have much choice the other night because of our lack of bodies. I think, obviously, we'll go back to being more traditional off the bench. Hopefully we can play those guys for longer stretches and I think that will help them produce a little bit better."
A couple more pregame notes:
SHUMPERT STARTS FOR KNICKS: Iman Shumpert, who missed the Knicks' last game with a bruised left knee, is back in the starting lineup against Boston. New York is without Raymond Felton (hamstring) for the next three weeks and Pablo Prigioni starts in his place on Friday. Kenyon Martin, who missed Sunday's game, is also in New York's starting lineup, allowing Carmelo Anthony to shuffle back to small forward.


STEVENS NOT EXPECTING REPEAT: Stevens downplayed the lopsided nature of Boston's 41-point victory in New York on Sunday and he kept on preaching that before Friday's rematch. "Each game is its own entity, each game is its own separate thing. The Knicks are extremely talented, as we all know. I've always thought Mike [Woodson] was a really good coach and you've got a guy like Carmelo, who on most nights will be the best individual player in the gym. So you really got a lot of things that don't add up to what happened on Sunday. That's part of sports. That's why we have to attack and play as well as we can and understand that last Sunday has nothing to do with tonight. And our guys understand that."

December, 13, 2013
12/13/13
10:30
AM ET
The Boston Celtics (10-14, 5-6 home) host the New York Knicks (6-15, 3-7 away) on Friday night at TD Garden (7:30 p.m., CSN). Here's what to watch for:


DON'T GET OVERCONFIDENT: The Celtics posted a 41-point thrashing over the Knicks on Sunday, handing New York its third worst beating ever at Madison Square Garden. Boston isn't consistent enough to expect a similar result without giving maximum effort. A little two-game slide should be enough for the Celtics to enter focused on the task at hand (and trying to replicate the positives from Sunday's romp). One thing is certain: Brad Stevens will be reminding his team that Sunday's result has no impact on how Friday's game will play out.


SOMETHING IN RESERVE: The Celtics got a measly four points from their bench during Wednesday's loss to the Clippers. Even missing a couple bigs (Kelly Olynyk and Kris Humphries), the Celtics need more from that second unit. It's putting a lot of stress on a first-unit offense to shoulder that scoring load. The Celtics were hoping to get Olynyk back after a 10-game absence from a sprained right ankle and -- if he can shed some rust -- he could provide a boost off the pine.


DEFENDING THE 3-POINT LINE: The Celtics have slipped back to No. 3 in 3-point defense and triples hurt the team Wednesday when a pair of late-game bombs helped the Clippers hold on down the stretch. The Knicks rank 18th in the league in 3-point field goals (34.7 percent), but their percentage spikes considerably in wins (ranking sixth best in the league at 42.5 percent in victories).


WHAT ELSE?: Celtics will catch a break with Raymon Felton (left hamstring) sidelined for the next few weeks. ... Backcourt mate Iman Shumpert (bruised left knee) is day-to-day as well after getting dinged up on Wednesday.

(
Read full game preview
)