Boston Celtics:

2014Game28
December, 22, 2013
12/22/13
7:15
AM ET
Headlines after the Wizards defeated the Celtics at TD Garden on Saturday:
December, 22, 2013
12/22/13
12:01
AM ET
BOSTON -- The Celtics spent the first part of the season as one of the most sluggish first-quarter teams in the league. They've corrected that, but they're still on the elusive quest to become a 48-minute team and one that's comfortable playing with a lead.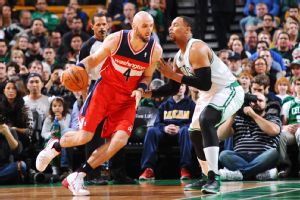 Brian Babineau/NBAE/Getty ImagesMarcin Gortat and the Wizards eventually gained the upper hand after weathering the strong early play of Jared Sullinger and the Celtics.

One game after kicking away an early 21-point advantage in a loss to the Detroit Pistons, the Celtics fumbled away an 18-point cushion while falling to the Washington Wizards 106-99 during a Saturday matinee at TD Garden.
Over the course of this five-game homestand, the Celtics outscored opponents by a staggering 9.8 points in the first quarter. To put that in perspective, that's almost three points better than the nearest team (Oklahoma City Thunder at plus-7.0) and almost double the next-closest squad (Dallas Mavericks at plus-5.0).
But Boston's quarterly splits get ugly from there: minus-3.6 in the second quarter, minus-6 in the third and minus-1.8 in the fourth during that span.
Is Boston getting a little too comfortable with early leads?
"I don't think they're too comfortable. I think, more than anything, maybe not playing with enough focus on controlling the next thing," said coach Brad Stevens. "Because when you start to lose a lead, that's a challenging thing from a human-nature standpoint. So one of the things that we've got to do is we've just got to be better in playing the next possession, regardless of circumstance.
"And a lot of that has to do with being young. A lot of that has to do with being on the right side of the scoreboard on a couple of occasions. And you build belief, and then this is the next challenge that comes with that, right? So you never would say a good start's not good. A good start's what you want, but you also want the rest of the 48 minutes to be good as well."
During this five-game homestand, Boston shot 59.3 percent overall from the floor in the first quarter and 50 percent beyond the 3-point arc. Its average lead was 30.6-20.8.
During Saturday's visit from the Wizards, it was even greater. Boston shot 60 percent from the field and, keyed by 10 points from Jared Sullinger, owned a 30-14 advantage after the first 12 minutes. Washington trimmed its deficit to seven at halftime and had tied the game before the end of the third quarter. Trevor Ariza (game-high 27 points) and John Wall (20 points, 9 assists, 6 steals) took over the final 16 minutes, and a 14-1 run late in the fourth helped Washington lead by as much as nine in the closing moments.
(
Read full story
)
December, 21, 2013
12/21/13
5:05
PM ET
BOSTON --
Boston Celtics
coach Brad Stevens is headed home, but he doesn't expect the first 24 hours to be a particularly fun experience.
Stevens and the Celtics flew to his native Indianapolis after Saturday's 106-99 loss to the
Washington Wizards
with the Eastern Conference-leading
Indiana Pacers
waiting on the tail end of a back-to-back.
Stevens, who grew up a Pacers fan and spent 14 years as a coach at nearby Butler University, admits he's uncertain how it will feel to play inside the familiar confines of Bankers Life Fieldhouse.
"I don't know. Certainly, I'll know a lot of people in the building," said Stevens. "It's a wonderful place, a wonderful place to be raised. As much as you look forward to that for the time we'll get to spend [with friends and family] afterwards, if anybody has watched [the Pacers] play, you know I'm not really looking forward to the game."
The Pacers are 21-5 and handed Boston a 97-82 loss at TD Garden in late November. Boston has played its best basketball since that point and, despite losing two in a row, players view Indiana as a chance to gauge their progress.
Stevens' players also understand how important that game will be to their coach, even as he attempts to keep the focus on the team he'll be coaching against.
"Bottom line is, it's an Indiana Pacers game and they're going to have a great fan support; they've got a great team," said Stevens. "You know I said this before we played them the first time: It's the best Pacers team I've ever seen in my lifetime. And so that's a great challenge that we have. As a competitor, you want to try to challenge yourself. And at the same time, the people that are going to be in that building that I know, and I'll know a lot of them, are really special to our family and that whole state and that whole city is to us."
Stevens will get a chance to exhale a bit after Sunday's game. The Celtics plan to take three days off from Dec. 23-25. His family will stay in Indianapolis for a bit before making about a five-hour trek to spend Christmas with his in-laws. Stevens smiled as he noted, "My wife [Tracy] is happy."
A win against Indiana would certainly brighten the holiday season for Stevens as well.
A handful of notes after Boston's loss to Washington:
CRAWFORD SEES OLD FRIENDS: Jordan Crawford registered 11 points, eight assists and three rebounds against his former team, but committed a team-high five turnovers and was minus-4 in plus/minus in the loss. Asked if he had any extra motivation for the game, Crawford said, "I just wanted to win the game. [Boston had] lost one before that, so I wanted to get back on track." He admitted it was good to see some of his former teammates, many of whom gushed about his progress in Boston. The Celtics acquired Crawford from the Wizards at February's trade deadline in exchange for Jason Collins and Leandro Barbosa.


MOVING ON: Knowing the challenge Indiana presents, the Celtics wanted to put Saturday's loss behind them quickly. "It's only going to get tougher," said Jared Sullinger. "We're playing against one of the best teams in the East. So it's only going to get tougher, so we gotta buckle down. And as much as I don't want to say this, we kinda gotta wipe this one out and get ready to play [Sunday]."


BRADLEY'S OFFENSIVE OUTBURST: Avery Bradley scored 21 of his team-high 26 points after the intermission, and the Celtics leaned hard on him after the intermission. Bradley made 10 of 14 shots in the second half, including eight from the mid-range or deeper. He provided a needed spark while running with a reserve group late in the third, even if it couldn't fend off the Wizards' rally. "I just think [Bradley] had a good roll about him," said Stevens. "He's playing with a group that isn't necessarily known individually for scoring the ball. When you've got it going, it's our decision to keep him going and try to go to him as much as possible. He did a great job with it. It's part of his growth and I think he can get a lot better. I think his effectiveness on the offensive end will just continue to improve and improve."

December, 21, 2013
12/21/13
3:22
PM ET
BOSTON -- Rapid reaction after the
Washington Wizards
defeated the
Boston Celtics
106-99 on Saturday afternoon at TD Garden:


THE NITTY GRITTY
Avery Bradley
scored 21 of his team-high 26 points after the intermission, putting on a mid-range clinic while shooting 12-of-18 from the floor overall in a team-high 38 minutes, but couldn't fend off the Washington charge.
Jared Sullinger
(22 points, 11 rebounds) and
Brandon Bass
(11 points, 11 rebounds) held a meeting of the double-double club, while
Jordan Crawford
had 11 points, 8 assists, and 3 rebounds against his former squad.
Trevor Ariza
scored 19 of his game-high 27 points after the intermission (including 14 in the third quarter) to help the Wizards rally back.
Marcin Gortat
added 13 points and 11 rebounds, while
John Wall
kicked in 20 points and 9 assists for Washington.
TURNING POINT
Despite leading by as much as 18 early, the Celtics again let an opponent back into the game. Boston's lead was at 8 with 6:14 to play, but Ariza and Wall paired up to key a 14-1 run and Ariza's fifth 3-pointer of the night had the Wizards out front 98-93 with 2:24 to play (Washington's biggest lead of the night to that point). The Wizards closed out the game on a 22-7 run overall.
LOOSE BALLS
After turning the ball over just three times in the first half, the Celtics gave it away six times in the third quarter. The team finished with a manageable 13 turnovers for 16 points, but that third quarter let Washington back into the game. ... Boston shot 48.3 percent overall, but struggled beyond the 3-point arc (4-of-20, 20 percent). ... Gortat finished a team-best plus-19 for Washington; Wall was plus-16. ...
Keith Bogans
and
MarShon Brooks
were healthy DNPs for Boston.
WHAT IT MEANS
The Celtics (12-16) have now lost two straight and are tied with Toronto atop the Atlantic Division. Boston travels to Indiana tonight with the tail end of a back-to-back looming Sunday against the East-leading Pacers (it's also a homecoming for Indianapolis native Brad Stevens). A five-day holiday break is their reward, the first three days of which the Celtics will take completely off from basketball activities. Boston returns to practice on Dec. 26 and hosts the
Cleveland Cavaliers
next Saturday afternoon at TD Garden.
December, 21, 2013
12/21/13
12:40
PM ET
BOSTON --
Boston Celtics
coach Brad Stevens knows
Jordan Crawford
will have some extra emotions playing against his former team during Saturday's matinee visit from the
Washington Wizards
, but that's not necessarily a bad thing.
"There are human elements to this game and you can either approach them in that way, or you can just focus on team and controlling what you can control," said Stevens. "One of Jordan's greatest strengths is his willingness and his desire to step up in the moment. I don't want to do anything to limit that. One of the things that I talked to him about is, 'OK, this is what we're looking to do, this is how we're looking to attack,' but he needs to be able to pick his spots and choose his spots, and he'll make some mistakes, but that's OK. We'll live with that and ride with that. Hopefully the good ones outweigh the bad ones at the end of the game."
Acquired from the Wizards at February's trade deadline last season, Crawford played his former squad last April. He registered six points, two assists and two steals over 16 minutes in Boston's 107-96 triumph at TD Garden. Crawford's role has expanded this season, elevating to starting point guard as
Rajon Rondo
rehabs from ACL surgery. Crawford even netted the NBA's Eastern Conference Player of the Week honor earlier this month.
"He's been capable of that. We've all known that, of doing what he's able to do," said Washington coach Randy Wittman. "He's a good player that can affect the game in a lot of different ways. Again, I have a hard enough time following our team closely to really give you any more than that. I mean, I coached him. I know what he's capable of. I think you guys are seeing that here."
Former teammate
John Wall
fully expects an amped Crawford.
"You know Jordan. You know how he is. He's a competitive guy," said Wall. "And when he feels like a team lets him go or something like that, he uses that as more motivation. He wants to show them a reason why. I think he matured, so he'll show them in a better way than he would have in the past. In the past, he probably would've tried to go out and get 30 or 40 [points]. Now, I think he'll try to do whatever he's doing in the right way and try to set his guys up and just try to win the basketball game."
A couple other pregame notes:
SANTA VISITS EARLY: Each Celtics player had an Xbox One with a ribbon stuck to it at their locker on Saturday morning. Courtney Lee, an avid gamer, said he hoped the gifts would inspire his teammates to dedicate themselves to bringing their video gaming to his level. "Hopefully these guys will work on their skills so I can have some people to compete against in here," said Lee.


BETTER DEFENSE REQUIRED: Asked about his team's offensive progression lately, Stevens said, "We're progressing offensively. When you score 106 points [Wednesday night against Detroit], I feel like we should win [that game]. So I didn't think we were as good defensively, but part of that was that we turned the ball over too much. We go through our lulls with turning it over, we have to get better with that. But I think we're utilizing our strengths better than we were at the start of the year, and, hey, we're small. When you look out there, especially with [Brandon] Bass and Jared [Sullinger] out there, we're a small team, even in the perimeter we're small. We're going to have to utilize all of different skill sets to be the best that we can be. And our guys are doing a pretty good job of finding people in spots to be successful."

December, 21, 2013
12/21/13
8:00
AM ET
The
Boston Celtics
(12-15, 7-7 home) host the
Washington Wizards
(11-13, 5-8 away) on Saturday afternoon at TD Garden (1 p.m., CSN). Here's what to watch for:


COACH'S SCOUTING REPORT: Asked what stands out about the Wizards, first-year Celtics coach Brad Stevens noted, "[John] Wall's speed up and down the floor, his ability to put pressure on you on both ends. Obviously they've got excellent shooting in [Bradley] Beal, [Trevor] Ariza, and [Martell Webster specifically. Then you've got guys on the interior, their two trades in the last 18 months or whatever, you've got Nene and [Marcin] Gortat, those guys are bona fide NBA big guys and now they are all healthy, they look really good. They won on the glass against Brooklyn 51-31. We all saw Brooklyn in person a couple weeks ago, Brooklyn is not small. That's a heck of an accomplishment."


EAST MEASURING-STICK STRETCH: Over a three-game stretch, Boston will see the Pistons, Wizards and Pacers -- three almost surefire Eastern Conference playoff teams. The Celtics let a win slip away against Detroit, and now will get a chance to see where they stack up against Washington and Indiana as part of this back-to-back before a five-day Christmas break. "Washington with everybody healthy, they are playing great basketball," said Courtney Lee. "Then going into Indiana, another one of the top teams in the East. I think both of these games are a good test for us."


WHAT ELSE? After kicking away a 21-point lead against the Pistons, including a lackluster start to the second half, Gerald Wallace said the team needs more consistency. "We gotta play 48 minutes," said Wallace. "I think the third quarter has been our enemy the last couple games. We've had slow starts in the third quarter. We gotta come out and start the second half on a good note." ... The Wizards rank 21st in offensive rating, 17th in defensive rating and 20th in net rating. ... Washington is a top-10 team on the defensive glass, ranking ninth overall. For the month of December, the Wizards are actually the top rebounding team in the league, sitting first in both defensive and total rebound percentages.

(
Read full game preview
)