Boston Celtics:

2014game29
December, 23, 2013
12/23/13
12:05
AM ET
The best part about that Indiana game? It's over.
Sure, this wasn't the way the
Boston Celtics
wanted to go into a five-day holiday break. The Green have lost three straight, including a 106-79 shellacking at the hands of the Eastern Conference-leading Pacers on Sunday night that spoiled Brad Stevens' homecoming.
Not that they are worried about the standings at the moment, but the Celtics have slipped behind the
Toronto Raptors
at the top of the Atlantic Division (although Boston's 12-17 record is still good enough for the eighth seed in the tumbledown East).
[+] Enlarge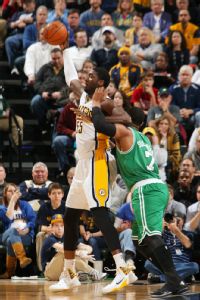 Ron Hoskins/NBAE/Getty ImagesJared Sullinger and the undersized Celtics had their hands full with Roy Hibbert and the rest of the Pacers' frontcourt.
As Stevens has suggested many times before, Boston's progress won't be gauged by the team's win-loss record. But this little bump in the road only confirms the Celtics have taken a step or two back. After playing some of their most inspired ball early in December, winning five of their first seven games this month, they have stumbled a bit lately.
While no team likes to enter a lengthy break on a downturn, the Celtics could use a recess.
The Celtics have played 29 games in 54 days to start the 2013-14 season. Nineteen of those games came over the first 31 days of the campaign, but even as the schedule eases up slightly, the Celtics won't mind hitting the refresh button. The Green will enjoy three full days off to start this holiday break, and Boston reconvenes for practice Dec. 26; its next game is Saturday's visit from the
Cleveland Cavaliers
.
This three-game stretch before the break was supposed to be a chance for Boston to gauge its progress and see where it stood in the East. Despite owning big early leads against Detroit and Washington -- two very likely playoff teams -- the Celtics faltered late and dropped both. Stevens knew Sunday's trip to Indiana would be no picnic, and the Pacers dominated much of the game while improving to 13-1 at Bankers Life Fieldhouse this season.
Stevens downplayed the hype about returning to the city he was raised in, the same city where he established himself as a coach at Butler University. He admitted the crowd was decorated with friends and family, but deadpanned to reporters in Indianapolis after the loss that, "I probably would have been better off sitting up in the stands with somebody the way we played."
Indiana simply bullied Boston and its undersized frontcourt near the hoop for much of the game. The Celtics didn't generate their first points in the paint until more than 19 minutes in, by which time the hosts had built a 14-point lead as part of a game-altering 15-1 run. Indiana's lead went as high as 27 in the third quarter, when
Lance Stephenson
was filling up the box score on his triple-double, breaking
Courtney Lee
's ankles and gyrating toward Boston's bench.
Yes, the Celtics could use a refresh button.
"I felt like one team was here to play, the other team was already on their Christmas break and it showed," Celtics veteran
Gerald Wallace
said. "[The Pacers] executed well, and they pretty much dominated in every aspect of the game."
Visits from two more potential East playoff teams (Cleveland, Atlanta) loom when the Celtics get back on the floor. Six of the team's next seven after that are on the road, including a five-game Western swing that actually starts in the middle of the country in Oklahoma City.
Boston needs to clear its head a bit after this recent stretch. Players scattered across the country after Sunday's loss and will huddle again Thursday in Waltham with the goal of playing more consistent ball.
This stretch spanning into the new calendar year could help define the 2013-14 season. Can Boston remain competitive and, with
Rajon Rondo
's return looming early in 2014, emerge as an honest-to-goodness contender in the East (even if it's in the tier below the Pacers and Heat)? Or will Boston fade into the lottery, where many expected it would be this season?
For now, Boston players are welcoming the break. They know there's room for improvement, but it starts with embracing a rare chance to enjoy the holiday (even if many of Boston players pledged to spend these next three days working out on their own).
As
Avery Bradley
told reporters after Sunday's loss, "We took a lot of steps forward this [season]. Obviously, we took some back the last few games. We know what we need to improve on."
December, 22, 2013
12/22/13
8:26
PM ET
Rapid reaction after the
Indiana Pacers
defeated the
Boston Celtics
106-79 on Sunday evening at Bankers Life Fieldhouse:


THE NITTY GRITTY
There was a two-minute stretch midway through the first quarter in which the Celtics briefly owned a five-point lead. The Pacers dominated much of the other 46.
Paul George
scored 18 of his team-high 24 points in the third quarter, while
Roy Hibbert
(15 points, 12 rebounds, 3 blocks) governed around the basket.
Lance Stephenson
hung around long enough in the fourth quarter to polish off a triple-double (12 points, 10 rebounds, 10 assists over 35 minutes) for the Pacers.
Avery Bradley
scored a team-high 13 points for Boston, but cooled after a fast start. Bradley and
Brandon Bass
were a team-worst minus-19 in plus/minus (not that any of Boston's players were much better in that category). The Celtics didn't score their first points in the paint until 19:15 into the game, which tells you about Hibbert's influence there.
TURNING POINT
Hard to believe, but it was still a one-possession game with just over eight minutes to play in the first half, but the Pacers embarked on a 15-1 run that culminated with a
Danny Granger
3-pointer for a 38-24 lead with 5:06 to play in the second quarter. Boston got no closer than 15 in the second half while the lead ballooned as high as 27.
A CHANCE FOR BROOKS
MarShon Brooks
, stuck in the land of DNPs lately, got 10 minutes of fourth-quarter playing time. He made one of his two attempts, scoring six points and grabbing five rebounds in a rare opportunity to state his case for playing time. He was Boston's only player not in the negative for plus-minus, but he wasn't in positive. He was even over his floor time.
LOOSE BALLS
The Pacers owned a 50-22 advantage in points in the paint and outrebounded Boston 53-41. Boston had no answers for Indiana's size and the Pacers just bullied Boston's undersized frontcourt early on. ... The Celtics shot 38.1 percent from the floor (32 of 84), but the Pacers finished at 49.4 percent (41 of 83). ...
Keith Bogans
was a healthy DNP.
WHAT IT MEANS
The Celtics (12-17) head into a five-day holiday break on a three-game losing streak. They knew Sunday's game in Indy would be tough, but that's only going to leave them kicking themselves about giving away big leads in recent losses to Detroit and Washington. Boston will take the next three days completely off before reconvening at practice the day after Christmas. The Celtics host the
Cleveland Cavaliers
next Saturday afternoon at TD Garden.
December, 22, 2013
12/22/13
10:30
AM ET
The Boston Celtics (12-16, 5-8 away) visit the Indiana Pacers (21-5, 12-1 home) on Sunday evening at Bankers Life Fieldhouse (6 p.m., CSN). Here's what to watch for:


HEADED HOME: Brad Stevens returns to his native Indianapolis for the first time as an NBA coach and while he's excited about seeing friends and family, many of whom will pack the arena, he joked, "If anybody has watched [the Pacers] play, you know I'm not really looking forward to the game." The guess here is that he's actually pretty enthused about going against the East-leading Pacers. He'd probably prefer his team be playing a little crisper, having let two winnable games slip away against other East playoff teams this week (Detroit, Washington). But the Pacers represent a measuring stick for where Boston needs to get to in the conference.


RIGHT ROTATION: Stevens went 11-deep during Saturday's loss to Washington, but he did tighten the rotations a bit, leaning heavy on starters (particularly a hot-shooting Avery Bradley) in the second half when the Wizards rallied. Gerald Wallace topped the bench players while playing 17:36 and only two others reached double figures in minutes in Kris Humphries (16:14) and Phil Pressey (13:46). Stevens admitted its a balance and one that might return to a more normal look Sunday. ""I've always thought that you go with guys that are really playing well. Maybe I should've stuck with a couple of those [bench] guys a little bit longer. But that's why I did it with Avery, and that cut into Courtney [Lee]'s opportunity in the second half. So I'm sure it'll be back more traditional ways tomorrow, but you're always looking for the game within the game to try to figure out how to win that single one."


PACING THE EAST: The Celtics know how tough it is to win in Indy. "It's going to be a challenge for us," said Gerald Wallace. "We're facing one of the best teams in the league on their home court. I think they've only lost, what, one game at home this year? It's going to be a test for us to mentally stay together and execute our offense and kind of take them out of what they want to do. I think we did a great job of playing them here and it's going to be even tougher on the road, but I think we can still gives ourselves a chance to win." The Pacers rank first in the league in defensive rating (94.2) and are solid on the glass (fourth in total rebound percentage). An inconsistent Boston offense can't get discouraged agains the best defense in the league and maximize each opportunity.


WHAT ELSE?: Detroit is the only team to beat the Pacers at home this season (Indy won its first 11 at Bankers Life this season). ... Danny Granger made his season debut against Houston on Friday (missing 6-of-7 shots while putting up five points over 22 minutes). ... The Celtics have a five-day break after Sunday's game, the first three of which they'll take off completely from basketball activities as players scatter around the country for the holidays.

(
Read full game preview
)