Boston Celtics:

2014Game30
December, 29, 2013
12/29/13
3:00
AM ET
Brandon Bass and the Boston Celtics rejected the Cleveland Cavaliers' attempt to rally all the way back from a 22-point deficit during Saturday's triumph at TD Garden:
December, 29, 2013
12/29/13
12:01
AM ET
BOSTON -- His team's ability to give away a double-digit lead might eventually give Boston Celtics first-year coach Brad Stevens an ulcer, but for at least one game, he was able to keep his sense of humor about the issue.
AP Photo/Michael DwyerThe Cavs outscored the Celtics 34-18 in the fourth quarter, but Brandon Bass blocked Dion Waiters' shot attempt with 8 seconds left to ice Boston's win.
"I was telling [team president] Rich Gotham it should have been promoted as part of our holiday [ticket] package: 'Every game is an adventure,'" deadpanned Stevens after the Celtics almost gave away a 22-point lead before fending off the Cleveland Cavaliers at the finish line of a 103-100 triumph in a Saturday matinee at TD Garden.
The Celtics had previously kicked away a 21-point lead while losing to the Detroit Pistons and an 18-point lead in falling to the Washington Wizards last week at the Garden.
"And that would have been, you know, Green Runs Deep, hashtag Every Game is an Adventure," cracked Stevens, referring to the team's 2013-14 slogan Green Runs Deep, which is often attached in hashtag form to its tweets. "That would be a great thing to promote. Maybe we can work on that. Can we get that on the website?"
The Celtics entered the fourth quarter Saturday with a 19-point lead but watched the Cavaliers get the ball back down two with 19.3 seconds to play. Fortunately for Stevens, his team displayed the defensive focus that he's been imploring them for while twice denying the Cavaliers the chance to win or force overtime over their final two possessions.
Showcasing that same sense of humor, Stevens opened Saturday's postgame news conference by noting, "I thought we did a really good job and played exceptionally well in the fourth quarter, for [19.3] seconds."
Boston may be undersized up front, but it showcased its defensive versatility during those two final plays, its ability to switch highlighted as Brandon Bass and Avery Bradley came up with key stops in what should have been mismatch situations.
(
Read full story
)
December, 28, 2013
12/28/13
5:29
PM ET
BOSTON -- His late-game block drew him a large postgame media crowd and
Boston Celtics
forward
Brandon Bass
used the stage to set the record straight on that No-Pass Bass moniker he has carried during his NBA career.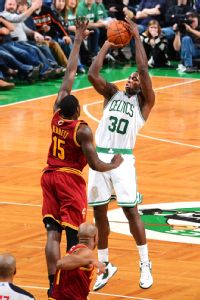 Brian Babineau/NBAE/GettyBrandon Bass is showing he can do more than shoot this season.
"I never agreed with that nickname," said Bass. "
[Rajon] Rondo
just put me in position to catch-and-shoot [in the past]. If you listen to some of the game film, when he passes to me, he would say, 'Shoot!' even if somebody was on me. That's why I was No-Pass Bass."
Bass, who had never averaged an assist per game before arriving in Boston, has seen that helper tally slowly climb. Last season he handed out 84 assists in 81 games, reaching the 1-assist-per-game plateau for the first time, and this season he's already at 44 assists through 30 games for nearly 1.5 assists per contest.
OK, so Rondo doesn't have to worry about Bass stealing his point guard duties while he rehabs, but Bass is taking great pleasure in showing off his passing skills this season.
For the fourth time during the 2013-14 campaign, Bass tied his career high of four assists during Saturday's 103-100 triumph over the
Cleveland Cavaliers
. He added 15 points on 5-of-8 shooting with six rebounds, and two blocks (including the late-game swat on
Dion Waiters
that helped preserve the win).
Informed of his assist-happy night, Bass quipped, "That's what I do, man." Turning more serious, he added, "I didn't know that. I don't really keep up with the stats. But it's cool to be able to make plays for my teammates. I told Rondo, I'd rather get an assist, a nice assist, versus a dunk. I've been dunking my whole life. It feels good to make a play for somebody else."
Bass' work near the basket is generating more opportunities for his teammates. In the first quarter, he drew a double team in the paint before kicking the ball out to
Jeff Green
for a 3-pointer from above the arc. The two joined forces again soon after, this time with Bass passing to the corner off a double team on the right blocks, for another Green triple.
Bass found Crawford for a 3-pointer in the third quarter, then dished off the drive to feed Humphries for a baseline jumper later in that frame. That's 11 points generated off Bass feeds.
Pretty soon, you're going to have to find him a new nickname.
A month ago you might have been able to needle Bass about his 3-point shooting (he had missed the first 16 of his nine-year career). Now he's made his last two, both against the Cavaliers, and laughed while noting, "There's just something about Cleveland. They like to see me shoot 3s, so I was able to hit one."
Bass is enjoying getting to show off other aspects of his game this season.
"This year, it's just a different way," said Bass. "Everything is different. I've been able to show different things by everything being different -- different players, different system, and it's cool that I can succeed in different scenarios. I just want to continue to help my teammates in any way I can, and hopefully lead us to wins."
A handful of postgame notes:
December, 28, 2013
12/28/13
3:25
PM ET
BOSTON -- Rapid reaction after the
Boston Celtics
defeated the
Cleveland Cavaliers
103-100 on Saturday afternoon at TD Garden:


THE NITTY GRITTY
Jeff Green
and
Jordan Crawford
each scored a team-high 19 points to pace six Boston players in double figures. Both Green and
Avery Bradley
(18 points) were active on the glass, finishing with a team-best eight rebounds apiece.
Kyrie Irving
became the first player to score 30-plus points against the Celtics this season, putting up a game-high 32 points while fueling Cleveland's fourth-quarter comeback.
Dion Waiters
added 17 points, but was denied by
Brandon Bass
on a late drive to help Boston emerge with the win.
TURNING POINT
The Celtics opened the game up a bit in the second quarter while running with a lineup featuring
Jared Sullinger
and reserves.
Courtney Lee
, 10 points in the first half, hit consecutive 3-pointers and Boston's lead doubled to 12 (38-26) with 7 ½ minutes to play in the quarter. The Cavaliers would get as close as six later in the frame, but an aggressive Green helped push it to a first-half best 15 points before the intermission. That lead ballooned as high as 22 in the second half before the Cavaliers made a late-game charge ...
FENDING THEM OFF AT FINISH LINE
The Celtics were up 19 entering the fourth quarter, but Cleveland chipped away, clawing within two in the final minute (all while the Celtics looked like they were trying to kneel out the clock; firing a couple airballs that led to 24-second violations). Bass blocked Waiters on a late drive, and the Cavaliers got another chance to force overtime on a final possession, but
Earl Clark
couldn't get off a shot while blanketed by Bradley.
LOOSE BALLS
Bass connected on only his second career 3-pointer during a late-clock scramble early in the third quarter. This just a month after making his first career triple against the Cavaliers. Bass is now 2-for-18 beyond the arc for his career. ... Bass finished with 15 points on 5-of-8 shooting with six rebounds, four assists and two blocks.
WHAT IT MEANS
The Celtics, coming off a five-day break, snapped a three-game losing streak while moving to 13-17 overall. Boston gets two more days off before hosting the
Atlanta Hawks
in another matinee on New Year's Eve. Things jump up soon after with a stretch of seven games in 10 days, which includes six games on the road including a five-game trip out west.
December, 28, 2013
12/28/13
12:30
PM ET
BOSTON -- The
Cleveland Cavaliers
' suspension of
Andrew Bynum
provided a caffeine jolt on a sleepy Saturday morning before the team's matinee with the
Boston Celtics
at TD Garden.
Bynum was suspended indefinitely Saturday for conduct detrimental to the team. He did not travel with the team to Boston, but the news reverberated in both locker rooms.
From the Celtics perspective, coach Brad Stevens suggested Bynum's absence might help the Cavaliers.
"I think Bynum is a really good player. I think when I've watched them, they've been better without him on the court in a lot of cases," said Stevens. "That doesn't mean they haven't been good with him on the court, in a lot of cases, and it's certainly nothing against him, but what it does is impacts their defense in a way where they are a little bit more aggressive with a guy like
[Anderson] Varejao
. And then in our [first] game, I thought Varejao was one of the better bigs that played."
Boston posted a lopsided win in the team's first meeting last month with
Jared Sullinger
often taking advantage of Bynum's reluctance to step outside to the 3-point line. The Cavaliers will start Varejao and bring a little extra defensive tenacity to that spot.
"I love Varejao," said Stevens. "I think he's a consummate pro. He plays hard. You know what you're getting every single night. I think he's a guy that's been there and done that, that a lot of young players can learn from. He's not historically an All-Star, or he's not in the discussion when people talk about the best of the best, but if they had a ranking for most consistent, I bet you they would. I understand and can see why he's such a highly valued member of their organization."
Cavaliers coach
Mike Brown
did his best to tip-toe around the Bynum suspension before Saturday's game. Peppered on the length and how the team will proceed with Bynum, he simply went into repeat mode while noting, "I'm not trying to be funny, but everybody knows what indefinite means."
It's when he talked about the rest of his roster that maybe his most condemning comments on Bynum emerged.
"We've got 14 guys in our locker room that are really focused and determined and ready to take on any challenge that's in front of them," said Brown. "They are great guys, focused guys, and they know how to play the game the right way and that's what I'm focused on, just helping those guys win ballgames."
Later, when asked if he was disappointed in the Bynum situation, Brown added, "I'm worried about the guys in the locker room. It's simple as that. In our business there are a lot of ups and a lot of downs throughout the season. So what you do as a head coach is keep moving forward. Any time you look back on anything or dwell on anything, it's wasted energy from the guys in the locker room, which is obviously very important."
Stevens noted that sometimes a team can find a spark in a situation like the one facing the Cavaliers.
"Obviously, for [Bynum's] sake and their sake, I hope that in the long term it gets him back, but a lot of times in a case like this, teams play really well coming off something like this," said Stevens. "We're going to have to be really good today and I don't think that impacts them in any way that would be considered a negative from their standpoint."
December, 28, 2013
12/28/13
8:25
AM ET
The Boston Celtics (12-17, 7-8 home) host the Cleveland Cavaliers (10-18, 2-12 away) on Saturday afternoon at TD Garden (CSN, 1 p.m.). Here's what to watch for:


KYRIE ELEISON: The Celtics limited Kyrie Irving to a mere 17 points in the first meeting this season, but he's gone for 39+ points in two of his last four games. Avery Bradley downplayed the matchup, but he clearly gets up for competing with Irving. "I feel like we all have to play great tomorrow to be able to stop Kyrie -- or at least slow him down a little bit," said Bradley. Coach Brad Stevens stressed that preventing Irving and Dion Waiters from getting into the paint and creating havoc is key to Boston's success Saturday.


BACK TO WORK: How will the Celtics respond after five days off? "We'll find out," Stevens said with a smile. "That can go both ways. I don't want to predict that. I think that I've been on teams where they've come back after breaks and they are really good; I've been on teams where we've come back after breaks and they look stagnant. Bottom line is we'll find out [Saturday with] how we play." Sitting on a three-game losing streak during this break, Boston ought to be plenty motivated to get back in the win column.


BETTER DEFENSE REQUIRED: Boston's defense has struggled in recent games. Stevens has implored his team to approach Saturday's game with sustained focus on the defensive end. "If we don't play well, we'll get beat. It's pretty simple," he said. "If we don't defend well, it's going to be really hard for us to win. They are a team that is really well coached. Mike Brown has always been a defensive-minded coach. But he's running really good stuff, it gives those guys a lot of freedom. It puts you in a tough position. [Andrew] Bynum has become a guy that, depending on the day, can give you 15 and 8, or 17 and 9. And he hasn't had that for a couple of games, so you have to be alert to that. And you have to understand that a guy like [Tristan] Thompson is averaging 15 per game over his last five and playing really really well. They are a team that has a lot more than just their guards, but the guards stand out because of their ability to get to the rim."


A CHANCE FOR GREEN: Our friends at STATS LLC offers this note on Jeff Green vs. the Cavs: "Green has struggled recently, averaging 10.6 points on 37.7 percent shooting over his last five games, but he's been a huge problem for a Cleveland team with a revolving door at the small forward position. Green has averaged 25 points in his last three against the Cavaliers, including a season-high 31 last month."

(
Read full game preview
)