Boston Celtics:

2014Game39
January, 14, 2014
1/14/14
12:05
AM ET
BOSTON -- Asked about the toughest thing to learn when changing NBA zip codes,
Jerryd Bayless
smiled and suggested it's the city.
"I've been lost a couple times already [in Boston], in the day I've been here," Bayless cracked.
[+] Enlarge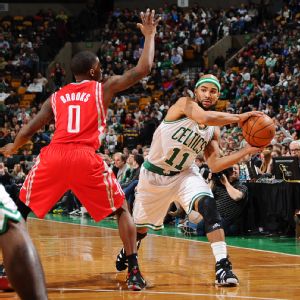 Brian Babineau/NBAE/Getty ImagesJerryd Bayless had 17 points and four assists in his home debut with the Celtics.
Fortunately for the Celtics' new backup combo guard, navigating the playbook hasn't been nearly as daunting as the streets of greater Boston. Bayless, acquired last week in a three-team swap that sent
Courtney Lee
to Memphis, made his TD Garden debut on Monday and scored 15 of his 17 points in the fourth quarter while sparking a late rally that came up short in a 104-92 loss to the
Houston Rockets
.
Bayless finished 7-of-13 shooting with four assists, two steals, a rebound and a block over 23:31, almost all of that production coming while playing the final 12 minutes when Boston made a charge despite starting the frame down 19.
Bayless lit the fuse on his fourth quarter with a block/jumper combo that gave Boston a much-needed spark. He mixed perimeter jumpers with floaters in the lane and his 19-foot pull-up jumper with 2:48 to go had Boston within seven, which was as close as the Celtics got.
Bayless admits he's still trying to feel out his teammates and define his own role. But with the team in need of some offense late, he was "trying to pick my spots and a couple shots went in."
Bayless doesn't have an apartment here yet and laughed while noting that -- after five games in a Celtics uniform in five different cities -- he'll
finally
get his first honest-to-goodness practice with the team on Tuesday.
As for navigating the streets, he's hoping to stick around long enough to eventually ditch the GPS.
Bayless is on his fifth team in six NBA seasons and an expiring contract could have him changing addresses again this summer. But the Celtics like the versatility the 25-year-old former lottery pick brings and will have a chance to keep him around if they deem him a piece of their future.
"I hope I'm able to be here a long time," Bayless said. "I've said it since I got traded: I'm looking to find a home and Boston is a wonderful place, a wonderful organization, the history and the tradition behind this place. I would love to be a part of something like that. They're trying to put something together here and I want to be a part of that. Hopefully, I'm able to do that."
Coach Brad Stevens likes the early return for a player who was thrust right into the fire after being acquired while the Celtics were on a five-game road trip.
"I think he's doing a good job," Stevens said. "Obviously, it's hard when you get picked up midstream. He gets off the plane late [Sunday] afternoon and he's got to find an apartment. He's got a lot going on, but I think he's done a pretty good job of transition so far."
Added Stevens: "I think he's fitting in well. I think that he's been embraced by our group. We haven't had any collective success since he's joined, but the attitudes for the most part have been good and he's been accepted very well."
So what can Bayless bring that Lee couldn't?
"First of all, I think Courtney is a very good player. I think there's a lot of factors in why decisions are made. Both teams, I think, got very good players. I think Memphis, you'll see that with Courtney, and Courtney played a great game last night, and played a lot of minutes, and continues to be very efficient and very productive. For us, what Jerryd does different from Courtney is that he can play the 1 some, whereas Courtney was definitely a wing and thrived in catch-and-shoot situations. Could create for himself, but Jerryd can certainly do that and play that 1 position a little bit more if we need him to."
[
Related
:
Celtics hope Bayless is more
]
Read on for more notes following Boston's ninth consecutive loss, including Stevens' take on Hack-a-Howard and
Kevin McHale
on things new (Stevens) and old (the former Boston Garden):
January, 13, 2014
1/13/14
11:25
PM ET
BOSTON --
Boston Celtics
forward
Jeff Green
sprained his shoulder, while center
Jared Sullinger
battled neck spasms during the team's 104-92 loss to the
Houston Rockets
on Monday night at TD Garden.
Green sat out the entire fourth quarter of Boston's ninth consecutive loss and revealed after the game that he sprained a shoulder (he wouldn't say which) in the first quarter, limiting his effectiveness the rest of the way. Green finished with four points on 2-of-10 shooting with six rebounds and four turnovers over 27:43. He was minus-12 in plus/minus.
Green, who has been held out of the fourth quarter of past games, was asked about being on the pine again Monday.
"It wasn't because I was playing bad, it was because I sprained my shoulder at the end of the first, then it just kept nagging me throughout the game," Green said. "Maybe that's the reason, I don't know. The [group] that was in, they did a great job of fighting and getting back into the game."
A reserve unit led by newly acquired
Jerryd Bayless
rallied the Celtics, down 19 entering the final quarter, to within seven in the final minutes, but Houston kept Boston at arm's length.
Asked how the shoulder felt after the game, Green answered, "Still attached." Pressed on if he'd be able to play in Wednesday's visit from the
Toronto Raptors
, Green said, "That's the plan."
Is Green upset he's been held out in the fourth quarter of games this season?
"I understand tonight, I couldn't give anything because of the shoulder," he said. "At any other given time, I do want to be out there."
Sullinger, back in the starting lineup after a three-game stint as a reserve, finished with eight points on 3-of-11 shooting with a team-high 10 rebounds over 22:35. He sported some visible black kinesio tape on his neck after the game, prompting questions about an injury.
"I don't know [what happened], [the neck] just got real tight while I sat on the bench, spasmed up a little bit," Sullinger said. "I'm going to be all right."
Sullinger has battled a deep bone bruise in his left hand that contributed to a recent shooting slump. He had busted out of that a bit the previous two games, but said his focus remains on simply getting the Celtics back in the win column.
"When you're a competitor, you always find a way to stay positive," Sullinger said. "You always find a way to try to win. We're fighting every day."
January, 13, 2014
1/13/14
9:55
PM ET
BOSTON -- Rapid reaction after the Houston Rockets defeated the Boston Celtics 104-92 on Monday night at TD Garden:


THE NITTY GRITTY
Avery Bradley scored 14 of his team-high 24 points in the first quarter, while newly acquired Jerryd Bayless scored 15 of his 17 in the final frame, but it wasn't enough for Boston to overcome its defensive indifference during the middle frames. Dwight Howard scored a game-high 32 points on 11-of-17 shooting (many of the alley-oop variety as the Rockets built as much as a 20-point lead in the third quarter), then did enough at the charity stripe (10 of 18) to fend off Boston's late rally. All five Houston starters landed in double digits, including 16 apiece for James Harden (albeit on just 6-of-18 shooting with Bradley playing excellent defense) and Jeremy Lin (who added nine assists). Brandon Bass scored 14 points in a reserve role, while Jared Sullinger had eight points and 10 rebounds over 22 minutes in his first game back with the first unit.
TURNING POINT
The Celtics continued a recent home trend of fast starts, leading by as much as nine in the first quarter (and eight heading to the second quarter). But things turned quickly. The Rockets needed less than three minutes in the second frame to surge ahead and, later in the quarter, Houston embarked on a 14-2 run with Lin, Howard, and Harden teaming up to stretch out the lead. Houston led by as much as 20 in the third quarter and tried to put it on cruise control.
C'S MAKE A CHARGE
Down 19 entering the fourth quarter, the Celtics rode a red-hot Bayless and a Hack-a-Howard strategy to surge as close as seven (97-90) with 2:48 to go. In the final two minutes, the Celtics tried to lean on their defense (rather than the fluky foul strategy), but Lin hit a driving layup and a Bayless turnover led to a Terrence Jones layup to push the lead back to 12 with 89 seconds to go.
LOOSE BALLS
With Boston struggling to stop a Dwight Howard alley-oop-fest, rookie Vitor Faverani got a crack and didn't have much luck in a brief 4 ½ -minute stint. ... Keith Bogans was a healthy DNP. ... The Rockets finished with a 58-36 advantage in points in the paint. ... Both teams turned the ball over 15 times. ... The Rockets shot 46.8 percent from the floor overall, while Boston finished at 37.6 percent (38 of 101 overall).
WHAT IT MEANS
The Celtics (13-26) have now lost nine in a row and 12 of 13 overall. This three-game homestand continues with visits from the Toronto Raptors (Wednesdy) and Los Angeles Lakers (Friday) before Boston heads out on a three-game road trip with stops in Orlando, Miami, and Washington.
January, 13, 2014
1/13/14
6:56
PM ET
BOSTON --
Jared Sullinger
will shuffle back into the starting lineup for the
Boston Celtics
on Monday night, paired up front with
Kris Humphries
as first-year coach Brad Stevens seeks the right combinations to help the team snap an eight-game losing streak.
Brandon Bass
, who has started 36 of 38 games this season, heads for the bench. Humphries was one of Boston's best performers out west, while Sullinger emerged from a prolonged slump at the end of the five-game trip.
"At the end of the day, we're doing it because we need to continue to figure out what's best for us at this time," Stevens said of his tweaking the lineup.
In his last two games, Sullinger averaged 17.5 points and 10.5 rebounds over 29.5 minutes, emerging from a shooting cold streak hindered in part by a lingering left-hand injury.
Sullinger noted before Monday's game that no amount of rest is likely to help the hand and he plans to continuing grinding through it.
As for getting a boost while returning home from a long road trip, Sullinger said a better boost would be a win.
"We're ready to play, we're ready to hoop. We're ready to get a win, honestly," said Sullinger. "We're so antsy to get a win, and sometimes we're right there. The last three games, we were right there. Just a couple plays that we need to make in both halves, about two more plays we need to make in both halves and I think we can get this win."
A few more pregame notes:
GOOD, BUT NOT GOOD ENOUGH: The Celtics were lifeless at the start of a five-game road trip, but finished strong (albeit, not strong enough to snap their losing streak). Asked about his team's effort, Stevens said, "Not quite good enough, but better. We've played well against good teams three times in a row. I've been told that's kind of unique, that usually you play your best three over the first three, then don't play as well the last two. But I'm glad I don't know all those prevailing theories that are out there. I'd rather just try to play well when we have the opportunity. We played better, but it's frustrating not to get over the top on some of those games, especially when you're playing really good teams."


ROCKETS DIFFERENT WITH PARSONS: With Chandler Parsons expected to return after a three-game absence, Stevens was asked how the Rockets differ with him in the lineup. "[He's a] 17-point-per-game scorer. And I think [Ronnie] Brewer is a very good player, he does what he does well. But he's not a 17-point-per-game scorer. And Parsons has gotten, in my opinion, so significantly better since college, he deserves a ton of credit and I'm thoroughly impressed with what he brings to the table. He can shoot it, but what gets lost in the shuffle is his drives and cuts. His drives and cuts are really high level."


FIGHTING FATIGUE: The Celtics played four games in five nights to close out their road trip, then traveled back Sunday and get another stiff challenge from a Western Conference foe on Monday. Is Stevens worried about fatigue? "It is what it is," he said. "You've got to play. You got a chance to play, you only get so many chances in your life to play basketball. They may all run together over the course of a season, but it's as good as it gets if you get a chance to compete."

January, 13, 2014
1/13/14
10:30
AM ET
The Boston Celtics (13-25, 8-10 home) host the Houston Rockets (24-14, 9-9 away) on Monday night at TD Garden (7:30 p.m., CSN). Here's what to watch for:


HOME SWEET HOME?: The Celtics didn't get a win on a daunting five-game road trip, but they finished stronger than they started, showing fight when encountering adversity and showing they can at least hang with some of the better teams in the West. Now, back at TD Garden, the Celtics have to take the next step and show they can beat a legit West contender like Houston. Boston has lost eight straight and 11 of its last 12 overall. It's last win was here on Dec. 28 vs. Cleveland. You'd have to go back nearly a month to Dec. 16 to find the team's last win before that.


AVOID THE LULLS: Boston's biggest problem this season has been an inability to string together 48 minutes of effort. The team has been prone to lulls in which it takes its foot off the gas and leads evaporate, or opposing teams race away. As Stevens noted after Saturday's loss in Portland, "You've got a shot to win against three contenders for the West, but, at the same time, those droughts are killing us. I think we can get better in those. But I'm trying to figure out what it is because we're really playing at such a high level the whole rest of the time."


ROCKETS AT A GLANCE: The Rockets rank fourth in the league in offensive rating and 13th in defensive rating. They attack the glass, ranking eighth in offensive rebound rate and sixth overall (though the Rockets are 23rd in defensive rebound rate). Boston can find success putting pressure on the ball. The Rockets rank 28th in turnover percentage and are last in the league in assist-to-turnover ratio. As STATS LLC points out, the Rockets are 11-3 when they get to 22 assists this year, but struggle when they don't.


WHAT ELSE?: Chandler Parsons has missed the last three games, but is with the team and expected to play against Boston. ... The Rockets throttled Boston 109-85 in November, one of Boston's most lopsided losses of the season.

(
Read full game preview
)