Boston Celtics:

2014Game40
January, 16, 2014
Jan 16
1:45
AM ET
BOSTON -- Boston Celtics coach Brad Stevens watched the Toronto Raptors rally from an 18-point deficit to make it a one-possession game with 14.4 seconds to go, and his team used its last timeout after being thwarted in its first attempt to inbound the basketball.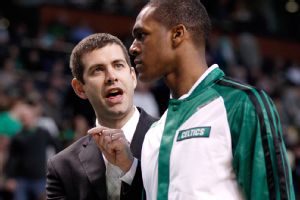 Greg M. Cooper/USA TODAY SportsWith Rajon Rondo ready to return, Brad Stevens will be coaching a new-look Celtics team.
There, on the Boston bench, just a couple seats down from Stevens sat Rajon Rondo, the All-Star point guard who was activated Wednesday night for the first time since tearing his ACL nearly one year ago. But Stevens, his available bodies thinned by a trade earlier in the day, fought any temptation to utilize Rondo to simply put the ball in play.
"Well, we were up three with no timeouts trying to get the ball in bounds and one of the best passers in the world is sitting right next to me, so no [there was no chance Rondo was going in for emergency duty]," said Stevens. "I told [assistant coach] Jay Larranaga that he was next, and [assistant coach] Walter [McCarty] was right after him, depending on what we needed. So that was the way we were going to roll tonight. Those guys were kind of excited about it."
Despite the Celtics' coy nature and Rondo's not-so cryptic tweets, all signs point to Rondo making his 2013-14 season debut on Friday night when the rival Los Angeles Lakers visit TD Garden.
Rondo essentially went through a dress rehearsal on Wednesday night, suiting up and going through pregame drills before watching the Celtics snap a nine-game losing streak with an 88-83 triumph over the Atlantic Division-leading Raptors.
During the pregame layup line, Avery Bradley spotted Rondo and got goosebumps. Even though everyone is well aware of his impending return, it was still striking to see Rondo back on the floor on the cusp of returning to game action 11 months after ACL surgery.
"It felt funny, because it's been so long," Bradley said, a smile forming. "I'm just super excited for him."
Bradley talked about getting a win to help usher in the return of Boston's All-Star point guard, then caught himself a bit and stuck with the company line that no one knows for sure when Rondo will return.
But, make no mistake, Bradley is giddy for that moment. He doesn't want to put too much pressure on Rondo, but Bradley thinks he's going to perform well right out of the gates and, most importantly, Bradley knows Rondo will make his teammates better.
"I know he's a great player," said Bradley. "One thing I can say is, when he does come back, he's going to make it easier on everybody. I'm just excited."
(
Read full story
)
January, 16, 2014
Jan 16
12:29
AM ET
BOSTON --
Jared Sullinger
became only the sixth
Boston Celtics
player in the past 30 years to join the 20/20 club after putting up team highs with 25 points and 20 rebounds in an 88-83 triumph over the
Toronto Raptors
on Wednesday night at TD Garden.
Sullinger joins Celtics luminaries such as
Kevin Garnett
, Larry Bird and
Robert Parish
(as well as Ed Pinckney and, improbably,
Mark Blount
) in the recent 20/20 club. He's the first Boston player to reach those thresholds since Garnett (22 points, 20 rebounds) on Nov. 2, 2007. According to NBA.com/Stats, Sullinger is the first Celtic to go for 25-plus points, 20-plus rebounds, and 4-plus assists since Bird (42-20-5) on Nov. 11, 1987.
[+] Enlarge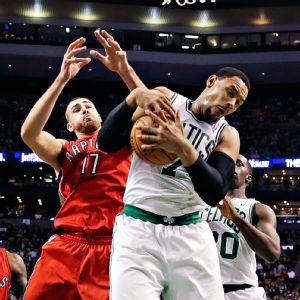 AP Photo/Charles KrupaJared Sullinger hauls down one of his 20 rebounds against the Raptors.
And, of course, it was rehabbing
Rajon Rondo
, back on the Boston bench in a dress rehearsal for Friday's potential return to game action, who noticed Sullinger at 19 boards during a timeout with under two minutes to play and encouraged him to seek No. 20.
It turned out to be a pretty important board, Sullinger muscling off
Patrick Patterson
in a three-point game with 30 seconds to go, then atoning for a couple previous misses with two clutch free throws to help end Boston's nine-game losing streak.
And more than a glitzy stat line, the win was what resonated most with Sullinger.
"After a while, when you lose so much when you're not used to losing, the competitive nature takes over and that's what happened with me," said Sullinger, who seemed so hellbent on getting Boston back in the win column that he tried to do it single-handedly at times.
Sullinger thought it was neat that Rondo sought him out to encourage the little milestone.
"I didn't even think about it until Rondo told me, looked up at the scoreboard, get one more," Sullinger said. "I happened to look up and I saw 19 rebounds. I was like, 'I didn't even know I had that many.' When you've got teammates like that that, celebrate big games like that or celebrate big wins, it's huge for the personality in this locker room. I thought that was wonderful to see.
"I didn't want to force it, but at the same time, it was a big accomplishment."
Sullinger, who had been shuffled to a reserve role during Boston's road trip, has found his shooting touch and worked his way back to the starting group. When the Celtics played their best ball earlier this season, it was Sullinger leading the way and he did it again on Wednesday.
The next time the Celtics hit the floor, Rondo could be out there chasing rebounds with Sullinger.
"I think [Wednesday's win was] big because (1) we broke the losing streak and (2) we get to focus on another game and how to get another win. I thought as a team, we played wonderful. If [Rondo] comes back [on Friday], he comes back. If he doesn't, he doesn't. We can't just let him come back and then all of the sudden, we just say, all the weight's on you. We've still got to play basketball, if he comes back or not."
A few more notes from Wednesday's game:
Bradley sprains right hand: Celtics guard Avery Bradley hurt his right hand early in Wednesday's win and briefly retreated to the locker room. He returned and finished with 20 points on 8-of-21 shooting with five rebounds, two steals and an assist over 35:33. After the game, he sported a wrap over his right hand, but downplayed the injury. "It was like the first play of the game and it just got hit, but I'll be fine," Bradley said.


Not Pressey-ing the issue: In his first NBA start, undrafted rookie Phil Pressey handed out 10 assists and didn't turn the ball over during 26 minutes of floor time. Asked about the mistake-free play, Pressey noted, "I know if I take care of the ball, I'm giving my team an opportunity to get more shots up. And that's what I pride myself on." Couple that with some tenacious defense and Pressey earned rave reviews from coach Brad Stevens. "I thought he was absolutely terrific," Stevens said. "I thought when things got tough, he got tough. I thought he tried to pull guys together. You know, sometimes when you go through some of these games that we've been through where we've lost leads, the tension seems greater than it probably should. And you just have to have guys that make toughness plays that break that tension. And to his credit, I thought he pulled guys in and together instead of when something doesn't go our way we're not together."


Crash gives C's some energy: Gerald Wallace had one of his better recent performances, giving the Celtics some energy and hustle in the first half. Wallace scored seven points on 3-of-4 shooting with six rebounds, two steals and an assist. He was minus-8 overall in plus/minus, but it wasn't reflective of his night. "He was great. And I think he wanted to play well," Stevens said. "I thought he was really good. He got into the ball. He dove on the one ball that he didn't get, then he stole the next pass. He was just kind of flying around all over the place. That was nice to see."

January, 15, 2014
Jan 15
10:05
PM ET
BOSTON -- Rapid reaction after the
Boston Celtics
defeated the
Toronto Raptors
88-83 on Wednesday night at TD Garden:


THE NITTY GRITTY
Second-year center
Jared Sullinger
has been maybe the most vocal member of the Celtics in his desire to snap the team's lengthy losing streak and he backed up that chatter against the Raptors, posting team highs with 25 points and 20 rebounds over 39 minutes of floor time, and making enough free throws down the stretch to fend off the Raptors' charge.
Avery Bradley
scored 20 points on 8-of-21 shooting to go along with five rebounds, while
Jeff Green
added 13 points (despite 4-of-16 shooting) and five rebounds.
DeMar DeRozan
chipped in a team-high 23 points for Toronto, while
Kyle Lowry
added 18 points, 12 assists and 7 rebounds.
IM-PRESSEY-IVE PERFORMANCE
Without
Rajon Rondo
and having traded away
Jordan Crawford
earlier in the day, the Celtics inserted undrafted rookie
Phil Pressey
into the starting lineup at point guard and the 22-year-old responded with a 10-assist, 0-turnover effort over 26 minutes. Pressey didn't score (missing all five shots he took), but calmly directed the offense and grabbed three rebounds along the way.
C'S CLOSE THIRD QUARTER STRONG ...
The Celtics were up five midway through the third quarter, but scored 20 of the final 28 points of the frame to build a 17-point cushion. Sullinger sparked the effort by making all three shots he took while scoring nine points in that span, while Pressey directed the offense for most of it and handed out three assists. But no lead is safe around here (see hashtag: #EveryGameIsAnAdventure).
... BUT LET RAPTORS MAKE A RUN
The Celtics went ice cold to start the fourth quarter. After a
Brandon Bass
dunk with 11:09 to go, Boston missed 11 of its next 12 shots (including nine in a row to start that stretch) and the Raptors embarked on a 16-2 run to charge within three with 4:34 to go.
LOOSE BALLS
The Celtics played with only 10 available bodies (and both
Vitor Faverani
and
Kelly Olynyk
played five minutes or less) as the team leaned hard on an eight-man core. ... Rondo was active, but it was just to get back in a game-prep rhythm with eyes still on a potential Friday return. That didn't stop the crowd from chanting "We Want Rondo" on multiple occasions. ...
Keith Bogans
, excused from the team indefinitely due to personal reasons on Tuesday, was active due to Boston's lack of bodies but not with the squad. ... The Celtics turned the ball over only two times in the first half. This was one of their best ball-security games of the season (10 turnovers for only seven points).
WHAT IT MEANS
The Celtics (14-26) snapped a nine-game losing streak while beating the team atop the Atlantic Division. Boston is hopeful Rondo will make his 2013-14 season debut when this three-game homestand wraps up on Friday with a visit from the
Los Angeles Lakers
. A three-game road trip looms after with stops in Orlando, Miami and Washington.
January, 15, 2014
Jan 15
7:15
PM ET
BOSTON -- Thin on bodies, the
Boston Celtics
activated
Rajon Rondo
for Wednesday's game against the
Toronto Raptors
, but coach Brad Stevens stressed that Rondo is unlikely to play and it appears he is still targeting Friday's visit from the
Los Angeles Lakers
for his 2013-14 season debut.
"[Rondo is] going to go through and do some [pregame] shooting, and there is a chance that he would suit up tonight," said Stevens. "But I don't see a chance that he would play tonight, that it would be more about getting back into that rhythm of pregame activity."
Rondo was briefly assigned to the Maine Red Claws of the D-League on Wednesday to allow him to get a hard practice as he navigates what's expected to be the final days of rehab from ACL surgery. Stevens said he hadn't talked to Rondo since the workout, which took place at the team's training facility in Waltham with the Red Claws visiting on the heels of a recent road trip, but expressed optimism about it.
"I think [Rondo] enjoyed it because they kept score. His team usually won," said Stevens. "But it was more about getting up and down the floor more than anything. I got asked the other day, if and when he comes back, if there would be a minute restriction and the answer is yes. We'll cross those bridges with exact numbers when we get there. And go from there. But he looked pretty good."
Stevens added: "[The D-League workout] accomplished what we wanted to accomplish. I have not talked to anybody, including Rondo since the workout was over. I watched it for a few minutes, and then I left. Because I needed to -- obviously, we've got a lot going on around here, but we have a game tonight."
In the aftermath of Wednesday's three-trade swap that sent
MarShon Brooks
and
Jordan Crawford
to the
Golden State Warriors
, the Celtics will start undrafted rookie
Phil Pressey
at point guard. Stevens' thinking there is that it keeps newly acquired
Jerryd Bayless
in a reserve role, which he'll occupy when Rondo returns.
Joel Anthony
, acquired from Miami as part of Wednesday's three-team swap, is not with Boston for its game against Toronto. Stevens was uncertain when he would arrive, but said of the veteran big man: "I'm looking forward to meeting Joel. I don't him personally, I've seen him play since he was a high-school age, and obviously he's got great strengths, specifically as a defender in the paint and on pick-and-rolls. I have not watched enough yet of him, but when he gets to town, we'll work on it."
January, 15, 2014
Jan 15
10:30
AM ET
The Boston Celtics (13-26, 8-11 home) host the Toronto Raptors (19-17, 10-9 away) on Wednesday night at TD Garden (7:30 p.m., CSN). Here's what to watch for:


RAPTORS THRIVING AFTER GAY TRADE: The Raptors will look a little different than when Boston saw them on opening night up north, having dealt Rudy Gay to Sacramento. But since taking back John Salmons, Patrick Patterson, Greivis Vasquez and Chuck Hayes, the Raptors are 12-4. In that 16-game span, the Raptors rank 11th in the league in offensive rating, second in defensive rating, and first in net rating. Opponents are averaging just 91.6 points per game in that span while shooting 42.4 percent from the floor.


COACH'S SCOUTING REPORT: Here's Celtics coach Brad Stevens on the Raptors: "They've gotten a lot better. The additions that they have had on their team have really helped their team in a great way. You look at, first of all, [DeMar] DeRozan is an All-Star, and I think Kyle Lowry is playing at a fantastic level. Terrence Ross has always been a guy that gives us fits. And then [Amir] Johnson and [Jonas] Valanciunas have been a solid 4-5 that have also done the same. Now you add in the guys like Salmons and Patterson and Vazquez, all these new guys, they've just impacted winning. That's what they've done. They haven't all filled up the stat sheet every night the same way, but they have impacted winning, and as a result, they've played the best in our division. They've been one of the better teams in the East for the better part of the past month and a half."


LOOSE BALLS: GARDEN DROUGHTS: From Stats LLC: Toronto has dropped 19 of 21 road matchups against the Celtics, including 10 straight by an average of 16.3 points since pulling out a 114-112 victory Jan. 23, 2008. ... Boston's lost nine straight and 12 of 13, but this may be their final game of the season without Rajon Rondo. This could be one final chance for Jordan Crawford to show what he can do in starter minutes before settling into a reserve role when Rondo returns. ... Jeff Green sat out the final 14 minutes of Monday's loss and it will be interesting to see which Green we get out of the gates Wednesday. ... Despite losing nine straight, Boston is seeing better individual play from guys like Avery Bradley, Jared Sullinger, and Kris Humphries. Alas, lulls in production have prevented this team from snapping this losing streak. ... Boston last won on Dec. 28 against the Cleveland Cavaliers.

(
Read full game preview
)
PODCASTS
Bill Simmons, NBA
Play Podcast Grantland's Bill Simmons discusses the state of the Lakers, Phil Jackson's future, the perception of Rajon Rondo, Doc Rivers' impact on the Clippers and more.
Baseball Tonight
Play Podcast Buster Olney chats with Jayson Stark about Ken Griffey Jr.'s uncomfortable interview with Linda Cohn and the value of spring training. Plus, Mike DiGiovanna on the Angels and Derrick Goold on Matt Carpenter's negotiations with the Cardinals.
John Farrell, Red Sox
Play Podcast Red Sox manager John Farrell talks about whether he expected his team to make such a turnaround in one season, his relationship with his players, fans' expectations for the squad and more.