Boston Celtics:

2014Game43
January, 22, 2014
Jan 22
12:05
AM ET
When discussing the team's decision to excuse
Keith Bogans
last week,
Boston Celtics
president of basketball operations Danny Ainge noted that the team preferred to play guys that are "really hungry" and "dying to play" while suggesting there was a greater value in trying to develop those players.
Enter
Chris Johnson
.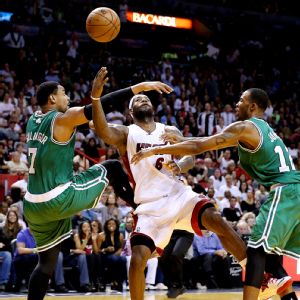 Robert Mayer/USA TODAY SportsCeltics forward Chris Johnson, right, helps defend
LeBron James
, middle, during Tuesday's game in Miami.
Signed out of the D-League on a 10-day contract on Friday, the 23-year-old Johnson made his Boston debut on Tuesday night against the two-time defending champion
Miami Heat
and contributed 11 points on 4-of-7 shooting with three rebounds, an assist and a steal over 25 energetic minutes in a 93-86 loss at AmericanAirlines Arena.
A month ago, Johnson was playing a D-League game against Springfield while waiting for an NBA opportunity. If his 3-pointer in the final minutes of a tie game had fallen on Tuesday, Celtics fans would have been prepping him for a different sort of trip to Springfield.
On a night that Boston had to rally from an early 18-point hole, Johnson was one of the bright spots, finishing the game a team-best plus-7 in plus/minus. A couple of corner 3-pointers gave Johnson some early confidence, but he was just as impactful on the defensive end, where he buzzed around the perimeter displaying his energy calling card and using his length to disrupt passing lanes.
When the Celtics rallied in the fourth quarter, Johnson was in the middle of it all.
A quick little crossover after taking a pass at the 3-point arc on the left wing put
Mario Chalmers
in his rear-view mirror as Johnson accelerated to the hoop while finishing an and-one layup over
Chris Andersen
. The free throw made it a one-point game with 6:47 to play. A short time later, Johnson muscled a rebound away from Chalmers and delivered a putback to keep Boston within a possession.
But maybe Johnson's best moment of the night came when he jumped a cross-court pass from LeBron James, stepping in front of
Ray Allen
to intercept the ball before handing off to
Rajon Rondo
to spark a fast break that finished with a
Kris Humphries
dunk to put Boston out front 86-84 with 3:08 to play.
The game slipped away from there for Boston, but that shouldn't diminish Johnson's debut in green.
Celtics coach Brad Stevens gushed about Johnson's effort after the game and the coach's advice to him -- "Stay hungry" -- echoed what Ainge had said last week.
January, 21, 2014
Jan 21
10:45
PM ET
Boston Celtics
guard
Avery Bradley
left Tuesday's game against the
Miami Heat
after suffering a sprained right ankle.
Bradley came up limping early in the second quarter after planting awkwardly trying to apply defense on
Mario Chalmers
inside the halfcourt stripe. Bradley tried to walk off the injury, but the Celtics subbed him out quickly and he retreated to the locker room with trainer Ed Lacerte. The team announced he would not return and his status is uncertain moving forward with Boston closing a three-game road trip on Wednesday in Washington.
"It looks like he got it pretty good," Celtics coach Brad Stevens told reporters in Miami after the game. "He didn't seem like he was walking great. If I had to guess, personally, I'd say [he won't play Wednesday against the Wizards], but it would be a guess."
The Celtics already are thin at the guard position having traded away
Jordan Crawford
and
MarShon Brooks
last week, while also excusing
Keith Bogans
from the team. Recently acquired
Jerryd Bayless
sprained a toe in his left foot in Sunday's loss in Orlando. With
Rajon Rondo
on a slowly climbing minute restriction, Boston is leaning heavily on undrafted rookie
Phil Pressey
and will have to utilize wings
Gerald Wallace
and
Chris Johnson
(plucked from the D-League on a 10-day contract) to hold the fort at shooting guard.
Bradley had started all 43 games this season for Boston and entered Tuesday's visit to Miami averaging 14.8 points on 44.1 percent shooting.
The Celtics
appeared set to sign D-League guard Vander Blue
to a 10-day contract to add emergency guard depth.
January, 21, 2014
Jan 21
10:05
PM ET
Rapid reaction after the
Miami Heat
defeated the
Boston Celtics
93-86 on Tuesday night at AmericanAirlines Arena:


THE NITTY GRITTY
LeBron James
scored a game-high 29 points to go along with 8 rebounds, 4 assists and 2 steals as Miami put only three players in double figures for scoring (one of whom was
Chris Andersen
off the bench with 13 points).
Brandon Bass
scored a team-high 15 points on 5-of-7 shooting over 18 minutes to pace five Celtics in double figures, but the Celtics dug themselves too big of a hole early on.
Jared Sullinger
(12 points, 11 rebounds) and
Kris Humphries
(14 points, 13 rebounds) both had double-doubles, while
Chris Johnson
scored 11 points in his Boston debut.
TURNING POINT
Despite trailing by as much as 18 early in the second quarter, the Celtics rallied ahead on a Humphries dunk with 3:08 to play. A pair of free throws by James tied the game before
Ray Allen
's 16-foot fadeaway over
Jeff Green
pushed Miami back out front 88-86 with 1:52 to play. After turning the ball over, Green put James at the free throw line, where he made two more freebies as Miami started to pull away.
RONDO WATCH
The good news: Rondo's minutes got stretched out as he logged 25 minutes, 43 seconds of playing time. The bad news? He missed all eight shots he took while putting up 5 assists, 3 rebounds and 3 turnovers. Rondo missed a driving layup with a chance to tie with 94 seconds to go, then missed a pair of free throws in a four-point game soon after.
CHRIS JOHNSON!
Signed to a 10-day contract out of the D-League on Friday, Johnson made his Celtics debut and made the most of his 25 minutes. Johnson put up 11 points on 4-of-7 shooting to go along with three rebounds, an assist and a steal. He was a team-best plus-7 in plus/minus.
BRADLEY DEPARTS WITH ANKLE INJURY
Celtics starting shooting guard
Avery Bradley
sprained his right ankle trying to defend
Mario Chalmers
early in the second quarter and did not return. Hop
HERE
for more.
Gerald Wallace
started the second half in Bradley's place.
WHAT IT MEANS
The Celtics (14-29) have lost three straight, 12 of their last 13 and 15 of 17. Boston wraps up its three-game road trip with the second night of a back-to-back on Wednesday in Washington (that stop made all the more difficult by a thinned backcourt). The Celtics are back home later this week for reunion weekend as
Kendrick Perkins
and the
Oklahoma City Thunder
visit on Friday before
Paul Pierce
,
Kevin Garnett
and the
Brooklyn Nets
invade on Sunday.
January, 21, 2014
Jan 21
10:30
AM ET
The Boston Celtics (14-28, 5-16 away) visit the Miami Heat (29-12, 16-3 home) on Tuesday night at AmericanAirlines Arena (CSN, NBATV, 7:30 p.m.). Here's what to watch for:


NO LOVE LOST: Even Rajon Rondo admits that Celtics-Heat isn't a rivalry at the moment, not while Miami is polishing championship trophies and Boston tries to navigate its way back to contender status. But as he noted after Monday's offday practice, "I still don't like those guys." Rondo, set to play his third game since returning from missing nearly a year due to an ACL tear, should have a little extra motivation seeing the likes of LeBron James and old, err, friend(?) Ray Allen across the court. "A lot of things upset me about Miami," Rondo told reporters Monday, according to Masslive.com. "Let me go home and write [a list] down. No, just we've had some great battles in the past. When you play a team -- I could say the same thing about the Knicks or the teams we've battled in the past, the Game 7 series -- it's a grind. You're competing. It's a competition. There's just some teams you don't like."


HEAT HAVE MOTIVATION: The Heat are on a bit of skid, having lost four of their last six, including last time out against Atlanta. Miami is probably still smarting about Boston's November win here when Jeff Green hit an improbable 3-pointer from the corner as time expired to lift the Celtics to a 111-110 triumph (what may ultimately be their most memorable win of the 2013-14 season).


LOOSE BALLS: ANTHONY COMES HOME: Joel Anthony, acquired from the Miami Heat last week as part of a three-team swap, could be in line to make his Boston debut against his former team. Anthony joined the team on Friday, but sat out the last two games. Brad Stevens thinks his interior defense could help a Boston team that hasn't been stout in that department. "The thing I already know about him is he is a great person to have on our team," Stevens said, according to the team's website. "I am thrilled that he's here. Practice-wise, in the locker room, personality. Clearly he's a person that trains and works the right way." ... The Celtics will likely be without reserve combo guard Jerryd Bayless, who departed Sunday's loss in Orlando with a sprained toe on his left foot. That could mean even more minutes for backup point guard Phil Pressey. ... Chris Johnson, signed to a 10-day contract last week, also has not made an appearance yet for Boston.

(
Read full game preview
)
PODCASTS
Paul Solotaroff, NFL
Play Podcast Men's Journal's Paul Solotaroff weighs in on the characterization of Richard Sherman, the relationship between Sherman and Patrick Peterson and expectations for Darrelle Revis.
Baseball Tonight - Dominant Pitching
Play Podcast Adnan Virk talks to Tim Kurkjian about dominant pitching performances and the search for the next commissioner. Plus, Arash Madani on if the Blue Jays can make the playoffs.
Greg Cosell, NFL
Play Podcast NFL Films' Greg Cosell weighs in on whether the Browns should start Brian Hoyer or Johnny Manziel, the Jets' QB situation, Ryan Mallett's abilities and Robert Griffin III's development.