Boston Celtics:

2014Game48
January, 30, 2014
Jan 30
2:00
AM ET
BOSTON -- On the day Jared Sullinger got invited to what the NBA calls its Rising Stars Challenge, Boston Celtics coach Brad Stevens offered his own rising star challenge.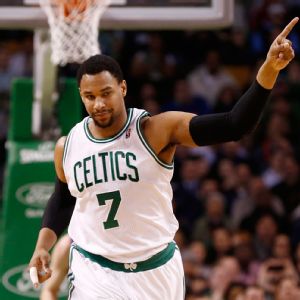 Mark L. Baer/USA TODAY SportsJared Sullinger is the only Celtics regular on the positive side of plus-minus, with the team as a whole at minus-206.
With Boston mired in an extended losing funk, Stevens asked Sullinger to take his game to a higher level and cement himself as a leader of a Celtics team that isn't afraid to lean on him despite his age.
The 21-year-old Sullinger responded by putting up game highs with 24 points and 17 rebounds, but he could only watch as Evan Turner's contorted floater at the buzzer lifted the Philadelphia 76ers to a 95-94 triumph Wednesday night at TD Garden.
The Celtics (15-33) have lost four straight and 19 of their last 22. With Wednesday's loss, they flip-flopped positions with Philadelphia and assumed the third-worst record in the NBA.
Sullinger has been one of Boston's bright spots in a season filled with struggles, hammered home by his invitation to the league's annual rookie/sophomore mixer as part of All-Star festivities in New Orleans in mid-February.
Playing out of position given the Celtics' absence of a pure center, Sullinger is averaging 12.8 points and 7.8 rebounds over 26.6 minutes per game. With the team's struggles, he is the only regular that remains in the positive in plus/minus at plus-7. It's a staggering stat considering that Boston is minus-206 as a team and the other most frequent frontcourt starter, Brandon Bass, is minus-240 for the season.
What's more, Sullinger is playing with both a bruised hand and a dislocated index finger on his shooting hand -- an injury that popped out of place again during Wednesday's loss.
Stevens wouldn't demand more out of Sullinger if he didn't know he was capable of it. The Celtics desire more consistency at both ends of the floor, something that will only help Sullinger further blossom into the superstar they seem to believe he can become.
"First of all, I did say, 'Hey, I realize you're playing through the hand and the finger,' because he's a tough guy, he wants to play, he likes to play and I value that, and I think highly of him for that," Stevens said. "And one of the things that I just challenged him on is not having to accept being a [21]-year-old in the league.
"We are in a unique situation in that we're asking some of our young guys to be almost leaders, and almost more vocal in their approach. My talking point with him was, 'I know you're [21], but you're a mature basketball player, you know the game, and for our team to grow we need for you to maybe play and be a few years ahead of where you are.' And it's not fair to him, but it's a great opportunity for him, so that was my challenge to him."
(
Read full story
)
January, 29, 2014
Jan 29
10:00
PM ET
BOSTON -- Rapid Reaction after the
Philadelphia 76ers
defeated the
Boston Celtics
95-94 on Wednesday night at TD Garden:


THE NITTY GRITTY
Evan Turner
hit a tough driving floater over
Jared Sullinger
(after blowing past
Jerryd Bayless
) at the buzzer as the 76ers emerged despite missing five free throws late in the game. Turner finished with 16 points on 6-of-17 shooting with six rebounds, eight assists and two steals. He was a team-best plus-21 overall.
Spencer Hawes
scored 20 points to go along with eight rebounds, while rookie (and area native)
Michael Carter-Williams
had 10 points, seven assists and five rebounds for the 76ers. Jared Sullinger finished with team highs with 24 points and 17 rebounds, while
Jeff Green
started fast (and went quiet later) while putting up 18 points, six rebounds and four assists.
TURNING POINT
Despite trailing by as much as 14 late in the second quarter, Boston slowly climbed back into the game.
Chris Johnson
's 3-pointer to open the fourth quarter tied the game at 74, and
Phil Pressey
's running bank shot soon after gave the Celtics their first lead since the opening minutes. In the final minute of a tied game,
Kris Humphries
completed a third-chance tip-in (after misses by Green and Sullinger) to put Boston out front 94-92 with 42 seconds to go, but after Turner missed the back end of two freebies, he atoned with a contorted-body jumper in the lane after calling for the final shot.
BAYLESS STARTS SECOND HALF
With Boston likely looking for a scoring jolt -- and a little extra size to combat Carter-Williams at the point guard position -- the Celtics went with Bayless in the starting unit to open the second half. Bayless finished with 10 points on 4-of-13 shooting with four rebounds, three steals and an assist. But his defense on the final play made it too easy for Turner to get into the paint.
LOOSE BALLS
Celtics point guard
Rajon Rondo
sat out Wednesday's game as a precaution on the second night of back-to-back. With
Avery Bradley
making progress with a sprained right ankle, Boston could have its starting backcourt intact as early as Sunday's visit from the Magic. ...
Brandon Bass
scored 11 points, but was a team-worst minus-16, while
Gerald Wallace
mustered a point on one shot while starting at shooting guard and was minus-13. Pressey had one of his tougher games, going 1-for-7 shooting for 2 points with only two assists and five turnovers. ... The Celtics turned the ball over 18 times; the 76ers gave it away only 10 times.
WHAT IT MEANS
The Celtics (15-33) have now lost four straight and 16 of 18 overall. The loss flip-flops them with Philadelphia in the standings, giving Boston the third-worst record in basketball. The Celtics get a rare three-day break before hosting the
Orlando Magic
in a Super Bowl appetizer on Sunday afternoon. A rematch in Philadelphia looms a week from today before the
Sacramento Kings
visit next Friday night.
January, 29, 2014
Jan 29
7:05
PM ET
BOSTON -- Boston Celtics point guard Rajon Rondo, still in the infancy of his return from ACL surgery, will sit out Wednesday's game against the Philadelphia 76ers as a precaution on the second night of a back-to-back.

Rondo, who returned to game action on Jan. 17, has appeared in six games, but this will be the second time he's sat out the second game of a back-to-back. Rondo played 27 minutes in Tuesday's loss to the New York Knicks and the Celtics will not take any unnecessary chances as he works his way back after missing nearly a full year of basketball.

Rookie Phil Pressey takes Rondo's spot in the starting lineup and the rest of the unit -- Gerald Wallace, Jeff Green, Brandon Bass, and Jared Sullinger -- remains intact.

Stevens had speculated that Rondo might be able to play in Wednesday's game on Tuesday, but quickly backtracked after a conversation with team trainer Ed Lacerte.

"That was just me talking off the top of my head and I didn't even check before I said it. I probably should have checked first," admitted Stevens. "It was one of those things where, I actually asked Ed a couple minutes after I talked to [reporters on Tuesday] and Ed said, 'Doubtful we would do that this early.'"

The Celtics could have their entire starting backcourt on the floor as early as Boston's next game on Sunday against Orlando as Stevens offered a brief, but encouraging update on Avery Bradley and the sprained right ankle that has caused him to miss the past four games.

"[Bradley is] getting a lot better, very close to coming back," said Stevens.

January, 29, 2014
Jan 29
10:30
AM ET
The Boston Celtics (15-32, 9-14 home) host the Philadelphia 76ers (14-31, 6-16 away) on Wednesday night at TD Garden (7:30 p.m., CSN). Here's what to watch for:


RONDO ON B2B?: The Celtics have exercised extreme caution with Rajon Rondo, including sitting him out on the second night of a back-to-back a week ago in Washington. With Rondo's minute restriction loosening and three days off looming after Wednesday's game, the Celtics might be enticed to give Rondo some playing time, but coach Brad Stevens sounded like he was still debating the topic on Tuesday (and likely leaning towards caution). In a battle of two of the four worst teams in basketball, there shouldn't be any additional motivation to play Rondo unless he's 100 percent ready for the grind of back-to-back basketball.


PHILLY IN FOCUS: The 76ers were the feel-good story at the start of the season, winning their first three games of the season (including an opening-night win over the Heat). The team posted another four-game winning streak spanning into the new calendar year and was 12-21 earlier this month. The 76ers have since lost 10 of their last 12 overall. Philly ranks 29th in offensive rating and 25th in defensive rating. Looking for something they do well? The 76ers top the league in pace, trying to crank the tempo in order to mask their deficiencies.


COMING HOME: No JumboTron tribute this time around, but area product Michael Carter-Williams will make his first visit to the TD Garden as a pro. Carter-Williams, a Hamilton native, has been maybe the most pleasant surprise of the season for Philadelphia. The 11th overall pick in June's draft, Carter-Williams is averaging 17.4 points, 6.7 assists, 5.6 rebounds, and 2.4 steals over 34.8 minutes per game.


LOOSE BALLS: The Celtics are currently percentage points ahead of the 76ers in the standings; a Celtics loss would flip-flop the two. ... This is the first of four meetings with a rematch in Philadelphia next week. (then two games in April). ... Both teams are riding three-game losing streaks. ... How will Boston respond to getting absolutely throttled in New York? Its defense has to be better than what it showed against the Knicks.

(
Read full game preview
)
PODCASTS
Paul Solotaroff, NFL
Play Podcast Men's Journal's Paul Solotaroff weighs in on the characterization of Richard Sherman, the relationship between Sherman and Patrick Peterson and expectations for Darrelle Revis.
Baseball Tonight - Dominant Pitching
Play Podcast Adnan Virk talks to Tim Kurkjian about dominant pitching performances and the search for the next commissioner. Plus, Arash Madani on if the Blue Jays can make the playoffs.
Greg Cosell, NFL
Play Podcast NFL Films' Greg Cosell weighs in on whether the Browns should start Brian Hoyer or Johnny Manziel, the Jets' QB situation, Ryan Mallett's abilities and Robert Griffin III's development.