Boston Celtics:

2014Game49
February, 2, 2014
Feb 2
8:35
PM ET
BOSTON -- After watching Rajon Rondo flirt with a triple-double (19 points, 10 assists, 6 rebounds) as his Boston Celtics defeated the Orlando Magic 96-89 on Sunday, coach Brad Stevens was asked what it was like to see "dynamic" Rondo for the first time up close.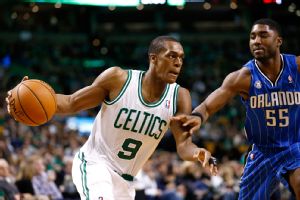 Mark L. Baer/USA TODAY SportsIn addition to his 19 points and 10 assists, Rajon Rondo took control when the Celtics needed it most.
"I've seen pretty darn close, he's just wearing the rust off a little bit," Stevens said. "But yeah, he was good. I was not surprised. Watching him play for so many years, I've probably caught all the really good games because that's when you're paying most attention in the playoffs and everything else, when you're far away from this."
Ah yes, Coach, that's what the locals sometimes refer to as "national TV" Rondo, a triple-double machine under the brightest lights. And, in a way, you got him on Sunday because the local broadcast was simulcast on NBA TV, given it was the only game on the league's docket on a day dominated by the gridiron.
After Rondo displayed bits of rust over his first six games back, the most common term used to describe his performance Sunday was "his old self." Rondo certainly looked at ease quarterbacking the offense, particularly late in the game, while handing out 10 assists as Boston shot 50 percent from the floor. And he was uber-efficient with his own shooting, connecting on 9-of-11 attempts for 19 points.
Maybe the most encouraging of that scoring output came midway through the fourth quarter after the Magic had rallied within one. Rondo came off a side pick-and-roll and split two defenders while rushing into the paint. Even with Orlando big man Nikola Vucevic shuffling to stay in front of him, Rondo arced a majestic running hook shot that caught nothing but twine and left Celtics legend Tommy Heinsohn cackling in delight at the idea of a point guard with a serviceable hook shot.
It's the sort of touch that's been missing from some of Rondo's signature floaters and often odd-angle attempts during the infancy of his return to game action. Rondo appeared to play with a different sort of confidence Sunday.
For his part, Rondo didn't overhype his effort.
"I felt pretty good, as far as moving-wise, able to get to the rim and finally put some balls in the hole," he said. Pressed on the topic, he added, "It's just one game. I made a lot of my shots. But I feel more comfortable around the basket. A lot of my flip shots went in today. But, like I said, I take it one day at a time."
(
Read full story
)
February, 2, 2014
Feb 2
3:20
PM ET
BOSTON -- Rapid reaction after the
Boston Celtics
defeated the
Orlando Magic
96-89 on Sunday afternoon at TD Garden:


THE NITTY GRITTY
Rajon Rondo
, fresh from four days of rest, turned in his best outing since returning from ACL surgery, posting 19 points on 9-of-11 shooting with 10 assists, 6 rebounds, 3 steals and 4 turnovers over 26:37.
Jared Sullinger
added another meaty double-double (21 points, 12 rebounds) and
Brandon Bass
kicked in 19 points and nine rebounds to help pace the Celtics.
Arron Afflalo
scored a team-high 18 points as the Magic put all five starters in double figures, while
Nikola Vucevic
added 14 points and 11 rebounds.
TURNING POINT
The Celtics trailed for only 15 seconds the entire game and led by as many as 12. Even still, the Magic hung around most of the way. And when old friend
Glen Davis
muscled in a layup with 2:30 to play, Orlando was within two. Rondo responded with an elbow jumper,
Jeff Green
hit only his second shot of the game off a Rondo feed and Brandon Bass hit an elbow jumper off a Rondo helper as Boston's lead ballooned back to eight in little more than a minute.
LOOSE BALLS
Avery Bradley
, back after missing five games with a sprained right ankle, chipped in 17 points on 6-of-12 shooting. ... Green had a woeful day shooting the ball, finishing 2-of-13 for eight points. He had five assists and a highlight-worthy block, but also four turnovers. ...
Gerald Wallace
, who rejoined the team Sunday morning after flying back from his native Alabama because of a death in his family, dressed but did not play. ... The Magic had 13 offensive rebounds, but only 14 second-chance points. ... After recent struggles shooting the ball, Boston finished at 50 percent (41 of 82).
WHAT IT MEANS
The Celtics (16-33) snapped a four-game losing streak while winning for just the fourth time in 22 games. Boston, which entered the day tied with the
Philadelphia 76ers
, will leap back ahead of its Atlantic Division rival and now owns the fourth-worst record in basketball. That could change in a few days. The Celtics will take a two-day break before visiting the 76ers on Wednesday night. A visit from the
Sacramento Kings
follows on Friday.
February, 2, 2014
Feb 2
12:30
PM ET
BOSTON -- The
Boston Celtics
will have their rarely seen starting backcourt in place again Sunday as both
Avery Bradley
and
Rajon Rondo
will be in the lineup against the visiting
Orlando Magic
.
Bradley has missed the last five games due to a sprained right ankle, while Rondo sat out Wednesday's loss to the
Philadelphia 76ers
as a precaution on the second night of a back-to-back while navigating the early stages of his return from ACL surgery.
Given their limited time together -- just 14 games for a total of 293 minutes since the start of the 2012-13 season -- coach Brad Stevens isn't expecting miracles from the backcourt.
"They really haven't gotten much time together in the last two years. I think it'll be nice, but I'm not expecting them to play like [Larry] Bird and [Kevin] McHale just yet, either," Stevens said. "It's something that takes a little bit of time to get the feel of how they play best together, but I do think they can be a heck of a combination. And I do think they really like playing together, so I think it's really good for them to now get a chance to do it."
Rondo and Bradley logged 451 regular-season minutes together at the end of the 2011-12 season. Did Stevens go back and watch tape of that season to get an idea of how the pair can thrive together?
"I watched it this summer quite a bit," Stevens said. "What it does is, offensively, I think we all know what they do, right? Rondo's a distributor, a passer, a playmaker. And Avery is more comfortable at the 2. That fits easily and well. I think defensively they add some flexibility in that Rondo can guard off the ball or point, Avery same. If [Victor] Oladipo is giving us problems, maybe you end up switching. If [Arron] Afflalo is giving you problems, maybe you end up switching. Just go and play it by ear that way."
A few more quick hits from pregame access:
WALLACE BACK WITH C'S: Gerald Wallace, who left the team to return to his native Alabama after a death in his family last week, returned Sunday morning and will be available. Stevens had said before he'd make sure that Wallace was emotionally OK before throwing him back into game action.


VITOR'S HERE TOO: Vitor Faverani, who spent a couple of days with the Maine Red Claws of the D-League, was formally recalled to the parent club in time for Sunday's game. Faverani posted 16 points, 12 rebounds and 3 blocks on Friday against Delaware, then put up 20 points, 17 rebounds and 6 assists against Erie on Saturday night. Said Stevens: "I thought he did some good things Friday; he played well [Saturday]. The thing that you want out of that is, No. 1, to get more game experience. And, No. 2, is to get up and down the court from a physical standpoint and make sure you're staying sharp from a playing standpoint. It's great for him to get those extra minutes. Like we said before, we'll probably utilize [D-League assignments] more throughout the next couple of months."


PRANKING BRADLEY: Tacoma native Avery Bradley proudly displayed a Seattle Seahawks hat in his locker with his favorite NFL team set to play in the Super Bowl this evening. A frisky teammate took some masking tape and wrote "BRONCOS" in place on the front of the lid.

February, 1, 2014
Feb 1
9:45
PM ET
The
Boston Celtics
(15-33, 9-15 home) host the
Orlando Magic
(13-35, 3-21 road) on Sunday afternoon at TD Garden (1 p.m., CSN). Here's what to watch for:


MIGHTY MATINEE: The Super Bowl it ain't. Sunday's gridiron appetizer features combatants with two of the three worst records in basketball. In fact, it's the only game on the NBA schedule, carrying the torch for the league on a day that belongs to football. The Celtics, losers of four straight and 19 out of their last 22, were defeated last time out by Philadelphia, flip-flopping spaces with the 76ers near the bottom of the NBA ladder. A loss for Boston would leave it only one game ahead of the Magic (only Milwaukee is below them).


LAST BIT OF MAGIC: The Celtics and Magic are meeting for the fourth and final time this season. Boston won the first two meetings, but Orlando prevailed on its home turf last month. And Celtics coach Brad Stevens said Saturday that Orlando will have even more weapons this time around. "They haven't been fully healthy when we've played them yet," said Stevens. "They didn't have Tobias Harris or Big Baby [Glen Davis] the first two times we played them. I think they're obviously playing better. They played great [Friday] night [vs. last-place Milwaukee]."


ON THE REBOUND: The Magic rank 28th in the league in offensive rebound percentage, but don't tell that to Stevens. Orlando's offensive rebound rate pops to 31.3 percent -- 10.4 percent higher than its season average -- against Boston. "[Nikola] Vucevic and Big Baby and [Kyle] O'Quinn and Harris really have hurt us on the glass," said Stevens. "Vucevic averaged 4 ½ offensive rebounds per game in the two games we played against them early. I think O'Quinn is over three a game against us. So we've got to do a better job of getting those guys off the glass. I thought we've had our moments in all three of the games that we've played against them -- certainly here, we played pretty well. But hopefully we can play well [Sunday]. We're going to have to run good offense and get them off the glass."


LOOSE BALLS: Avery Bradley, who missed the past five games with a sprained right ankle, is expected to be back in the starting lineup on Sunday. ... Rajon Rondo will be in the starting 5 as well after sitting out Wednesday's game as a precaution on the second night of a back-to-back. This is only the fourth game this year Boston will have its preferred starting backcourt and only the 15th game in the past two seasons... The Magic are expected to be without guard Jameer Nelson (knee), according to the Orlando Sentinel. ... Gerald Wallace will be a game-time decision after traveling home to Alabama after a death in his family.

PODCASTS
Adam Schefter, NFL
Play Podcast ESPN NFL Insider Adam Schefter weighs in on the Panthers' WR situation, Julian Edelman's future with the Patriots, Vince Wilfork's decision to ask for his release and more.
Spanning the Globe: 3/13
Play Podcast "Spanning the Globe" features ESPN Boston's Mike Reiss, Yahoo! Sports' Eric Edholm and ESPN LA 710's Mark Willard.
John Farrell, Red Sox
Play Podcast Red Sox manager John Farrell talks about whether he expected his team to make such a turnaround in one season, his relationship with his players, fans' expectations for the squad and more.