BOSTON -- After watching Rajon Rondo flirt with a triple-double (19 points, 10 assists, 6 rebounds) as his Boston Celtics defeated the Orlando Magic 96-89 on Sunday, coach Brad Stevens was asked what it was like to see "dynamic" Rondo for the first time up close.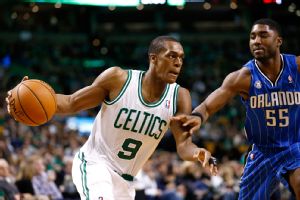 Mark L. Baer/USA TODAY Sports
In addition to his 19 points and 10 assists, Rajon Rondo took control when the Celtics needed it most."I've seen pretty darn close, he's just wearing the rust off a little bit," Stevens said. "But yeah, he was good. I was not surprised. Watching him play for so many years, I've probably caught all the really good games because that's when you're paying most attention in the playoffs and everything else, when you're far away from this."
Ah yes, Coach, that's what the locals sometimes refer to as "national TV" Rondo, a triple-double machine under the brightest lights. And, in a way, you got him on Sunday because the local broadcast was simulcast on NBA TV, given it was the only game on the league's docket on a day dominated by the gridiron.
After Rondo displayed bits of rust over his first six games back, the most common term used to describe his performance Sunday was "his old self." Rondo certainly looked at ease quarterbacking the offense, particularly late in the game, while handing out 10 assists as Boston shot 50 percent from the floor. And he was uber-efficient with his own shooting, connecting on 9-of-11 attempts for 19 points.
Maybe the most encouraging of that scoring output came midway through the fourth quarter after the Magic had rallied within one. Rondo came off a side pick-and-roll and split two defenders while rushing into the paint. Even with Orlando big man Nikola Vucevic shuffling to stay in front of him, Rondo arced a majestic running hook shot that caught nothing but twine and left Celtics legend Tommy Heinsohn cackling in delight at the idea of a point guard with a serviceable hook shot.
It's the sort of touch that's been missing from some of Rondo's signature floaters and often odd-angle attempts during the infancy of his return to game action. Rondo appeared to play with a different sort of confidence Sunday.
For his part, Rondo didn't overhype his effort.
"I felt pretty good, as far as moving-wise, able to get to the rim and finally put some balls in the hole," he said. Pressed on the topic, he added, "It's just one game. I made a lot of my shots. But I feel more comfortable around the basket. A lot of my flip shots went in today. But, like I said, I take it one day at a time."