Boston Celtics:

:2014Game5
November, 7, 2013
11/07/13
6:00
AM ET
Headlines from Boston's 97-87 win over the Jazz on Wednesday:
November, 7, 2013
11/07/13
12:35
AM ET
BOSTON -- First-year
Boston Celtics
coach Brad Stevens stepped to the podium Wednesday and asked longtime team PR man Jeff Twiss if he wanted him to give an opening statement. When Twiss nodded in affirmation, Stevens leaned into the microphone and deadpanned, "Winning's more fun than losing."
[+] Enlarge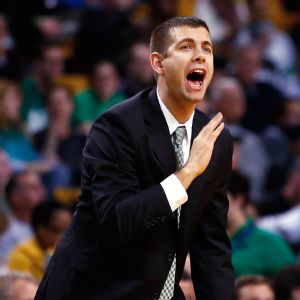 Jared Wickerham/Getty ImagesWith a back-to-back in Orlando and Miami on tap, Brad Stevens joked he'll celebrate his first NBA victory "for a whole 12 minutes."
With Boston's 97-87 triumph over the winless
Utah Jazz
, Stevens notched his first NBA victory at TD Garden. The Celtics (1-4) fell behind by 13 early, then played some sensational ball while building as much as a 25-point lead (but held on for dear life at the finish line).
Celtics owner Wyc Grousbeck alertly snagged the game ball after the final whistle for a Stevens family keepsake. That shows how little Stevens was thinking about the moment. He got a quick on-court hug from
Jeff Green
, lingered around midcourt for a moment, then headed for the locker room with Boston's next game already on his mind during a week in which the Celtics play five games in seven days in five different cities.
"I'm going to celebrate for a whole 12 minutes and then I'm going to start watching Orlando and trying to figure them out," Stevens joked. "Obviously they've had a great start to their season, and they've got good young talent. And we've got a couple more road games -- I feel like we've already toured half the NBA this week -- so just a couple of more road games this week."

Before the game, Stevens admitted that losing wasn't easy for him to digest. After an 0-4 start, one in which Boston has come up short late in games, it's a morale boost for the Celtics' locker room to get in the win column (even if it'll spoil Tanksgiving for those fans that want Boston to lose as many games as possible to get a better chance at a premium draft position).
For Stevens, he's satisfied that his team is moving in the right direction.
"The thing I'm most excited about is we played pretty well in two straight games," Stevens said. "That's a positive. That's a real positive."
Asked if it was nice to get his coach a win,
Brandon Bass
said, "Hopefully we can get him many more."
Read on for more postgame notes from Boston's win over Utah:
FAVERANI ALL IN DESPITE BEING PULLED OUT: Celtics rookie center Vitor Faverani, one of the bright spots at times during Boston's 0-4 start, played just six minutes in Wednesday's win. Faverani labored early, missing all four shots he put up in his first shift and struggling to contain Utah's bigs as the Jazz built a lead that would grow to 13. After a quick hook, Faverani never returned and fellow rookie Kelly Olynyk started the second half in his place. How did Faverani respond to that? "This is one of the reasons that I really like Vitor. When I told Vitor that Kelly was starting, Vitor put his arm around Kelly and was talking to him," Stevens said. "I really like Vitor. Vitor is all in." Even when he's out.

PRESSEY PRESSED INTO ACTION: With Boston utilizing Jordan Crawford next to Avery Bradley in a new-look starting unit, that opened the door for Phil Pressey to get floor time as backup ball handler. Pressey played 17 minutes, chipping in two points (his first NBA basket came off a driving layup in the final moments of the third quarter), three assists, one steal, and no turnovers. Said Pressey, who had logged three consecutive DNPs after a brief cameo on opening night in Toronto, "It was exciting. It was similar to the first game, but I got to stay out there a little longer. I got a feel for the game, and the more I play, the easier it became."

GUESS WHAT DAY IT IS: It was Hump Day, as Kris Humphries also made a rare cameo on Wednesday. Like Pressey, Humphries hadn't played since opening night. He played only 5:42 this time around, but knocked down a jumper early in his only shift and grabbed two rebounds. He was plus-5 in that span. "I thought Hump was ready and did a great job for us in the first half," Stevens said. Could MarShon Brooks be the next player unlocked? Said Stevens, "MarShon is really close to his opportunity. All those guys have to do is maintain a good mindset and they'll take advantage of their opportunities. That's what I've been most impressed with, with those guys. They've been really good about it."

C'S COMPETITIVE ON THE GLASS: The Jazz were the league's best offensive rebounding team and the Celtics the worst defensive rebounding team entering Wednesday's game. The total rebounds were dead even (42) and Boston limited Utah to 11 offensive boards (for a manageable 18 second-chance points). Said Stevens, "The best thing tonight is that we rebounded pretty well. They got 11 offensive rebounds but their percentage wasn't like it's been, or at least what I was concerned about against us."
November, 7, 2013
11/07/13
12:05
AM ET
BOSTON -- The
Boston Celtics
were celebrating their first win of the 2013-14 season when
Brandon Bass
playfully chastised
Gerald Wallace
for nearly injuring him while motoring through a screen. Bass asked if Wallace had a nickname.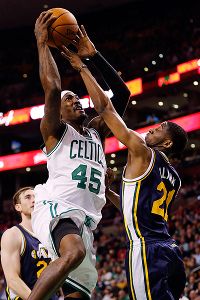 David Butler II/USA TODAY SportsGerald Wallace attacks the basket Wednesday night against the Jazz.
An incredulous Wallace thought he was joking. He was stunned that many of his new teammates didn't know of his "Crash" moniker, earned for his full-throttle (and often reckless) style of play.
Wallace could have used the opportunity to reinvent himself. After all, that's what he's being asked to do on the floor. Celtics first-year coach Brad Stevens informed Wallace before Wednesday's winless showdown with the
Utah Jazz
that he'd be shifting to a bench role in hopes of giving Wallace a jolt and providing Boston's inconsistent second unit with a spark, too.
Wallace admitted wasn't thrilled with the decision. He had started 590 of 608 appearances over the past 10 seasons (eight of those bench games coming after he was dealt to Portland late in the 2010-11 season). Now on a winless, rebuilding team he was being asked to play a backup role.
If he was upset, Wallace changed his tune after a 97-87 triumph at TD Garden. At least for one night, he's embracing the idea of the reserve role, going so far as to suggest that "this might be the best thing for my career." In Wallace's eyes, the only thing that matters at this stage of his career is winning, and the Celtics are 1-0 when he comes off the bench.
"You can't be mad after tonight's result," said Wallace. "We got our first win with it. ... I think the whole shocking part about it was that it's new for me. This is my 13th season and, other than being on the bench my first three years in Sacramento, I've always been a starter. I've busted my butt to be a starter, trying to be productive in that first starting unit, and this is the first year that I'll have to come off the bench. So it's a new process. It's often confusing when something new is thrown at you at the start."
What isn't as surprising is how Wallace has spoken openly and honestly since he arrived in Boston as part of the summer blockbuster with the
Brooklyn Nets
. During his first chat with reporters on media day, Wallace admitted it was awkward being thrust into a rebuilding project but said he'd give himself completely to aiding the team's transition process. In little more than a month, he's twice called out his teammates (once for a lack of effort, and again for selfish play) but has emerged as a leadership voice on a young team.
November, 6, 2013
11/06/13
11:11
PM ET
BOSTON -- Before Wednesday's visit from the
Utah Jazz
, a couple of
Boston Celtics
players remarked about how much Brad Stevens knew about
Gordon Hayward
from the team's scouting session. Not surprisingly, Hayward's collegiate coach was able to dissect his game inside and out.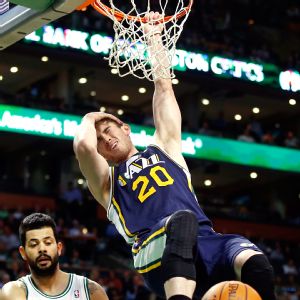 AP Photo/Elise AmendolaGordon Hayward couldn't watch as the Jazz fumbled away an early 13-point lead versus the Celtics.
That doesn't mean Stevens could stop him. Hayward scored a game-high 28 points on 12-of-20 shooting with nine rebounds, five assists and a steal over nearly 40 minutes of floor time. However, it was the professor who emerged with the win over student as Stevens notched his first NBA regular-season victory in the Boston Celtics' 97-87 triumph over the Utah Jazz on Wednesday at TD Garden.
Before the game, when a small mob of reporters herded around Hayward outside the visitor's locker room for a trip down memory lane, the goal was to get the scouting report on Boston's first-year coach. For instance, does he ever yell?
"You'd have to be at practice to find that out," said Hayward, confirming stories told about how Stevens would end practice sessions at Butler early if players weren't focused. "He kicked us out of practice a couple times when we weren't doing things the right way. He's extremely detail-orientated. When you're not focusing on those details, he gets pretty upset about that.
"I think there's different ways of coaching and he just didn't take the yelling approach all the time. When he needed to yell at us, he did, but for the most part, he took a different way of coaching."
That's better reflected in Stevens' flat-line sideline demeanor.
"He's just always calm, no matter what situation we were in; he always knew what we needed to do and communicated that with us extremely well," said Hayward. "As a player, when your leader is calm and collected, it kind of makes you relaxed as well. I think he was able to be so calm because of his preparation he did before. He was always prepared, and he taught us to always be prepared, too."
Yes, it was a bit of a gushfest as Stevens and Hayward spent the night volleying verbal bouquets.
November, 6, 2013
11/06/13
9:50
PM ET
BOSTON -- Rapid reaction after the
Boston Celtics
defeated the
Utah Jazz
97-87 on Wednesday night at TD Garden:


The nitty gritty
Slow out of the gates, the Celtics spotted the Jazz a 13-point lead, but made it a one-possession game before the end of the first quarter and used a dominating second-quarter effort to lead by 16 at halftime. Boston found a much-needed bench spark from the trio of
Kelly Olynyk
,
Jared Sullinger
and
Gerald Wallace
(who was shuffled to the second unit Wednesday with
Jordan Crawford
moving to a starter's role). The Celtics pushed their lead as high as 25 and needed most of it to fend off the winless Jazz in the fourth frame. It was the first NBA victory for coach Brad Stevens.
Gordon Hayward
, Stevens' sidekick at Butler, scored a game-high 28 points to go along with nine rebounds, five assists and a steal in 40 minutes. Bass finished with a team-high 20 points, Wallace had nine points and nine rebounds in 23 minutes off the bench and Olynyk added 14 points and eight rebounds over 29:25.
Turning point
The Celtics opened the second half on a 13-4 burst that culminated with a Green 3-pointer for a 63-38 lead with 20 minutes to play in the game. The Celtics' fumbling away another 20-plus point lead seemed improbable, but Boston needed that little burst. As Boston snoozed for a stretch at the start of the fourth quarter, the Jazz rallied within six with 4:29 to go. Bass came up with a couple big shots (and a block on Hayward) to keep Utah at arm's length at the finish line.
Sellout streak ends
So it went out with a whimper compared to the hoopla of when the Red Sox's "sellout" streak ended. But with an attendance of 17,130, the Celtics' sellout streak ended at 289 games. Even still, Boston had a nice turnout (capacity is 18,624) for a Wednesday night battle of winless teams.
Loose balls
Stevens loosened up his rotation, finding floor time for both
Phil Pressey
(2 points, 3 assists over 16:54) and
Kris Humphries
(2 points over 5:42). Those minutes came at the expense of
Vitor Faverani
, who had a painful start to the game (0 points, 3 rebounds, minus-8 in plus/minus over 6:04) and never saw the floor again. ...
Keith Bogans
and
MarShon Brooks
logged DNPs.
What it means
Well, the Celtics looked like they might kick another one away during a lethargic fourth quarter, but they recovered in time to taste victory for the first time in the 2013-14 season. The Celtics get a rare practice day Thursday before embarking on a Floridian back-to-back (Friday in Orlando, Saturday in Miami) to close out a stretch of five games in seven days in five cities.
November, 6, 2013
11/06/13
7:05
PM ET
BOSTON -- Boston Celtics coach Brad Stevens will tweak the team's starting 5 for the first time this season, shuffling combo guard Jordan Crawford onto the first unit and moving Gerald Wallace to a reserve role.

Crawford will share ball-handling duties with Avery Bradley in the backcourt, while Jeff Green, Brandon Bass, and Vitor Faverani remain in the starting lineup. Stevens also hinted that rookie point guard Phil Pressey, who has logged three DNPs through four games this season, could see time in a reserve point guard role.

"[Bradley and Crawford will] both play point, they'll both handle the ball," said Stevens. "I think we're able to run a bigger variety of things with both guys in than we are with one guy in over the other. Our offensive numbers have been pretty good with Jordan in the game. It also gives you a few tweaks, potentially, off the bench. There's a chance to put Phil in early because it's a guy that, again, plays a role that may enhance others."

Wallace, who left Monday's game in Memphis with a bruised knee, is available and Stevens thinks he can get the 13th-year veteran going more off the bench (it's been a slow start for Wallace, offensively).

"I think I can do some things with him that will really help him with that second group," said Stevens.

The Celtics and Jazz meet Wednesday in a battle of the league's only 0-4 teams (and two of only four teams without a win). Enduring the first four-game losing streak of his college/pro career, are the struggles bothering Stevens?

"It gets to me," he said. "One of the things I hopefully have and shows -- I've got resolve. I know that I've got to come to work the next day and be the best we can be. We've got to make minor tweaks because we're not far from winning a couple of those games. And at the same time, until you win, you are far. But I'm just working on it everyday. And I'm putting a lot of thought into it, as are these guys and these coaches. We're going to keep on grinding at it."

A couple other quick hits from pregame:

* BUTLER REUNION: Not surprisingly, much of the pregame centered on the relationship between Stevens and Utah forward Gordon Hayward from their Butler days. More on that later, but Stevens was gushing about Hayward pregame when he offered, "You watch the film and, in a lot of ways, I'm a proud coach. Because you're watching him and you're really enjoying watching him. Then you get sick to your stomach because you have to play against him."

* LET'S TALK ROTATION! A lot of rotation questions pregame. The Cliffs Notes version: Stevens said again that Kris Humphries is a victim of numbers with the Celtics leaning on four bigs, but said he's hopeful to find minutes for him. Until then, Stevens offered high praise for Humphries being a pro in terms of staying ready and understanding the logjam. As for why Jared Sullinger hasn't seen a spike in minutes yet, Stevens noted, "I'd love to give him a bigger role, but he's continuing to get back into full shape."

November, 6, 2013
11/06/13
11:11
AM ET
The Boston Celtics (0-4, 0-1 home) host the Utah Jazz (0-4, 0-2) at TD Garden on Wednesday night (CSN, 7:30 p.m.). Here's what to watch for:


*
SOMEBODY'S GOTTA WIN
: It's a battle of the only 0-4 teams in the league (and two of only four remaining winless squads). The Jazz are playing the second night of a back-to-back after dropping a 104-88 decision in Brooklyn on Wednesday night. The Celtics, meanwhile, are playing a stretch of five games in seven days (in five different cities), but they'll be coming off a rare offday. Someone's getting in the win column on Wednesday.
*
HEY, HAYWARD!
: Gordon Hayward helped Butler to its first national title game in 2010 and will get to see former coach Brad Stevens on the opposite sideline on Wednesday. Hayward, the ninth pick in the 2010 draft, is averaging 16.8 points, 6 rebounds, and 4.8 assists per game this season. Let's see if Stevens throws any wrinkles at him to try to throw him off.
*
BROKEN RECORD
: Guess which team in the NBA has the best offensive rebound percentage? It's the Jazz (34.7 percent). And which team has the worst defensive rebound percentage in the league? It's the Celtics (47.7 percent). At the risk of sounding like a broken record in this W2W4 space, rebounding will be kind of a big deal on Wednesday. As for our other usual nag, it'd be nice if both teams took better care of the ball. Boston ranks dead last in team turnover percentage (22.4 percent); Utah isn't much better at 28th (20.2 percent).
*
WHAT ELSE?
: We'll be eyeing the guard rotation. Does Boston compensate for turnover woes by putting a second guard (Jordan Crawford) on the floor with Avery Bradley more often? Does Phil Pressey get a chance to run the second-unit offense? ... Jared Sullinger is averaging 15 minutes per game through four contests, that number ought to start climbing soon. ... The Celtics are shooting just 26.2 percent beyond the arc so far this season.