BOSTON -- Kris Humphries is no stranger to Rajon Rondo's on-court petulance. Last season, Humphries put Kevin Garnett on the ground with a midair foul and, before Garnett's backside even hit the TD Garden parquet floor, Rondo had thrust two hands into Humphries' chest and the two soon spilled into the seats beyond the baseline. Rondo earned a two-game suspension for his role in the fracas.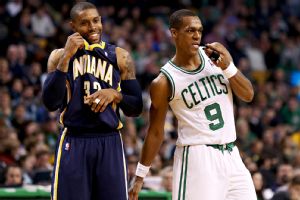 AP Photo/Mary Schwalm
Rajon Rondo, sharing a laugh with Indiana's C.J. Watson, isn't afraid to needle his opponents.Now wearing the same jersey, Humphries can laugh while watching Rondo get under the skin of opposing players, knowing full well the refreshingly irritating manner in which Rondo plays the game.
During Saturday's visit from the Indiana Pacers, Rondo invaded the Pacers' on-court huddle and broke up a high-five attempt between Paul George and Ian Mahinmi. At the end of the first half, Roy Hibbert spotted former Georgetown teammate Jeff Green lying near center court and went over to help him up, but Rondo swooped in and boxed out Hibbert -- the two having been tagged with a double technical a few minutes earlier -- and picked his teammate off the ground while pushing Hibbert away.
Asked about moments like that after the game, Rondo shrugged and offered, "That's just how I play."
Rondo finished with 12 points, 11 assists and 7 rebounds over a season-high 38 minutes, 29 seconds of floor time, but the Pacers escaped with a 102-97 triumph. Three of Rondo's four makes came beyond the 3-point arc, but another triple got erased by video review at a critical juncture in the game.
While Rondo downplayed the opponent, noting he desires to win every game regardless of records, coach Brad Stevens said after the game that "[Rondo] didn't want to come out ever, so that was a good sign."
Rondo is still working out the physical kinks in his game after a yearlong absence due to ACL surgery, but the intangibles have not diminished in the least. Rondo seemingly went out of his way to rile up the Pacers on Saturday night, ruffling feathers throughout the game with his typical antics.
Wearing a pair of white wristbands, it was impossible not to compare Rondo to Dennis Johnson, especially as Rondo played like a throwback. In a league where players tend to be particularly chummy, Rondo seems to prefer Garnett's all-business approach between the lines. Rondo has noted in the past that he doesn't have too many NBA friends outside of his Celtics teammates and some familiar names such as former teammates Garnett, Kendrick Perkins and high school mate Josh Smith.
But you get the feeling that Rondo would push his own mother aside if she tried to help up one of his teammates while wearing opposing colors.