Boston Celtics:

2014Game64
March, 11, 2014
Mar 11
11:00
PM ET
There was a play midway through the fourth quarter of Tuesday's tilt with the East-leading
Indiana Pacers
that just about sums up
Boston Celtics
swingman
Chris Johnson
.
[+] Enlarge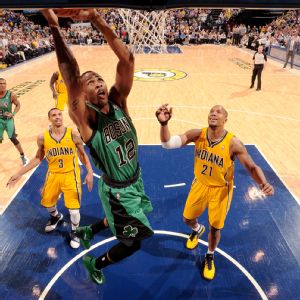 Ron Hoskins/NBAE/Getty ImagesChris Johnson put up 14 points off the bench against the Pacers on Tuesday night.
The Celtics had trimmed a 15-point second-half deficit to 1 and it was still a one-possession game with 5:37 to play when
George Hill
missed a 3-pointer. Johnson was locked in on the ball as it came off the rim and didn't spot team captain
Rajon Rondo
going up near him for the same carom. Johnson, likely thinking it might be a Pacers player,
would not be denied the ball
and the collision knocked Rondo to the floor, which produced another great moment when the entire Boston bench, led by head coach Brad Stevens,
rushed to scrape Rondo off the ground
.
There are a lot of positives that Boston can pluck from Tuesday's 94-83 loss: Boston's frontline hung tough with Indiana's defensive-minded skyscrapers (registering 20 offensive rebounds that kept the cold-shooting Celtics in the game);
Kris Humphries
produced another solid outing, thriving again in the mid-range; and
Jared Sullinger
put together a particularly gritty night against Indiana's frontline (17 points, 9 rebounds).
But Johnson deserves special mention. After endearing himself as a fan favorite for shorthanded Boston on two 10-day contracts in January, he signed on for the rest of the season and has been a steady-but-quiet presence off the Celtics' bench. On Tuesday, he chipped in 14 points on 6-of-8 shooting with three rebounds and two steals over 28 minutes. He played nearly the entire fourth quarter at the 2-guard position and his energy remains infectious.
Which brings us back to that rebound. You see situations like that all the time, where a younger player will realize he is fighting with a more veteran teammate for the same carom and will throw his hands up in the air as if to say, 'It's all yours.' Johnson hauled in the rebound and started dribbling up the floor before the Celtics called time out. (He did give Rondo a gentle dap on the head heading to bench to apologize.)
Johnson lives on hustle and guys like him (including D-League/10-day brethren
Chris Babb
) are important players for rebuilding teams to have at this stage of the season. It's telling that, as Boston made its fourth-quarter rally, Stevens leaned hard on Johnson and Babb at key moments. That floor time is supremely important to their individual development, but they've also earned it with their full-throttle play.
For the season, Johnson is averaging 6.4 points and 2.4 rebounds over 19.4 minutes per game in 22 appearances. He's plus-45 for the season, no small feat considering Boston is 8-14 in that span and minus-135 when he's off the court. Johnson has carved out a role as a consistent 3-point threat, shooting 40.8 percent (29 of 71) beyond the arc, including 46.2 percent in five appearances in March.
What stands out is how Johnson affects the team when he's on the court. The Celtics own an offensive rating (points per 100 possessions) of 103.1 with Johnson in the game, which is 4 ½ points higher than their season average and almost 7 points higher than when he's not on the court. Flip it to the defensive side and Boston's rating is 101.1 with Johnson, or 2 ½ points less than the season average and 4 ½ points worse than when he's on the bench.
Clearly it's a small sample size and you can make the case that there's a good deal of trash time involved. What's harder to ignore is how many of Boston's advanced stat columns spike with Johnson in the game, including pronounced jumps in rebound percentages.
Johnson has plenty of strides to make, including on the defensive end. He still gets caught cheating off his man at times --
Lance Stephenson
burned him with a triple late in the fourth quarter Tuesday when Johnson shuffled away to help deny a
Paul George
drive -- and his pick-and-roll defense is a work in progress. But Johnson's struggles are not for a lack of trying.
The Celtics inked Johnson to a risk-free, team-friendly four-year deal. He'll spend the summer in the system and hope the roster doesn't get too crowded at his position.
The security of a rest-of-the-season deal could have allowed Johnson to downshift last month. Instead, he's still fighting every chance he gets on the court. And sometimes that means putting the team captain on the floor by accident.
March, 11, 2014
Mar 11
9:25
PM ET
Rapid reaction after the
Indiana Pacers
defeated the
Boston Celtics
94-83 on Tuesday night at Bankers Life Fieldhouse:


THE NITTY GRITTY
David West
scored a game-high 24 points on 11-of-13 shooting, while
Lance Stephenson
added nine points and five rebounds and was a team-best plus-19 in plus/minus.
Andrew Bynum
added eight points and 10 rebounds over 15 ½ minutes off the bench in his Indiana debut.
Jared Sullinger
scored a team-high 17 points with nine rebounds (seven on the offensive glass) in a reserve role, while
Kris Humphries
registered 15 points and nine rebounds.
Chris Johnson
added 14 points on 6-of-8 shooting while providing energy off the Boston bench.
TURNING POINT
Despite trailing by as much as 15 with 15 ½ minutes to play in the game, the Celtics rallied within a point on two occasions in the fourth quarter. The Pacers answered each time with immediate baskets. It was still a one-possession game with less than five minutes to play, but the Pacers got a Stephenson layup and a
Roy Hibbert
jumper to push their lead to a more comfortable seven-point spread (83-76) and Boston never got closer than five the rest of the way.
LOOSE BALLS
Boston shot just 35.2 percent, but hung around thanks in large part to 20 offensive rebounds. ... The Celtics had nearly as many boards on the offensive glass as they did on the defensive side (21). ... The Pacers shot 54.8 percent but 16 turnovers helped the Celtics stick around. ...
Kelly Olynyk
finished 1-of-9 shooting with only three points, but grabbed seven rebounds over 21 minutes and was a team-best plus-5. ... All 11 players available for Boston played, including
Joel Anthony
(a mere 12-second stint). ... The Pacers snapped a four-game losing streak.
WHAT IT MEANS
The Celtics (22-42) watched their two-game winning streak get snapped (
and relinquished the NBA championship belt
). Boston returns home to host the
New York Knicks
on Wednesday and
Rajon Rondo
(8 points, 8 assists, 3 rebounds in 41 minutes Tuesday) is expected to sit out on the second night of a back-to-back. The
Phoenix Suns
visit TD Garden on Friday before Boston heads out for a quick two-game road trip with another back-to-back in New Orleans and Dallas.
March, 11, 2014
Mar 11
10:00
AM ET
The Boston Celtics (22-41, 8-22 away) visit the Indiana Pacers (46-17, 29-4 home) on Tuesday night at Bankers Life Fieldhouse (7 p.m., CSN). Here's what to watch for:


KEEP IT MOVING: The Celtics, winners of two straight, are coming off one of their most unselfish performances of the season and need to maintain the ball movement that highlighted Sunday's win over the Detroit Pistons. Rajon Rondo handed out 18 assists with no turnovers as Boston registered a season-high 38 assists and season-low seven turnovers (this one game after the Celtics gave the ball away a season-high 28 times and still somehow defeated the Brooklyn Nets).


PACERS NOT THEMSELVES: STATS LLC details the Pacers' recent woes: "Although the Pacers (46-17) are tied for the NBA lead with 92.2 points allowed per game and have given up a league-low 41.9 field-goal percentage, they surrendered an average of 108.7 points on 49.4 percent shooting during an 0-3 road trip." The Pacers have lost four straight overall. It calls to mind Boston teams of recent seasons that used to kick into cruise control before the playoffs. Can Boston pounce against a team that won by 27 during Stevens' first homecoming back in December?


LOOSE BALLS: This is the fourth and final meeting of the season. The Pacers are 3-0 and defeated the Celtics in Boston 102-97 earlier this month. ... Celtics rookie Kelly Olynyk is coming on strong in the second half of his first NBA season. ... Boston is hoping to have shooting guard Avery Bradley back later this week, but Jerryd Bayless has settled into his starting spot in Bradley's absence. ... This is the first game of a back-to-back for Boston, who hosts the New York Knicks on Wednesday night. ... The Celtics haven't won three straight since the start of February. ... Boston enters 5 ½ games out of a final playoff spot with 19 games to play.

(
Read full game preview
)