Boston Celtics:

2014Game65
March, 13, 2014
Mar 13
12:05
AM ET
BOSTON -- The offensive glass wasn't much of a priority in recent seasons for the
Boston Celtics
. Former coach Doc Rivers used to implore his bigs to retreat to get set on defense. Heck, even with big, athletic bodies up front now with the
Los Angeles Clippers
, Rivers' new team still ranks only 22nd in offensive rebound percentage this season.
The Celtics? After three straight seasons in the offensive rebounding basement, they've vaulted to 12th in the NBA this year while hauling in 27.3 percent of all available missed shots. What's more, Boston ranks in the top 10 in second-chance points at 14 per game this season.
Here's where Boston ranked in each of the past four seasons (with offensive rebound percentage), which only makes this year's number more eye-popping:
2012-13
: 30th (20.1)
2011-12
: 30th (19.7)
2010-11
: 30th (21.1)
2009-10
: 28th (22.8)
One night after grabbing 20 offensive rebounds in a loss to the
Indiana Pacers
, the Celtics hauled in 16 more offensive caroms in Wednesday's loss to the
New York Knicks
.
So why the uptick this year? Much can be credited to second-year big man
Jared Sullinger
, who ranks in the top 10 in the league in total offensive rebounds and leads the team with an offensive rebound rate of 13.2 percent. And rookie
Kelly Olynyk
has emerged as an active rebounder on the offensive glass in recent weeks (his offensive rebound rate is a robust 12 percent).
Before Wednesday's game, Celtics first-year coach Brad Stevens explained his thoughts on offensive rebounding.
"I think my biggest thing, personally, is that you have to balance [offensive rebounding] well with transition defense," said Stevens. "Transition defense, you can't give up on that. That has to be a huge part of what you do. Right now, our transition defense has gotten significantly better in the last two months, and overall been pretty good, really since [Rajon] Rondo's been back we've been pretty good. Then, offensively, there's going to be games when you're not making shots and if you can get a putback or two to kinda stem the tide, it's important. And we do have guys, especially in [Kris] Humphries and Sullinger, that are really good offensive rebounders and you certainly don't want to take that away from those guys. Anything we can do to get a basket, I think we need to try to do it."
March, 12, 2014
Mar 12
11:22
PM ET
BOSTON --
Phil Pressey
heard plenty of criticism for his decision to leave the University of Missouri after his junior season, and his detractors were emboldened when he wasn't selected in June's draft.
[+] Enlarge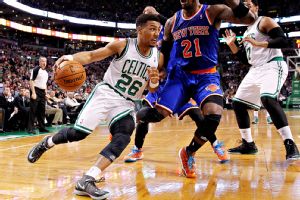 Greg M. Cooper/USA TODAY SportsBoston Celtics point guard Phil Pressey drives against the New York Knicks.
Those pundits are a lot quieter now.
On Wednesday, Pressey made his 60th appearance of the 2013-14 season for the
Boston Celtics
, tied for the seventh-most games among all rookies, including his seventh start, while spelling a resting
Rajon Rondo
during a 116-92 loss to the visiting
New York Knicks
.
Pressey registered nine points, five assists, and five rebounds over 35 minutes of floor time. The same kid who had to earn his first NBA deal through his play at summer league now looks awfully comfortable on an NBA court and is averaging 13.9 minutes per appearance (19th among all rookies). Pressey had some highlight moments -- like
a little no-look drop-off
to a trailing
Kris Humphries
for a transition slam in the second quarter -- but could only watch as
Carmelo Anthony
and the Knicks scorched the floor (52.5 percent shooting overall; 57.9 percent beyond the 3-point arc) en route to a lopsided win.
But step back a bit and what you find with Pressey is a player who's carving out a role at the NBA level. There's absolutely room for growth, particularly in his offensive game, but Pressey landed with a team that both needed his skill set and has nurtured his game.
Before Wednesday's tilt, Pressey reflected on his NBA journey to this point and wondered if slipping out of the draft was actually a blessing. Celtics president of basketball operations Danny Ainge phoned Pressey on draft night to let him know Boston was interested in giving him a shot to make the roster at summer league, and that opened more doors than he probably could have imagined.
Pressey wonders now if he had been picked by another team in the draft if he would have been shipped overseas to hone his game, leaving his NBA future murky at best.
Instead, his deal with the Celtics contained a guaranteed first season and the potential to stick around into the future at a team-friendly rate (the Celtics have until July 15 before Pressey's second-year minimum salary becomes guaranteed).
"I think I'm good for this type of team," said Pressey. "My rookie year, it's going well so far. I wish we won a lot more, but, I feel like, for me personally, it's gone up and down, but overall it's going pretty good."
March, 12, 2014
Mar 12
9:50
PM ET
BOSTON -- Rapid reaction after the
New York Knicks
defeated the
Boston Celtics
116-92 on Wednesday night at TD Garden:


The nitty gritty
Carmelo Anthony
scored a game-high 34 points on 11-of-25 shooting with nine rebounds and two assists, while Tim Hardaway Jr. scored 22 points off New York's bench.
Cole Aldrich
added a double-double (12 points, 10 rebounds) in a spot start.
Jeff Green
scored 17 of his team-high 27 points in the third quarter, but his stat line was otherwise lackluster (2 rebounds, 0 assists, 0 steals, 0 blocks, 1 turnover, 4 fouls, minus-15) over 41 minutes.
Jerryd Bayless
added 15 points on 5-of-14 shooting, but was a team-worst minus-25 in plus/minus. The Knicks shot 52.5 percent overall, including 57.9 percent (11-of-19) beyond the 3-point arc. Boston finished at 42 percent shooting.
Turning point
It took less than 4½ minutes for the Knicks to build a double-digit lead and that advantage ballooned as high as 24 late in the first half. New York battered Boston beyond the arc in the first half, connecting on 9-of-10 triples as part of a 68-point outburst. Anthony and Hardaway combined for 36 first-half points on 13-of-20 shooting as the Knicks shot 60.5 percent from the floor overall before the intermission.
Highlight of the night
Kris Humphries
, no stranger to a highlight-worthy block in recent games, came up with maybe his top swat of the season by denying a Hardaway dunk attempt early in the third quarter. Hardaway appeared to be streaking to the rim when Humphries came from the side to block the attempt. GIF below courtesy of
@MrTrpleDouble10
.
Loose balls
The Knicks never trailed. ... The Celtics dressed only 10 players, but
Joel Anthony
was still a healthy DNP. ...
Rajon Rondo
got a night of planned rest on the second game of a back-to-back.
What it means
The Celtics (22-43) have now lost two straight and will remain tied for the fourth-worst record in the NBA. Boston takes Thursday off before hosting the
Phoenix Suns
on Friday night. A two-game road trip looms after with visits to New Orleans and Dallas. Boston is 0-13 so far this season on the road against Western Conference opponents and needs a win on the trip to break up the season shutout.
March, 12, 2014
Mar 12
6:55
PM ET
BOSTON --
Boston Celtics
undrafted rookie point guard
Phil Pressey
will make his seventh start of the season while
Rajon Rondo
gets planned rest on the second night of a back-to-back during Wednesday's visit from the
New York Knicks
.
Pressey will start alongside the rest of Boston's recent starting 5 in
Jerryd Bayless
,
Jeff Green
,
Brandon Bass
, and
Kris Humphries
. Short on ball-handlers, Celtics coach Brad Stevens said he debated starting
Chris Johnson
or
Chris Babb
alongside Bayless in the backcourt, but stuck with the typical plan of leaning on Pressey.
"I'll get Jerryd or Phil out pretty early and rotate those guys most of the rest of the half," said Stevens. "I think, if we have to, Johnson or Babb can handle [ball-handling duties] for a couple of minutes, but that would not be ideal."
Stevens stressed that he doesn't think too much about what the team loses without Rondo on the court.
"This is part of just being on your toes and taking a challenge, for your guys and for your staff," said Stevens. "You focus on who you have and you coach them. That's what you try to do. You don't spend any time focusing on who's not available. I think that's really the only way to go about it. We've got 10 healthy bodies and [the Knicks have] injuries, too. It's whoever plays best out on the floor that'll ultimately win, so our goal is to help our 10 guys play the best they can."
Rondo has sat out the second game of five back-to-backs since returning on Jan. 17 and he's often talked with Stevens and the team's training staff about how his body feels the night after games.
"If I was ready, I would play," Rondo said earlier this week. "It's a combination of things that bother me in the lower part of my body -- my calves, my Achilles and then my knees," said Rondo. "It's just a part of those three that are affecting me after games that, the next day, I need to rest."
Added Rondo: "I'm still pretty sore when I wake up. My Achilles bothers me the most when I get out of the bed. Throughout the day, it gets better, but I still don't want to try to overdo it and [then] something else happens because of that."
Is Rondo surprised he's still sore at this stage of his return?
"It's an NBA season. It's tough," he said. "I'm up to 34-35 minutes per night now. I'm doing the right procedures. I'm taking the massage. I'm icing after the games. I'm doing what I'm supposed to do. It's just, I have to listen to my body."
Rondo played a season-high 40:45 in Tuesday's loss to the
Indiana Pacers
, including the entire second half knowing he wouldn't be available for Wednesday's game.
March, 12, 2014
Mar 12
11:35
AM ET
The Boston Celtics (22-42, 14-19 home) host the New York Knicks (25-40, 11-20 away) on Wednesday night at TD Garden. Here's what to watch for:


NO RONDO FOR CELTICS: Rajon Rondo will stick to his routine of resting on the second nights of back-to-backs (this is the fifth such instance since his return on Jan. 17). Knowing Rondo was going to sit out Wednesday's tilt with the Knicks, the Celtics rode him for 41 minutes, including all 24 minutes in the second half of Tuesday's loss in Indiana. With Avery Bradley still eyeing a Friday return, that leaves Boston without its starting backcourt against the Knicks. Typically, the Celtics shuffle undrafted rookie Phil Pressey into the starting point guard role, while Jerryd Bayless has started six games at shooting guard with Boston.


KNICKS MAKING A SURGE: The Knicks have won four straight while shuffling within 3 ½ games of the final playoff berth in the East. As noted by STATS LLC: The Knicks are "averaging 114.0 points while shooting 41.3 percent (50 for 121) from 3-point range during the win streak. Their 123-110 victory Monday night over Philadelphia may have been the most encouraging one since rookie Tim Hardaway Jr. scored 28 points and was one of four Knicks to finish with at least 20 as Anthony didn't have to shoulder the scoring burden alone."


LOOSE BALLS: This is the fourth and final meeting of the season between the two teams. The Celtics own a 2-1 advantage, but dropped a 114-88 decision at Madison Square Garden in January. ... Tyson Chandler (personal reasons) and Amar'e Stoudemire (recovery) will not play for the Knicks. Cole Aldrich moves into the starting lineup for New York ... The Knicks can match their season-long win streak. ... The Celtics shot 35 percent in Indy and are hoping for better bounces back at home.

(
Read full game preview
)