Boston Celtics:

2014Game8
November, 12, 2013
11/12/13
10:35
AM ET
BOSTON -- The Celtics were competitive through each of their first four games this season and lost them all. Boston remained competitive over its next four games, and won each time. With a 4-4 record through two weeks of the regular season, first-year coach Brad Stevens was asked if anything had changed.

"Same guys," he said. "And I don't think, actually, we were that far in a couple of those games that we [lost]. Obviously, the Milwaukee game we really played well for most of the game. The way that I always say it when we walked back into the locker room, we looked like a basketball team. There have been other games, specifically in the preseason, where we didn't look like a basketball team. But how far we've come since October 1st, we've made good strides, we've made the right strides. But we have a long way to go and there's a lot of things to improve."

Even after a thorough offensive effort as his Celtics took down the Magic 120-105 on Monday, Stevens pledged to get right back to work as Boston navigates a game-heavy November. Stevens stressed that more improvements are needed to maintain this success.

"[Stevens' players] haven't learned a lot about me, but I hope they've learned that I'm going to go back to work tonight and I hope I'm going to try to make us a little bit better tomorrow," said Stevens. "That's all we can do. You ride this emotional roller coaster if you don't. All of the sudden, we're 4-4 and we've got the whole world figured out when in essence that was only seven days ago when we were 0-4. This thing can turn quick and, with our schedule as it continues this month, it can turn real quick. So we've just got to focus on day to day, game to game to see how good you can be on that night and know that you always have a chance to win or get beat."

Read on for a few more leftover notes from Monday's win:


November, 12, 2013
11/12/13
8:00
AM ET
Headlines after the Celtics defeated the Magic 120-105 on Monday night:
November, 12, 2013
11/12/13
1:45
AM ET
BOSTON -- The Boston Celtics put together what may ultimately be one of their best offensive efforts of the 2013-14 season on Monday night. Boston shot 60 percent from the field, put seven players in double figures, and left the scoreboard operator begging for a break during a 120-105 triumph over the Orlando Magic at TD Garden.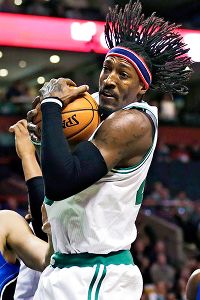 AP Photo/Charles KrupaAlthough his scoring is down, Gerald Wallace is contributing to the Celtics in many other ways.
But allow us to spotlight the guy who missed the only shot he took, missed half his free throws, and contributed a measly one point to the effort.
Gerald Wallace chipped in five assists, three steals and two assists over 19 minutes, 25 minutes, but the number that really leaps off the page from his stat line is the team-best plus-20 in plus/minus.
As Celtics coach Brad Stevens noted after the game, "Well, plus-20 is the only points I care about. That tells you what I think of him."
You'll read plenty about Jordan Crawford, and with good reason after he put up 16 points and 10 assists and was plus-15 in Monday's win. Many will note that Boston's first unit has thrived since Crawford's insertion into the starting lineup at the start of the Celtics' four-game winning streak (and that's not in question).
But take a minute to consider the trickle-down effect of Crawford's elevation. The swap moved 13th-year veteran Wallace to a bench role, where he has likewise flourished as part of Boston's high-energy reserve squad.
The struggles endured by Boston's second unit were a big reason for the team's 0-4 start. Now, Wallace's presence is giving the Celtics a sustained second-unit attack.
Consider this: During this four-game winning streak, Boston's best on-court defensive rating is owned by Wallace. The team is allowing a mere 94.5 points per 100 possessions with Wallace on the floor during that span (well below the overall team average of 100.1).
(
Read full post
)
November, 12, 2013
11/12/13
12:12
AM ET
BOSTON -- Basking in the glow of a double-double performance that featured a team-high 10 assists,
Jordan Crawford
was asked about his passing skills after spearheading the
Boston Celtics
to a 120-105 triumph over the
Orlando Magic
on Monday night at TD Garden.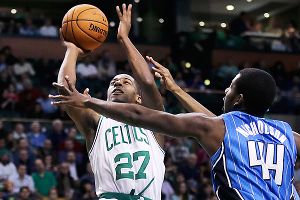 AP Photo/Charles KrupaJordan Crawford balanced his own scoring with setting up his teammates in Monday's win over Orlando.
"Y'all just now noticing that, huh?" he asked. "I was blessed with court vision. When a teammate is open, you find him."
Crawford did that with flare on Monday, often twirling his way to fancy dishes or passing up an open shot to feed a teammate for an easy basket at the rim. The 25-year-old Crawford produced only the fourth double-digit assist game of his career, adding 16 points (on 7-of-12 shooting), five rebounds and a steal over 32 minutes 36 seconds of floor time. He was plus-15 in plus/minus.
The Celtics are 4-0 since Crawford was inserted into the starting lineup to add a ball-handler next to
Avery Bradley
. Billed as a shoot-first guard throughout his career, Crawford was asked if he likes playing point this season.
"I feel that I'm a point guard," Crawford said. "That's other people that listed me at shooting guard."
Crawford's impact on Boston's offense is undeniable. Over the past four games, the Celtics own an offensive rating (points per 100 possessions) of 109.3 when he's on the court; it drops eight points when he's off the floor. The downside is an uptick in the team's defensive rating (104.4 when Crawford is on the court; 93.7 when he's off), but it's hard to argue with the end result, particularly with how well Bradley has played with Crawford next to him.
One other monster benefit of having Crawford on the floor as a ball-handling presence: Boston's turnover rate has plummeted. The Celtics were the worst team in the league in turnover percentage while dropping their first four games. In the four wins since, Boston's turnover rate drops to 13 percent when Crawford is on the floor -- it's still up at 18 percent for the season.
"I think he's really doing a great job," coach Brad Stevens said. "He's got a lot of confidence out there. He's always been a guy that had good confidence about him, but I think the thing that I've been most pleased with through really the entire time I've been around him is his consistency. That's an area in which you have to really embrace if you're going to be a good point guard because everybody's depending on you to be reliable on a day-to-day basis."
Stevens noted how he phoned Crawford during Sunday's offday (oh, to hear that conversation!) and spoke of how Monday's game was the team's biggest of the season coming off a thrilling (but flawed) win in Miami. During pregame warm-ups, Celtics president of basketball operations Danny Ainge slung his arm around Crawford's shoulders and imparted some friendly advice.
Crawford responded to the challenge and his evolving game isn't lost on his teammates.
"I think he's more mature,"
Jeff Green
said. "I know he had a bad rep coming from the Wizards [as] just a one-way player. Now he's learning the game. He's playing both ends. He's bigger than a lot of guards so he can shoot right over them. And he has the mentality to turn it on when need be."
November, 11, 2013
11/11/13
11:11
PM ET
BOSTON -- The
Boston Celtics
scorched the field on Monday night against the
Orlando Magic
, shooting a season-high 60 percent (51-of-85) en route to a 120-105 triumph.
How does Brad Stevens explain how a team that ranked among the least efficient offenses in the league entering Monday's game shot that well, putting seven players in double figures?
"One of those days," shrugged Stevens.
Making it all the more impressive, Orlando entered as one of the league's top defensive teams, as opponents were shooting 40.3 percent (second lowest in the NBA). Boston had shot just 35.8 percent against the Magic in Orlando on Friday night (and had to scrap its way to a win). A glimpse of Boston's Zone Chart on Monday via ESPN Stats and Info: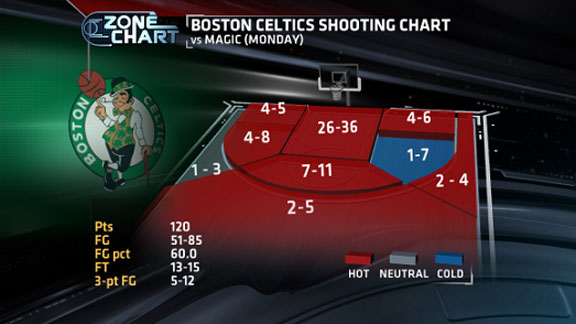 Magic coach Jacque Vaughn, whose team has lost to Boston twice in four days, joked after the game, "I think Brad should send me a fruit basket."
Oh, like the Magic need to watch the Celtics produce
another
basket.
November, 11, 2013
11/11/13
9:48
PM ET
BOSTON -- Rapid reaction after the
Boston Celtics
defeated the
Orlando Magic
120-105 on Monday night at TD Garden:


THE NITTY GRITTY
Just three days after out-uglying the Magic in Orlando while shooting 35.8 percent from the floor, the Celtics blistered the floor while scoring a season-high 120 points on 60 percent shooting (51-of-85), the best percentage of any team this season. The Celtics put seven players in double figures (including all five starters), led by
Avery Bradley
with a game-high 24 points on 10-of-15 shooting over 29 minutes.
Jordan Crawford
added 16 points, 10 assists and 5 rebounds while spearheading the offense from his point guard position.
TURNING POINT
The Magic were within a possession with just less than eight minutes to go in the third quarter, but Bradley quickly gave Boston some breathing room. He had back-to-back layups with a steal sandwiched in between, then got to the charity stripe for two freebies. Bradley made it eight consecutive points for the Celtics with a 20-foot pull-up jumper and a
Brandon Bass
slam dunk soon after pushed Boston's lead to double figures at 75-64 with 5:46 to play in the frame. The Celtics pushed that lead as high as 18 early in the fourth quarter.
LOOSE BALLS
Boston had one of its more efficient nights beyond the 3-point arc, connecting on 5-of-12 attempts (41.7 percent). ... The Celtics kept their turnovers manageable (15 for 17 points). ... Boston's best player in terms of plus/minus?
Gerald Wallace
, who missed the only shot he put up and finished with one point, five rebounds and three assists in 19:25.
WHAT IT MEANS
If the Celtics (4-4) are tanking, they're terrible at it. Boston pushed its win streak to four games and is at .500 for the season. Combined with Philadelphia's loss to the Spurs, Boston is now tied with the 76ers atop the Atlantic Division. We'll say it again: This team is a lot of fun to watch. It remains to be seen if they can maintain this sort of competitiveness, but they've given themselves a chance to win every time out and are improving with each game. The Celtics have two games left on this homestand with visits from Charlotte (Wednesday) and Portland (Friday) ahead.
November, 11, 2013
11/11/13
7:05
PM ET
BOSTON -- The Boston Celtics will keep rookie Kelly Olynyk in the starting 5 as they open a three-game homestand on Monday against the Orlando Magic.

Olynyk bumped fellow rookie Vitor Faverani from the first unit on Saturday in Miami and played well. Despite shooting 36.9 percent from the floor this season, you can see Olynyk getting more comfortable on the floor and coach Brad Stevens is confident those shots will fall soon.

"It's not just idea of what [Olynyk has] done, statistically, [but] being able to run a lot through him. He really knows how to play, can really pass," said Stevens. "Obviously, he's a threat to shoot it more than he's made shots. That's why I'm not worried about him making shots. I've always subscribed to the law of averages, and so he's got a bunch of makes coming. But he is a good basketball player and, offensively, it makes us more versatile on the floor."

Olynyk gets the unenviable task of guarding Magic center Nikola Vucevic, who started fast in Friday's matchup and finished with 14 points and 13 rebounds over 36 minutes.

One prevalent theme from Stevens and players in the locker room: While Boston is playing better ball after winning three straight, there's still plenty of room for improvement, particularly on the defensive end.

"I think there's so much room to improve and I told our guys that today when we got together -- the last thing we can do is think that [Miami win] was anything more than we found a way to win in a game where we shot almost 60 percent from the field," said Stevens. "Because we really didn't guard well enough to win that game 99 out of 100 times."

November, 11, 2013
11/11/13
10:30
AM ET
The Boston Celtics (3-4, 1-1 home) host the Orlando Magic (3-4, 0-3 away) on Monday night at TD Garden (7:30 p.m., CSN). Here's what to watch for:


WE MEET AGAIN: It's been a whole three days since these two teams last saw each other in Orlando. Let's hope this game is a little crisper. The two sides combined to shoot 37.6 percent from the floor on Friday, but Boston benefitted from solid defense and ball security (the Magic turned the ball over 20 times for 25 points).


BUILDING ON MOMENTUM: The Celtics have won three in a row and the Orlando visit marks the start of their first extended homestand (three games). How does a young team respond to growing confidence? As Stevens is quick to point out, every game is going to be a battle for his squad, which has seemingly overcome a double-digit deficit in every game this season. Will Saturday's thrilling win in Miami give Boston an early jolt on Monday?


HUMP IN FOCUS: Kris Humphries continues to do good things when he's on the floor and is now a team-best plus-27 in plus/minus in 46 minutes of floor time. What's more, he has the best overall rebound (17.7) and defensive (25) percentages on the team. All that still might not be enough to crack the rotation quite yet, but it's a nice luxury to have when another big is in foul trouble or underperforming.
(
Read AP game preview
)