Boston Celtics:

2014Game9
November, 14, 2013
11/14/13
8:00
AM ET
Headlines after the Charlotte Bobcats defeated the Boston Celtics on Wednesday:
November, 14, 2013
11/14/13
1:45
AM ET
BOSTON -- Three letters greeted the Boston Celtics on their whiteboard after Wednesday's loss to the Charlotte Bobcats: DTR.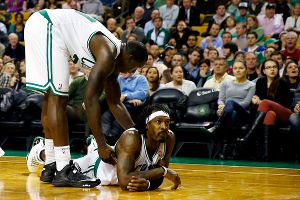 Greg M. Cooper/USA TODAY SportsGerald Wallace said the Celtics, who had won four in a row, were overconfident entering their game with the Bobcats.
That's basketball shorthand for Dressed, Taped, Ready. It's also often shorthand for be prepared to work your tail off in practice.
Day-after-game workouts for the Celtics often have been light, particularly with the team navigating a minefield of an early-season schedule that features 19 games over the first 31 days of the season.
But even with a back-to-back looming to close out this four-game week, those three letters seemed to send a bit of a message to the Celtics players: You weren't ready on Wednesday night; come ready to work harder on Thursday.
An overconfident Celtics team, riding high on a four-game winning streak, too-cooled its way through Wednesday's visit from the Bobcats and endured a not-easy-on-the-eyes 89-83 defeat at TD Garden.
The loss provided a sobering reminder of how things tend to work with young teams: Fail to show up with the proper focus and energy level, and you can get beaten by anybody.
For Boston's divided fan base, Team Tank can rejoice at a bad loss to a below-average team (especially after watching all that college talent on Tuesday night), while Team Overachieve can cling to the idea that Boston played some atrocious basketball and still gave itself a chance to win in the final minute. But for the players, this was a somewhat friendly reminder that they are not nearly talented enough to just show up for games.
The buzzword on Wednesday was "lackadaisical" with former Bobcat Gerald Wallace suggesting his Celtics were a little too cheeky.
(
Read full post
)
November, 14, 2013
11/14/13
12:12
AM ET
BOSTON -- Who knows if
Jared Sullinger
could have saved the
Boston Celtics
from themselves on Wednesday night. But you can't shake the feeling that he would have helped.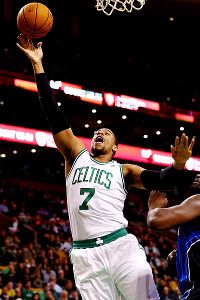 Alex Trautwig/Getty ImagesThe Celtics missed Jared Sullinger on this night.
The Celtics allowed the visiting
Charlotte Bobcats
to start fast and build an early double-digit lead and Boston never cranked up its own level of play enough to compensate, dropping an 89-83 decision in which Boston trailed from start to finish.
Here's the nitty gritty: Sullinger has been a plus/minus beast for Boston since he slid into its lap in the 2012 draft. In the 138 minutes he's played this season, Boston is plus-30 and owns glossy ratings (points per 100 possessions) on both offense (107.4) and defense (98.9). In the 294 minutes that Sullinger has been off the floor, Boston is minus-38 and its ratings sputter on offense (94.4) and defense (100.8).
Sullinger's impact is impossible to ignore; good things happen when he's on the court. The team rebounds better, it defends better, it passes better. The second-year forward is an extremely important part of any success this team will enjoy this season. To bottom line it: The Celtics are 0-2 in the games he's missed this season and 4-3 when he's played.
Sullinger missed Wednesday's game when a bone bruise on his right knee left him unable to dress. He remains day-to-day while waiting for the pain to subside after Orlando's Mo Harkless bumped the knee while Sullinger took a charge in the first half of Monday's win over the Magic.
Celtics players acknowledged that not having Sullinger hurt the team on Wednesday.
"He's our post-up threat,"
Gerald Wallace
said. "He puts pressure on the defense by getting in the blocks, posting up -- I don't think we had a lot of post-ups other than
Jeff Green
posting up. With him out, that really makes us a perimeter-oriented team."
That perimeter-oriented team shot 37.7 percent overall and a mere 29 percent outside the paint.
Asked how much the team missed Sullinger, Green added, "A lot. Another big to put on Al [Jefferson], to put on the boards. He's a big key to what we're trying to do. It's tough without him, but when a guy goes down, somebody has to step up in any kind of way."
Kris Humphries
was supposed to take Sullinger's minutes, but was ineffective. He registered just one point and zero rebounds over 9:47. The Celtics instead leaned hard on rookie center
Vitor Faverani
, who provided a boost on the glass (nine rebounds) and protected the rim. Faverani was a team-best plus-10 in plus/minus, but struggled with his shot (7 points on 2-of-8 shooting).
Kelly Olynyk
grabbed a team-high 11 rebounds, but never got going offensively (6 points on 1-of-4 shooting) and was a team-worst minus-11.
"Any time one of your better players is out, that hurts," coach Brad Stevens said. "But it's not an excuse. You've got 10 guys that played in the game and it's a great opportunity for guys to take advantage when a teammate needs you to step in and fill the shoes. Hopefully we can do that in the future. I've always been big on that next-man-up concept, and certainly can't use it as an excuse if we don't have success when he's out."
A few more quick hits from a burn-the-tape game:
SUMMING UP THE NIGHT IN ONE PLAY: Midway through the fourth quarter, Boston finally rallied within a possession. Ramon Sessions came off a pick-and-roll and, encountering traffic, he tried to kick the ball back out to the top of the arc. Olynyk tipped it and the ball shot straight up. Despite having three white jerseys in the neighborhood, the ball bounced onto the floor and Brandon Bass couldn't scoop it up as Sessions swooped in to corral it. Even as Boston thwarted another drive, the Bobcats were able to swing the ball back to Anthony Tolliver on the right wing in front of the Boston bench. With Crawford caught straying a bit too far, Tolliver knocked down one of three 3-pointers on the night with less than a second on the shot clock. The inability to get that initial 50/50 ball was the sort of play that killed Boston all night.


CRAWFORD PROVIDES AN OFFENSIVE JOLT: After a sluggish first half, Jordan Crawford tried to give Boston a spark by attacking the basket (and trying to exploit a matchup with Kemba Walker). He finished with 16 points on 6-of-15 shooting with six assists, five rebounds and two steals over a team-high 35:22. "I felt we were a little slow and I felt like the way for us to open up the offense a little bit was for me to attack," Crawford said. "I just tried to do that a little bit and open it up for my teammates."


EYE ON THE COLLEGE GAME?: Stevens was asked if he watched any of the star-studded collegiate games on Tuesday night. He offered, "I did not watch very much last night, maybe for a couple of minutes here or there." When the conversation swung to whether he missed the college game after Butler University opened up this past weekend, Stevens noted, "I told my wife this morning, the only thing I miss from the college game is the people that I was around every day. Otherwise, this is a unique new challenge. Basketball is basketball in a lot of ways, but certainly the thing you miss are the people."

November, 13, 2013
11/13/13
10:01
PM ET
BOSTON -- Rapid reaction after the
Charlotte Bobcats
defeated the
Boston Celtics
89-83 on Wednesday night at TD Garden:


THE NITTY GRITTY
No way to sugarcoat this one: It wasn't a pretty game as the teams combined to shoot 37.1 percent from the floor (think Friday's rock fight in Orlando). The Bobcats started fast, shooting 61.1 percent (11-of-18) in the first quarter while building a double-digit lead little more than five minutes in and never trailed. Old friend
Al Jefferson
, who had been 0-for-11 against the team that drafted him, scored a game-high 22 points on 8-of-17 shooting with 11 rebounds, three assists, and two blocks over 33 minutes. Boston got a team-high 19 points from
Jeff Green
, while
Kelly Olynyk
added six points and a team-high 11 rebounds.
Jordan Crawford
spearheaded the offense, finishing with 16 points on 6-of-15 shooting with 6 assists, 5 rebounds and 2 steals over 35:22.
Gerald Wallace
came off the bench to provide 10 points, 8 rebounds, 2 steals and 2 assists over 20 minutes against one of his former squads.
TURNING POINT
Despite trailing by as much as 16, the Celtics rallied, but couldn't quite get over the hump each time they made a second-half charge. With 8:21 to go, Boston finally made it a one-possession game, but Olynyk got whistled for a charge and Green missed two free throws soon. Charlotte was still up three when Green got whistled for a charge of his own and
Anthony Tolliver
hit a late-clock 3-pointer with 5:37 to play that put Charlotte up 81-75.
CELTICS GO DOWN SWINGING
Down 8 with 2:17 to go, Boston wouldn't roll over. With shades of the Miami rally, the Celtics kept charging and Jordan Crawford's three-point play with 32 seconds to play made it a two-point game. But Jefferson turned his 10th rebound of the game into a second-chance layup that put the Bobcats out front 87-83 with 17.7 seconds to go.
NAPOLI'S BEARD VISITS GARDEN
Fresh off a World Series victory, Mike Napoli sat courtside for Wednesday's game. He received a standing ovation when put on the JumboTron in the first quarter, then won the Legal Seafoods Fan of the Game (getting $100 gift card for having the best beard in the crowd). Napoli returned to his seat after halftime wearing more layers than he departed with, quite the change of pace for his post-Series adventures.
LOOSE BALLS
Even with
Jared Sullinger
(knee) scratched,
Kris Humphries
played only 9:47, missing the only shot he took while finishing with 1 point and 0 rebounds. ...
Vitor Faverani
got an uptick in frontcourt minutes instead and stayed on the court due to his rebounding (9 boards). He struggled with his shot, finishing 2-of-8 shooting with seven points, but he was a plus-10 overall. ...
Keith Bogans
and
MarShon Brooks
were again healthy DNPs.
WHAT IT MEANS
Boston's four-game winning streak ended as the team fell to 4-5 (and, for those early-season standings watchers, second place in the Atlantic Division). The Celtics wrap up a three-game homestand on Friday with a visit from the
Portland Trail Blazers
. The second night of a back-to-back looms Saturday in Minnesota to open a three-game road trip that also takes Boston to Houston and San Antonio.
November, 13, 2013
11/13/13
5:59
PM ET
BOSTON -- Boston Celtics forward Jared Sullinger will sit out Wednesday's visit from the Charlotte Bobcats due to a sore right knee.

Sullinger suffered a bone bruise taking a charge from Orlando's Mo Harkless in the second quarter of Monday's win over the Magic. He sat out practice Tuesday while getting an MRI. Sullinger warmed up before Wednesday's game, but he simply is not at full strength.

"It's still day-to-day; We didn't even know officially [Sullinger would be out] until five minutes ago," Celtics coach Brad Stevens said while addressing reporters 95 minutes before tip-off. "He's got the bruised knee [and] obviously isn't feeling 100 percent running and jumping off it. It's a great opportunity for somebody else to step up."

Stevens said Kris Humphries will fill Sullinger's minutes. Humphries has played well in small burst this season, including while filling in for Sullinger on opening night when he was suspended for the first game of the year in Toronto.

Asked before the game if it was difficult waiting for his number to be called, Humphries said, "I think it's tough for anybody. ... [But] it's a team effort. It's not about me. It's about everyone staying ready and contributing, being ready when [your] time is called to help the team."

November, 13, 2013
11/13/13
10:30
AM ET
The
Boston Celtics
(4-4, 2-1 home) host the
Charlotte Bobcats
(3-4, 1-2 away) on Wednesday night at TD Garden (7:30 p.m., CSN). Here's what to watch for:


GUESS WHAT DAY IT IS: If Jared Sullinger can't go because of a bone bruise on his right knee (he's listed as day-to-day), it could be Hump Day. Kris Humphries has been excellent in short bursts this season as he's plus-27 in plus/minus over 46 minutes (only Sullinger is better overall at plus-30). What's more, Humphries has been the team's best rebounder (17.7 total rebound percentage; 25 defensive rebound percentage). After filling in while Sullinger was suspended on opening night in Toronto, Humphries could get another opportunity due to Sullinger's injury (or any limitation because of the bone bruise).


EYES ON C'S DEFENSE: Masked by some excellent offensive efforts the past two games has been the fact that Boston's defense hasn't been quite as crisp. Fortunately for the Celtics, the Bobcats are one of the worst offenses in the league (28th in rating; 29th in effective field goal percentage). It's on Boston's perimeter defenders to keep the guards in front of them and prevent dribble penetration where Charlotte can create some havoc.


WHERE DO CELTS GO FROM HERE? The Celtics have won four straight to pull back to .500. Can this team keep that momentum going against Charlotte? Said Gerald Wallace, "The one thing about it is it's 82 games, so you know you have time to get yourself together if you continue to work hard, continue to improve everything. It's early in the season. The first month is usually the warm-up period, so teams are still trying to figure out their identity and figure out what they want to do as a team and what their expectations are." The more Boston wins, the more its own expectations might shift this season.


WHAT ELSE? Jordan Crawford has been the toast of the town coming off his double-double against the Magic. How will he respond to all the increased attention for his steadiness at the point guard position? Stevens has implored him to stay focused at the task at hand. ... What has floated more under the radar is the jolt that Phil Pressey is giving the second-unit offense. ... The Celtics need to keep Michael Kidd-Gilchrist out of transition. He's been a terrible spot-up shooter, but thrives attacking in transition. ... Boston has limited its turnovers with Crawford at point guard and that will help them again considering this is a Bobcats team that has taken good care of the ball this season.
(
Read full game preview
)