Boston Celtics:

2014Mailbag
July, 9, 2014
7/09/14
5:00
AM ET
ORLANDO, Florida -- The Boston Celtics enjoyed an off-day on Tuesday at Summer League. With no team access, we were forced to choose between spending the day at Disney World and opening your letters.

Luckily, there's time for both. Excuse any typos; do you know how hard it is to type on Space Mountain?
Q: Can you explain how the Celtics can use the $10.3 million trade exemption set to expire this week? Give us an example of what can be done. -- @tomconnolly24 (via Twitter)
A:
The Celtics don't have the available cap space to sign free agents outright, so the only way to add talent above a minimum contract is to use available assets and exceptions (read
THIS
). One of those assets is a $10.3 million trade exception that was created as part of this past summer's swap with the Brooklyn Nets (teams can structure trades in ways such that exceptions are generated based on uneven amounts of salaries being exchanged). Trade exceptions expire one year from the date of the trade -- and most meet a fireworks-free demise.
The Celtics obviously are exploring all avenues, with the primary goal almost certainly being to land an impact player. Boston can offer a team immediate salary cap relief (and maybe sweeten the pot with draft picks) if a trade partner were willing to move a skilled player with a big-ticket salary. That could include free agents via a sign-and-trade agreement.
But let's say Boston strikes out hunting for a big fish. The exception can be split. The Celtics could target, say, free-agent big man Jordan Hill by engaging the Los Angeles Lakers in a sign-and-trade deal -- the Lakers ought to be intrigued about moving any asset that would allow them to add future talent, particularly if they land Carmelo Anthony and further clog up their cap.
If all else fails and Boston believes that next season will be heavy on development, the Celtics could look to take on an expiring salary in exchange for, say, a draft pick or any sort of asset that will live on beyond the week.
[
Read full Celtics Mailbag
]
June, 24, 2014
6/24/14
12:30
PM ET
The first letters about the 2014 NBA Draft started rolling in a year ago given all the hype surrounding this year's incoming class, and mail really started piling up around February when it became clear the Boston Celtics were headed towards the high lottery.

Draft night is entirely unpredictable. Just look at last year when Anthony Bennett was a surprise No. 1 and the Celtics shook up their roster by dealing Kevin Garnett and Paul Pierce to Brooklyn.
What will happen this year? Nobody can know for sure. But let's make a few educated guesses while opening your letters.
Q: How comfortable would Danny Ainge be in drafting Joel Embiid and Dario Saric, knowing neither would potentially contribute for years? I know he's a risk-taker, but those picks would all but guarantee at least another lean year and a Rondo trade/walk. -- @theREALMikeDunn (via Twitter)
A:
I don't think the Celtics fear patience. The goal of any rebuilding process is to avoid enduring that phase again for as long as possible. If tolerating another lean year (or two) means that Boston is a sustained contender for the decade that follows, is it worthwhile? Every team wants to accelerate the rebuilding process, but there's a danger in being shortsighted.
Here's how I look at it: If I said a week ago that the Celtics had the potential to emerge from the draft with Embiid and Saric, most fans would have been turning cartwheels. And to do it without having to sacrifice any of the team's future draft pick surplus would have seemed like larceny.
If -- and it's definitely a bit if -- the team is satisfied with what it can uncover about Embiid's medical situation, it's hard to imagine they'd pass up the opportunity to add a franchise-caliber center. And if that happens, it makes waiting to bring over a skilled European forward that much easier. I still think both guys might be off the board before Boston has a shot at them, but I don't think the team would mind the opportunity to make those decisions.
[
Read full Celtics Mailbag
]
May, 30, 2014
5/30/14
9:55
PM ET
The questions kept pouring in after we finished up Thursday's
Celtics Mailbag
, so we decided to tackle some more of your letters:

Q: You put my question up, but avoided answering it. -- Miles, @Bird33Ward
A:
Technically, you're right, Miles. We
kicked off Thursday's mailbag
with your question about who I'd pick at Nos. 6 and 17, then used it to launch into a discussion about Boston's potential to maneuver around. Ultimately, I suggested I'd try to trade down from the sixth spot with the hope of getting someone like Croatian forward Dario Saric (or Oklahoma State point guard Marcus Smart) a little lower, while adding a pick to Boston's surplus.
But you asked who I'd pick at No. 6, so let's assume the Celtics are on the clock next month and no one is biting on a trade offer. The Big Four -- Joel Embiid, Jabari Parker, Andrew Wiggins, Dante Exum -- went in the top spots, so, depending on who Utah takes at No. 5, Boston will likely be looking at a group helmed by a power forward-heavy collection of Julius Randle, Noah Vonleh, and Aaron Gordon (and you can include forwards Saric and Doug McDermott, along with Smart, in the conversation there, too).
There's a little something intriguing about all six of those potential draftees. As we discussed at length on Thursday, it's shortsighted (and dangerous) to look past any of the power forwards simply because Boston is fairly well stocked at that spot after using recent top picks on Jared Sullinger and Kelly Olynyk.
We love Randle's NBA-ready body and his rebounding ability, but his closest comp is Brandon Bass (without the consistent mid-range jumper or the defensive versatility). We love Gordon's athleticism and defensive talents, but many are leery of his shooting and overall offensive potential. Vonleh's ability to rebound and stretch defenses is intriguing, but he's also a bit raw and needs time to develop (which could be alleviated if Boston remains in rebuilding mode).
Meanwhile, you've got a tank of a guard in Smart; a 6-10 overseas import with unbelievable court vision and ball-handling skills in Saric; and an elite shooter with good size in McDermott.
One of those guys will be gone, but for sake of this hypothetical, let's say all six were available to Boston at No. 6. I think my fictional Celtics big board at that point would read: Gordon, Vonleh, Randle, Smart, Saric, and McDermott. But you could honestly shuffle that deck and I'm not sure I'd disagree with how you stacked them (some may not be as convinced about Saric and McDermott, but they have the sort of skills that should help them make an immediate impact at the NBA level). There's seemingly such little separation between those players that you can make the case that there's equal value in the range from picks No. 5-10.
What's tough to know is if any of these players have (or will) distinguish themselves more than what we've seen via the private interview process or team workouts.
So, Miles, to (finally) answer your question: I'm leaning Gordon at the moment, but I'm still intrigued by the idea of moving around (and if Smart impresses in workouts, he could wiggle into that conversation, too). Put it this way: I'm not sure anyone knows exactly who will have the best NBA career in that group, but you get the sense that they all have the potential to be very good.
Best-case scenario for Boston at No. 17 is to have a scorer slide, but there should be no shortage of intriguing options at that mid-first-round spot. If someone like a Zach LaVine or Nik Stauskas was still available, that could be a steal for Boston.
May, 29, 2014
5/29/14
8:45
PM ET
Now that we know where the
Boston Celtics
will be picking in next month's draft, the mailbag is overflowing with questions about the draft and how the roster will look next season.
Let's just start tearing open your letters:

Q: No one ever asks you, so here it is: Who would you pick at Nos. 6 and 17 in next month's draft if the power was in your hands? -- Miles, @Bird33Ward
A:
Finally, Forsberg Mock 1.0 can see the light of day! I won't bore you with the non-Celtics portion (oh yes I will:
Joel Embiid
,
Jabari Parker
,
Andrew Wiggins
,
Dante Exum
, and
Julius Randle
in spots 1-5) and that puts the Celtics on the clock. The phones are ringing in the Celtics' executive offices. Let's give a listen. ...
Q: Would the C's trade No. 6 for two mid-first-round picks from the Suns or Bulls? Many quality prospects/trade asset between Nos. 14-20 (Jusuf Nurkic, Elfrid Payton, T.J. Warren?) -- @KaraokeJack
A:
The Suns (and old friend Ryan McDonough, the Suns' general manager) sit at Nos. 14 and 18, which is mighty intriguing when you add Boston's 17th pick to that mix (there is something to be said for quantity if this draft is as deep as some believe). But if I'm Danny Ainge, I'm looking to walk away with a top-10 selection (more on that shortly) with any move. So the Bulls, at Nos. 16 and 19, are not doing it for me, either. There's plenty of discussion in the war room at the moment. ...
[
Read full Celtics Mailbag
]
March, 27, 2014
3/27/14
11:25
PM ET
After the Rajon Rondo/Jared Sullinger combination nearly helped the Boston Celtics rally from a double-digit, fourth-quarter deficit on Wednesday night against the Toronto Raptors, Rondo noted how he's told coach Brad Stevens of his desire to share the floor more often with Sullinger.

"I like playing on the court with Sully," explained Rondo. "I told Brad I wanted to play with Sully as much as possible, not as a knock to any of our other bigs, but one thing that Sully does that doesn't show up in the stat sheet is he's probably the best outlet passer we have."
Let's be honest, if we're identifying the two best all-around players on the Celtics at the moment, that list is probably topped with Rondo and Sullinger. What's more, while those two could bubble in trade whispers this summer, it's more likely that they'll comprise 40 percent of the team's starting lineup next season.
Rondo's comments only got mailbaggers thinking more about the future and the players on this roster who could be building blocks for the next iteration of a contender.
So the Rondo/Sullinger combination is where we start this edition of the Celtics Mailbag:
[+] Enlarge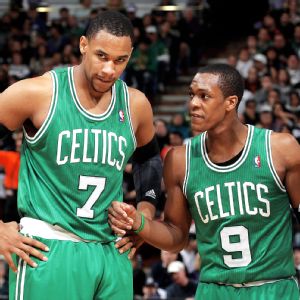 Rocky Widner/NBAE/Getty ImagesWith Jared Sullinger and Rondo Rondo on the floor together, the Celtics have struggled defensively this season. Still, it's a pairing the team would be wise to explore further.
Q: Rondo asked Stevens to be on the court with Sullinger as much as possible. What does this mean for the future? -- @JohnnyBarlow (via Twitter)
A:
Let's start with the now, and the surprising fact that the Rondo/Sullinger combo hasn't put up particularly glossy numbers this season. Even on Wednesday night, the Celtics were minus-6 in differential during their 19 minutes of shared floor time. What gives?
The Celtics have struggled defensively with that pairing on the court, owning a defensive rating (points allowed per 100 possessions) of 108.1, which is nearly four points above the team's season average. For the 10 games and 177 minutes of floor time shared in March, the defensive rating is up at 110.8. A true rim protector could shore up some of those struggles, while allowing Sullinger to play in his more natural power forward position.
But none of those struggles should discourage the Celtics from exploring more of the Rondo/Sullinger combo over the final 11 games. Increased reps will allow Sullinger to get a better idea of where Rondo will typically be after defensive stops and those outlet passes can become second nature to both players.
It's worth noting that during the 2012-13 season, when there was Kevin Garnett to protect the rim and more individual talent, the Rondo/Sullinger combo was far more successful than we've seen this season. In 24 appearances in December and January (before both Rondo and Sullinger suffered season-ending injuries), the combo owned a defensive rating of 97 and was a plus-5.3 in net rating (compared with minus-9.3 this season).
What the Celtics need to find is the right players to complement the Rondo/Sullinger combo. Sullinger can ignite the break with the outlet and, with a developing 3-pointer, can be a threat behind the play (or as an offensive rebounder with the opposing team scrambled defensively). Boston needs wings and a center capable of running the floor with Rondo and creating transition opportunities off those defensive stops.
(
Read full Celtics Mailbag
)
February, 25, 2014
2/25/14
8:15
PM ET
The most popular question in the Celtics mailbag when we tore it open: Should the Celtics sign Jimmer Fredette?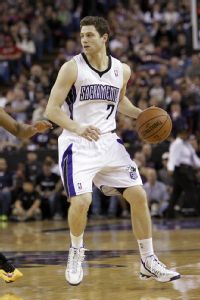 AP Photo/Rich PedroncelliWhile Jimmer Fredette might add some offense, the other aspects of his game are lacking.
This is the 2013-14 season, everybody! We're at the point where fans are wondering if castaways from the Sacramento Kings(!!!) can help the Celtics navigate their rebuilding process. With reports indicating that Fredette will soon be bought out, some fans want the Celtics to pounce on the former first-round pick.
I get it. The trade deadline passed with no activity from the Celtics and some fans were upset because even the tiniest of moves offers savior-like hope when your team is struggling. In a year where some fans were begging for a Jordan Crawford-like acquisition, getting Fredette off the scrap heap would be the perfect mea culpa from Danny Ainge for ruining their deadline week.
Fredette is obviously a very intriguing offensive player and his ability to handle the ball adds to his value. But he doesn't rebound, his turnover percentage has spiked this season and his defense is atrocious.
The Kings allow 105.7 points per 100 possessions, the seventh worst total in the NBA. But that number spikes to 108.6 when Fredette is on the court. According to individual defensive data logged by Synergy Sports, Fredette allows 0.948 points per play, ranking in the 18th percentile among all league players.
Boston fans love reclamation projects. And, after what the team accomplished with Jordan Crawford, you wonder if they could get Fredette on track. The Celtics have an open roster spot, enough available money to add a serviceable body before the end of the season, and some available backcourt minutes due to Avery Bradley's ankle injury.
But the guess here is that Fredette would be better served with a contender, where expectations would be minimal and he could try to jump-start his career in a defined offense-focused role.
(
Read full Celtics Mailbag
)
January, 31, 2014
1/31/14
6:45
AM ET
When Philadelphia 76ers swingman Evan Turner's contorting floater dripped through the net at the buzzer on Wednesday night, sending the Boston Celtics to a heartbreaking loss -- their fourth straight and 19th in the past 22 games -- you could hear an audible groan from a TD Garden crowd that then went silent.

Maybe that's why I heard my phone buzzing. It was a stream of messages from my closest friends, who I would classify as die-hard Celtics fans (maybe even season-ticket holders who happily donated their tickets to the Basement Bowl to Seats for Soldiers). One wrote simply, "Perfect game."
The insinuation, and we've discussed this before, is this: Many Celtics fans are perfectly content to watch this transitioning team play hard, be entertaining, nurture the development of young players, and -- most importantly -- lose. The more defeats, the better potential for a higher draft pick that can help the team avoid defeats in future seasons.
Some of you are reading this and you are reddening through your green-and-white face paint. "Those aren't real fans!" Actually, they are. They get it. If Turner's floater rolls off the rim, those same friends probably snap their fingers, then revel in having been thoroughly entertained for two hours. It's a win-win for them regardless of the outcome, but especially when the Celtics lose.
It'd be easier if this season wasn't so darn screwy. The Celtics flip-flopped with Philadelphia and now own the third-worst record in basketball through Wednesday's action. Unfathomably, Boston is just as close to a playoff berth (5½ games) as it is to owning the worst record in the NBA.
Even Brad Stevens admitted last week that "it's a unique year in the East. To think that we would be that close to a playoff spot is pretty ridiculous considering what our record is."
Celtics fans remain conflicted. There are those who bristle at the notion of paying top dollar to attend games that -- like Tuesday in New York -- can get ugly in a hurry. Others understand the balance and try to keep their eyes on what Boston is building toward.
That's where we start the latest edition of the Celtics Mailbag:
(
Read full Celtics Mailbag
)
January, 9, 2014
1/09/14
10:05
PM ET
December, 12, 2013
12/12/13
10:05
PM ET
It's been a few weeks since we dove into the Celtics Mailbag, but imagine our surprise when we pulled the drawstrings this morning and gobs of letters about Jordan Crawford came spilling out.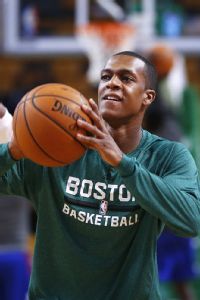 Joe Camporeale/USA TODAY SportsJordan Crawford has risen from afterthought to catalyst for the Celtics this season.
It's safe to say that we didn't see this coming. During our annual Summer Forecast, Crawford was our panel's leading candidate to not be with the team in November. Instead, you can make the case that he was one of the most important pieces in Boston as the Celtics built some momentum at the end of that month.
Over his past seven games, Crawford is averaging 19.1 points on 47.5 percent shooting (40.5 percent beyond the 3-point arc) along with 6.9 assists and 4.3 rebounds per contest. Boston's offensive rating during that span is 112.3 when he's on the court and dives to 93.3 when he's not. Everyone wants to talk about the reigning Eastern Conference Player of the Week.
Yup, it's Steez's world; we're just living in it.
Let's dive into your swaggy letters:
Q: What happens to Jordan Crawford when Rajon Rondo comes back? -- Jorge / @jsoto1994 (via Twitter)
A:
By far the most popular question of the week. And can we stop and consider that for a second? There are Celtics fans who are downright worried out about how the return of Rajon Rondo could diminish Jordan Crawford's playing time. There are people concerned about bringing back an All-Star point guard with a championship ring because of how well the guy some would have traded for a bag of balls this summer is performing. It really speaks to Crawford's emergence and just how well he's playing. Two thoughts here: (1) The Celtics' bench could use a spark like Crawford. Boston's reserves combined for four measly points against the Clippers during Wednesday's loss. If Crawford can buy into being a sixth man the way he embraced filling Rondo's shoes at the start of the season, then he'll only further endear himself to this fan base. Imagine if he could emerge as a Jamal Crawford-type presence? (2) The Celtics could use a second-unit ball handler. Undrafted rookie Phil Pressey is going to be a fine pro, but there's plenty of learning and development ahead for him. Having Crawford to handle the ball and provide a scoring jolt would steady the reserves (and allow Stevens to use Pressey in bite-sized, change-of-pace chunks).
(
Read full Celtics Mailbag
)
November, 5, 2013
11/05/13
10:00
PM ET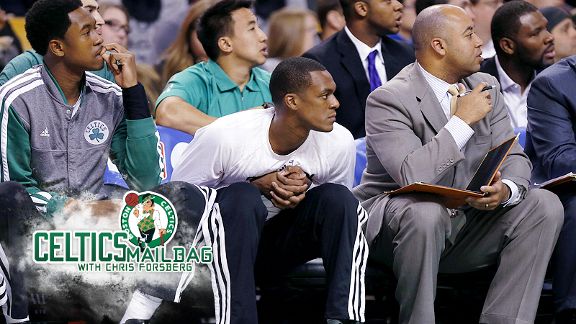 AP Photo/Michael DwyerWithout Rajon Rondo, the Celtics are off to an 0-4 start.
The Celtics' 0-4 start is no shocker, but it's tough to watch for a town still cleaning up confetti from a victory parade. A sample from
our latest Celtics Mailbag
:
Q: I'm so confused about how to feel about this 0-4 start. Help me make sense of it all. -- Erik (Plano, Texas)

A: It's a process. For a city spoiled by the success of its sports teams, watching the Celtics get pegged as the worst team in basketball isn't easy to swallow. As hard as it may be, Celtics fans have to ignore the win-loss record and try to gauge success by development, both by individual players and the team as a whole. The fact that they've been competitive despite the circumstances should be encouraging to fans, and the losses aid draft position. In a way, some see that as the best of both worlds. Silver linings are not as fun as gold trophies, but you can still find enjoyment in this Celtics season if you focus on the growth and the climb toward an end goal (as rocky as the path to that point may be).
(
Read the Celtics Mailbag
)
October, 17, 2013
10/17/13
10:30
PM ET
We're entering the fourth quarter of the preseason. The Celtics have two games and two weeks to tune up for the 2013-14 season opener in Toronto. It's preseason for everybody, so let's dive into your letters and shake some mailbag rust:

Q: Why should I spend any time following the team this season? -- @gfmorris (via Twitter)
A:
This might be a terrible analogy, but look at this team like a puppy or an infant. Sure, those early years can be maddening times, but they are also some of the most rewarding. For the first time in a long time, we're going to get to watch the process by which young players grow and mature. In sports, when everything is judged by titles, it's hard for casual fans to immerse themselves in a team like this. But I think watching this team grow under a new coach will actually be a lot of fun. Who emerges as leaders? Who takes their games to the next level? Which pieces emerge as building blocks for the future? For at least one season you can actually savor moral victories or a big regular-season victory over a heavily favored opponent. For a change, this team won't be judged on what it does after mid-April, but before it. Embrace this process, I guarantee you'll enjoy it if you don't judge the season solely by wins and losses.
(
Read the full Celtics Mailbag
)