Boston Celtics:

2014Postgame
October, 12, 2013
10/12/13
11:35
PM ET
MANCHESTER, N.H. -- The Boston Celtics' best player this preseason might just be the one in the worst shape. At least in that player's opinion.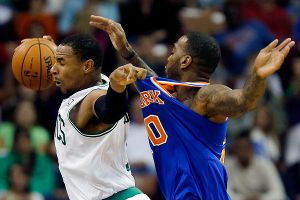 AP Photo/Michael DwyerJared Sullinger battles for the ball on Saturday night against the Knicks in New Hampshire.
Jared Sullinger said he hasn't stepped on a scale since mid-September, not wanting to let three numbers dictate the progress he's making as he tries to whip his body into shape after nearly six months of inactivity following back surgery in February.
Fortunately for Sullinger, all the readily available numbers that he's posted on the court thus far have been supremely flattering. Through four preseason games, Sullinger is averaging team bests at 12.8 points and 6.5 rebounds per game. What's more, after finishing a plus-23 during Saturday's 111-81 thrashing of the New York Knicks at the Verizon Wireless Arena, Sullinger is now a glossy plus-31 through four games (not bad for a team that's 1-3).
Like the scale, Sullinger doesn't judge his preseason by the stats. He lets his body dictate his progress. Before the start of training camp, Sullinger admitted he was uncertain how fast he could get back to game shape, but suggested he was a long ways off. His on-court play has suggested someone that's very much ahead of schedule, even if Sullinger refuses to admit it.
"I have to do a couple more things," he said. "As of right now, [he's] on schedule."
Stevens knows these games -- especially a back-to-back like consecutive tilts with the 76ers and Knicks that Boston just endured -- is particularly helpful for Sullinger.
"Right now, I think we could use a day of practice more than an exhibition game. But I think, for [Sullinger], these are good," said Stevens. "These are really good. He played a large chunk [Friday night] in the third and fourth quarters without any rest -- to the point where I took him out and would've put him back in had the game been close at the end, because he was really playing well, and we were playing well."
Sullinger said what we're seeing on the floor is the result of hard work away from game action.
"I just think that's the extra time that me and [head strength and conditioning coach] Bryan Doo and [assistant strength coach] Armand [Lavallee] have put in off the court between just getting extra conditioning in when we don't have a hard practice," said Sullinger. "I'm just trying to get myself to drop a few pounds and be in the best possible shape and be in the best condition to help."
Read on for more notes, including Jeff Green making an impact as his shots won't fall, embracing the future, and no victory lap for Stevens:
October, 8, 2013
10/08/13
12:15
AM ET
BOSTON -- Before he coached his first game at TD Garden, new
Boston Celtics
coach Brad Stevens was playfully asked if he noticed the 17 championship banners hanging inside his new gym. Stevens said they "couldn't be further from my mind right now," while noting that he wasn't hired for what had happened in the past, but to try to get the team back to that level.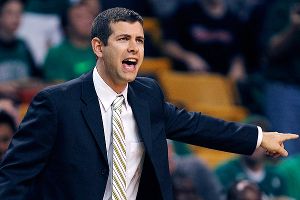 AP Photo/Charles KrupaBrad Stevens barks out instructions during his NBA debut.
And, let's face it, for Game 1 of his NBA odyssey, Stevens just wanted to make sure he looked like he belonged.
So even as he admits that he's still learning the intricacies of the NBA game, Stevens was his typical poised self throughout Monday's 97-89 exhibition loss to the
Toronto Raptors
. He didn't panic when his team fell behind early, and he coached his squad straight through the final buzzer. Better yet, he didn't have any obvious rookie moments.
He did admit he'll need the preseason to grasp the jump from the NCAA level.
"Really, really different," Stevens said. "Just because it's a 48-minute game, getting used to the timeouts. ... But, you know, it's a little unique; it's a little different. And I'll get used to those as we get on through. There's eight more minutes and a lot more possessions because of the 24-second clock, so getting a feel for that will hopefully -- I would like it to be done in the next seven [exhibition] games, but hopefully it doesn't last much longer than that. It is different. It's unique."
Plenty of yellow seatbacks greeted his debut, as most Boston fans elected to watch postseason baseball rather than preseason basketball. That gives Stevens some time to get comfortable. While there was a mix of positives and negatives to pluck from Monday's game, it offers him a base to judge his team and a chance to start determining roles and playing time moving forward.
And Stevens was planning to dive right into the film after Monday's loss, with the team scheduled to be back on the practice floor on Tuesday at noon.
"I won't be able to sleep if I don't watch it tonight and have practice ready for tomorrow," he said.