Boston Celtics:

2014PreseasonGame1
October, 7, 2013
Oct 7
9:55
PM ET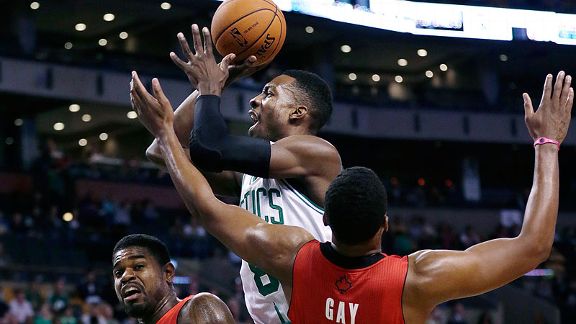 AP Photo/Charles KrupaJeff Green works through traffic Monday against the Raptors.
BOSTON -- Rapid reaction after the
Toronto Raptors
defeated the
Boston Celtics
97-89 in exhibition play on Monday night at TD Garden:


THE NITTY GRITTY
Gerald Wallace
scored a team-high 16 points to pace four Celtics players in double figures, but Boston shot just 39.8 percent from the floor and dropped the first of four preseason games this week.
Jared Sullinger
added 14 points, 6 rebounds and 4 assists over 20 minutes (and was a team-best plus-9) to help Wallace fuel Boston's inspired bench effort.
Avery Bradley
scored 12 points (on 5-of-16 shooting) with 3 assists and 3 steals, while
Kris Humphries
added 11 points and four rebounds (though the starting unit that featured Bradley,
Courtney Lee
,
Jeff Green
,
Brandon Bass
and Humphries struggled mightily as a group).
Tyler Hansbrough
and
Rudy Gay
had 17 points apiece to pace the Raptors.
STEVENS COOL IN DEBUT
Wearing a black suit with a green-striped tie, Brad Stevens calmly navigated his NBA debut. He didn't panic when Boston fell behind by double digits early and kept coaching when the Raptors started to pull away late. Most importantly, he looked like he belonged on the bench and didn't make any obvious rookie mistakes while steering through his first 48 minutes at the pro level.
COACH RONDO ON BENCH
Rajon Rondo
, inactive as he rehabs from ACL surgery, sat on the bench dressed in warmups and distributed advice to his teammates throughout the game. The Celtics had a pretty full bench as, not only are their 17 other players on the camp roster, but Stevens had three assistants on the bench with him in Ron Adams, Jay Larranaga and Micah Shrewsberry (Jamie Young, Walter McCarty and Ronald Nored sat behind the bench). The camp invites were relegated to the floor near the bench.
SLOW START FOR C'S
The Celtics missed their first seven shots of the game before Humphries broke up the shutout four minutes in with a 15-foot jumper. Even still, the Raptors were up double digits soon after (leading by as many as 12) and it was Boston's sub unit led by the three-man combo of
Kelly Olynyk
, Sullinger and Wallace that helped the Celtics rally back quickly. After trailing 14-2, an Olynyk layup with 3:20 to play in the first quarter had Boston on top 19-18.
LOOSE BALLS
The Celtics took good care of the basketball over the first 24 minutes (only three giveaways for four points), then got a bit sloppy in the second half and finished with 14 turnovers leading to 16 points. ... Green finished with a mere six points on 2-of-7 shooting over 23 minutes. ... Olynyk had a team-high five assists. ... Boston got hammered on the glass with Toronto owning a 46-26 advantage overall. ... The Raptors shot 52.1 percent from the floor. ...
MarShon Brooks
played only 2:27. ...
Phil Pressey
logged a DNP.
THE BOTTOM LINE
There's some good (second unit) and bad (the defense overall) that the Celtics can pluck from this one. For the first game from a new-look team with a first-year coach, it was about as up-and-down as you'd expect. The best thing for Stevens and his crew is that they now have 48 minutes of film to hack up and analyze. What's more, there's finally some lineup data the team can start to dissect as it starts the process of figuring out lineups and rotations.
October, 7, 2013
Oct 7
7:15
PM ET
BOSTON --
Boston Celtics
first-year coach Brad Stevens got a veteran staffer to hitch a ride to the Garden with him on Monday and arrived more than five hours before tip-off for the exhibition opener against the
Toronto Raptors
. Asked if he took any time to savor the moment in the quiet time before his first game as an NBA coach, Stevens apologized for being so boring.
"I had to see where my seat was," he quipped. "It's great to see the basketball arena setup. It's the first time I've been here since that's been set up. We're looking forward to it. I kind of chuckled because Toronto shot around in here today, some of our guys haven't been in here yet. I'm looking forward to a game, as are our guys ...
"That was it. I hate to be so boring and bland. But I was just looking for where we sit and how I get out there. I still have to figure out which door goes out [to the floor]. On my way out, hopefully someone will direct me. Obviously, you're excited about a new season. I'm a basketball guy, I like basketball, I like the games itself. I love practice, but I love the games. Yeah, you feel a little bit more energy, for sure."
Meeting with reporters a little less than two hours before tip-off, Stevens -- not surprisingly -- said he had no nerves before his debut.
"No, not really. I'm anxious to see how we play," he said. "Anxious to see how we compete and do all the little things and play against somebody else. I think the biggest thing is having the opportunity to get some film against somebody else right now. That'll be nice."
For Stevens, it's more than his NBA debut. It's his wife Tracy's birthday and his two children will be in attendance to celebrate both moments. The scenario that will be repeated against the Raptors again later this month.
"Our first exhibition game here is her birthday; our first regular-season game is [son] Brady's birthday, so it's a pretty good combination," Stevens said.
Asked if he got his wife something nice, Stevens joked he got her tickets to the game.
"Pretty good seats too," he said.
October, 7, 2013
Oct 7
9:00
AM ET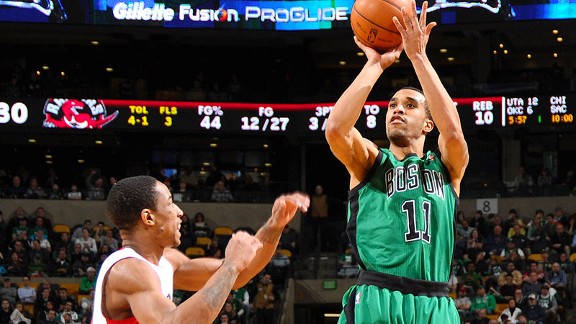 Brian Babineau/NBAE/Getty ImagesCourtney Lee and the Celtics host the Raptors on Monday night.
The Boston Celtics open exhibition play on Monday evening with a visit from the Toronto Raptors (7:30 p.m., CSN). Here's what to watch for:


*
STEVENS' DEBUT
: There will be a whole lot of freshness about the players on the floor for Monday's game, the first one for Boston in the post-Garnett/Pierce era. But many eyes will be on the sideline where Brad Stevens will make his NBA coaching debut after signing a six-year, $22 million contract this offseason. No one is expecting a large departure from his cool-and-calm demeanor at Butler, but even he's admitted he's still learning the intricacies of the NBA game. We'll also get an early read on the style of play we can expect from this team.
*
LINEUP LOTTO
: Stevens wouldn't tip his hand about a starting 5 and suggested he's still rolling a couple combinations around in his head. The best guess here: Avery Bradley, Jordan Crawford, Jeff Green, Brandon Bass and Kris Humphries. This was one first-unit grouping at the end of practice on Sunday. Now, our guess could be way off and Stevens said not to read too much into lineups early on. He'll mix and match with a goal of pairing complementary players around the team's more "central" figures (like Bradley and Green). But maybe we see the Jared Sullinger/Kelly Olynyk frontcourt as an early sub, along with the likes of Gerald Wallace, creating interesting combos with the starters that remain on the floor.
*
FIRST LOOK AT FAVERANI
: The cloak should come off the International Man of Mystery. One of Boston's only offseason splurges (they imported the Brazilian big man on a three-year, $6.3 million contract using a portion of the non-taxpayer midlevel exception), we'll get our look at maybe the only pure center on the Celtics' roster. Is Faverani, who said on Media Day he likes to "fight," ready to handle the physicality of the NBA level? Teammates have gushed about his shooting range and ability to run the floor. We'll get our first in-game glimpse on Monday.
*
SO MANY QUESTIONS TO BE ANSWERED
: How does Jared Sullinger look eight months after back surgery? Even he admits that his conditioning is not where it needs to be. How do the Brooklyn imports like Gerald Wallace, Kris Humphries, and MarShon Brooks look with their new team? How does Phil Pressey handle his first NBA game after being signed as an undrafted rookie? Will Kelly Olynyk look as polished as he did this summer? Will any of the camp invites -- Chris Babb, Damen Bell-Holter, Kammron Taylor, and DeShawn Sims -- make a statement with their floor time? How does Avery Bradley look after his first uninterrupted offseason of his career and can he handle the point guard duties in Rajon Rondo's absence? How does Rondo lead from the sideline while recovering from ACL surgery? Can Jeff Green carry over his play from the end of last season? None of these questions will be answered alone on Monday night, but it'll start the process.