Boston Celtics:

2014PreseasonGame2
October, 10, 2013
10/10/13
12:01
AM ET
PROVIDENCE, R.I. -- File it under "Life of a Rookie." Coming off a solid NBA debut,
Boston Celtics
guard
Phil Pressey
was dressing after Wednesday's exhibition game with a swarm of reporters waiting to chat with him. His locker was sandwiched between
Rajon Rondo
and
Avery Bradley
, the team's top two point guard options and the two longest-tenured players on the team. Noticing the crunch of cameras and microphones, the veterans politely advised Pressey to move down a few lockers so they could dress in peace.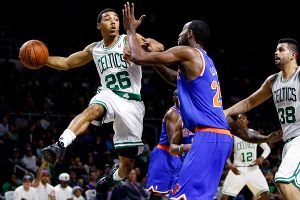 AP Photo/Elise AmendolaCeltics rookie Phil Pressey is making a push for minutes at the point guard position.
Like every other bit of advice that Rondo and Bradley have dispensed lately, Pressey gobbled it up and shuffled shirtless a few stalls down as reporters followed. Even with the duo out of earshot, he showered them with praise for their role in preparing him for Wednesday's game.
After sitting out Boston's exhibition opener on Monday, Pressey, an undrafted free agent out of Missouri, logged 28 minutes of floor time Wednesday against the
New York Knicks
and responded with strong guard play that helped Boston erase a 23-point deficit before falling 103-102 at the Dunkin' Donuts Center.
Pressey finished with a team-high 13 points on efficient 4-of-5 shooting (three of his four makes came at the rim and his one miss was his only attempt beyond the 3-point arc) and a team-best seven assists to go along with three rebounds and two steals. Most importantly, he had zero turnovers.
"I was just trying to go out there and carry over what was happening in practice," Pressey said. "Competing every day, I really feel like Avery and Jordan [Crawford] and the other guys, us competing against each other, really got me ready for the game."
October, 9, 2013
10/09/13
10:00
PM ET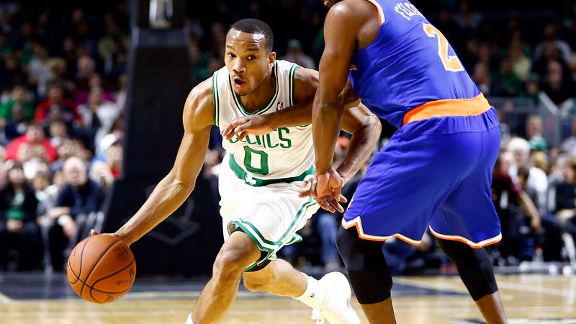 Mark L. Baer/USA TODAY SportsAvery Bradley drives against the Knicks on Wednesday night.
PROVIDENCE, R.I. -- Rapid reaction after the
New York Knicks
defeated the
Boston Celtics
103-102 in exhibition play Wednesday night at the Dunkin' Donuts Center:


THE NITTY GRITTY
The Celtics trailed by as much as 23 in the second half, but sparked by training camp invitee
Chris Babb
, an undrafted rookie free agent out of Iowa State, and undrafted rookie free agent
Phil Pressey
, Boston embarked on a furious rally to surge ahead in the final minute. Babb scored 12 points on 4-of-5 shooting beyond the arc, while Pressey added team highs with 13 points and seven assists. Alas, a
Tim Hardaway Jr.
baseline jumper with 8.2 ticks to play helped the Knicks escape. Still, a lineup of Babb, Pressey,
MarShon Brooks
,
DeShawn Sims
and
Vitor Faverani
made the game interesting with some spirited late-game play. Boston had a last chance to win the game, but Babb's leaner in the lane was blocked in the final second as the Knicks emerged.
THE POSITIVES
*
Youngsters fuel comeback
: The rookies like Babb and Pressey made the most of their floor time and added some intrigue to a once-lopsided game. You have to like the fight Boston has shown at times early in the preseason campaign, even when encountering double-digit deficits.
*
Automatic Avery
:
Avery Bradley
shed the tape on his dinged-up left index finger in the second half and had a nice little offensive burst in the third quarter. He scored 10 points on 4-of-7 shooting in the frame, hitting a pair of 3-pointers. He finished with a team-high 12 points on 5-of-9 shooting to go along with three assists and two steals.
*
Fav3rani!
Vitor Faverani had an encouraging first-half stretch that featured a fadeaway 3-pointer and a couple of dunks (including a strong left-handed flush that had the Celtics' bench tripping over itself). He also got confused on a pick-and-roll during the stretch but showed some a lot of his potential.
THE NEGATIVES
*
Ugly third
: The Celtics were outscored 34-21 in the third quarter as the Knicks shot 59.1 percent from the floor.
Andrea Bargnani
scored eight points in the frame to fuel New York.
*
Courtney's confidence?
Courtney Lee
said his confidence, diminished during last season's struggles, had been restored this summer. It hasn't translated on the court thus far. Lee finished 1-of-5 shooting with only two points and minus-12 overall over 25:30 while starting for the second time in as many games.
*
Wallace on ice
:
Gerald Wallace
had an excellent first-half showing in which he posted 10 points on 3-of-8 shooting with three rebounds and two assists over 16:19, but he spent the entire second half on the bench icing his left foot. It seemed merely precautionary, as Wallace had his shoe back on and was standing to cheer on his teammates late in the game.
THE LEFTOVERS
The Celtics played without
Jordan Crawford
, who left the team Tuesday due to a death in the family. ... Brooks, a Providence College product, scored eight points while playing on his old college floor. ... Boston finished with a 36-34 advantage on the glass. ... The Celtics had 28 assists on 40 field goals (70 percent).
WHAT'S NEXT
The Celtics are scheduled to practice Thursday, then will play their first back-to-back of the 2013-14 campaign. The team treks to Delaware on Friday to play the 76ers before visiting Manchester, N.H., on Saturday for another tilt with the Knicks.
October, 9, 2013
10/09/13
10:00
AM ET
Brian Babineau/NBAE/Getty ImagesBrandon Bass drives against the Knicks last season.
The Boston Celtics and New York Knicks meet in an exhibition tilt at the Dunkin Donuts Center in Providence, R.I. on Wednesday night (7:30 p.m., CSN). Here's what to watch for:


*
GREEN DAY?
: It was against these Knicks last season that Jeff Green had a monster playoff breakthrough. Many have wondered if Green could carry that late-season success over to the 2013-14 campaign where he's expected to be the focal point of Boston's offense. In Monday's preseason opener against the Raptors, Green finished with just six points on 2-of-7 shooting and was a minus-14 in plus/minus over 23 minutes. Asked about the absence of his aggressiveness in that game Green said, "It's coming. I didn't bring it [Monday], obviously, the way I played. It's coming." Green admitted to seeing more defensive pressure on Monday and said, "It comes with being that guy, I guess."
*
ON THE REBOUND
: The Celtics were dominated on the glass by the Raptors, who finished with a 46-26 advantage overall. Rebounding is a concern for a team that lacks pure size up front. How does the team negate that? "I think that you've got to do the best you can do at getting guys off," said Celtics coach Brad Stevens. "I've always had a theory on rebounding and that was, you either hit and get or you hit and stay. Sometimes you just have to box out and let somebody else get it. There were a couple of good clips of that [Monday] where 4s and 5s blocked out and 3s and 2s cleaned it up, and I think that's going to have to be the case more often than not." Jared Sullinger led Boston with six boards on Monday, but no player on the team had more than three defensive rebounds.
*
PRESS(EY) PLAY
: After earning a DNP in his debut, Celtics undrafted rookie free agent Phil Pressey is expected to see a heightened role at the point guard position on Wednesday night. Jordan Crawford left the team due to a death in his family on Tuesday, while MarShon Brooks (a Providence College product) sat out part of practice due to a headache that leaves his status uncertain for Wednesday's game. Stevens said he'll go with a more scripted lineup Wednesday, but should continue to mix-and-match personnel while searching for combos that work well together (like the three-man combo of Sullinger, Kelly Olynyk, and Gerald Wallace that thrived in Monday's preseason opener).
*
DEFENSE IN FOCUS
: The Celtics allowed the Raptors to shoot 52.1 percent from the floor Monday night and their defense was inconsistent overall. Asked about changes Boston can make on that end, Stevens said, "I think the biggest thing is just the way that we want to play and the way that we want to try to dictate to the opponent. We didn't do a very good job of -- without getting too specific, it's just our positioning wasn't as good as it needs to be on and off the ball. Those are things that are, again, correctable, but it takes time. Even if it's something that guys have done before, it takes time to rebuild that. We've got a lot of guys from a lot of different places, and they've played in a lot of different places. Then we've got a new staff -- or a relatively new staff -- and it takes time to connected. We've got to try our best to all connect." The Celtics did limit the Raptors to 18.2 percent shooting beyond the 3-point stripe. Defending the arc will be important against the triple-happy Knicks.
PODCASTS
Adam Schefter, NFL
Play Podcast ESPN NFL Insider Adam Schefter weighs in on the Panthers' WR situation, Julian Edelman's future with the Patriots, Vince Wilfork's decision to ask for his release and more.
Spanning the Globe: 3/13
Play Podcast "Spanning the Globe" features ESPN Boston's Mike Reiss, Yahoo! Sports' Eric Edholm and ESPN LA 710's Mark Willard.
John Farrell, Red Sox
Play Podcast Red Sox manager John Farrell talks about whether he expected his team to make such a turnaround in one season, his relationship with his players, fans' expectations for the squad and more.