Boston Celtics:

2014PreseasonGame4
October, 12, 2013
10/12/13
11:35
PM ET
MANCHESTER, N.H. -- The Boston Celtics' best player this preseason might just be the one in the worst shape. At least in that player's opinion.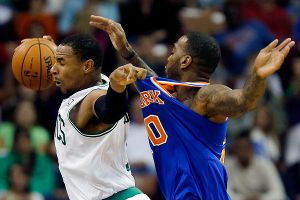 AP Photo/Michael DwyerJared Sullinger battles for the ball on Saturday night against the Knicks in New Hampshire.
Jared Sullinger said he hasn't stepped on a scale since mid-September, not wanting to let three numbers dictate the progress he's making as he tries to whip his body into shape after nearly six months of inactivity following back surgery in February.
Fortunately for Sullinger, all the readily available numbers that he's posted on the court thus far have been supremely flattering. Through four preseason games, Sullinger is averaging team bests at 12.8 points and 6.5 rebounds per game. What's more, after finishing a plus-23 during Saturday's 111-81 thrashing of the New York Knicks at the Verizon Wireless Arena, Sullinger is now a glossy plus-31 through four games (not bad for a team that's 1-3).
Like the scale, Sullinger doesn't judge his preseason by the stats. He lets his body dictate his progress. Before the start of training camp, Sullinger admitted he was uncertain how fast he could get back to game shape, but suggested he was a long ways off. His on-court play has suggested someone that's very much ahead of schedule, even if Sullinger refuses to admit it.
"I have to do a couple more things," he said. "As of right now, [he's] on schedule."
Stevens knows these games -- especially a back-to-back like consecutive tilts with the 76ers and Knicks that Boston just endured -- is particularly helpful for Sullinger.
"Right now, I think we could use a day of practice more than an exhibition game. But I think, for [Sullinger], these are good," said Stevens. "These are really good. He played a large chunk [Friday night] in the third and fourth quarters without any rest -- to the point where I took him out and would've put him back in had the game been close at the end, because he was really playing well, and we were playing well."
Sullinger said what we're seeing on the floor is the result of hard work away from game action.
"I just think that's the extra time that me and [head strength and conditioning coach] Bryan Doo and [assistant strength coach] Armand [Lavallee] have put in off the court between just getting extra conditioning in when we don't have a hard practice," said Sullinger. "I'm just trying to get myself to drop a few pounds and be in the best possible shape and be in the best condition to help."
Read on for more notes, including Jeff Green making an impact as his shots won't fall, embracing the future, and no victory lap for Stevens:
October, 12, 2013
10/12/13
10:05
PM ET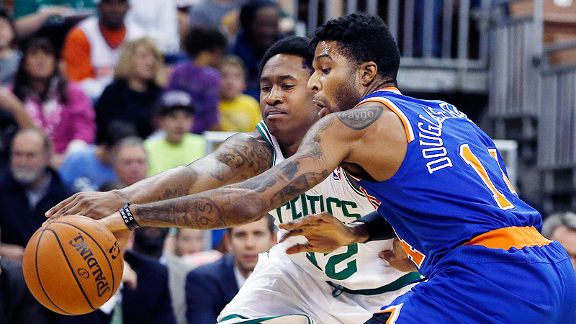 AP Photo/Michael DwyerMarShon Brooks (12) battles for the ball with the Knicks' Chris Douglas-Roberts (14).
MANCHESTER, N.H. -- Rapid reaction after the Boston Celtics defeated the New York Knicks 111-81 in exhibition play on Saturday night at Verizon Wireless Arena:


THE NITTY GRITTY
Coming off an abysmal effort during Friday's loss to the Philadelphia 76ers in Delaware, Brad Stevens said Saturday's game would be a telltale sign of how his team responds to adversity. Boston opened the game on a 10-0 burst and never looked back while delivering its most sustained effort of the preseason (and emerging with its first win in four tries). Even before the game, Stevens noted, "I told the team today, I don't want to use the back-to-back thing as an excuse. I know it's something that everybody is going to talk about, but everybody's got them. Everybody's gotta do it. Nobody should be more excited about playing a game today than us." Jordan Crawford put up 13 points, a team-high seven rebounds, and three assists over 25:44, while rookie Kelly Olynyk added a team-high 15 points, six rebounds, three assists, and two steals over 25:01.
THE GOOD
Everything. OK, we're sure Stevens will find something to quibble with (particularly since the win came with the Knicks sitting out some key starters). But the Celtics started fast (making 7 of their first 10 shots, including four 3-pointers while jumping out to an 18-4 lead after six minutes) and the reserves never relented, pushing the lead as high as 37 as Boston led the entire way... Boston shot 54.2 percent (39 of 72) from the floor and that helped them dominate the rebounding category (45-34 overall). Like Crawford, Brandon Bass grabbed a team-high seven rebounds over 18 minutes... The Celtics put seven players in double figures including Avery Bradley (13), MarShon Brooks (12), and Jared Sullinger (12)... Veteran swingman Gerald Wallace got a night off as part of planned rest.
THE BAD
You could nitpick that Jeff Green had another lackluster shooting night -- 3 of 12 overall -- but he scored 11 points and was a team-best plus-24 in plus/minus. We'd still like to see him around the basket more (half of his shot attempts were beyond the arc and he had just one rebound over 29:20)... Kris Humphries was the only Boston regular in the minus (-5) but he had two blocks and played physical when he was on the floor (drawing some hard fouls)... You know what the real bad was in this one: eight (EIGHT!) delay of game penalties. The league is emphasizing the slowdown when players throw the ball to the referee after made baskets, but the post-basket whistles only delayed the game more than the actual infraction.
WHAT'S NEXT?
Coming off the back-to-back, the Celtics will take Sunday off before getting back on the practice floor on Monday. That'll be a much-needed session after a game-heavy week that saw four games in six days. The Celtics have another back-to-back with visits to Brooklyn (Tuesday) and Toronto (Wednesday).
October, 12, 2013
10/12/13
10:00
AM ET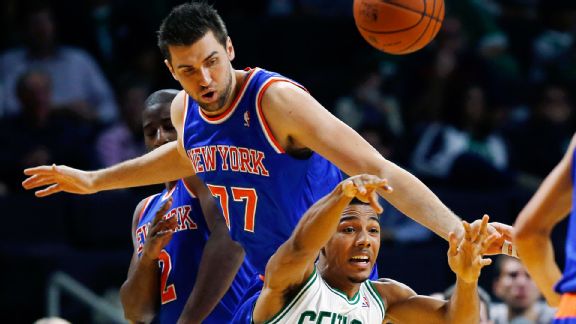 AP Photo/Elise AmendolaCan Phil Pressey spark the Celtics against the Knicks again on Saturday?
The
Boston Celtics
close out a preseason back-to-back by jousting with the
New York Knicks
at the Verizon Wireless Arena in Manchester, N.H., on Saturday night (7:30 p.m., CSN). Here's what to watch for:


*
HOW WILL C'S BOUNCE BACK?
The Celtics are coming off a rather atrocious performance in a loss to the
Philadelphia 76ers
on Friday night in Delaware. Said coach Brad Stevens after that game: "Any time you don't have maximum effort, it's disappointing. But it's the reality of basketball, sometimes you don't have it and you have to be better the next day. I think that will be very telltale, how we show up [Saturday]." Boston is 0-3 this postseason and the win-loss record won't dictate the success of the Celtics' exhibition slate. But after making progress between the first two games of the preseason, the team took a clear step back on Friday.
*
FEELING GREEN
: It's still very early in the preseason, but some are already overreacting to
Jeff Green
's quiet start. Green finished 2-of-11 shooting for four points in Friday's loss to Philadelphia. What's more, only one of his attempts came at the rim, suggesting a player who's having trouble being as aggressive as he might like. Pegged as the go-to guy this season, particularly in the absence of
Rajon Rondo
, Green could get his critics off his back with a more assertive effort against the same team he feasted on last postseason.
*
STRONG AT THE START
: The Celtics have dug themselves early holes in all three preseason games. Stevens noted that the team has struggled at the start of as many as five of the six halves they've played. "We have to start better," he said. Stevens thought Philadelphia set the tone on Friday and Boston has yet to do that in the first and third quarters of any game it has played.
*
LINEUP IN FOCUS
: Looking for that better start, it will be interesting to see how the Celtics shuffle their starting lineup. One thing is clear: The
Jared Sullinger
-
Gerald Wallace
tandem has been the team's best early-season combo. Might Stevens consider going with a smaller lineup early, maybe pairing Green and Wallace together with Sullinger at the center spot? This is the time to experiment and with Wallace being the best player on the floor for the Celtics so far this preseason, maybe that could ease some of the pressure on Green. Another lineup combo we'd like to see: Avery Bradley and Phil Pressey together in the backcourt.