Boston Celtics:

3-point shootout
February, 19, 2011
2/19/11
12:15
PM ET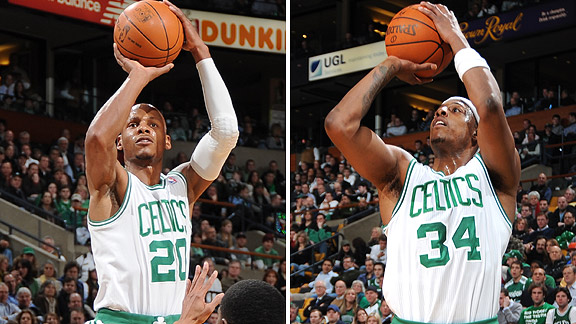 Brian Babineau/NBAE/Getty ImagesAfter two weeks of trash talk, it's time for Paul Pierce and Ray Allen to strut their stuff Saturday night.
Afraid of starting some sort of 3-point civil war, members of the
Boston Celtics
desperately avoided picking a potential winner between
Paul Pierce
or
Ray Allen
in Saturday's 3-point shootout at All-Star weekend:
--
NO PICKING SIDES IN PIERCE VS. ALLEN
--
No truth to the rumor that the Boston Celtics considered erecting a divider straight through the middle of their practice facility at the Sports Authority Training Center in Waltham last week. It simply felt that way as a team that's rarely short on opinions turned into a bunch of fence-sitters in advance of Saturday's 3-point shootout as part of festivities at the 60th annual All-Star game. The 12 veterans on Boston's roster at the start of the 2010-11 season had 108 seasons of cumulative NBA experience. No surprise then, that they typically act like your curmudgeonly grandfather, spouting unsolicited opinions about anything and everything. Coach Doc Rivers has noted in the past that some of his troops will argue just to argue. Yet not a single player had the temerity to choose between defending champion Paul Pierce and former champion Ray Allen when posed the question in the days leading up to Saturday's showdown.
So the Celtics might not have been willing to pick an allegiance, but we're putting the question on you, faithful reader:
February, 8, 2011
2/08/11
2:18
PM ET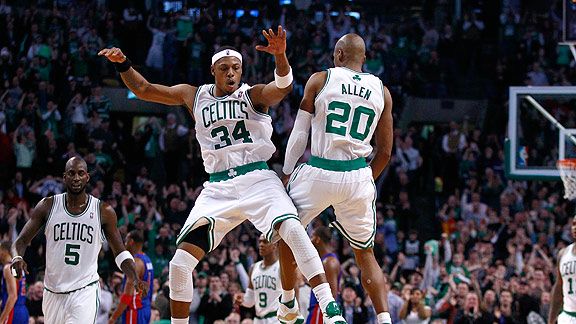 AP Photo/Charles KrupaPaul Pierce and Ray Allen: Teammates ... and now 3-point Shootout foes.
Boston Celtics
forward
Paul Pierce
got his wish Tuesday when teammate and soon-to-be all-time three-point king
Ray Allen
was announced as part of the field competing against him in the three-point contest on All-Star weekend.
Pierce, the defending champion in the event, publicly challenged Allen via his Twitter account: "I think me and Ray Allen need to have a shootout in this years 3pt contest," Pierce tweeted, "what y'all think come on NBA make it happen."
In response to Pierce, Allen, who sits just two three-pointers away from breaking Reggie Miller's all-time record for trifectas made, last week said "I like my chances [against Pierce], for sure."
This season, Allen has hit more than 46 percent of his attempted three-pointers, which would be a career high if it holds up over the second half. Pierce is hitting threes at a 40 percent clip.
Rounding out the field will be
Kevin Durant
of the
Oklahoma City Thunder
,
Daniel Gibson
of the
Cleveland Cavaliers
,
James Jones
of the
Miami Heat
and
Dorell Wright
of the
Golden State Warriors
. The event will take place on Feb. 19 at Staples Center in Los Angeles.
This year's contest won't be the first time Pierce and Allen have gone head to head in the event.
Back in 2002, Allen, then the defending champion, went up against seven other competitors, one of whom was Pierce, then a first-time participant. Both failed to advance past the first round, but Allen's score of 14 nearly doubled that of Pierce's 8.
Overall, Allen has participated in five 3-point shootouts over the course of his 15-year career (2000-02, 2005-06) with his lone victory coming in 2001. Pierce, meanwhile, has just two contests on his resume (2002, 2010), but emerged victorious last year after posting 20 points in the final round to best the Golden State Warriors'
Stephen Curry
.
Allen probably won't be handing Pierce any tips, but he did stress the importance of getting the necessary rest prior to the contest.
"I think it boils down to how much rest you get that weekend," Allen said last week. "I see some guys come in and they don't make it around to the top of the key because they've been out every night, four days in a row, so it's just kind of finding a rhythm."
When asked if being a jump shooter gave him any advantage over Pierce, who's more of a set shooter, Allen downplayed the significance in shooting styles.
"I don't think it makes a difference," said Allen. [It] doesn't make a difference. The year I won it, most people said I wouldn't make it around the top because I was going to expend too much energy. You've just got to make shots. You can't worry about getting around. You've just got to make shots."
Information from ESPNBoston.com's Chris Forsberg was included in this report.
January, 31, 2011
1/31/11
4:35
PM ET
By
Greg Payne
| ESPNBoston.com
Celtics captain
Paul Pierce
(42.3 percent) and
Ray Allen
(45.4 percent) are both shooting career-highs from 3-point nation this season, and Pierce, the NBA's reigning 3-point champion, thinks he and Allen should square off in the event to be held on Saturday, Feb. 19 at the Staples Center in Los Angeles, site of the NBA's 60th annual All-Star game.
Pierce took to Twitter with his idea Monday, relaying to his followers:
Last season, Pierce averaged a then-career-high 41.4 percent from long distance, and took home the league's 3-point crown during last year's All-Star weekend in Dallas, scoring 20 points in the final round of the event (besting Golden State's
Stephen Curry
by three buckets in the finals). Pierce's win helped to atone for his poor showing at the event back in 2002, when he tied for last place after hitting a mere eight shots in the opening round.
The NBA has yet to announce the participants for the 2011 contest, but, as the reigning champion, Pierce shouldn't have any trouble earning an invite to defend his crown, and Allen's marksmanship this season will surely earn him consideration from the league.
Allen's no stranger to the event, as he's competed in the 3-point shootout five times in his career. He won the event back in 2001 as a member of the
Milwaukee Bucks
and most recently competed in 2006 when he was playing for the Seattle SuperSonics.
February, 14, 2010
2/14/10
9:02
AM ET
[+] Enlarge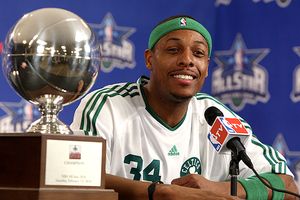 Gary Dineen/NBAE via Getty ImagesAfter his 3-point contest victory, Pierce suggested he was one of the best shooters in NBA history.
DALLAS -- It might not have been Larry Bird bursting into the locker room before the NBA's inaugural 3-point Shootout and asking his competition who planned on finishing second, but Celtics captain
Paul Pierce
arrived in Dallas with plenty of swagger for this year's event.
Twenty-four years and little more than a mile removed from where Bird's exploits unfolded at Reunion Arena, Pierce playfully trash-talked his competition, then anointed himself one of the greatest shooters in NBA history after edging
Stephen Curry
and
Chauncey Billups
to win the 2010 3-point Shootout at the American Airlines Center.
"This is where he won it?" Pierce asked when informed of the ties between him and Bird. "Wow. They say history always repeats itself and it did tonight. The stars were lined up."
With the stars lined up in the audience, Pierce put his newfound 3-point talents -- he's shooting a career-best 44.8 percent from beyond the arc this season, up nearly 5 percent from last year -- on full display by topping some of the game's top long-distance shooters.
His bravado took center stage as he accepted the champion's trophy at midcourt. In an interview broadcast on television and throughout the arena, Pierce suggested he was one of the best shooters in NBA history, drawing an audible groan from the crowd.
But he didn't back down from the statement.
"I would say I'm one of the best -- I've always said this and I tell this to the guys on my team," said Pierce. "I've always been known as a pure scorer, and I've always said if I just sat outside and shot 3's, and just really focused on that -- coming off of screens and spot up 3's -- and shot six or seven 3's a game, I would probably be more known as one of the greatest shooters in NBA history."
Click
HERE
to read the full story.
February, 13, 2010
2/13/10
10:04
PM ET
DALLAS -- Even when he was nursing a foot injury that sidelined him last week, Celtics captain
Paul Pierce
insisted it meant a lot to him to participate in the 3-point Shootout at All-Star weekend, eager to redeem himself for his poor performance in his only other appearance eight years ago.
Pierce more than atoned, sinking 15 shots, including all five money balls, for a final-round score of 20 that lifted him past Golden State's
Stephen Curry
(17) and Denver's
Chauncey Billups
(14) to capture this year's title at the American Airlines Center Saturday night.
"I really took pride in it from 2002 when I came in and stunk it up," said Pierce. "This is something I really wanted to do, and really want to show everybody that I could put up a better performance and what better way than by bringing home the trophy."
As for his success on the money ball, Pierce compared it to crunch time in a regular game.
"Hey, it's just like being a fourth-quarter player," said Pierce. "When you need it, those are the biggest shots. I think I've been know to hit big shots throughout my career. Even when I wasn't shooting the [1-point shots] well, I was really focused on making the money ball. That was something that carried me throughout the competition."
Pierce, who missed two games before the All-Star break due to a left mid-foot sprain, said his foot felt fine during the competition.
"It felt good," said Pierce. "I really didn't think about it. It's getting better these last few days with rest and it's really feeling good. I probably won't play too much [Sunday] in the All-Star Game, get a chance to rest and get some treatment for the next couple days until we start our [four-game] road trip in Sacramento on Tuesday."
See the full round-by-round totals after the jump.
February, 4, 2010
2/04/10
4:05
PM ET
WALTHAM, Mass. -- Celtics captain
Paul Pierce
has been invited to participate in the NBA's 3-point Shootout during All-Star weekend in Dallas later this month, he confirmed to reporters after the Celtics' practice Thursday at the Sports Authority Training Center at HealthPoint.
Pierce, who is third in the league in 3-point percentage (46.7 percent, 77 of 165 overall), had been hoping for a chance to redeem himself after a poor performance in his only other showing in 2002. It is unclear whether a recent foot injury will prevent Pierce from competing in the 3-point shootout on Feb. 13 at Cowboys Stadium, or in the All-Star game the following day. But Pierce joked he'd like to at least participate in the 3-point contest.
"If I don't do anything else, I plan on doing that," said Pierce. "I'll be fine. I'm excited to have the opportunity to be that. It's a great part of All-Star weekend and I have so many memories of Larry Bird winning the contest years ago, and
Ray Allen
winning the contest.
Pierce then got playful with the contest.
"I think it's fun and being one of the great shooters int he NBA, I deserve to be in it."
Then Pierce got downright Bird-like saying he's going to win the competition, even though he doesn't even know the other entrants. Asked who would finish second -- a question Bird famously asked the other competitors before the first-ever event -- Pierce kept the jabs coming.
"Second place? Man, I don't know who's in it," he said. "I'm just focused on me winning it this year."
Piece finished tied for last place in 2002, sinking a mere eight shots in the opening round. He's eager for redemption.
"I didn't practice, man. I was out all the night before, too," said Pierce. "My younger days, I didn't get no sleep that weekend. It was first All-Star game. This time, I plan on getting some rest and I plan on practicing for it. And I plan on going out and winning it."
The Celtics haven't had a strong showing in the 3-point contest since Bird dominated the early years of the event, with
Antoine Walker
doing even worse than Pierce in 2003 with only seven first-round makes.
Eddie House
, who had lobbied for inclusion this year with a series of YouTube videos, did not get invited to participate, though it will be interesting to see if he draws consideration should Pierce be unable to attend due to injury.
For now, Pierce plans to be there. Get the trophy ready.
January, 17, 2010
1/17/10
10:47
AM ET
Asked a couple weeks back about which teammate -- Ray Allen or Eddie House -- he would nominate for the 3-point shootout at this year's All-Star weekend in Dallas, Paul Pierce pondered a moment and, appropriately for a captain, chose option C.

"We've been talking about this, and I'm trying to nominate myself," said Pierce. "I think I'm shooting a pretty good percentage from [3-point land]. But between those two? They're right up under me."

On Saturday, the Celtics held an intrasquad 3-point shooting challenge featuring Rasheed Wallace, Ray Allen, Pierce, and House. Despite matching each other shot for shot in the finals, House edged Pierce in overtime. That didn't stop Pierce from continuing his campaigning to be a part of the contest next month.

"I think I have a good chance," said Pierce. "I've really put in the time -- I've been doing a lot of shooting, more so than in the past, and I want to redeem myself for 2002 when I only made [eight] shots. I was embarrassing the franchise."

Pierce and Steve Smith tied for the lowest first-round total that year (by comparison, Wesley Person topped the first round making 21 shots, while Ray Allen netted 14 and didn't advance). Peja Stojakovic prevailed that year.

The Celtics haven't had a strong showing in the 3-point contest since Larry Bird dominated, with Antoine Walker doing even worse than Pierce the following year with seven first-round makes in 2003.

Pierce said he thought it was up to the NBA to decide who gets in, but noted, "percentage-wise, I'm one of the top 3-point shooters in the league. Hopefully I get a chance."

The fact that Pierce is likely to earn a trip to Dallas to compete in Sunday's game should only strengthen his chances. Pierce currently sits third in the NBA at 46.7 percent and is second in the Eastern Confernece to only Cleveland's Daniel Gibson, though Pierce has made 23 more 3-pointers this season.

By comparison, House is shooting only 37.1 percent this year, but the Celtics have helped take his campaign viral in a series of YouTube spots that showcase House's talents from beyond the arc (our favorite is embedded below). House's triumph in Saturday's team competition is sure to only add fuel to his "Get me to Dallas" fire.



PODCASTS
Baseball Tonight
Play Podcast Karl Ravech and Justin Havens put Clayton Kershaw's scoreless innings streak in perspective with Buster Olney and discuss the rash of injuries around MLB. Plus, Derrick Goold on Yadier Molina's injury and Alex Speier on the Red Sox.
Baseball Tonight
Play Podcast Buster Olney and Tim Kurkjian discuss the rosters for the Home Run Derby, Jon Lester's future and more. Plus, Indians P Corey Kluber on his All-Star candidacy and Tigers P Joba Chamberlain.