January, 5, 2012
1/05/12
4:00
PM ET
Each Thursday during the NBA season, I'll be checking in with our friends at
CelticsHub to play a little 5-on-5
, offering insight and analysis on five hot topics surrounding Boston basketball. Here's our
regular-season debut
, which includes this question on Rajon Rondo:
December, 24, 2011
12/24/11
10:00
AM ET
Will the addition of Tyson Chandler give New York the boost it needs to avenge a playoff sweep at the hands on Boston? Where do the aging C's stand in the Eastern Conference landscape? ESPN.com assembled a
five-man panel to tackle five questions on Sunday's Celtics-Knicks battle
, including who will emerge with the first win of the NBA season:
Hop
HERE
to read all five questions.
September, 5, 2011
9/05/11
2:31
PM ET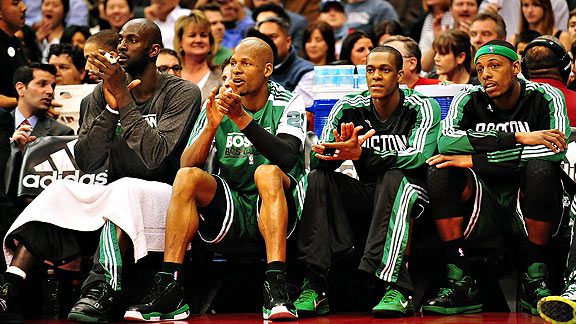 Gary A. Vasquez/US PresswireKevin Garnett, Ray Allen, Rajon Rondo and Paul Pierce earned an East semifinal exit from the Heat.
Four of my good buddies from CelticsHub.com joined me to dissect five of the top questions surrounding the Celtics' offseason. Here's a sampling from question No. 1:
5-on-5: CELTICS OFFSEASON QUESTIONS
FACT OR FICTION: Rajon Rondo's up-and-down play is a concern.



Hayes Davenport, Celtics Hub: Fact. Yes, Rondo was an MVP candidate this past November, but his assist rate dipped in the second half and his defense has actually been in decline since 2009. Fans are also beginning to give up on his ever developing a jump shot. Rondo's floor vision is still excellent, but it's unclear how close he might be to his ceiling.

Ryan DeGama, Celtics Hub: Fact. One of the perils of NBA team building is misidentifying a star player as a franchise player and building your team around someone who can't carry you to a title. That description might fit Rondo, who remains valuable and cost-effective but who might never be better than a No. 3 guy on a championship team.

Chris Forsberg, ESPN Boston: Fiction, but only if President Barack Obama says so. Are there troubling portions of Rondo's 2010-11 season? Of course (attempts at rim down more than a shot per game, career-low free throw percentage). But he's still the straw that stirs the Big Three drink.

Brendan Jackson, Celtics Hub: Fact. Rondo represents the future of the Boston Celtics. That "future" could be with the team or as part of a trade, and playing inconsistently does not help the Celtics in either scenario. That being said, I don't believe Rondo's inconsistent play last season will be indicative of his future performance.

Brian Robb, Celtics Hub: Fact. Rondo may not be the best player on the C's, but the team is reliant on his energy and offense, especially against elite defenses. The major knock on the point guard throughout his career has been consistency, and he has not done enough to quiet those concerns despite back-to-back All-Star seasons.

July, 26, 2011
7/26/11
10:52
AM ET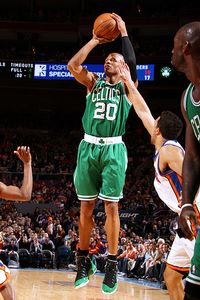 Nathaniel S. Butler/NBAE/GettyRay Allen put together an impressive 2010-11 season.
In Tuesday's installment of 5-on-5, writers (and fans via social media) tackle
five questions about NBA shooting guards
, including a discussion on who's the best in the league today. Boston's
Ray Allen
isn't even mentioned in the discussion (short of a line in the introduction) as
Dwyane Wade
gets much of the spotlight. Allow us to use this opportunity to marvel yet again at the extraordinary 2010-11 campaign the just-turned-36-year-old Allen put together, one that included him establishing career highs in field goal percentage (49.1 percent) and 3-point percentage (44.4 percent) while becoming the NBA's all-time leader in 3-point field goals.
According to Synergy Sports data, Ray Allen ranked in the 98th percentile among all NBA hoopsters, averaging a whopping 1.14 points per play (sixth best among players that had at least 200 plays during the 2010-11 season). At an age when players are supposed to start struggling with their jumpers, Allen ranked in the 93rd percentile for spot-up shooting, averaging 1.2 points per play (eighth best among all players with at least 200 plays). Allen raked fifth overall in effective field goal percentage (57.7 percent; the formula takes into account that a 3-point basket is worth more than a 2-point hoop) and seventh overall in true shooting percentage (61.5 percent; the formula takes into account 3-point field goals and free throws generated).
Wade deserves the recognition and his all-around game makes him the best shooting guard in the league (or among them if you include
Kobe Bryant
). But much of what Allen accomplishes is just taken for granted because he does it so quietly and so consistently. You can easily make the case that Allen put together his best season in a Celtics uniform this past season.
July, 25, 2011
7/25/11
1:37
PM ET
In the latest installment of ESPN.com's 5-on-5 series, five writers break down
five questions on the NBA's point guard position
. Not surprisingly, there's a fair amount of
Rajon Rondo
chatter involved, including this sampling that ought to raise the blood pressure of some C's supporters:
*
Forsberg's thoughts
: From a put-the-ball-in-the-basket standpoint, it's undeniable that Rondo had a lackluster 2010-11 season. His scoring dipped more than three full points from the prevoius season to 10.6 points per game, while his field goal percentage plummeted from a career-high .508 in 2009-10 to .475. He attempted fewer shots at the rim and was atrocious from 3-to-15 feet (28.7 percent overall, according to HoopData). According to Synergy Sports, Rondo rated "poor" in overall offense, his .749 points per play ranking in the 14th percentile among all NBA players. What's more his offensive rating (points per 100 possessions) dipped to 104, down 10 points from the 2008-09 season, according to Basketball Reference. And Rondo shot a career worst 56.8 percent at the charity stripe.
All that said, and acknowledging that a rash of injuries certainly didn't aid his cause last season, Rondo
still
found a way to earn his first All-Star game nod thanks in large part to how much better he makes his teammates on the floor. Rondo assisted on 47.1 percent of Boston's scoring plays when he was on the court, second best in the NBA behind only
Steve Nash
. Synergy Sports data includes a category that incorporates assists into a player's points per play average and Rondo ranked in the 97th percentile (1.41 points per play) among all NBA hoopsters.
Yes, Rondo has plenty to work on in regards to his offensive game, but calling him a liability undervalues his impact to Boston's overall offensive output.
July, 6, 2011
7/06/11
3:15
PM ET
As part of ESPN.com's ongoing 5-on-5 series, five writers tackled five questions on
players and teams poised to surprise us
next season. During one question on a team that might shock us -- good or bad -- one writer opined on the future of the Celtics:
5. Surprise, surprise: Which team will shock us next season?




Zach Harper, Daily Dime Live: The Celtics might shock us in a very bad way. We don't know how they'll address their roster deficiencies this offseason, but their age has to catch up with them at some point, right? They keep defying Father Time and it keeps baffling quite a few of us. Actually, maybe they will continue to defy old age. That would be pretty shocking, too.
*
Forsberg's thoughts
: Now, it's hard to argue with Harper's logic. It seems like we've been slamming the window on the Celtics ever since that 2008 title and yet this team has averaged 56 wins the past three seasons, came within a quarter of raising Banner 18 in 2010, and might have made another championship charge this past spring if not for injuries. It's quite possible that, like Shaquille O'Neal last season, Father Time will catch up with these Celtics next season as a whole. Alas, the 2011-12 season -- if we're lucky enough to have one -- might be the final real hurrah for Boston's aging veterans as the focal point of the team, so maybe the Celtics will ultimately survive a five-year run in which age couldn't detour the likes of Kevin Garnett, Ray Allen, and Paul Pierce. But here's the part of Harper's analysis that rings true: We really have no idea what to expect from the Celtics when basketball resumes. You'd get the same amount of eyebrows raised if you predict this team will win 60 games as you would if you said 41 (assuming a full 82-game slate). Fans will seemingly be just as surprised if the Celtics continue to outrace Father Time as they will if he tramples them like a bowling ball. Recent seasons suggest no reason to expect a dropoff, but it doesn't surprise us when someone predicts it might occur.
What's your take? Will age catch up with the Celtics? If someone told you back in 2007 that this team could potentially put together five consecutive championship-caliber seasons would you have believed it possible? Sounds off in the comments.
July, 5, 2011
7/05/11
1:24
PM ET
As part of ESPN.com's ongoing 5-on-5 series, five writers tackled five questions on
potential trade scenarios
, including one question on what the Celtics should do with the aging tandem of Kevin Garnett and Ray Allen. Here's a glimpse at the answers:
5. What should the Celtics do with Kevin Garnett and Ray Allen?

Garnett

Allen
A.
Trade them this offseason.
B.
Deal them at the 2012 trade deadline.
C.
Hold on to them.
D.
Trade one, keep the other.
Jovan Buha, ClipperBlog: C. Hold on to them. Why blow up and start over when the Celtics still have 1-2 years left of contention? Yeah, they'll need an infusion of size and athleticism to eventually beat Miami and Chicago, but squeezing out one more title from this motley crew is more important than preparing for the Rajon Rondo era.
Tim Donahue, 8 Points, 9 Seconds: C. Hold on to them. At this point, I think these two players are worth more on the court than as trading assets. There's enough left in this group of players to make one more serious run at the East, and I don't see enough value coming back to start the rebuild one year earlier.
Matt McHale, By The Horns: C. Hold on to them. Sure, with the Bulls and Heat out there, making it back to the Finals is a long shot, but Danny Ainge should give his core group one last shot at another title. That's why he brought them to Boston.
Michael Wallace, Heat Index: C. Hold on to them. This core deserves one more shot to chase another title -- even if this lockout lingers well into next season. Coach Doc Rivers provided the stability by signing a long-term contract. It would help if Boston fixes its issues at center. KG and Ray are clearly in transition to becoming more role players and less key cogs. A painful rebuilding process is coming. But the C's -- in the short term -- are much better with them than without them.
Royce Young, Daily Thunder: C. Hold on to them. Danny Ainge has appeared to make it clear that everyone on the roster is available. He has the future always in mind in Boston and is willing to make a tough decision if it helps the long-term. But it's not time to move on from Garnett and Allen yet. The summer of 2012, yeah, probably. But give it another run.
* What's your choice? Give us your thoughts in the
comments
.
June, 22, 2011
6/22/11
2:42
PM ET

In advance of Thursday's NBA Draft, ESPN Boston cobbled together
a starting 5 to tackle five questions
on how things might play out for the Boston Celtics. Joining me are ESPN Boston student intern Greg Payne, longtime Celtics scribe Peter May, and a pair of contributors to our True Hoop affiliate CelticsHub.com, Brian Robb and Brendan Jackson. Here's a glance at the questions we tackled:
1) What is the Celtics' biggest need in this year's draft?
2) True or false: The Celtics will find an impact player at No. 25.
3) Who do you think the Celtics will choose at No. 25?
4) True of false: The Celtics will make a draft-night trade.
5) Who could help the Celtics that might still be on the board at No. 55?
Click
HERE
to read the full story.
June, 1, 2011
6/01/11
7:53
PM ET

Shaquille O'Neal's retirement will leave a big void in the NBA, but his best moments on and off the court will continue to live on. Five ESPN.com writers looks back on their fondest memories of the The Big Aristotle, er, The Big Shamrock ... The Big Shaqtus ... whatever, after 19 very quotatious years.
Click
HERE
to read the full story.
May, 11, 2011
5/11/11
3:13
PM ET

The
Boston Celtics
are down 3-1 but not out. With a win in Miami in Game 5, the Celtics would be just two wins from advancing to the Eastern Conference finals.
That said, this is a good time to talk about one of the most remarkable runs we've seen. With
Kevin Garnett
and
Ray Allen
joining
Paul Pierce
in 2007, the Celtics rose from the ashes to win the 2008 NBA title -- the 17th for the franchise -- and take us all on a journey that has twisted and turned for four seasons and counting.
Win or lose Wednesday, the Celtics have plenty to look back on and some decisions to make. We asked
five writers for their takes
on the era of the Big Three,
Rajon Rondo
, coach Doc Rivers and team president Danny Ainge. Here's a glimpse at the responses:
April, 29, 2011
4/29/11
7:45
AM ET

Five writers
tackle five questions
on the Eastern Conference semifinal series between the
Boston Celtics
and
Miami Heat
. Check out one of the questions below, where Rajon Rondo is a popular answer for key player to watch in this second-round series:
April, 25, 2011
4/25/11
1:24
PM ET
PODCASTS
Bill Simmons, NBA
Play Podcast Grantland's Bill Simmons discusses the state of the Lakers, Phil Jackson's future, the perception of Rajon Rondo, Doc Rivers' impact on the Clippers and more.
Baseball Tonight
Play Podcast Buster Olney chats with Jayson Stark about Ken Griffey Jr.'s uncomfortable interview with Linda Cohn and the value of spring training. Plus, Mike DiGiovanna on the Angels and Derrick Goold on Matt Carpenter's negotiations with the Cardinals.
John Farrell, Red Sox
Play Podcast Red Sox manager John Farrell talks about whether he expected his team to make such a turnaround in one season, his relationship with his players, fans' expectations for the squad and more.