Boston Celtics:

All-Star Game
February, 14, 2010
2/14/10
8:29
PM ET
DALLAS -- Boston's trio of All-Stars avoided injury, produced a solid showing, and emerged from Dallas as winners after the East posted a 141-139 triumph over the West in the 2010 All-Star Game before a record crowd of 108,713 at Cowboys Stadium.
Here's a quick recap of the exploits of Kevin Garnett, Paul Pierce, and Rajon Rondo.
[+] Enlarge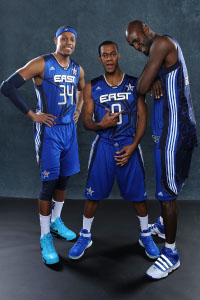 Jennifer Pottheiser/NBAE/Getty Images
Garnett
: Logged a little more than six minutes at the start of each half, making 2-of-4 shots for four points, while adding three rebounds, two assists, and a block in 12:43 of total action. Garnett spent time guarding Amare Stoudemire, something he could be doing much more of in the near future with whispers that the Cavaliers are
closing in on a deal
for the Western Conference's starting center.
Rondo
: Rondo hit 2-of-3 shots for four points with five assists in 19 minutes of action. He found himself on the court in a crunch time lineup that featured LeBron James, Dwyane Wade, Dwight Howard, and Chris Bosh (thought was replaced by Pierce on the final offensive possession).
Pierce
: Pierce connected on 3-of-6 attempts, including a pair of 3-pointers -- appropriate for the 3-point champion -- to finish with eight points in 12 minutes.
Relive all the action in ESPN's
All-Star chat
.
Check out Rondo's video thoughts on All-Star weekend after the jump.
February, 14, 2010
2/14/10
9:02
AM ET
[+] Enlarge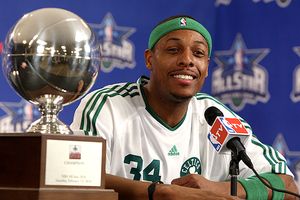 Gary Dineen/NBAE via Getty ImagesAfter his 3-point contest victory, Pierce suggested he was one of the best shooters in NBA history.
DALLAS -- It might not have been Larry Bird bursting into the locker room before the NBA's inaugural 3-point Shootout and asking his competition who planned on finishing second, but Celtics captain
Paul Pierce
arrived in Dallas with plenty of swagger for this year's event.
Twenty-four years and little more than a mile removed from where Bird's exploits unfolded at Reunion Arena, Pierce playfully trash-talked his competition, then anointed himself one of the greatest shooters in NBA history after edging
Stephen Curry
and
Chauncey Billups
to win the 2010 3-point Shootout at the American Airlines Center.
"This is where he won it?" Pierce asked when informed of the ties between him and Bird. "Wow. They say history always repeats itself and it did tonight. The stars were lined up."
With the stars lined up in the audience, Pierce put his newfound 3-point talents -- he's shooting a career-best 44.8 percent from beyond the arc this season, up nearly 5 percent from last year -- on full display by topping some of the game's top long-distance shooters.
His bravado took center stage as he accepted the champion's trophy at midcourt. In an interview broadcast on television and throughout the arena, Pierce suggested he was one of the best shooters in NBA history, drawing an audible groan from the crowd.
But he didn't back down from the statement.
"I would say I'm one of the best -- I've always said this and I tell this to the guys on my team," said Pierce. "I've always been known as a pure scorer, and I've always said if I just sat outside and shot 3's, and just really focused on that -- coming off of screens and spot up 3's -- and shot six or seven 3's a game, I would probably be more known as one of the greatest shooters in NBA history."
Click
HERE
to read the full story.
February, 13, 2010
2/13/10
7:40
PM ET
DALLAS -- Celtics point guard
Rajon Rondo
dispelled some myths about his ability to hit perimeter jumpers with an impressive showing during Saturday night's HORSE competition, but it wasn't enough to top one of the league's best pure shooters, as Oklahoma City's
Kevin Durant
repeated as HORSE champion during the second annual competition Saturday night at the Jam Session Center Court at the Dallas Convention Center.
Rondo, a career 26.6 percent shooter from beyond the arc, might have matched his season total of 3-pointers (12) during an hourlong competition that saw him hit from deep in the corner and then match Durant punch for punch from the top of the key to close out the competition.
After Sacramento's
Omri Casspi
bowed, Rondo and Durant struggled to make baskets and the contest, up against the TV clock, deteriorated to a preview of the 3-point shooting contest. You'd think that meant a quick exit for Rondo, but he battled, especially with his back against the wall, before Durant finally prevailed.
"[Durant] just kept making shot after shot, that's what he does," said Rondo, who admitted TNT pushed the gas pedal on the competition as the contestants struggled with their trick shots in the early going. "I shot with confidence and made a couple."
He made more than a couple, enough to joke that coach
Doc Rivers
might have to retool the offense and put in some offensive plays that feature Rondo spotting up behind the 3-point stripe.
Rondo also joked that he did so well beyond the arc that he was going to give teammate
Paul Pierce
some pointers before the 3-point Shootout later in the evening. Pierce won the event at the nearby American Airlines Center, topping
Chauncey Billups
and
Stephen Curry
in the finals.
Regardless of the result for Rondo, he walked away with a smile.
"I had a good time, I had a lot of fun," said Rondo. "I came out and hit some shots, but KD beat me out."
For the full shot log, check out after the jump.
February, 13, 2010
2/13/10
2:23
PM ET
DALLAS -- Media access at the NBA All-Star game turned out to be a lot like the Media Day at the Super Bowl: Lots of microphones, lot of characters, and lots of off-the-wall questions. One minute
Paul Pierce
is fielding serious queries about whether Celtics president of basketball operations
Danny Ainge
talks to him about potential trades, the next
Kevin Garnett
is being asked to give a shoutout to his fans in Mexico.
Here's a handful of moments that stood out from this morning's session:
McLovin meets Boston's trio of All-Stars
This is Saturday's media access in a nutshell: The Celtics' trio of All-Stars were herded together for a final interview with NBA TV when
Christopher Mintz-Plasse
, better know as
McLovin
from the movie
Superbad
, stormed the interview to meet Boston's superstars.
Mintz-Plasse, a presence at Celtics' games in the past, seemed genuinely excited to meet the trio, even going up to
Rajon Rondo
before the start of the session for a quick chat. For their part, the Celtics played right along, with Kevin Garnett wrapping his big arm around Mintz-Plasse before the impromptu interview.
Rarely did Saturday's session get much heavier than that.
The East All-Stars went through a (late-starting) half-hour session that featured coach Stan Van Gundy mic'ed up for the crowd as he (hoarsely) led the team through a couple quick offensive sets and an inbound play or two before the practice deteriorated to halfcourt heaves and other trick shots.
Desperate to "set a world record" after
LeBron James
and
Dwyane Wade
each failed to make five halfcourt shots in a minute span,
Dwight Howard
risked arm injury to score from the seat of his pants from as much as 51 feet from the basket. Fortunately for Boston fans, besides a few tosses from halfcourt, the Celtics were spared from the shenanigans.
KG dials down the intensity
It doesn't need to be said that Garnett is one of the more intense players in the history of the NBA, so is he able to dial it down a bit for a meaningless exhibition?
"A little bit," Garnett said with a smile. "Until the last four or five minutes of the game, then it's winning time. Then I put it on. For the most part, I"m here to enjoy the time with my friends -- until those last four or five minutes."
Garnett, flanked by Pierce and Rondo as a swarm of media talked to the trio after the East's breezy practice session, said it was a positive and relaxing experience to be at the All-Star Game.
"It's always good to come with your teammates, especially when they're rookies [in the All-Star Game like Rondo], then you haze them a little bit," said Garnett. "You make sure they don't airball their first shot, or make sure they don't talk any trash.
"All this -- with the fans, my friends and family, and my teammates -- you can't ask for anything more."
Blue's Clues Shoes
Pierce and Rondo led the Eastern Conference All-Stars onto the court for their mid-morning practice and fans couldn't help but notice their shockingly blue Nike sneakers.
[+] Enlarge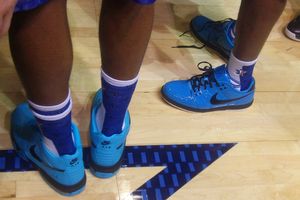 Chris Forsberg/ESPNBoston
Looking like something out of the Nickelodeon TV show
Blue's Clues
, the sky blue kicks (and that's toning it down) clashed with the more royal blue uniforms of the Eastern stars. Pierce rolled with the punches when reporters asked him about the interesting style choice, which just so happened to come after the NBA held an All-Star fashion show before the practice.
"I'll have to talk to the Nike guys, find out what went wrong with the dye," said Pierce. "I think they're supposed to be the same color [as the jerseys], but I'm trying to figure out what went wrong in the lab."
It could be worse. Garnett was still sporting his typical green Celtics game shoe underneath his sweatpants.
"Adidas really cut back their budget," Pierce joked," so they told him to bring his game shoes."
January, 21, 2010
1/21/10
7:27
PM ET
Celtics forward
Kevin Garnett
is headed to his 13th NBA All-Star Game after being voted a starter in fan balloting, the league announced Thursday night.
Garnett finished second in voting among Eastern Conference forwards and will join
LeBron James
,
Dwyane Wade
,
Allen Iverson
and
Dwight Howard
in this year's starting lineup. The game will be played Feb. 14 at Cowboys Stadium in Arlington, Texas.
Garnett was sixth overall in the fan balloting with 1,978,116 votes. James led all players with 2,549,693 votes, followed by
Kobe Bryant
, Howard, Wade and
Carmelo Anthony
. Only Shaquille O'Neal among active players has made more All-Star teams than Garnett.
Garnett, in his 15th season, has been an All-Star in every season except his rookie campaign (the NBA did not have an All-Star Game in 1999 because of the lockout). Garnett traveled, but did not appear in the 2008 game, but has played in 11 others, with nine starts. His best All-Star moment came in 2003 when he was named MVP after pouring in 37 points on 17-of-24 shooting over 41 minutes.
The Celtics are hoping Garnett will be joined by teammates
Paul Pierce
and
Rajon Rondo
when All-Star reserves, who are voted on by NBA coaches, are announced later this month.
"You kind of assume Kevin and Paul," said Celtics coach Doc Rivers, when asked last week if he phoned his fellow coaches to lobby for other players. "Then the other three [starters] you've got to call for. And get lied to. [Opposing coaches tell me,] 'Of course, I'll vote.' I think every coach tells you that."
PODCASTS
Peter King, NFL
Play Podcast Sports Illustrated's Peter King weighs in on the Patriots' offensive line, the outlook for New England, Jim Harbaugh's relationship with his team and the Cowboys' success.
Opening Rant, 9/30
Play Podcast Colin Cowherd shares his thoughts on the state of the Patriots, New England's offense and Brady Hoke's future at Michigan.
First Take
Play Podcast Skip Bayless & Stephen A. Smith debate if the Patriots dynasty is over, if the 49ers have stopped listen to Jim Harbaugh and more. Plus, they make their World Series predictions.