Boston Celtics:

AllStar2012
February, 26, 2012
2/26/12
10:27
PM ET
Nathaniel S. Butler/NBAE/Getty ImagePaul Pierce works against Kevin Durant during the 2012 All-Star Game
Celtics-themed reaction after Paul Pierce and Rajon Rondo represented the Eastern Conference during a 152-149 loss to the Western Conference at the 2012 All-Star Game at the Amway Center in Orlando.
CELTICS CONTRIBUTIONS
Not even the All-Star Game's lack of defensive intensity could shake Pierce from his season-long shooting slump. He missed seven of the eight shots he put up, connecting on a first-half 3-pointer for his only points to go along with two turnovers, two rebounds and a block over 11:07. Rondo chipped in eight assists (highlighted by a
nice midcourt alley-oop
feed to LeBron James) while adding two points on 1-of-3 shooting with four turnovers over 15:34. Celtics coach Doc Rivers must have successfully lobbied old friend Tom Thibodeau because Boston guys got a light run overall.
THE REST OF THE GAME
Rivers told the story last week about Thibodeau whispering in his ear about wanting to win for the payday bonus for the prevailing squad when the two were on the same staff at the All-Star Game in New Orleans a few years back. Maybe that helps explain how the East rallied from a 21-point second-half deficit to give themselves a chance to win the game in the final seconds. Deron Williams' potential go-ahead 3-pointer was well off the mark for one opportunity, and Dwyane Wade's chance to tie at the buzzer also missed. Game MVP Kevin Durant (36 points), Kobe Bryant (27) and Russell Westbrook (21) paced the West, while Wade chipped in a triple-double (24 points, 10 rebounds, 10 assists) and teammate LeBron James added 36 points, sparking the fourth-quarter rally.
GRADING THE CELTICS
John Hollinger
hands out All-Star grades
:
WHAT'S NEXT FOR BOSTON?
The Celtics reconvene for the second half of the season on Monday in Cleveland, where they will hold an evening practice before jousting with the Cavaliers on Tuesday in a game that marks the official halfway point (Game No. 33 of 66) of their 2012 season. Boston returns home to close out the month of February with a visit from the Milwaukee Bucks on Wednesday before launching into a wild March that features 17 games, 11 of which are on the the road, including a season-high eight-game trek around the mid-month trade deadline.
February, 26, 2012
2/26/12
4:18
PM ET
As Paul Pierce (10th All-Star appearance) and Rajon Rondo (third All-Star appearance) prepare for Sunday's 2012 All-Star Game, we take a quick look back at their past All-Star performances, courtesy of our friends at Basketball Reference:
Paul Pierce
Rajon Rondo
February, 25, 2012
2/25/12
9:30
PM ET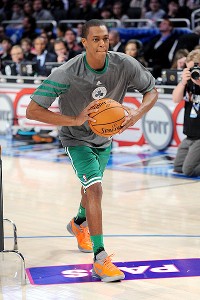 Noah Graham/Getty ImagesRajon Rondo during the Skills Challenge on Saturday.
Celtics point guard Rajon Rondo finished second to San Antonio's Tony Parker in the Skills Challenge as part of festivities at All-Star Saturday night in Orlando.
Rondo needed a tie-breaker to edge Washington's John Wall and get into the final round -- actually navigating the obstacle course in the night's best time of 27.5 seconds. But up first in the final round, Rondo needed three attempts at the bounce-pass station, finishing at 34.6 seconds. Parker was nearly flawless and checked in at 32.8 seconds, while New Jersey's Deron Williams took third place at 41.4 seconds.
Rondo and Wall each produced first-round times of 32.8 seconds, forcing the tie-breaker. Ironically, that turned out to also be the winning time for Parker.
Rondo earned a B+ in our Skills Challenge grades. Hop
HERE
to read more.
February, 24, 2012
2/24/12
6:38
PM ET
Greg M. Cooper/US PresswireCeltics All-Stars Rajon Rondo and Paul Pierce.
Celtics All-Stars Rajon Rondo and Paul Pierce took part in Friday's All-Star availability in Orlando. The league releases small samples of their chats with reporters. Here's some of the highlights from what the league distributed:
Rajon Rondo
Has this kind of been the craziest three days you've had in the league?
RR
: Yeah, it's been jam-packed, really, my schedule. I've changed my schedule completely. I didn't expect to be here. I actually found out on my birthday. It was a good birthday present. I had to go back home and pack and I had to try to get a ticket situation going and a hotel room -- who was coming, who wasn't coming. But I'm glad I'm here, and this has been the quietest AllStar I've had as far as people coming in. I've usually had about 20 people come in, but now it's about five or six.
Being a competitive guy and having been to The Finals, what do you think of tying the homecourt advantage to the result of the AllStar Game?
RR
: No, I don't think so. I think it's good the way we have it. You can't base it off the AllStar Game.
Who's the most clutch guy out there in the league right now?
RR
: I don't know. I might be biased, but Ray Allen, Paul Pierce. If you need a guy to create a shot, Paul; if you need a guy to make a shot, Ray.
What have been your impressions of Jeremy Lin?
RR
: He's worked hard. A lot of people doubt him. I think he's a product of hard work, and now it's paying off. He seems like a pretty humble guy. He seems like a good guy. He's going to be here for a long time.
February, 24, 2012
2/24/12
9:31
AM ET
Celtics point guard Rajon Rondo will replace defending champion Stephen Curry (strained tendon, right foot) in the Skills Challenge as part of the festivities at All-Star Saturday night in Orlando.
The rest of the field includes Cleveland's Kyrie Irving, San Antonio's Tony Parker, Washington's John Wall, Oklahoma City's Russell Westbrook, and New Jersey's Deron Williams.
What is the Skills Challenge? From the NBA: "Skills Challenge was introduced at NBA All-Star 2003 in Atlanta and features players competing in a two-round timed obstacle course consisting of dribbling, passing and shooting stations. All players must observe basic NBA ball-handling rules while completing the course. The three players with the fastest times from the first round advance to the finals with the order of competition determined by inverse order of the first-round times. At the discretion of the referee, television instant replay may be consulted for clarification of rules compliance."
Here's a list of past winners: "2003 -- Jason Kidd, New Jersey; 2004 -- Baron Davis, New Orleans; 2005 -- Steve Nash, Phoenix; 2006 -- Dwyane Wade, Miami; 2007 -- Wade, Miami; 2008 -- Williams, Utah; 2009 -- Derrick Rose, Chicago; 2010 -- Steve Nash, Phoenix; 2011 -- Curry.
February, 22, 2012
2/22/12
6:45
PM ET
Celtics
point guard
Rajon Rondo
will take
Joe Johnson
's spot on the Eastern Conference roster at this year's All-Star Game after being named an injury replacement Wednesday by NBA commissioner David Stern.
For Rondo, it's his third consecutive All-Star appearance.
Rondo, who is celebrating his 26th birthday Tuesday, played in only 22 games during the first half of the season due to both a sprained right wrist injury and a two-game suspension for zipping a ball at a game official in Sunday's loss to the Pistons.
Rondo joins teammate
Paul Pierce
on the East roster.
For more on this story
CLICK HERE
.
February, 9, 2012
2/09/12
1:25
PM ET
As part of our weekly
5-on-5
with our good friends and True Hoop partner at
CelticsHub
, we examined which members of the Celtics deserve a spot among the Eastern Conference reserves for All-Star weekend later this month in Orlando. You might remember that Boston's entire Big Four got an invite last year in Los Angeles, but the team's early struggles make a similar group outing unlikely. So ...
Which Celtics will be named as All-Star reserves Thursday night?


* Chris Forsberg: Pierce and Rondo. You can really make the case for the entire Big Four to be named reserves again this year in a top-heavy Eastern Conference, but Pierce and Rondo are the two players that opposing teams worry most about. KG has been coming on strong and deserves consideration for his efforts at both end of the court, while poor Ray Allen probably gets overlooked despite his insane shooting percentages from the floor (50 percent) and beyond the arc (52.6 percent) through 20 games.

* Hayes Davenport: Paul Pierce and Rajon Rondo. Pierce has pole-vaulted the other Celtics stars to become the team's best player, and Rondo is the second-best point guard in the Conference (tied with Jeremy Lin). Garnett might get some consideration out of respect/fear, but while I feel like he actually enjoys All-Star Weekend more than most veterans, he should stay home in a Brookstone massaging foot spa.

* Brendan Jackson: Paul Pierce is a definite but I could see any number of the rest of the Big Four getting the nod as well. Of course, so many All Stars end up on the team based on reputation and career achievements so nothing would surprise me at this point.

* Brian Robb: Rajon Rondo and Paul Pierce. The point guard's numbers are too impressive to ignore, despite his extended absence. Pierce will get the recognition he deserves for his recent stretch, playing as well as anyone in the league while sparking the turnaround of the C's season. Garnett and Allen have a case, but the team's slow start will keep them home.

* CelticsHub Reader Kevin Cote: Paul Pierce and Rajon Rondo. Paul is a lock; he has been the catalyst that turned the talk in Beantown from 'Will Danny blow it up' to 'How far can these guys go?' Given his recent accomplishments and off-the-charts PER, Paul is the one certainty for the All-star game. Rondo is a question mark if only due his injuries and absence for much of the recent turnaround.


Hop
HERE
to read the full 5-on-5 on
CelticsHub
.
February, 2, 2012
2/02/12
7:38
PM ET
All-Star starters
were announced Thursday night
and none of the five Eastern Conference spots went to a member of the Celtics.
Rajon Rondo placed third among East guards, but his vote total (547,110) wasn't even half of second-place Dwyane Wade (1,334,223). NBA coaches will vote to determine the All-Star reserves.
Here's the full East voting (West after the jump):
EASTERN CONFERENCE
Forwards
: LeBron James (Mia) 1,360,680; Carmelo Anthony (NYK) 1,041,290; Amar'e Stoudemire (NYK) 383,734; Kevin Garnett (Bos) 367,914; Chris Bosh (Mia) 324,605; Luol Deng (Chi) 276,205; Paul Pierce (Bos) 215,020; Carlos Boozer (Chi) 175,828; Andrea Bargnani (Tor) 152,362; Josh Smith (Atl) 119,638.
Guards
: Derrick Rose (Chi) 1,514,723; Dwyane Wade (Mia) 1,334,223; Rajon Rondo (Bos) 547,110; Ray Allen (Bos) 382,147; Deron Williams (NJN) 208,697; Jose Calderon (Tor) 132,167; Richard Hamilton (Chi) 111,368; John Wall (Was) 96,606; Kyrie Irving (Cle) 96,346; Joe Johnson (Atl) 66,145.
Centers
: Dwight Howard (Orl) 1,600,390; Joakim Noah (Chi) 236,497; Tyson Chandler (NYK) 163,077; Joel Anthony (Mia) 101,307; JaVale McGee (Was) 63,765; Al Horford (Atl) 50,396.
January, 28, 2012
1/28/12
12:00
PM ET
In the spirit of an election year, the folks at Red Bull whipped together an All-Star campaign video for Celtics point guard Rajon Rondo (complete with his "I approved this message" kicker). Check out the video, which includes some footage from Rondo's charity game here in Boston this summer (including a good look at the off-the-head alley-oop)...
Hop
HERE
to cast a ballot for the 2012 NBA All-Star game.