Boston Celtics:

Antoine Walker
July, 28, 2014
Jul 28
6:15
PM ET
In the new documentary film, "Gone In An Instant," former Boston Celtics star Antoine Walker exposes how he went from NBA All-Star and champion to the new poster child of how to lose $100 million. ESPN.com's Scoop Jackson went to Walker's home in Chicago to talk about the film, how difficult it was for Antoine to finally face his truth and how losing everything forced him to discover who his real friends were.
Scoop
: Is there a bigger message to this film than what you've been through, than it just being "the story of Antoine Walker?"
Walker
: I think the bigger message honestly is that we all as athletes, myself and probably 80 percent of the league, come from the same walks of life. We all come from poor backgrounds, and when we make it, we all have that same mentality of what's important to us once we get our hands on some money. It's crazy, from my generation to the younger generation, we all -- the first thing we want to do is get the big house.
Scoop
: Even if it ain't for you!
Walker
: Yeah [laugh], we want to get the big car, we want to get the nice watch. So those things are all things that we think about and create into our lifestyle automatically. Things that are very expensive, things that are going to eat up our income right away. We have to change that culture, that way of thinking. We can get those [material] things, but let's build. Let's wait until we have $10 million sitting in the bank before we go out and get a $50,000 or $100,000 watch. When we sign for a million, we don't need a $100,000 watch, but we do it backward. I think my story and this film will show them that, "Yeah, you are going to have access to all of those things, and those things are nice," but one day, it can add up and be very detrimental to you in the end.
[
Read full Q&A
]
October, 2, 2012
10/02/12
6:00
PM ET
June, 28, 2011
6/28/11
9:11
PM ET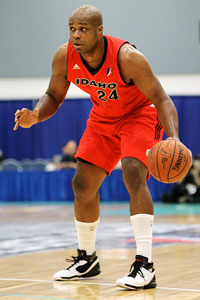 Joe Murphy/NBAE/GettyAntoine Walker pleaded guilty to passing bad checks for debts.
Former Celtics forward Antoine Walker is set to work of his gambling debt. From
the Associated Press
:
LAS VEGAS -- Former NBA star Antoine Walker has pleaded guilty to passing bad checks in the form of unpaid gambling debts in Las Vegas.

The Las Vegas Sun reports the former all-star shooter who now plays for the NBA Development League's Idaho Stampede will be put on probation and work toward paying off $750,000.

The criminal complaint against Walker was filed in 2009, accusing him of having the debts at Caesars Palace and Red Rock.
ESPN Boston's Peter May
caught up with Walker back in December
as he embarked on his D-League experience. Hop
HERE
for more on Walker.
(
Quick programming note
: Apologies for the lack of updates on Tuesday. Our blog publishing tool went down for much of the day, but we appear to be back up and running now).
December, 17, 2010
12/17/10
10:00
AM ET
Peter May examines how
Antoine Walker
is looking for a second chance in the NBA by joining the Idaho Stampede of the NBA Development League:
Otto Kitsinger/NBAE/GettyAntoine Walker is seeking another NBA opportunity by starting again at the ground floor.

PORTLAND, Maine -- Antoine Walker made his first start of the season Thursday night for the Idaho Stampede.

Yes, it's a start. In the NBA Development League, dreams know no bounds, whether it's in the head of a non-drafted 22-year-old with no real chance or a 34-year-old who has played in 893 NBA games plus three All-Star Games and has a championship ring as a member of the 2006 Miami Heat.

Walker hasn't graced an NBA floor in nearly three years. He has no idea how this latest comeback will end up. He has a very specific idea of how he hopes it will end up -- back in the NBA within a couple of months on a playoff-bound team.

He said he felt he owed himself one more shot.

"I left the game way too soon and I want to get back,'' Walker said after the Stampede's morning shootaround at the Portland Expo Center before their 105-99 loss to the Maine Red Claws in which Walker had 25 points and 8 rebounds in 33-plus minutes. "I still believe I can play. … I'm a very unique player. There aren't many guys in the league who can do what I do, at my size, to be able to space the floor, take you off the dribble, make plays. I think there are only a handful of guys who can do that. And I have the experience. I've played in big games. I've won a championship. I think I bring a lot of experience to a team."

When we last saw Walker in the NBA, he was coming off the bench for a truly horrible Minnesota Timberwolves team in the 2007-08 season. His last NBA game was on Feb. 19, 2008, an eight-minute stint against Philadelphia in which he had zero points, 2 rebounds, 1 turnover and 2 fouls. Twenty-five days earlier, he made his last appearance in Boston -- where he had been a member of the Celtics from 1996 to 2003 and again in 2004-05 -- playing 15 minutes for the Wolves.

Minnesota traded Walker to Memphis on the night of the 2008 NBA draft, but he never appeared in a regular-season game for the Grizzlies, who released him in December 2008. Until signing with the Stampede on Dec. 7, the only competitive basketball Walker played since February 2008 was this past February and March, when he went to Puerto Rico to play for the Guaynabo Mets.

That didn't go over well. He was out of shape. He was unfamiliar with the international rules. He had only one American teammate (Marcus Fizer). But the experience made him realize how much he missed the game.

"I got my hunger back,'' Walker said.
Click
HERE
to read the full story.
December, 13, 2010
12/13/10
2:05
PM ET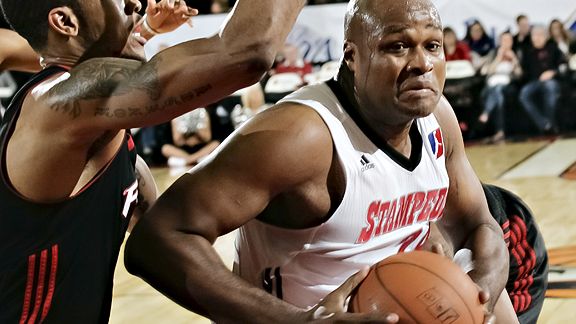 Otto Kitsinger/Getty ImagesA familiar face is returning to New England this week.
The Maine Red Claws will be thrust into a national spotlight this week when newly inked Antoine Walker and the Idaho Stampede invade for two games in four days. Before that happens, let's take a look back at the week that was for the Claws:
--
WEEK IN REVIEW
--
Thursday, Dec. 9
: The injury plagued Red Claws got a bit of (temporary) reinforcement Thursday when the Charlotte Bobcats optioned rookie point guard Sherron Collins to the team before the start of a weekend doubleheader against Erie. Coach Austin Ainge had some familiarity with Collins after watching him compete for Charlotte at the Orlando summer league (where Collins averaged 12.5 points and 2.8 assists in four games). Collins was the first player optioned to Maine this season and only the second Bobcat to be sent to Maine (Alexis Ajinca spent much of the 2009-10 season with the Claws).
Friday, Dec. 10 - Erie 120, Maine 71
: The Red Claws landed on the wrong side of a 49-point thumping, as Erie ran wild in the first game of a doubleheader, opening a 47-point lead through three quarters before calling off the dogs. Erie shot 60.2 percent from the field (50-of-83 overall) and put six players in double figures, led by Nate Linhart with 20 points on 7-of-8 shooting. DeShawn Sims rebounded from some previous-week struggles to score a team-high 22 points and grab 10 boards. Paul Harris added a double-double (12 points, 12 assists) for the Claws, who shot a mere 26.8 percent (22-of-82 overall) from the floor.
Saturday, Dec. 11 - Erie 109, Maine 91
: Maine came out more inspired Saturday night, scoring 62 first-half points, but Erie made a third-quarter run to pull away, putting six players in double figures again to sweep the weekend series. Sims again led Maine with 20 points (on 8-of-13 shots), while Harrison added 18 points, six rebounds, three assists, two blocks, and a steal while stuffing the stat sheet. Collins rebounded from an off game the night before, scoring 15 points over 29:13 off the bench.
--
EYES ON FAMILIAR FACES
--
Tiny Gallon (6-9 forward, affiliated)
-- Sidelined with a back issue, Gallon did not play in either of Maine's two games this weekend. He's averaging 16.6 points, 9 rebounds, and 1.3 assists per game in seven appearances (five starts).
Jamar Smith (6-3 guard, affiliated)
-- Smith's shot wasn't falling in Erie, where he was 7-of-17 overall, for a total of 19 points to go along with four rebounds, seven assists, two steals, and 13 turnovers over two games. For the season, Smith is averaging 13.4 points, 5.7 assists, and 3.4 rebounds per game.
Maine Red ClawsMario West gets his own bobblehead night in the new year.
Mario West (6-5 guard, camp cut)
-- Like Smith, West struggled mightily with his shot, missing all seven attempts in Friday's loss, and connecting on 3-of-14 shots overall for eight points in two games. West added a total of seven rebounds, five assists, two blocks, a steal and eight turnovers in the weekend series. For the season, he's averaging 11 points, six rebounds, and 2.2 assists per game.
DeShawn Sims (6-8 forward, summer league)
-- With Gallon sidelined, Sims jumped back into the starting lineup and made the most of the opportunity, twice leading the team in scoring this weekend. For the two games, he totaled 42 points, 15 rebounds, and two blocks over 62 minutes of action. For the season, Sims is averaging 14.4 points and 7.4 rebounds per game.
Matt Janning (6-4 guard, summer league)
-- Janning is one of Maine's top guards off the bench, logging 61 minutes this weekend, while scoring 10 points in each game (on 6-of-14 shooting overall). In five appearances, Janning is averaging 7.2 points, 2.2 rebounds, and 1 assist per game since joining the Claws after being released by the Phoenix Suns.
--
WHAT'S ON TAP
--
The Red Claws host Walker and the Stampede on Thursday (7 p.m.) and Sunday (5 p.m.), while also sandwiching a visit to Springfield Friday night. Keep an eye on this space for more on Walker's return later this week.
Maine also announced that Jan. 6 will be Mario West Bobblehead Night, with the first 1,000 fans receiving the collectible courtesy of Wright Express.
"In addition to being a fan-favorite and one of the hardest working players on the team, Mario West's name will forever be in the Red Claws' history books as the first player in team history to earn a call-up to the NBA," said Red Claws president and general manager Jon Jennings. "We wanted to do something that, not only the fans would enjoy, but that would honor Mario's unique place in Red Claws' history."
November, 29, 2010
11/29/10
5:05
PM ET
The Red Claws split a doubleheader with host Springfield last week, dropping a heartbreaker on Night 1, but rebounding with a lopsided triumph on Night 2 (see highlights above).
Newly acquired DeShawn Sims, the Michigan product who played for Boston at the Orlando summer league, scored a team-high 15 points in his debut on Friday night to lead five Claws in double figures, but the Armor rallied behind a game-high 30 points from Scottie Reynolds for an 88-85 triumph at the MassMutual Center.
Maine rebounded on Saturday with Sims again providing a monster effort off the bench. The 6-foot-8 forward posted team highs with 24 points and 15 rebounds in a 114-98 triumph over Springfield.
"[Sims is] a monster and they had a hard time guarding him," Claws coach Austin Ainge
told the Portland Press Herald
.
Paul Harris posted 22 points on 9-of-14 shooting with eight rebounds and three steals in Saturday's win. He's averaging 15.8 points and 10.3 rebounds per game in four appearances this season after sitting out all of last year with an ankle injury.
--
EYES ON THE AFFILIATES
--
With Stephane Lasme shelved following surgery to repair a foot fracture earlier this month, the Celtics have two affiliated players competing for Maine in Jamar Smith and Tiny Gallon. Others like Sims and Mario West (a final camp cut) have ties to the organization as well. Here's a look at how the affiliates are faring:
* Smith climbed into the starting lineup this week, earning back-to-back starts. He had an off shooting night, connecting on just 2-of-9 attempts in Friday's loss, but bounced back with 12 points and eight assists in Saturday's triumph. For the season, Smith is averaging 11.8 points, 5.5 assists and 2.8 rebounds while averaging 32 minutes per game.

* Like Smith, Gallon joined the starting lineup for this week's doubleheader and produced two quality efforts (14 points, 11 rebounds in Friday's loss; 17 points, 8 rebounds in Saturday's win). For the season, Gallon is averaging 14.8 points, 8 rebounds and 1.2 blocks over 30.8 minutes per game.
West has only appeared in one game this season because a hamstring injury, scoring four points and grabbing four rebounds in eight minutes.
--
WIGGLING UP TO MAINE?
--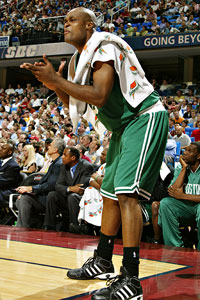 David Liam Kyle/NBAE/GettyOld friend Antoine Walker could be returning to the region soon.
Sources tell ESPN.com's Marc Stein that former Celtics forward Antoine Walker should soon
ink a deal with the Idaho Stampede
of the NBA's Development League (providing he passes a standard background check).
For those interested in breaking out their old No. 8 (or 88) jerseys and shimmying up to Maine for Walker's return to the region, the Red Claws are
set to host
the Stampede on
Dec. 16
(7 p.m.) and
19
(5 p.m.). It is Idaho's only visit to Maine this season and the Claws do not travel there later in the year.
Here's more on Walker's impending return from Stein:
Former NBA All-Star Antoine Walker intends to launch his latest comeback with the D-League's Idaho Stampede, according to sources close to the situation.

After years of legal and financial woes, Walker first must pass a background check that all D-Leaguers are subjected to before he can sign with the league, sources said.

But plans are already in place for Walker's rights to be claimed by the Stampede, who are coached by former NBA guard Randy Livingston, as long as there are no snags with background review.
Click
HERE
to read the full story.
--
WHAT'S ON TAP
--
The Red Claws visit Springfield again on Thursday before returning home to host Fort Wayne on Friday. It's a bit of a doubleheader for the parent and minor league squads as the Celtics visit the Nets on Sunday at 1 p.m., while Maine hosts the Armor (the Nets' D-League affiliate) at 5 p.m. that same day.
September, 13, 2010
9/13/10
12:30
PM ET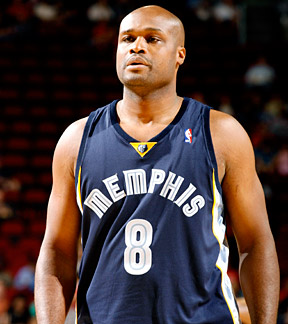 Bill Baptist/NBAE/Getty ImagesAntoine Walker is still trying to find an NBA job.
ESPN.com's Marc Stein relays how
Antoine Walker
could be trying to play his way into a training camp invite in Charlotte:
Antoine Walker hasn't had a job in the NBA for nearly 21 months.

He doesn't have a known invite to an NBA training camp, either, with just two weeks to go before most teams are scheduled to assemble for Practice No. 1 of the new season.

But Walker does have a former college teammate and very close friend that plays for the Charlotte Bobcats, whose new owner isn't just a living legend but another longtime Walker pal.

So it certainly made some sense when word reached Stein Line HQ on Sunday night that Toine is expected to arrive in Charlotte this week to stay with Bobcats center Nazr Mohammed, his buddy and fellow Kentucky Wildcat, and join in daily pickup games at the Bobcats' facility leading up to the start of camp on Sept. 28.

Emphasis on some.

Despite Walker's Charlotte connections, one source close to the situation says that the three-time former All-Star has no assurances from the Bobcats that he'll be extended an official opportunity to stay for camp and attempt to make their team, no matter how far he goes back with Bobcats boss Michael Jordan. It is not yet known whether Walker can score that invite with a successful tryout in Charlotte, after a recent Twitter posting from John Ourand of the Sports Business Journal hinting at that possibility.
Click
HERE
to read the full story.
May, 6, 2010
5/06/10
8:40
AM ET
Antoine Walker is back in the headlines -- thanks in part to former Celtics coach Rick Pitino -- as he eyes (yet again) an NBA comeback. Walker, who hasn't played in the league since 2008, is unlikely to draw much interest. But here's the details from the Associated Press:
LOUISVILLE, Ky. -- Former NBA All-Star Antoine Walker is eying an NBA comeback.



Walker

Louisville coach Rick Pitino says Walker will work out with several Cardinals over the next few weeks. Walker hasn't played in the NBA since 2008 and has suffered legal and financial woes since stepping away from the game.

Walker agreed to pay three Las Vegas casinos over $900,000 to settle three bad check charges last fall.

Pitino, who coached Walker at Kentucky in the 1990s, said he also hopes Walker will talk to his players about the temptations that come with life as a professional.

"He'll talk to our guys," Pitino said. "What I told him is it's not about the past, get ready and get going and move on."

Walker was a three-time all-star with the Boston Celtics and won a championship with the Miami Heat in 2006. He played briefly in Puerto Rico during the 2009-10 season.
Click
HERE
to read more about Walker's money troubles from ESPN's Outside the Lines investigation.
March, 22, 2010
3/22/10
6:00
AM ET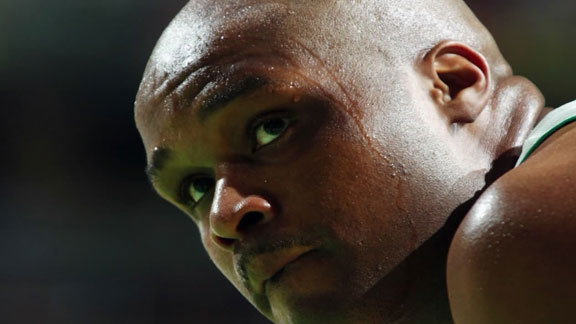 A three-time NBA All Star and veteran of 13 seasons, Antoine Walker made $110 million in salary and millions more in endorsements. However, with poor investment choices, a reckless gambling habit, and child support payments, Walker has lost most of his fortune. Mark Schwarz details Walker's million dollar mistakes:
He used to get the Garden crowd on its feet. Celtics fans could always count on 20 points and nine rebounds, and a shimmy shake on the side.

Antoine Walker had game. And he had swagger.

That was before the DUI in Florida 14 months ago. That was before he got busted in July in Nevada for bouncing a million dollars' worth of checks to three Las Vegas casinos. That was before his investment properties in Chicago went south.

Walker is dressed impeccably for our television interview in New York City. Gray pinstripe suit. This is a guy who was once robbed at gunpoint of his $55,000 Rolex.

He's cordial, but guarded. He has come to explain how he squandered his fortune and his reputation at warp speed.

"When you make the kind of money that I've been able to make throughout my career, it should last you forever," Walker said softly.

It's difficult to say what disappeared more quickly: Antoine Walker's extraordinary basketball skills or the $110 million he earned in 13 NBA seasons.

Walker, who also made millions off the court peddling goods for adidas as Employee No. 8, says he is not sure how much money he has left.

"It all depends on how much debt I can get out of," he said.
Click
HERE
to read the full feature and check out the
Outside the Lines
episode at the top of the page.
March, 18, 2010
3/18/10
12:00
PM ET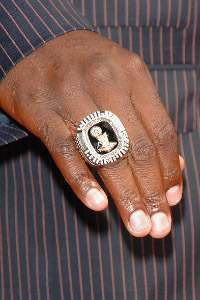 Stephen Shugerman / Getty ImagesWhose championship ring is this? It's a former Celtic.
Only two active players have won both an NBA and NCAA title, according to ESPN Stats and Information: Detroit's
Richard Hamilton
(UConn) and San Antonio's
Nazr Mohammed
(Kentucky).
For the NBA's entire history, there have been 34 total players to win both crowns, including a handful of Celtics. The one that jumped out to us? His NBA championship ring is pictured at right. It's
Antoine Walker
, who won titles with Kentucky and the
Miami Heat
. Check out the full list of dual champs below, topped by a few notable Celtics:
Bill Russell, John Havlicek, Bob Cousy, KC Jones, Bill Walton,
Isiah Thomas
, Kareem Abdul-Jabbar,
Magic Johnson
,
James Worthy
, Lucius Allen, Ron Bonham, Tom Gola, Quinn Buckner, Gail Goodrich, Howie Dallmar, Cliff Hagan, Dick Farley, Arnie Ferrin, Rodney McCray,
Glen Rice
,
Michael Jordan
, Rick Robey, Clyde Lovellette, Herm Schaefer, Jerry Lucas, Larry Siegfried, Frank Ramsey, Tom Thacker, Milt Wagner, Jamaal Wilkes,
Corliss Williamson
, Hamilton, Mohammed, and Walker.
Speaking of Walker, check out this sneak peek at the upcoming Outside the Lines special about his gambling problem: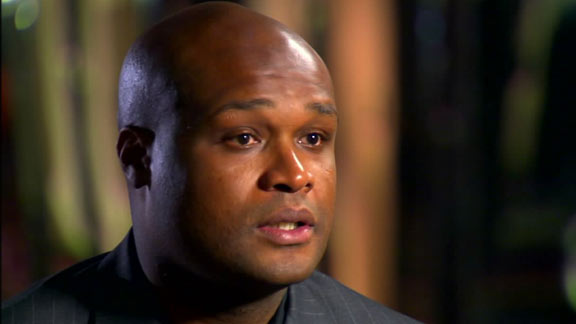 December, 29, 2009
12/29/09
5:05
PM ET
A pair of players with Celtics ties landed on a decade-end list of most overrated players as part of
John Hollinger's best and worst of the 2000's
(Insider Required):
Antoine Walker: Walker made All-Star teams in 2002 and 2003 while shooting 39.4 and 38.8 percent, respectively. That accomplishment alone should put him first on the list. He was invited to the league's 3-point contest in 2002 despite a career mark in the low 30s; if the goal had been quantity of attempts instead of makes, he might have had a better shot at winning. Somehow, he still got a six-year, $54 million contract in 2005. But he did help in Miami's run to the 2006 title by shooting a career-high 43.5 percent.

Michael Olowokandi: Everyone pretends this never happened, but Olowokandi is probably the most overrated free agent in history. As a restricted free agent in the summer of 2002, the Clippers offered him $50 million to stay and were roundly criticized for being too cheap to offer him more. Kandi Man took the qualifier because he was so sure he'd make more money the next summer. Remember, this was coming off a season when he shot 43.3 percent and averaged 11.1 points per game. A year later, Kevin McHale took the bait (of course) and signed him for three years, $16 million, and that was still about five times what he was worth.
Hollinger also ranked the 2007-08 Celtics as the third best Cinderella this decade:
"Boston Celtics, 2007-08: It wasn't as big a shock as the two above, but it's technically the biggest U-turn in league history. Boston traded much of its youth for Kevin Garnett and Ray Allen, kept just enough in reserve to help them along and rode a tenacious defense to the title.