Boston Celtics:

Big Three
June, 10, 2012
6/10/12
6:59
AM ET
Brian Babineau/NBAE/Getty ImagesThe Celtics Big Three: Paul Pierce, Ray Allen, and Kevin Garnett
MIAMI -- Did the Big Three era end Saturday in Miami? No one seemed ready to make a call one way or the other for the
Boston Celtics
after Saturday's Game 7 loss to the Heat ended the 2011-12 season.

"I don't know," said coach Doc Rivers. "Obviously, we're all smart... I think we're going to wait and see what happens with free agency and all that stuff. I honest to gosh hadn't thought much about it, other than the draft... Other than that, I've given zero thought to the whole thing. (Celtics president of basketball operations) Danny (Ainge) has talked to me a couple of times recently. I probably didn't hear much. We'll find that out later. I just want to stick with this group, if it's a couple more days, a couple more weeks, or whatever. I just want to stick with them."
After five seasons together in Boston,
Ray Allen
and
Kevin Garnett
are both unrestricted free agents this summer.
Paul Pierce
is signed for two more years (the final year is only partially guaranteed), though Boston still has its amnesty clause available if it wanted to really blow things up this summer (it could also explore trading Pierce in the offseason).
Garnett left Saturday night without talking to reporters. Allen said ankle surgery is his top priority before he starts worrying about his future (though he noted he "still a lot of basketball left in my legs.") Pierce seemed open to the idea of keeping the core together, but the last thing he said before departing was, "If not, it's been a tremendous run."
Rivers was asked to reflect on the Big Three era and said he only wished he could see how it all would have played out if everyone had stayed healthy. Each of Boston's last four postseasons -- to varying degrees -- were influenced by injuries after winning a world title in their first year together in 2008.
"I wish we could have had healthy runs," said Rivers. "This team won a title; got to another one (in 2010), a Game 7 (vs. the Lakers), where they had a shot to win. We got to the Eastern Conference finals and one game away on the road (this year vs. the Heat), banged up. So I don't know -- because of really Kevin's (knee) injury (in 2009), I don't know if we could have gotten any more out of the group. I would have loved to have seen this team in this whole stretch where Kevin was injury-free.
"But you don't get do-overs. Everybody has injuries. Not just us. Chicago, (Bulls coach Tom Thibodeau) is sitting at home right now thinking, 'No Rose.' It's part of the luck of it. But great group, great team group. I know everybody will look at the Big Three individually -- Kevin, Ray and Paul. I'm never going to look at them individually, I'm going to look at them as a group collective. They all gave up seven-plus shots each. They gave up minutes. I asked them to play defense and move the ball, and they all did it, and they're willing to do it for the better of the team. So I think that's what we should focus on, how much they gave up to try to win. That's what I'll remember most about them."
June, 8, 2012
6/08/12
2:59
PM ET
ESPN Boston's Peter May wonders if a Game 7 loss on Saturday in Miami would
truly spell the end of the Big Three era
in Boston:
June, 22, 2011
6/22/11
6:47
PM ET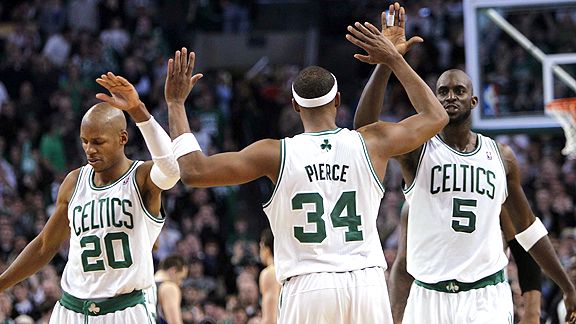 Greg M. Cooper/US PresswireBoston's Big Three knows it could have done more this season.
WALTHAM, Mass. -- Celtics coach Doc Rivers tries to get together will all of Boston's returning players during the offseason and revealed Wednesday that he recently had a group dinner with the Big Three of
Kevin Garnett
,
Paul Pierce
, and
Ray Allen
.
"Sometimes I do it in [groups of] 2's or 3's, but it's always interesting to get those three together," said Rivers. "Single, they'll say one thing, but when you put them all together it's easier. [The tough part is that] those three are the toughest to get together in one city.
"[We just talked] basketball. I always press on them more than anyone how small the window is for them. They understand, I can tell you that. They were more disappointed. It's funny we lost a Game 7 [of the NBA Finals in 2010] and I thought the disappointment this year was more in some ways."
Rivers said the Celtics are still kicking themselves over missed opportunities and that's been a common theme in these clandestine dinners.
"I wish we could have played better, I wish we had had our health -- [Rondo] and [
Shaquille O'Neal
being injured] -- but that's part of the game, being healthy at the right time... [At dinner with the Big Three], we were talking about that, how important the regular season is, how we gave away some games that, maybe if we were in a different bracket, all kind of things coud have happened. But they didn't and I think our guys understand that."
By bringing back the core this season, the Celtics keep that window open for what's likely one last rodeo. But a new collective bargaining agreement and little salary flexibility regardless might further decrease the margin for error as Boston's Big Three seek that elusive second title together.
In advance of Thursday's NBA Draft, Celtics president of basketball operations Danny Ainge admitted that no one on the team is untradeable as he preps this team for success next year and beyond. But he continues to rave about what the trio mean to this team.
"I think it's great to have those guys, not just for the players we are drafting, but all the players we bring in from free agency and trades," said Ainge. "Those guys have been great. I've said it before, I've never seen a group of guys at their age, and this has been going on for last three or four years, practice as often, and as hard as those guys do. To be able to play as well, collectively, at their age, it's been pretty impressive. Their professionalism, their experience, and the way they approach the game and life, has been very good for the young players, [and] even the veteran players we've had with them."
December, 2, 2010
12/02/10
5:35
PM ET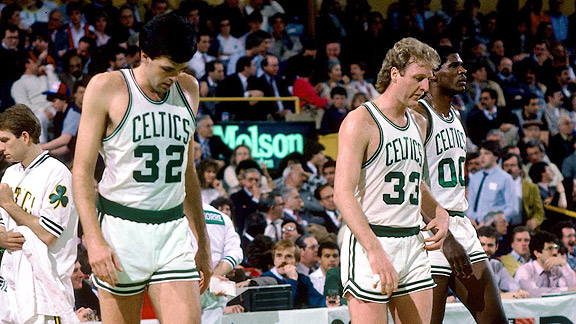 Dick Raphael/NBAE/Getty ImagesWinning 150 out of 200 games? Not bad. But the old Big Three did better.
Boston's new Big Three of
Ray Allen
,
Kevin Garnett
, and
Paul Pierce
played their 200th game together Wednesday, improving their overall record to 150-50 during that span with a win over the Blazers. Not too shabby. But the original Big Three of Larry Bird, Kevin McHale, and Robert Paris still hold an edge. According to ESPN researchers, that trio posted a 153-47 mark during their first 200 games together from 1980-83.
To be fair, it's a push when it comes to world titles: One apiece.
Asked about the success of the new Big Three after Wednesday's win, Garnett heaped all the praise on coach Doc Rivers for allowing the three superstars to be themselves. Rivers tossed all the play to the Big Three, noting, "They just want to win. We talk about it every day. I think that's the whole key. I have a competitive group of guys, it's in them."
May, 9, 2010
5/09/10
3:07
PM ET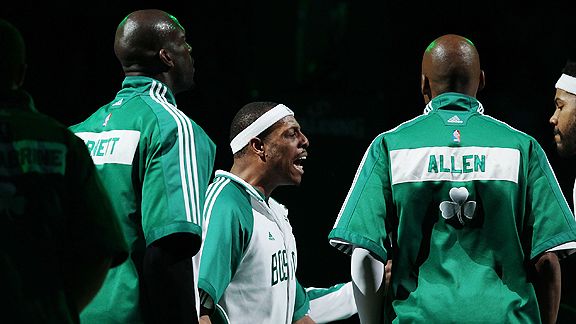 Elsa/Getty ImagesIs this the last time we'll see the Big Three together on the Garden floor?
BOSTON -- A collection of pregame news and notes before the
Boston Celtics
host the
Cleveland Cavaliers
in Game 4 of an Eastern Conference semifinal series at the TD Garden:
The rundown
(a quick look at pregame headlines)
* Is this the Big Three's final game together in Boston?
* Ray's relaxed before pivotal Game 4 vs. Cavs
Is this the Big Three's final game together in Boston?
It's a sobering, yet possible reality that, if the Celtics do not win Sunday's Game 4 against Cleveland, this might be the final time we see the Big Three together on the TD Garden floor.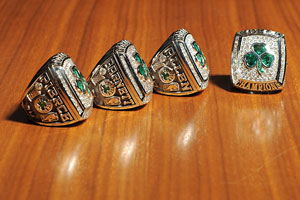 Brian Babineau/NBAE/GettyChampionship rings the Big Three netted in 2008.
While sitting in the visitor's locker room in Cleveland before an offday practice last week, Celtics captain
Paul Pierce
was asked if he thinks about whether this could be a final dance for him,
Ray Allen
, and
Kevin Garnett
. He simply shook his head and said, "No," even when pressed on the issue.
Clearly the Celtics have to think like this won't be the last game. But if Cleveland goes up, 3-1, there's a decent chance they could close out at home in Tuesday's Game 5.
If that happens, then the Big Three will likely go out with a whimper rather than a bang at the Garden. And not just because they would have lost 19 games here this season.
Garnett (19), Pierce (11) and Allen (7) combined to score 37 points in Boston's Game 3 loss on Friday. According to Elias Stats Bureau, that is the second lowest combined point total for Boston's Big Three in a postseason game in which they all played. The trio -- which has played 33 playoff games together entering Sunday's game -- hadn't combined for a total that low since registering 32 points on May 6, 2008.
Garnett remains under contract for two more seasons, but Pierce boasts an early termination option this offseason, while Allen will be an unrestricted free agent. There's still a chance the trio could be reunited for at least one more season next year, but at some point the window we heard so much about when the Big Three united will close for good.
Ray's relaxed before pivotal Game 4 vs. Cavs
If this is the Big Three's final game together in Boston, Ray Allen sure looked relaxed before a pivotal Game 4.
After a few minutes of serious hoops talk, Allen talked casually with reporters about Mother's Day and when the subject of gifts came up, the a conversation steer to how sweat sells.
First things first: Allen said his mother, Flo, has been in Boston for the entire postseason (and she was previously in town to run the Boston Marathon). While he didn't get a chance to celebrate with her this morning, he said she'll be in attendance along with much of Allen's family for Sunday's game.
The gift they requested: A win. And Allen's hoping to oblige.
"While we're [playing], might as well kill two birds with one stone," said Allen.
Allen said his key for Mother's Day is to, "Make every day feel like Mother's Day," for his wife and mother. He managed to avoid any special suppers on Saturday night, or brunches on Sunday, because of that.
"[Allen's wife] forbid me from leaving the house [Saturday after practice]," said Allen. "She likes me to be home. I try to get out, do little nice things for her, like even after practice, I call her and ask if she needs anything. And she'll say, 'No, just come home, I haven't seen you all day."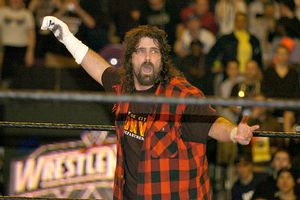 Kevin Mazur/WireImageMick Foley and Mr. Socko ... an unwanted gift.
On the topic of presents, a reporter suggested Allen could just re-gift some of his game-worn clothing that fans so eager to obtain. While admitting that "sweat sells," Allen said he doesn't quite understand the fascination. Which led him to tell a humorous story about attending a WWE wrestling event with
Sam Cassell
a few years back.
As Allen detailed, Mick Foley was wrestling and he had a gimmick of wearing a tattered sock puppet called "Mr. Socko" on his hand (and often jamming it down an opponent's throat as a finishing move).
"I'm looking at him like, this man is crazy," recalled Allen. "He's going through his routine and we're sitting right there on the post. At one point, he looks like he's getting ready to take the sock off and he's going to throw it into the aisle. All the kids jumped up and Sam's boy, Little Sam, jumps up and puts his hand there and he throws it right at him. He grabbed it and was like ... [laughter] ... he looked at me and I was like, 'Yeah, you don't really want that do you?' It was dirty. It looked like he wore it for three months. His mom said, 'Give me that sock, I'm washing that.' But [Little Sam] looked at it like, 'I don't even want that.'
April, 29, 2010
4/29/10
10:20
PM ET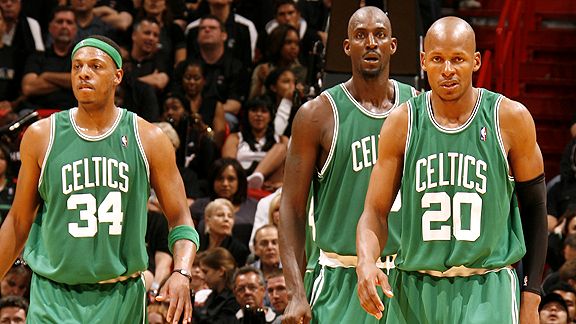 Issac Baldizon/NBAE via Getty ImagesCould this Cleveland series be the last hurrah for the Big Three?
With free agency possibly looming for
Ray Allen
and
Paul Pierce
, the Cavaliers series could be the end of the line for the Big Three, not to mention coach
Doc Rivers
. Here's more from colleague Peter May:
When the Boston Celtics take the floor for Game 1 of their Eastern Conference semifinal matchup with the Cleveland Cavaliers, they will be doing so (A) as consensus underdogs for the first time in three years and (B) without home-court advantage for the first time in three years.

Which begs the following: Will this also be the last time we see the new Big Three together?

Regardless of what happens in the series, the times they are indeed a-changin' in Celtic Nation. Ray Allen will become a free agent. Doc Rivers may decide he's had enough. Paul Pierce could become a free agent if he opts out of his current deal. Tony Allen, Nate Robinson and Marquis Daniels also will be free agents along with Brian Scalabrine, Michael Finley and Shelden Williams. Daniels and Robinson were supposed to be key reserves, but Rivers clearly has lost faith in both of them and their futures in Boston look dim.

The only players with firm commitments for 2010-11 are Kevin Garnett, Kendrick Perkins, Rajon Rondo, Glen Davis and, ahem, Rasheed Wallace.

Is this the beginning of the end for Rivers and the Big Three? Will they be just a memory -- albeit a pleasant one for most -- in just two weeks' time? We know this much: The parties may go their separate ways this summer but starting Saturday, they are still together and, they say, as determined and motivated as ever. We'll have to see if that's enough to keep them together a little while longer.
Click
HERE
to read the full story.