September, 13, 2012
9/13/12
2:19
PM ET
Nathaniel S. Butler/NBAE via Getty ImagesBill Russell talked to NBA.com about his heart, the Celtics' offseason, and Ray Allen joining LeBron James in Miami.
Celtics legend Bill Russell
spoke with NBA.com
to explain a heart procedure he underwent three weeks ago. A sample of the Q&A:
Russell: It's really funny, but what I did was almost routine. But when you describe it, it doesn't sound routine. I had a valve in my heart that had to be replaced and the way you replace it is by open-heart surgery. Well, open-heart surgery sounds difficult but this was not an emergency. It was something I had to do. The same operation in an emergency is life threatening. This was not life threatening. They took the valve out and replaced it. It only took a couple of hours to do that. I talked to the doctors after and they said they were pleased with the procedure. They said I would be sore after a while and after that, they said I would feel better than I ever did at this point. The most I can do now is walk but the two things I enjoy the most, I can't do this summer. Drive my car, which every summer I drive across the country at least twice, and play golf every day. I can't do either one of those for a while. So, most of the summer I get to be a grouch.

NBA.com: You sound good. You're feeling fine?

Russell: Yes. It's all rehab basically. There was never ever any danger. The reason this was routine was because I was living a clean lifestyle. No drinking, smoking, etc. I'm in good shape.
Russell also talks about the Celtics' offseason, including the loss of Ray Allen:
Russell: You don't know how [the new Celtics] will play together. Getting a better player doesn't necessarily make you a better team. That may sound kind of weird. You may acquire a player with better statistics but may not make you a better team. Red Auerbach and the Celtics, we used to talk about that all the time. The question you have to ask yourself, 'How does his style fit with what you are going to put him with and will it make you a better team?' What Miami is doing is similar to a theory that Red used to have. You have a core group and you bring in some veterans so you don't have rookies coming off the bench. Most of the time it worked but sometimes it doesn't. Sometimes, we would bring a veteran in hoping to get one more year out of them but they were psychologically destructive, so we can only use them one year. They were not about winning. They were about their career. See, a lot of guys give lip service to the concept of winning but they don't mean it.

NBA.com: Were you surprised Ray Allen left the Celtics to sign with Miami?

Russell: No. During the playoffs, I kept hearing people say that his legs were going so his jump shot wasn't as effective. Sometimes, management doesn't make their own decisions and takes the word of someone who doesn't really know. So, Ray can be a boost to Miami. But Jason Terry going to the Celtics can also be a boost. Basically, you're trading a shooter for a scrapper. So, you have to see how it blends in with the guys who you kept.
Hop
HERE
to read the full Q&A.
September, 11, 2012
9/11/12
5:15
PM ET

Boston Celtics legend Bill Russell recently underwent a heart procedure, but is feeling well and is hoping to be back in Boston in late October, according to his business manager Stuart Layne.
Celtics vice president of media relations/alumni relations Jeff Twiss spoke with Layne on Monday and relayed that Russell is on the road to recovery.
Former New York Post columnist Peter Vecsey
Tweeted on Monday
that Russell underwent two heart procedures that left him unable to travel from Seattle for a golf event in Long Island.
Layne noted that Russell is up and about and feeling better each day.
August, 21, 2011
8/21/11
1:20
PM ET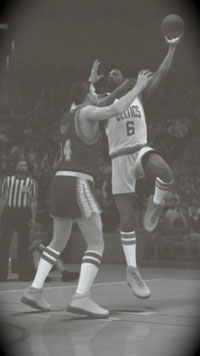 2KSports
On the heels of news that Larry Bird will
grace the cover
of 2K Sports' next installment of its wildly popular NBA video game, now Celtics legend Bill Russell has been unveiled as one of 15 legends highlighted in the game. And considering this might be one of the only way to see actual basketball this winter, here's the details:
ESPN'S "THE GAMER" BLOG: 15 LEGENDS OF 2K12
The Legend: Bill Russell

The Game: The 1964-65 Celtics vs. The 1964-65 Lakers

Why he's in the game: This is the oldest classic match-up in the game, complete with black and white graphics and announcers that sound like they're speaking into a tin can. "Russell is one of the most tenacious rebounders and defenders the league has ever seen," says Boenisch. "We researched him incredibly well in order to get all of his signature moves and that lanky look in there. We also made adjustments to the uniforms for these older teams, not only making the shorts shorter, but making the jerseys fit tighter and fitting them in the older style shoes. It really helps give you a different feel when you're playing."
August, 11, 2011
8/11/11
8:52
AM ET
Who
deserves top billing
as we prepare to
induct our inaugural class
into the Boston Hall of Fame? I make the case for Celtics legend Bill Russell, while colleague Joe McDonald lobbies for Bruins legend Bobby Orr. Here's a
snippet from my argument
for Russell:
The city of Boston is in the process of designing a statue that will sit in City Hall Plaza and honor Celtics legend Bill Russell. It's long overdue, and yet there's one thing holding up the process: No one knows what it should look like.

Not only was Russell the best Celtics player in team history, his impact extended off the court with his role in local civil rights and mentoring children. For all that he did for Boston, Russell is inarguably the region's greatest sports star.

Start on the court, where Russell did nothing but win. Before he arrived in Boston, Russell led the University of San Francisco to 55 consecutive wins and back-to-back NCAA titles, then struck gold in the 1956 Olympics.

Russell won a ridiculous 11 titles in 13 NBA seasons with Boston. A 12-time All-Star and five-time MVP, Russell essentially redefined the center position with his defense-first focus and rebounding abilities. Russell never averaged less than 18.6 rebounds per game in a season and is the Celtics' all-time rebound leader (21,620). Over the final two years of his career, Russell served as player/coach -- the first African-American head coach in professional sports after he took over for Red Auerbach -- and won titles in both seasons.

Just how much impact did Russell have on those teams? The season after he retired at age 35, the Celtics went 34-48 and missed the playoffs for the first time in two decades.
Hop
HERE
to vote in the Hot Button poll.
July, 11, 2011
7/11/11
10:30
AM ET
BOSTON -- City Hall Plaza will serve as home to the Bill Russell statue, Mayor Thomas M. Menino and Celtics co-owner Stephen Pagliuca announced Monday morning in a brief ceremony on the expected location on the south side near State Street.
While considering a handful of locations during the selection process, a site visit to City Hall Plaza with Russell confirmed to the legacy committee that it was the ideal spot.
"The mayor brought Bill here and, when they came to look at the site, literally hundreds of kids surrounded him and were taking pictures," said Pagliuca. "It was as if he was a live statue here. It's going to be very exciting."
Mayor Menino suggested that Russell could be the first seed in making the area a place to celebrate all of Boston's sports history.
"It might be a plaza of champions in the future," said Menino. "But we want to make sure that Bill Russell is the lead champion."
Google MapsThe red pin denotes the Bill Russell statue location.
Three artists have been selected as finalists for the design of the statue and, after making their first official site visit Monday, will be asked to submit their visions to the legacy committee in October. Pagliuca suggested the actual statue could be unveiled next spring, noting he hoped it would coincide with the Celtics' 2011-12 season (if the lockout allows for one).
The three artists are
Fern Cunningham
, creator of the Monument to Harriett Tubman in Boston's South End;
Antonio Mendez
with Oudens Ello Architects, whose work includes the player statues outside Fenway Park; and
Ann Hirsch
, a local artist based in Somerville.
The artists have the challenge of designing a statue that not only celebrates Russell's accomplishments on the basketball court, but what he meant to the city off the court.
"Besides Bill Russell being the best basketball player in the city of Boston, off the court, we know him as an individual who went out to work with young people," said Mayor Menino. "When he saw a young person in trouble, he tried to work with them and put them on the right track."
Pagliuca said the committee is hoping the artists can design something where "people can sit and reflect, think about all the contributions Bill made and the progress this city has made. Not just a walk-by or drive-by, but an educational experience. I'll leave that to the artists, they can interpret that... but we'd like it to be interactive."
The committee noted the site's proximity to the Freedom Trail and Faneuil Hall as a chief reason for selecting the location. The news conference itself drew a sizable crowd just from those passing by. The area is part of the City Hall Plaza renovation, and those improvements will be coordinated with the installation of the statue.
Pagliuca said that the Shamrock Foundation has raised a "fair" amount of money through private fundraising and said it would open the project to public donations probably around the time the final designs are unveiled in October. Pressed on the funding, Pagliuca assured that the committee would build a "world-class statue," and said the community had already pledged support in aiding the project.
May, 27, 2011
5/27/11
10:58
PM ET
By
Wallace Matthews, ESPNNewYork.com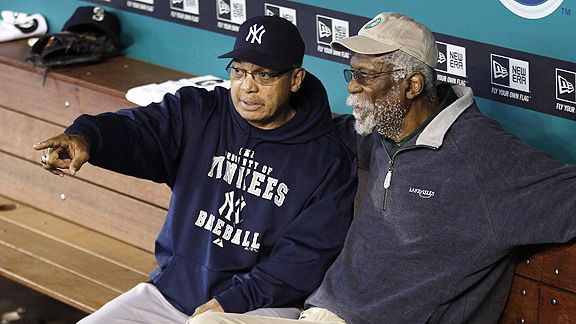 AP Photo/Ted S. WarrenBill Russell and Reggie Jackson chat in the Yankee dugout Friday night.
SEATTLE -- Former
Boston Celtics
great Bill Russell, probably the only professional athlete ever to throw out the first pitch at a
New York Yankees
game who has more championship rings than Yogi Berra, did the honors before Friday night's Yankees-Mariners game at Safeco Field.
The 77-year-old Russell, a member of 12 Celtics NBA championship teams and a Seattle resident, bounced his pitch to the Mariners diminutive
Chone Figgins
, and then posed for a comical photo next to the 5-foot-8 utility man, who is 14 inches shorter than Russell.
Russell appeared in connection with the Mariners African-American Heritage Night celebration.
May, 19, 2011
5/19/11
12:35
AM ET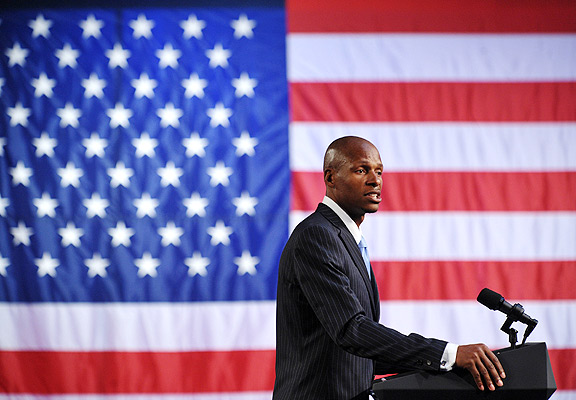 Mandel Ngan/AFP/Getty Images
Celtics stars of the past (Bill Russell) and present (Ray Allen, above) appeared on stage Wednesday night speaking at a Democratic fundraiser to support President Barack Obama at the Boston Center for the Arts.
May, 17, 2011
5/17/11
12:35
PM ET
By
Greg Payne
| ESPNBoston.com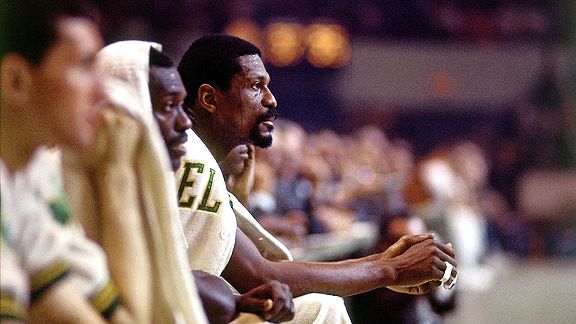 Dick Raphael/NBAE via Getty ImagesBill Russell was honored Tuesday for his contributions to mentoring.
Celtics legend Bill Russell was awarded the Lifetime Achievement Champion of Mentoring Award by the Mass Mentoring Partnership at Fenway Park on Tuesday. The Mass Mentoring Partnership will join forces with the newly created Bill Russell Legacy Foundation to establish the Bill Russell Mentoring Grant Program, which will award grants annually to local non-profit organizations that will seek to increase the number of children who have access to quality and structured adult mentoring programs.
In addition to the grant program, a statue of Russell will be erected in a yet-to-be-determined location in Boston.
Speaking at a small engagement prior to the award ceremony that included the Mayor Thomas Menino, Celtics co-owner Steve Pagliuca, and fellow Celtics legend Tommy Heinsohn, Russell said the statue's true significance is its relationship to the mentoring program.
"Well, [the statue] makes me a little uneasy, because it seems almost like a tombstone," Russell joked. "I don't want to engrave my tombstone yet, but it's tied in with the mentoring program and there's very little that I would not do for the mentoring program."
Said Mayor Menino: "That's why we want to have a statue as part of his mentoring program, because I've known Bill for many years and mentoring was always an important part of his life, not just because the statue is here today. But I've known him for a lot of years, and he's always one to say, 'What's happening with the kids? How are we mentoring those kids?' and that's what Bill Russell's all about."
The design of the statue is still being determined by the Bill Russell Legacy Committee, which includes Heinsohn, who will lend a hand in determining what the statue will look like. When asked what he would prefer to see the statue look like, Russell admitted he didn't know.
"I'm one of those guys that, I can wait and see," Russell said, choosing instead to keep the focus on educating the children of the future.
"I once said in a speech I made in Texas -- it was right as the Vietnam War was winding down -- I said that we should take those funds and dedicate it to our educational system," Russell said. "And after the speech a guy said to me, 'You know, you're talking about spending a lot of money, and as a taxpayer, I don't think I should have to pay taxes to educate other peoples' kids.' And I said, 'Sir, there are two reasons you should do this. One, when you were 6 years old and your folks sent you off to a school, there was a school there for you to go to. And second, there are no other peoples' children in the United States of America. That's the next generation of Americans.' And so, in my post-athletic career, I've done everything I could to further education, and if this will be something that will help, I'm all for it."
May, 4, 2011
5/04/11
3:57
PM ET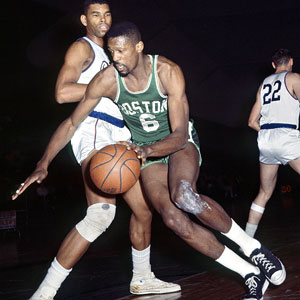 Malcolm Emmons/US PresswireCeltics legend Bill Russell will be honored with a statue in Boston.
The Boston Celtics announced Wednesday that, at long last, Bill Russell will be honored with a statue in the city of Boston.
"We are honored to play a role in paying tribute to such an extraordinary athlete, leader and legacy," Celtics managing partner/co-owner Stephen Pagliuca said. "Bill Russell will forever be remembered in Boston, and it's fitting that the ultimate benefactors of his legacy will be future generations of our beloved city's youth."
It was not immediately clear where the statue would be erected. Last year, a statue of Bruins legend Bobby Orr was unveiled in front of the TD Garden.
Said Mayor Thomas M. Menino, who convened and hosted the first meetings of the newly formed Bill Russell Legacy Committee: "I am so proud to be part of an effort to honor Bill Russell. He is not only one of the greatest champions the sports world has ever seen, he is a man who has stood by and delivered for our young people through his support of mentoring programs. I want all Bostonians and all who work or visit here to recognize Bill Russell and all his accomplishments."
The team also announced the creation of a mentoring program in Russell's name.
For his part, Russell was humbled by the honor.
"I am uncomfortable with honors such as this but my years as captain of the Boston Celtics were the proudest moments of my career," Russell said. "Mayor Menino's Boston has proven to be a city that embraces the diverse contributions of all its people and neighborhoods. I am thankful to the Celtics and all the contributors for the effort to create such a wonderful mentoring program."
During a White House ceremony earlier this year in which he awarded Russell a Medal of Freedom, President Barack Obama said he hoped Boston would build a statue of Russell.
"I hope that one day in the streets of Boston, children will look up at a statue built not only to Bill Russell the player, but Bill Russell the man," Obama said.
The Hall of Famer Russell won 11 championships in his 13 seasons with the Celtics and was the first black coach in NBA history. For his career, he averaged 15.1 points and 22.5 rebounds per game.
Click
here
to donate to the Bill Russell Legacy Fund and for more information on the project.
February, 15, 2011
2/15/11
7:31
PM ET
In addition to making a push for the city of Boston to erect a statue of Bill Russell at the Medal of Freedom ceremony, President Barack Obama cited Russell as "someone who stood up for the rights and dignity of all men" -- not to mention calling him the definition of "winner" in the field of athletics. Check out the White House transcript of Obama's comments about Russell below: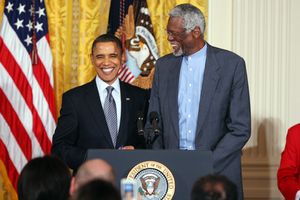 Ned Dishman/NBAE/Getty ImagesPresident Barack Obama and Bill Russell.
When Bill Russell was in junior high, he was cut from his basketball team. (Laughter.) He got better after that. (Laughter.) He led the University of San Francisco to two championships. In 13 seasons with the Boston Celtics, he won 11 championships -- a record unmatched in any sport. Won two while also serving as the team's coach. And so happens, he also was the first African American ever to hold such a position as a coach in a Major League sports team of any sort. More than any athlete of his era, Bill Russell came to define the word "winner."

And yet, whenever someone looks up at all 6 feet 9 inches of Bill Russell -- I just did -- (laughter) -- I always feel small next to him -- and asks, "Are you a basketball player?" -- surprisingly, he gets this more than you think, this question -- (laughter) -- he says, "No." He says, "That's what I do, that's not what I am. I'm not a basketball player. I am a man who plays basketball."

Bill Russell, the man, is someone who stood up for the rights and dignity of all men. He marched with King; he stood by Ali. When a restaurant refused to serve the black Celtics, he refused to play in the scheduled game. He endured insults and vandalism, but he kept on focusing on making the teammates who he loved better players, and made possible the success of so many who would follow. And I hope that one day, in the streets of Boston, children will look up at a statue built not only to Bill Russell the player, but Bill Russell the man.
(Forsberg's note: Check out Paul Flannery's story in Boston Magazine for more on why Russell deserves a statue)
February, 15, 2011
2/15/11
5:15
PM ET
By
Greg Payne
| ESPNBoston.com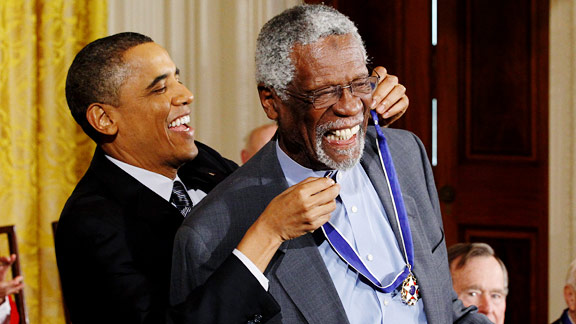 Chip Somodevilla/Getty ImagesCeltics legend Bill Russell delivers his trademark laugh alongside president Barack Obama.
WALTHAM, Mass. -- Celtics legend Bill Russell was among a group of 15 honorees awarded the Presidential Medal of Freedom Tuesday by president Barack Obama at a ceremony held at the White House on Tuesday. The Medal of Freedom serves as the highest civilian honor, and is awarded to those who have made significant contributions in the areas of U.S. national security, world peace, culture, or other significant public or private undertakings.
In 13 seasons as a player and coach of the
Boston Celtics
, Russell won 11 NBA championships and was named an All-Star 12 times. He was named the league's Most Valuable Player five times, and was inducted into the Naismith Memorial Basketball Hall of Fame in 1974. After long-time Celtics coach and patriarch Red Auerbach retired following the 1965-1966 season, Russell was named player/coach for Boston, becoming the first African-American head coach in NBA history, as well as in the history of any major professional sport.
Russell formed a strong bond with current Celtics forward
Kevin Garnett
during the 2007-08 season when Boston won the franchise's 17th championship. With victory not yet guaranteed in the playoffs, Russell went so far as to assure Garnett that if he never won a title, he would give him one of his 11 championship rings. After the Celtics defeated the
Los Angeles Lakers
in the series-clinching Game 6 of the 2008 NBA Finals, Garnett and Russell embraced near halfcourt, with Garnett proclaiming: "I got my own," referring to his championship ring. After the Celtics practiced at the Sports Authority Training Center at HealthPoint on Tuesday, Garnett was asked to share his thoughts on Russell.
"When I think of Russell, I think of transcending," said Garnett. "Just how on, you take Bill Russell out [and] a lot of the young bigs don't even exist. I think if you take someone out of history a lot of us are not even here. Not only did he transcend on the court, but off the court, being pro-righteous in what he believed in and speaking up and standing up for that right. But [they were] different times back in the day, man, you know? I respect a lot of the [old players] just because of what they went through in order for us to be here today. So, Bill Russell is everything and I just want to say congratulations."
PODCASTS
Buster Olney, ESPN.com
Play Podcast ESPN MLB Insider Buster Olney gives his thoughts on Mike Trout's cycle and compares Trout's production with Miguel Cabrera's. Olney also says Jacoby Ellsbury's lack of production is putting the Red Sox in a tough spot and explains why Cole Hamels' poor start isn't too much of a concern.
Terry Francona, Indians
Play Podcast Indians manager Terry Francona dishes on his return to baseball, joining Cleveland, Miguel Cabrera, his time with the Red Sox, MLB's usage of instant replay and more.
Adam Schefter, NFL
Play Podcast ESPN NFL Insider Adam Schefter covers Rob Gronkowski's latest forearm surgery, the possibility of a new league schedule, Super Bowls L and LI, Charles Woodson and more.