Boston Celtics:

Bill Simmons
February, 22, 2014
Feb 22
9:15
AM ET
ESPN's Bill Simmons joined CSNNE's Mike Gorman on the broadcast for Friday's Celtics-Lakers tilt in Los Angeles. The network posted some highlights from Simmons' commentary:



May, 11, 2012
5/11/12
4:57
PM ET
Brian Babineau/NBAE/Getty ImagesPaul Pierce came up big in Game 6 vs. Atlanta despite his knee injury.
Grantland.com's Bill Simmons
puts Paul Pierce in the spotlight
after his part in Boston's Game 6 triumph over the Atlanta Hawks in an Eastern Conference first-round series Thursday night:
Of course, it's not officially a fun Paul Pierce postseason until he's playing hurt. Pierce tweaked his knee during a Sunday walk-around, then exacerbated it during that night's Game 4 and sprained his MCL. Random coincidence: I sprained my MCL last summer playing hoops, didn't realize it and played a couple more times before realizing something was seriously wrong. (I thought I had just tweaked it.) What's weird about sprained MCLs is that you can play at about 70 percent speed (as long as you have a brace), but you're always thinking about it, you can't plant hard on it, you can't really move laterally, and you're constantly worried your knee might cave on you. The only way it heals? By resting and not playing. (Which is what I eventually did. And by the way, I'm older and significantly less athletic than Pierce, to say the least.) Of course, Pierce didn't have that luxury, so he played at 70 percent in Game 5 (air balling the potential winning shot) and 70 percent in Game 6, if only because 70 percent of Paul Pierce is better than 300 percent of Marquis Daniels or Sasha Pavlovic.

Which is what made the following moment so great …

Trailing by three in the final 90 seconds of Game 6, with a petrifying Game 7 in Atlanta looming, Pierce (trapped in the left corner) rolled the dice for one play, drove hard along the baseline to the basket, up-faked Johnson and somehow willed the ball through the hoop, keeping Boston alive and setting up everything that happened next (Josh Smith's horrific 20-footer, Kevin Garnett's winning basket, Al Horford's missed free throw and a textbook Celtics escape).

We'll remember Game 6 for Kevin Garnett's vintage KG performance, and maybe even for Josh Smith turning into Josh Smith at the worst possible time. Just don't forget that Pierce layup. It was a great play by a very good player, the kind of moment that sets him apart from just about everybody who ever played basketball for a living. I will remember watching you, Paul Pierce.
Hop
HERE
to read the full story.
March, 13, 2012
3/13/12
7:24
PM ET
Andrew D. Bernstein/NBAE/Getty ImagesRajon Rondo drives against the Clippers during Monday's win at the Staples Center.
Grantland's
Bill Simmons attended Monday's Celtics-Clippers game in Los Angeles and spent a lot of time analyzing Boston's roster, weighing players' market value and debating trade scenarios in his head. And he acknowledged that this game may have had extra significance:
Thursday afternoon's trade deadline gave the game extra meaning for obvious reasons: for all we knew, it was the last time Garnett, Pierce, Rondo and Allen would play together. As the great Bob Ryan remarked a few weeks ago, the Celtics are stuck in Year 5 of a three-year plan. They eked one title out of that nucleus and probably should have won two. Now they're in no man's land: just good enough to make the playoffs, not quite good enough to seriously contend. They can't get fair value for any of their best players, so it makes more sense to flip expiring contracts and a draft pick for one more impact bench guy ... only, they can't find the bench guy, and they don't want to trade the draft pick. To be honest, I don't know what the hell they're doing. And neither do they.
Hop
HERE
read Simmons' full story, "28 Days Later: The Los Angeles Celtics"
February, 23, 2012
2/23/12
2:00
PM ET
Let's take a moment to honor Celtics president of basketball operations Danny Ainge. For what? We'll let Grantland's
Bill Simmons fill you in
:
February, 10, 2012
2/10/12
4:03
PM ET
Garrett Ellwood/NBAE/Getty ImagesRajon Rondo at last year's All-Star game.
In
offering his All-Star selections
, Grantland's Bill Simmons suggests the Celtics should consider dealing point guard Rajon Rondo:
I'm fine with leaving off Rajon Rondo (or Kyrie Irving, or the rejuvenated Brandon Jennings) because [the Eastern Conference is] loaded at point already with Rose and Williams, even if Rondo is averaging a 14-10-5, shooting 50 percent from the field and still giving us those one-of-a-kind Rondo highlights. Am I slowly coming to the realization that I've been in deep denial about the Rondo era? Yeah, a little bit. Any smart team (like the Lakers last night) plays six feet off Rondo in tight games, daring him to shoot, paralyzing Boston's offense and leading to the dreaded "Clogged Toilet" play (Pierce ending up with the ball 25 feet from the hoop with seven seconds left trying to create something). It's almost like playing with a handicap. Screw that, it IS like playing with a handicap. It's also curious that the Celtics came alive defensively when Rondo missed eight games, mostly thanks to Avery Bradley, who flashed Tony Allen/Bruce Bowen-type potential as a perimeter defender (and that's not hyperbole).5 For the first time, I find myself hoping they deal Rondo — for instance, maybe it could be a three-teamer with Pau Gasol and Keyon Dooling going to Houston; Luis Scola, Goran Dragic, Kyle Lowry and L.A.'s 2012 no. 1 going to Boston; and Rondo and Jermaine O'Neal going to the Lakers. He needs a change of scenery, and really, so might Celtics fans. I can't watch another 84-82 game with his guy playing five feet off him. I really can't. Enough already.
Hop
HERE
to read the full story. And sound off with your thoughts in the comments.
December, 8, 2011
12/08/11
10:00
AM ET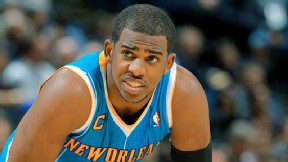 Rocky Widner/Getty Images
The Celtics are reportedly exploring ways to get Chris Paul to Boston this season.
As part of his "
The 12 Days of NBA Christmas
" on Grantland, Bill Simmons offers his thoughts on potential destinations for
Chris Paul
and sounds off on the Celtics for how they've handled their interest:
The Trade: Chris Paul for Rondo, Jeff Green (sign-and-trade) and possibly one or two no. 1 picks.

The Verdict: No way. Why would you want to overpay Jeff Green if you're New Orleans? Why not just re-sign David West? How do we know Green even wants to play there? And if you're New Orleans, wouldn't you rather have Stephen Curry, anyway? For the record, Paul makes $16.359 million this season and Rondo makes $10.045 million; the Celtics have only six players under contract and, unless Green were involved, could include only Jermaine O'Neal ($6.226 million, expiring this season) to make the Paul/Rondo swap work … unless they wanted to get creative, use their amnesty on Kevin Garnett (knocking $21.2 million off their cap), then trade Rondo and O'Neal for Paul and Okafor. See? This is absurd. The Celtics aren't getting Chris Paul.

Quick Tangent: As a Celtics fan, I'm horrified by how they are handling this — publicly, they're saying they aren't shopping Rondo, and privately they're dangling Rondo to New Orleans and EVERYONE KNOWS THIS. Seriously, what are the odds they can pull that trade off? 20-to-1? That's worth putting Rondo in a funk for the entire 2011-12 season? Remember, this is the same guy who went into a shooting tailspin after one harmless Obama joke.3 And by the way, didn't Rondo take less money to stay last season? That doesn't matter at all? Really, it's all business all the time? That's the best way to run a basketball team?

In general, it feels like the Celtics organization has lost touch with what made that team special — the chemistry between their best guys and their coach — starting with Ray Allen getting shopped for two straight trade deadlines, continuing with last February's brutally cold Perkins trade, then cresting with this Rondo debacle. Why would any Celtic feel safe at this point? How can Doc Rivers preach "ubuntu" with a straight face after the past two years? Does ubuntu mean, "Togetherness … unless we're trying to trade you?"

Hey Danny? If you really want to blow this up, then have the balls to actually do it — use your amnesty on Garnett (who's never making it through that inhumane 66-game schedule they released yesterday, much less nine weeks of playoff games with one day's rest between each game), try to sign Tyson Chandler, then try to trade Rondo, O'Neal's contract, two no. 1 picks and $3 million for Paul, and hope that Paul and Chandler say, "Cool, let's play in Boston together!" Sure, you'd be taking a mammoth shit on Garnett — the guy who made basketball relevant in Boston again — but at this point, what's the difference? You shit on Perkins last February and you're shitting on Rondo now. Why not add KG to the list? Either way, the Celtics made their bed here: Chris Paul or no Chris Paul, they're probably going to have to trade Rondo this season just because they handled the entire year so poorly. If you were Rondo, would you want to remain with this franchise? I sure wouldn't.
February, 25, 2011
2/25/11
2:22
PM ET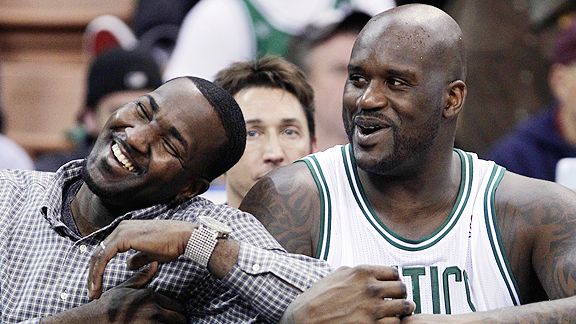 AP Photo/Charles KrupaKendrick Perkins and Shaquille O'Neal share a laugh earlier this season.
There's no feeling quite like your favorite team trading someone you genuinely liked, writes ESPN.com's Bill Simmons:
--
SIMMONS: CELTICS WILL MISS PERKINS
--
And there's the rub. We don't play basketball on paper. I cared about this particular Celtics team more than any Celtics squad since Reggie Lewis was alive -- and that includes the 2008 title team -- mainly because the players enjoyed one another so much. I wasn't surprised to hear that Perkins cried for most of the day Thursday, that Boston's veterans were infuriated by the trade, that Rondo (Perk's best friend) was practically catatonic heading into Thursday night's game in Denver. These guys loved one another. As recently as last season, you couldn't have said that. But Shaq loosened everyone up; so did four full years of the core guys being together; so did Doc's belated maturation into an impactful coach (believe me, I'm as shocked as anyone); so did the contract extensions (Boston's four All-Stars are signed through at least 2012); so did the bonding experience of blowing Game 7 and having that purple confetti fall on their heads; so did the enduring belief that nobody had ever beaten them when they were healthy.
Later, Simmons writes: "Selfishly, I wanted one more chance with them: Garnett, Pierce, Allen, Rondo, Perkins, Baby and Doc, the only seven guys who mattered here. But that's the thing about sports -- 'them' always seems to change when you least expect it."
February, 18, 2011
2/18/11
8:00
AM ET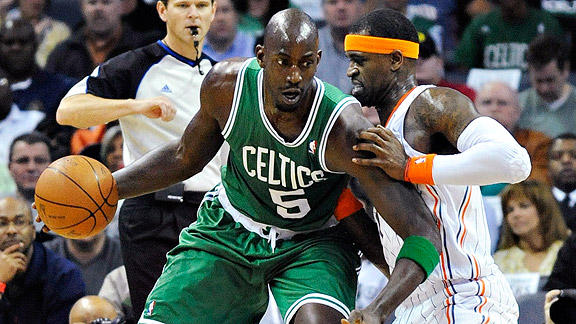 Sam Sharpe/US PresswireKevin Garnett is one of three Celtics in Bill Simmons' annual top 50 for trade value.
ESPN.com's Bill Simmons provides his
annual glance at the top 50 players
in the NBA in terms of trade value. All of the criteria is explained in
the intro to this year's two-part column
. We've plucked the Celtics out to spotlight their rankings:
Honorable mention: Kendrick Perkins and Glen Davis get a dual nod, but landed outside the top 50.
No. 29 Kevin Garnett: Of course, you can't mention Kevin Garnett in a sports column anymore without mentioning how much everyone hates Kevin Garnett. Since joining the Celtics, he's slowly morphed into the least-liked superstar in the league, this generation's version of Rick Barry or Isiah Thomas. That's been devastating for me for two reasons: He plays for my favorite team, and more importantly, that Barry/Isiah spot was supposed to go to Kobe. How did this thing flip so fast? Every day, I get at least one e-mail from a reader wondering, "How can you root for Kevin Garnett?"
December, 15, 2010
12/15/10
11:52
AM ET
Sports Guy Bill Simmons can't believe that a Celtics-Knicks game is relevant again. Obviously, he has no choice but to deliver his running commentary as these two old school rivals face off Wednesday night on ESPN (7 p.m. ET).
Click
HERE
to join the chat.
June, 25, 2010
6/25/10
11:25
AM ET
Sports Guy Bill Simmons passed along his five-part prediction for the Celtics' offseason via Twitter (
@sportsguy33
):
1)
Doc Rivers
comes back and hires Lawrence Frank as his lead assistant.
2)
Paul Pierce
opts out, then Boston re-signs him for 3 yrs, $51 million with a smaller cap figure in 2010-11 ($17m instead of $21.5m)
3) Knowing someone else is going to overpay
Ray Allen
, Celts make a July 1st play for
J.J. Redick
(full midlevel exception: 5 yrs, $33m).
4a) Celts shop
Rasheed Wallace
's '11 cap figure ($6.3m) for a big man from a team that needs cap/tax relief and can just buy out Sheed for 2-3m. (Until Sheed files retirement papers with the NBA, Celts can trade him. Totally legal.)
4b) Possible candidates for a Sheed deal:
Andris Biedrins
,
Troy Murphy
,
Tyson Chandler
,
Darius Songaila
, even (gulp)
Eddy Curry
(if NYC throws in an enticement).
5)
Kurt Thomas
for the lower veteran's exemption. I'm just feeling it.
So there you go. I'm on the record.
April, 16, 2010
4/16/10
1:05
PM ET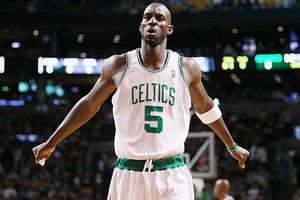 Elsa/Getty ImagesBill Simmons doesn't see Kevin Garnett and the Celtics getting past the Heat in the opening round of the postseason.
In the second part of his NBA season review and playoff preview, Bill Simmons predicts a first-round exit for the
Boston Celtics
. From Simmons:
I thought the Celtics played their fans this season. Don't rope us in with "ubuntu" for two years, then turn your back on it like it was a Kaballah fad or something. Don't tell us to embrace "The New Big 3," then shop Ray Allen for eight months like he was a used car. Don't tell us our best forward's knee is fine when we see him limping. Don't blame the effort of your players after a loss when you played all 12 of them like they were Little Leaguers, or when you keep playing the one guy who exhibits no effort whatsoever without calling him out once. Don't sign a second center for big bucks, then act surprised when the incumbent center bristles about his playing time. So on and so on. It was an empty season filled with excuses, half-truths and false promises. Just because they won two years ago doesn't mean fans had to blindly condone it.

I once wrote that Miami's 2006 title run was like a group of guys in Vegas spending crazy money at dinner, having a great time, ordering dozens of dishes and drinks and never once worrying about the check ... and the 2007 Miami season was the ten sobering minutes when the check arrives and nobody could believe the bill. The check just gets passed around so everyone can stare it in horror, then the one dude with an MBA in economics grabs it and figures out what everyone owes, and you limp out of the restaurant saying, "I can't believe we just spent $250 apiece on dinner, I gotta hit an ATM," only it takes an extra 10 minutes to leave because somebody has to take a dump and somebody else thinks they have a chance with the waitress, so the rest of the guys are just clustered in the lobby, totally full, a little bit drunk, a little bit tired, trying to rally for a big gambling night but knowing that they're about to get their asses kicked because you can never win in Vegas when you're drunk, full and tired.

Welcome to your 2009-10 Celtics postseason. The check has arrived. I hope I'm wrong.
Click
HERE
to read the full playoff column.
April, 7, 2010
4/07/10
3:00
PM ET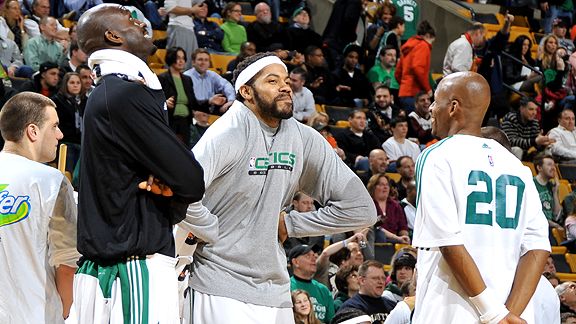 Brian Babineau/NBAE/Getty ImagesRasheed Wallace, center, shares a smile with teammates.
Rasheed Wallace
has become one of Bill Simmons' least-favorite Celtics of all time and, excerpted below, is a few reasons why:
Did Rasheed Wallace infect the team, or was the team already infected? Probably the latter. Probably. To be safe, let's figure it out. Everything you're about to read has nothing to do with Wallace's qualifications as a friend, husband, father or son. I am discussing him as a basketball player only. We will call that person "Sheed."

Sheed will finish the 2009-10 regular season next week as my least favorite Celtic ever, edging out Todd Day, Fred Roberts, Sidney Wicks, Curtis Rowe and Vin Baker. At least Vinnie had an excuse: a drinking problem. Sheed has an apathy problem. His doughy, nonchalant shadow looms over every game.

Sheed roped the Celtics into giving him an $18.9 million, three-year deal, made a big stink about breaking MJ's 72-win record, then showed up for training camp wearing a fat suit.

Sheed caused my 62-year-old father to send me the following text recently: "Wallace can't rebound, blocks nobody out, gets outhustled on every rebound and plays matador defense. What an awful Celtic!!!!"

Sheed caused me to respond, "You forgot about all the 3s he misses."

Sheed is so out of shape that Reggie Miller started a sentence during the Cavs-Celtics game on TNT last month with "When Rasheed Wallace gets into game shape …"

Sheed has been healthy since the first day of training camp.

Sheed likes jogging at half-speed. He submits entire sequences -- two or three minutes at a time, six or seven trips up and down the court -- without ever passing either foul line. Sometimes I count to see how many consecutive possessions Sheed can pull off without crossing either charity stripe. His unofficial record is nine.
Click
HERE
to read the full column.