Boston Celtics:

Bill Walker
December, 26, 2011
12/26/11
8:53
PM ET

NO PENALTY FOR KEVIN GARNETT
Boston Celtics big man Kevin Garnett won't be penalized by the NBA for his postgame incident Sunday with New York Knicks guard Bill Walker, a league source told ESPN.com's Marc Stein on Monday.

Garnett had his hand around Walker's throat after the Celtics' forward missed a potential game-tying shot at the buzzer. The two had to be separated by coaches and players at the end of the Knicks' 106-104 win over the Celtics.

"Heat of the moment," Walker said on Monday. "I just went and contested the shot. We got wrapped up, tangled up and, you know, the rest happened."
Lots of passionate discussion going on about this one. Just one man's opinion: Nothing about the incident screamed suspension. That's not justifying Garnett's actions, he needs to walk away from that situation (Bill Walker's chirping doesn't require that sort of response) and Garnett certainly shouldn't be throwing his hands around anyone's face. The one penalty that Garnett will incur is losing the benefit of the doubt. Already with a history of these on-court dust-ups in recent seasons (see
last year's shove
of J.J. Barea and contact with an official), Garnett likely won't have any more mulligans if he gets into another scuffle moving forward.
Sound off with your thoughts on the situation in the comments.
December, 26, 2011
12/26/11
3:38
PM ET
AP Photo/Bill KostrounBill Walker is restrained by teammates after the final buzzer Sunday vs. the Celtics.
ESPN New York's Ian Begley caught up with
Bill Walker
Monday to chat about his
post-buzzer dust-up
with
Kevin Garnett
. Some highlights:
Bill Walker approached Kevin Garnett as the Celtics' big man was boarding a team bus to leave Madison Square Garden on Sunday. No, he wasn't looking for retaliation or Round 2 with Garnett. He just wanted to shake hands. "When I was leaving the arena I talked to him," Walker said on Monday. "It's no hard feelings or nothing like that. We're both competitors and wanted to win. Emotions run high when you're playing at that type of level."

About an hour earlier, Garnett had his hand around Walker's throat after the Celtics' forward missed a potential game-tying shot at the buzzer. The two had to be separated by coaches and players at the end of the Knicks' 106-104 win over the Celtics. "Heat of the moment," Walker said on Monday. "I just went and contested the shot. We got wrapped up, tangled up and, you know, the rest happened." ...

He approached Garnett to say that he had no hard feelings. "We shook hands, I talked to him ... I chopped it up with him. I still respect those guys," said Walker, who played a little over one season with Garnett in Boston. Walker later added, "I have a respect for KG."
Hop
HERE
to read more.
July, 10, 2010
7/10/10
5:00
PM ET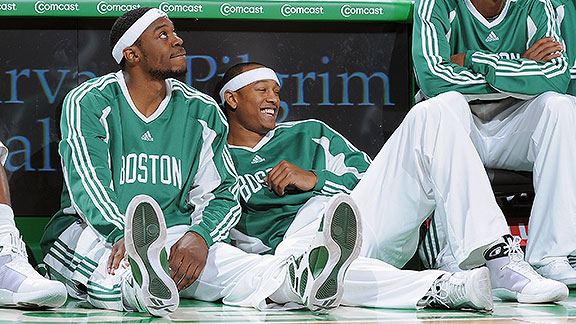 Brian Babineau/NBAE/Getty ImagesBill Walker and J.R. Giddens were shipped out of Boston in a trade for Nate Robinson.
Over the next few weeks, we'll take a player-by-player look at the 2009-10 roster and how each player's season unfolded, assigning a grade for their overall performance. This is the 12th in the series of report cards:
Five players came and went from the Boston locker room during the 2009-10 season: Eddie House, Bill Walker, J.R. Giddens, Lester Hudson, and Marcus Landry. Today, we take a quick look at each player and grade their (limited) contributions to this year's team.
Player
: Eddie House
2009-10 averages
: 7.2 points, 1 assist, 38.3 percent on 3-pointers (Boston only)
Season in a paragraph
:One season after setting a franchise record for 3-point percentage (44.4 percent), House struggled with the primary part of his game and was ultimately flipped to New York in the Nate Robinson trade. In 50 games for Boston, House wasn't a detriment, but his struggles were magnified on a reserve unit that struggled to generate offense. With the Celtics in need of a shakeup, he was the fall guy.
Final grade
: C
Teacher's notes
: Losing a core member of the 2007-08 team was hard to swallow for the Celtics, but even House seemed to acknowledge something needed to be done to shake the team from some January/February doldrums. We'll never know if House would have found his shot and provided the type of postseason spark he did in 2008.
What's next?
: One
report
suggests the Celtics have at least pondered the option of bringing back House, but it's likely they'll find better options for a bench scorer next season.
***
Player
: Bill Walker
2009-10 averages
: 1 point, 0.6 rebounds, 0.4 assists (Boston only)
Season in a paragraph
: Walker, a second-round draft choice in 2008, logged a mere 29 minutes during eight games in Boston this season, scoring eight points before being traded as part of the House-for-Robinson swap. In his fourth game with the Knicks, he scored 21 points over 35 minutes against the Cavaliers and ultimately reached double figures in 14 of 27 appearances in New York, all of which led to some backlash against the Celtics for not giving him more playing time.
Final grade
: C+
Teacher's notes
: Like most in today's report card, there's really not a fair sample size to truly warrant a mark, but Walker did show that he was the most NBA-ready of the young players that washed in and out of the Celtics' veteran locker room. His health limited his chances in Boston, but he never did quite enough in practice to warrant an uptick in time. New York's shot-happy offense allowed him to showcase his perimeter skills, but he still has a way to go to become a complete player.
What's next?
: The Knicks picked up their option to retain Walker and it will be interesting to see if he can continue to progress, particularly if the team becomes a playoff contender with the addition of Amare' Stoudemire this offseason.
****
Player
: J.R. Giddens
2009-10 averages
: 1.1 points, 1 rebound, 0.3 assists (Boston only)
Season in a paragraph
: The 30th pick in the 2008 draft, Giddens appeared in 21 games for Boston this season, including one start, but averaged just 4.7 minutes per game and scored a total of 24 points. Like Walker, he simply didn't get a chance to really showcase his talents before being collateral damage in the Robinson-House swap. Giddens got his big chance on Jan. 2, starting in a makeshift lineup that also featured fellow reserves Tony Allen and Rasheed Wallace. He played 20 minutes and looked a little over-excited for the opportunity, logging as many turnovers (two) as points. Giddens appeared in just two more games before getting dealt, due in part to an injury sustained in the NBA Development League.
Final grade
: C+
Teacher's notes
: Giddens' work ethic was undeniable and he oozed athleticism, but he never got a chance to really settle in, as every minute was a chance to showcase his skills. He performed well in two stints in the D-League over two seasons, but hasn't shown enough to warrant consistent time with a parent club.
What's next?
: Giddens is competing for Dallas in the Las Vegas summer league hoping to find a home next season. Being nice doesn't get you far in this league, but Giddens was a happy-go-lucky sort who deserves an opportunity somewhere.
***
Player
: Lester Hudson
2009-10 averages
: 1.4 points, 0.5 assists, 0.6 turnovers (Boston only)
Season in a paragraph
: Boston's only pick in the 2009 draft (58th overall), Hudson was a heralded scorer from unheralded Tennessee Martin. The Celtics hoped he could learn the point guard role and provide some depth behind Rajon Rondo, but it never clicked. He was waived in early January to free a roster spot that ultimately only got filled on the final day of the regular season.
Final grade
: C-
Teacher's notes
: There's no denying Hudson's offensive talents, but he needed to expand his toolbox in order to stick at the pro level and it didn't happen in either Boston or Memphis, who waived him on July 1 after he spent much of the season with the Grizzlies' D-League affiliate.
What's next?
: Hudson is competing for the Washington Wizards at the Vegas summer league hoping to keep his NBA dream alive.
***
Player
: Marcus Landry
2009-10 averages
: 0 points, 0 assists, 0 rebounds (Boston only)
Season in a paragraph
: Landry played a whopping three minutes for Boston, missing a pair of 3-pointers, after coming over from the Knicks with Robinson. He did play 13 games with the Maine Red Claws and impressed at times despite making only two starts (11.4 points, 4.3 rebounds, 1.6 assists per game).
Final grade
: Incomplete
Teacher's notes
: Impossible to grade someone who played nearly as many minutes as most readers of this report card. Landry made 17 appearances in New York before being traded, but his career high for minutes remains 14 (twice) and he just hasn't had much time to showcase his talents.
What's next?
: Waived by Boston at the end of the 2009-10 season, Landry competed for the Indiana Pacers at the Orlando summer league and is now in Vegas with the Knicks trying to earn a job next season.
***
Honor roll
: Click
HERE
to read past report cards.
Don't agree with teacher? Just want to sound off on the departed's 2009-10 seasons? Click HERE to leave a comment.
April, 13, 2010
4/13/10
4:10
PM ET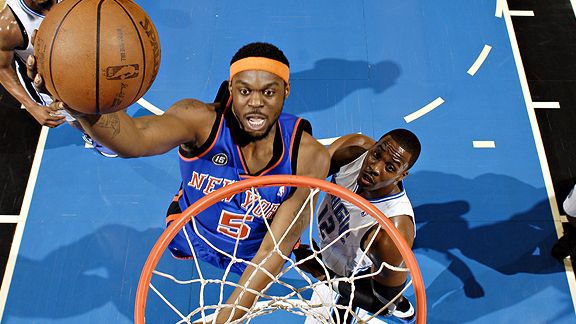 Fernando Medina/Getty ImagesBill Walker is making the most of extended minutes in New York.
After the Celtics made a pair of moves Tuesday with eyes towards fleshing out their already-thin bench for the 2010-11 season, this might not go over particularly well, but ESPN.com's John Hollinger lauds Bill Walker as part of his
"All-Garbage Time"

team.
First Hollinger's explanation on this unit:
Call it the "All-Garbage Time Team," if you will, as the last month of the regular season is basically 48 nightly minutes of garbage time for all the teams that have been eliminated from playoff contention. Those teams are focused on improving their lottery position, er, developing their talent for next season. [Darko] Milicic leads my list of 12 players who have thrived as a result. Don't plan on seeing any of these guys in an All-Star Game any time soon, but each is proving he has a place in the league.
And Walker finds himself among this group:
A throw-in to the Nate Robinson trade, Walker has taken over as the Knicks' small forward in the wake of Wilson Chandler's injury and showed enough promise that the Knicks likely will try very hard to pick up his $854,389 option for next season, even if it makes a slight dent in their precious trove of salary-cap space.

Walker's impressive instincts as a scorer are his best assets, as evidenced by a 53.2 percent mark from the floor and an average of 16.4 points per 40 minutes. Surprisingly, he's taken half his attempts from beyond the arc and drained 41.5 percent, supplementing his attack-the-rim game. He's only 22 and probably could do more if he sought to play off the dribble more, as his usage rate is still very low. Regardless, after battling his way back from multiple knee injuries, he's clearly an NBA-caliber player.
Despite all the hand-wringing over this trade, particularly as Nate Robinson struggles to establish himself as a consistent performer off Boston's bench, we still shrug our shoulders when someone laments the loss of Walker. It just wasn't going to happen here.
What's more, while Walker's scoring stats are glossy, let's remember that scoring is one thing the Knicks actually do fairly well. You might remember that Nate Robinson averaged 13.2 points per game there and 6.4 points per game in Boston.
In March, Walker averaged just 2.7 rebounds and 1.4 assists over 27 minutes per game. In Walker's defense, those numbers have jumped up a bit in April and he's averaging 4 rebounds and 1.7 assists over 31.4 minutes per game in seven contests. If Walker is able to show that he's more than a scorer, then you can certainly lament the Robinson-for-House swap.
Click
HERE

to read Hollinger's "All-Garbage Time" team.
February, 25, 2010
2/25/10
2:00
PM ET
His world turned upside down after being dealt to the New York Knicks as part of a five-player swap at last week's NBA trade deadline, Bill Walker's return to Boston Tuesday provided a bit of short-lived normalcy.

The Knicks got into town in the early hours Tuesday morning after a loss to Milwaukee, but Walker spent the night at the Boston-area residence he's called home since being traded to the Celtics after the 2008 NBA Draft.

Walker slept in his own bed and caught up on a couple weeks worth of DVR before making the familiar journey to the arena. That's when things got weird.

"I haven't been in this locker room before," Walker said before Tuesday's game, glancing around the dimly lit visitor's locker room. "That's different."

Also different was the blue and orange No. 5 jersey hanging in Walker's locker stall. Which begged the question of whether it was an homage to a former teammate across the hall.

"No, I know a certain person wears that number and I look up to that person -- nothing but respect to Mr. Garnett, but that's just the number that was available," said Walker.

When a reporter joked the Celtics gave away his previously owned No. 12 jersey pretty quickly -- Marcus Landry, acquired along with Nate Robinson for Walker, J.R. Giddens, and Eddie House, inherited both the jersey number and Walker's locker stall -- Walker feigned mock incredulousness and deadpanned, "Yeah, they did."

A new number represents a new start for Walker, who appeared in 37 games over a season-plus with the Celtics. As disappointing as it was to be traded from a championship-caliber team -- the complete opposite feeling of how he likely felt after the Washington Wizards selected him with the 47th pick in the 2008 draft and quickly flipped him to Boston for cash considerations -- Walker likes the opportunity he'll be afforded in the Big Apple.

Walker scored seven points and grabbed two rebounds in 13 minutes off the bench Tuesday, his first action since joining the Knicks.

"You want to get out [on the court], because the only way to really learn the game is if you're allowed to make mistakes, and learn from those mistakes," said Walker. "At the same time, playing for a good team and having the chance to win an NBA championship, that's what we all play for."

With a veteran roster and a tight rotation, Boston couldn't give Walker the minutes he yearned for and, even when they did, a single mistake relegated him back to the bench. Even Celtics president of basketball operations admitted it's hard for young players to get a fair chance on quality teams.

"It's a problem throughout the league," Ainge said on his weekly appearance on Boston sports radio (850 AM). "There's a lot of guys that can play that just don't get the opportunity to play. I'm anxious to see how Billy is going to play. There just wasn't minutes for him, same with J.R. When they went down to the [NBA Development League] they did excellent and they performed. Now we have another kid, Marcus Landry, and he looked good in practice [Wednesday]. He's another kid that just needs opportunities to play, and they are all a little bit different.

"They are all guys that will be free agents this summer, so we are evaluating them regularly. There is no reason why guys couldn't come back here and play. Billy and J.R. possibly could. I'm anxious to see what these guys can do over the course of their careers. We liked them when they were here, they did everything right."

Walker enjoyed his time in Boston, but does believe the next three months could be huge for his personal development.

"I think I'm more suited for the up and down game," said Walker. "But I'm glad I spent time with Boston, just learning how to do things the right way. As you [saw Tuesday], it's simple things you mess up that can cost you a game. I learned so many lessons just being over there, listening to those guys and how they prepare for a game so that doesn't happen. So they win games like that. It was a great learning experience, but I'm ready to move forward and progress."

February, 18, 2010
2/18/10
12:42
PM ET
LOS ANGELES --
Nate Robinson
appears one step closer to being a member of the
Boston Celtics
.
League sources told ESPN's Chris Sheridan Thursday that the Celtics and Knicks have agreed to a tentative deadline day swap that should bring the three-time dunk champion to Boston as part of a five-player deal that sends guard
Eddie House
to New York.
According to the sources, Boston receives Robinson and an unidentified second player in exchange for House and second-year players
J.R. Giddens
and
Bill Walker
.
Given Robinson's status as a base-year compensation player, Boston and New York have negotiated for much of the past three days trying find a way to make salaries line up.
It's unclear whether the second player coming from New York could be a player received by the Knicks during the team's active deadline pursuits, or a third team, all of which leaves the deal very much tentative.
House practiced with the Celtics Wednesday, but openly acknowledged that he expected to be dealt before Thursday's 3 p.m. deadline.
"I was talking with my agent and there's a strong possibility that I'll be traded [Thursday] to New York," said House. "With that being said, I've always had a bond with these guys. I love playing with [the Celtics], but at the end of the day, it's a business. The Celtics feel like they're a better team with the guy they're trying to get. I gotta move on, that's what it is.
"At the end of the day, you can't control it. It's out of my hands -- it's never been in my hands. Wherever I go, if I go to New York, I'll play two months, try to play real strong basketball, get some wins with those guys, and make a good account for me for free agency."
House was a fan favorite for his high energy and perimeter shooting, but he's struggled this season, connecting on 64 of 167 3-pointers (40.1 percent) through 50 games. If Tuesday's visit to Sacramento was his final contest in green, he went out with a bang by scoring 12 points with a quartet of triples in a 95-92 triumph.
Robinson, a first-round pick (21st overall) of the
Phoenix Suns
in the 2005 draft, has spent his entire five-year career with the Knicks. He's averaging 13.2 points and 3.7 assists per game this season, but has appeared in only 30 contests after falling out of favor in New York. He was held out of Wednesday night's game with flu-like symptoms.
Robinson's post to his
verified Twitter account
seem to suggest a deal is near. He wrote this morning: "This is a sad day for me as well but I have tears of joy ... Thanks to my fans."
A three-time slam-dunk contest champion, Robinson will be expected to provide a different sort of offensive outburst than House off the bench, but he's also a high-energy guy and, while designated a point guard, he's known more for scoring the ball than distributing it.
Giddens, a former first-round pick (30th overall), and Walker, chosen in the second round (47th overall), were end-of-the-bench players used sparingly in Doc Rivers' hermetic rotation.
Giddens appeared in 21 games this season (27 for his career), including one start, scoring a total of 24 points. Walker appeared in eight games this season (37 for his career), scoring only eight points.
December, 23, 2009
12/23/09
2:20
PM ET
The Celtics recalled forward
Bill Walker
from the Maine Red Claws of the NBA Development League on Wednesday.
Walker appeared in nine games for Maine, averaging a team-best 17.4 points and 6.4 rebounds per game. In his last outing, Walker erupted for a season-high 33 points on 14-of-17 shooting.
Walker's return adds depth at the forward position should
Kevin Garnett
's right thigh bruise sideline him for any additional period of time.
(Update: The Celtics confirmed that Walker did not travel with the team to Orlando, but is expected to join them shortly, after it was revealed
Paul Pierce
would
miss the four-game road trip
.)
December, 10, 2009
12/10/09
10:12
AM ET
Barring the unforeseen, Celtics forward
Bill Walker
will not be with the team when it visits the Wizards Thursday evening in the nation's capital. But Walker will always be linked to Washington, who selected the Kansas State product in the second round (47th overall) of the 2008 NBA Draft before flipping him to Boston in exchange for cash considerations.
Walker is currently on loan to the Maine Red Claws of the NBA Development League as he works his way back from preseason arthroscopic surgery on his right knee. He's averaging a team-best 18.8 points and 6.8 rebounds per game in four contests with Maine.
With Walker on the mind, we started reflecting on the Celtics' entire 2008 draft class, which included guard
J.R. Giddens
(1st round, 30th overall) and center Semih Erden (2nd round, 60th overall). If the NBA were like the NFL, the final pick of the draft would be (dubiously) dubbed Mr. Irrelevant, and that's largely what Erden has been in these parts. Take away a brief stop in Waltham to hold up a No. 86 jersey beside Giddens and Walker in a post-draft media session, and Erden's been a complete afterthought.
With Euroleague play in full swing, we checked in on how Erden's doing overseas with his club, Fenerbahce Ulker. According to the league's official website, Erden is averaging 4.6 points, 4.6 rebounds and 1.1 assists per game in seven appearances (three starts). Erden's reached double figures just once this season, connecting on 5 of 7 shots for 12 points in a win over Zalgiris on Nov. 25.
A game-by-game glance at Erden's key stats during the Euroleague season:
Oct. 21, 2009 - Regal Barcelona - 3 points, 3 rebounds
Oct. 28, 2009 - Asvel Basket - 6 point, 5 rebounds
Nov. 4, 2009 - Cibona - 2 points, 6 rebounds
Nov. 11, 2009 - Montepaschi Siena - 7 points, 2 rebounds
Nov. 25, 2009 - Zalgiris - 12 points, 6 rebounds
Dec. 3, 2009 - Regal Barcelona - 0 points, 3 rebounds
Dec. 9, 2009 - Asvel Basket - 2 points, 7 rebounds
Erden's career highs in Euroleague play are 15 points (against Panathinaikos on Nov. 29, 2007) and 11 rebounds (vs. CSKA Moscow on Jan. 29, 2009). He averaged 6.6 points and 4.1 rebounds in 12 games last season.
Erden, who is 23, is also a member of the Turkish national team.
November, 28, 2009
11/28/09
12:22
PM ET
Celtics forward Bill Walker, assigned to Maine of the NBA Development League last weekend as he recovers from recent knee surgery, scored a team-high 25 points as the Red Claws fell to the Sioux Falls Skyforce, 112-95, in their season-opener Friday night.

Walker connected on 8 of 18 attempts overall, while adding 11 rebounds, 2 assists, and a blocked shot. He did commit a team-high five turnovers in 32 minutes, 45 seconds of action.



November, 21, 2009
11/21/09
3:12
PM ET
By
Chris Forsbeg
| ESPNBoston.com
The Celtics today assigned second-year forward Bill Walker to the Maine Red Claws of the NBA Development League.

Walker, who is working his way back after arthroscopic right knee surgery at the beginning of October, returned to practice last week and appeared in the final two minutes of a lopsided win over Utah on Nov. 11.

The Washington Wizards selected Walker in the second round (47th overall) of the 2008 draft before shipping him to Boston for cash considerations. He appeared in 29 games during his rookie season, averaging 3 points and 1 rebound per game.

Walker also spent 15 game with the Utah Flash of the NBDL last season, averaging 18.9 points, 5.3 rebounds, 1.5 assists, and 1.3 steals per contest.

According to the Red Claws, Walker will be in uniform for a scrimmage on Sunday (Portland) and the team's first preseason game Monday (vs. Springfield in Augusta).

For the Celtics, who are relatively healthy (Tony Allen remains sidelined with a lingering right ankle injury), it's a chance to get Walker game action and still have him in arm's reach should an emergency situation arise. For the Red Claws, it adds a known name as they launch their inaugural season.

November, 11, 2009
11/11/09
9:05
PM ET
BOSTON -- After only two full practice sessions since having arthroscopic knee surgery in early October, second-year guard Bill Walker logged two-plus minutes of scoreless court time in Wednesday night's 105-86 win over the Jazz at the TD Garden.
Walker, who appeared in 29 games last season for the Celtics and spent time with the Utah Flash of the NBA Development League, said he didn't have the same first-game butterflies he had as a rookie.
"Last year was kind of different; I didn't know what to expect," Walker said. "It caught me by storm. This year, I know what's going on; it wasn't that crazy."
What was crazy was that the 6-foot-6 Walker got matched up on 7-foot-1 Kyrylo Fesenko while playing at power forward.
"I subbed in for [Rasheed Wallace]," Walker said. "I had to guard Fesenko."
Despite the height mismatch, Walker isn't averse to lining up against the opposing team's power forward; in fact, he'll tackle whatever the Celtics need him to do.
"I have to be patient; I can do a lot of things," Walker said. "I can guard anybody, that's an asset of mine, from the 4 down to the 2. I have to use that to my advantage. It's not really about competing for minutes now; we're just trying to win a championship. Whatever I can do to help."
As for his health, Walker, who endured three major knee surgeries before making it to the NBA, said, "I feel great, probably the best I've felt in a while."
Asked whether Walker was ahead of schedule, Celtics coach Doc Rivers said, "I have no idea, honestly. I think this was the right timing.
"He practiced the last two days and went full, so he was fine. Unfortunately for him, he played the 4 spot, which is not where we want to play him. But right now with [Brian Scalabrine] out, we didn't have another 4 and I didn't want Rasheed out on the floor."
November, 9, 2009
11/09/09
7:57
PM ET
WALTHAM, Mass. -- Celtics second-year guard Bill Walker participated fully in practice Monday for the first time since undergoing arthroscopic surgery on his right knee at the beginning of October. Celtics coach Doc Rivers didn't have a timetable for Walker's return to game action.
"He was out there like everyone else; we didn't hold him back," said Rivers. "I actually don't know what his schedule is, I'm assuming he's on schedule. [Celtics trainer] Eddie [Lacerte] told me about a week ago this is the day he'd start practicing."
Walker, the Celtics' second-round pick (47th overall) in the 2008 draft, had already endured three major knee surgeries, the most recent coming after injuring himself during a pre-draft workout for the Golden State Warriors.
Walker appeared in 29 games for the Celtics last season, averaging 3 points and 1 rebound per game. He also spent time with the Utah Flash of the NBA Development League and averaged 18.9 points, 5.3 rebounds, 1.5 assists and 1.3 steals per game. He shot 55.7 percent from the floor and 40 percent from 3-point range with the Flash.
Daniels returns

After missing Saturday's game in New Jersey to attend to a personal matter, Marquis Daniels rejoined the Celtics for Monday's practice.
The only players to miss the two-hour-plus session were Tony Allen
(ankle) and Brian Scalabrine (back). Allen, who told reporters earlier this month he hoped to be back practicing by Nov. 15, remains sidelined indefinitely, while Scalabrine got a maintenance day after gutting out 20 minutes off the bench in Saturday's 86-76 triumph over the Nets.
Scalabrine, who missed the first four games of the season with a right ankle injury, sat out Friday's game against Phoenix with back spasms.
With the Celtics seemingly running on fumes at the end of their season-opening eight-game stretch, and playing without Daniels, Scalabrine gave the team a boost with his mere presence against the Nets. What's more, he hit a pair of long-range jumpers at the start of the fourth quarter to help the Celtics pull away.
Overtime

The last players on the court Monday? Rasheed Wallace and Eddie House spent extra time shooting 3s over assistant coach Clifford Ray, tightening up an area that saw steady decline during recent games. Once they finished up, it was House's son, Jaelan, who logged extra time with Ray, working on his low-post moves. The two were still chatting about going strong to the basket as reporters departed the court.
Campaign trail

Paul Pierce, Ray Allen, Kendrick Perkins, Glen Davis, Scalabrine, House and Rivers were all expected to be in attendance Monday night at the Lansdowne Pub behind Fenway Park for a celebration and rally in support of Celtics managing partner Steve Pagliuca, a Democratic candidate for U.S. Senate. Tickets weren't cheap; general admission was $100 per person and a host committee reception cost $2,400. … On Tuesday, House, Davis, Walker, Rajon Rondo and J.R. Giddens will read with children from the Franklin Park Tenants Association as part of the NBA's Read to Achieve program. It could be an interesting event as the players are also expected to play with exotic animals, including a baby alligator, flying squirrel and bearded dragon at the Franklin Park Zoo.