Boston Celtics:

Boston Bruins
June, 18, 2011
6/18/11
3:10
PM ET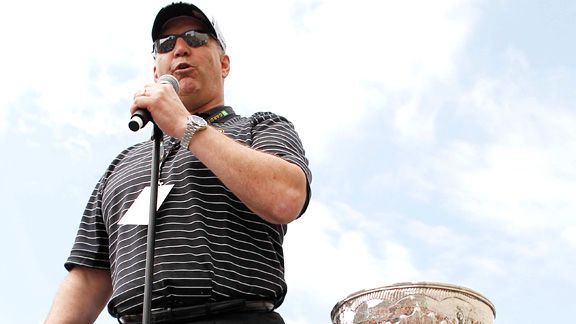 Greg M. Cooper/US PresswireBruins coach Claude Julien included Doc Rivers in his comments Saturday.
BOSTON -- Bruins coach Claude Julien made it a point to again single out his Boston coaching brethren while addressing fans outside the TD Garden before Saturday's rolling rally in celebration of his team's Stanley Cup title.
"On a personal note, I would like to thank [Red Sox coach] Terry Francona, [Patriots coach] Bill Belichick, [and Celtics coach] Doc Rivers, for the support that they have given me personally throughout these playoffs. Even before winning a championship, they made me feel like I was part of their group. But now with a championship, you really feel like you belong, so thanks to them. Thanks to you guys for your support and I look forward to bringing home another one soon."
Numerous times during the Stanley Cup playoffs, Julien made reference to the other coaches, noting how he'd often see Rivers in the halls at the Garden -- their joint office of sorts. Rivers has previously noted how much he keeps in contact with the other local coaches, particularly Francona, and said it's nice to correspond with others that understand the pressure that comes with being a head coach in a championship-or-bust city.
June, 16, 2011
6/16/11
9:45
PM ET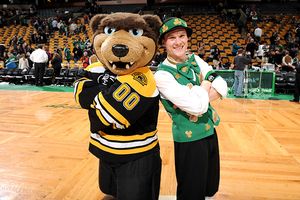 Brian Babineau/NBAE/Getty ImagesThere's always some sibling rivalry between Garden roommates, the Bruins and Celtics.
Don't misinterpret,
Ray Allen
is thrilled for the Boston Bruins. But seeing the Celtics' Garden roommates hoist the Stanley Cup Wednesday night only made him hungrier to secure that elusive Banner 18 for the hoopsters.
"As much as I was happy for them, there was a bit of anger that I had," Allen admitted Thursday while
unveiling a new computer lab
at the Sarah Greenwood School in Dorchester. "I would pretty much imagine that, if you didn't feel that way as an athlete, [if] one of the guys on your team didn't feel that way, [it'd be surprising] because you know that that's something we always shoot for, reaching that height. I'm extremely proud of [the Bruins] for what they've done for the city of Boston.
"When we won in [2008], it was like making it all the way to that mountaintop," said Allen. "Each person had to take a moment to reflect back on their career and what this meant to each one of us. But at the same time, it's being in Boston that made it even that much more glamorous. Just being able to do what we did and the history of this franchise, I think watching the Bruins win, seeing it from the other side, you just understand -- just being a fan and living in this city -- you understand the enormity of the situation and it does help you moving forward."
June, 16, 2011
6/16/11
1:48
AM ET
Celtics captain
Paul Pierce
offered his congratulations to the Boston Bruins after their Stanley Cup triumph Wednesday night in Vancouver. With each of Boston's four professional sports teams winning a world title over the past seven years, Pierce noted, "My 13 years in Boston: Two world series, one NBA championship, three Super Bowls [and] now one Stanley Cup. What a place to be a sports fan."
June, 15, 2011
6/15/11
11:07
PM ET
A nice Twitter touch for the Celtics' Garden roommates:
June, 7, 2011
6/07/11
9:00
AM ET
Twitter.com/PaulPierce34Paul Pierce flashes his own championship ring at Game 3 of the Stanley Cup Finals.
BOSTON -- Celtics captain
Paul Pierce
became the latest Boston hoopster to lend his support to the local hockey squad, cheering on the Bruins during their 8-1 triumph over the Vancouver Canucks in Game 3 of the Stanley Cup finals Monday night at TD Garden.
Flanked by strength and conditioning coach Bryan Doo, Pierce sat about 20 rows behind the benches near center ice. He could be seen snapping cell phone pictures of the action and filming the crowd's reaction after Brad Marchand's shorthanded goal in the second period.
In between periods, Pierce remained at his seat, posing for pictures and snapping photos with those that approached. Since few besides Vancouver's most spandex-clad supporters were wearing green Monday, Pierce spent a lot of time autographing yellow and black rally towels.
Much like teammate
Rajon Rondo
last month, Pierce got some time on the JumboTron at Monday's game, much to the delight of the crowd.
June, 2, 2011
6/02/11
11:11
PM ET
With all this
hubbub about finger biting
in the NHL Stanley Cup playoffs (Vancouver forward Alex Burrows, whom Bruins forward Patrice Bergeron accused of biting Bergeron's left index finger in Game 1 of the finals, will not be suspended for his actions), it seemed like a good time to find the YouTube clip of the 1983 playoff game in which Atlanta's Tree Rollins bit Boston's Danny Ainge. The incident, now affectionately referred to as "Tree Bites Man" from the stellar Boston Herald headline the next day, resulted in a five-game suspension for Rollins.
June, 1, 2011
6/01/11
2:22
PM ET
May, 24, 2011
5/24/11
3:59
PM ET
THIS
fellow Boston sports hero as Fan of the Game.
PODCASTS
Bill Simmons, NBA
Play Podcast Grantland's Bill Simmons discusses the state of the Lakers, Phil Jackson's future, the perception of Rajon Rondo, Doc Rivers' impact on the Clippers and more.
Baseball Tonight
Play Podcast Buster Olney chats with Jayson Stark about Ken Griffey Jr.'s uncomfortable interview with Linda Cohn and the value of spring training. Plus, Mike DiGiovanna on the Angels and Derrick Goold on Matt Carpenter's negotiations with the Cardinals.
John Farrell, Red Sox
Play Podcast Red Sox manager John Farrell talks about whether he expected his team to make such a turnaround in one season, his relationship with his players, fans' expectations for the squad and more.