Boston Celtics:

Buyout2011
March, 6, 2011
3/06/11
3:39
PM ET
The Boston Celtics announced today that they have signed guard Carlos Arroyo. Per team policy, terms of the deal were not disclosed.

Arroyo, a 6'2" guard, appeared in 49 games this season for the Miami Heat including 42 starts, averaging 5.6 points, 1.6 rebounds and 2.0 assists per game. He also is shooting a career-high 43.8% from three-point range. In his 42 starts he has averaged 6.4 points, 2.2 assists and has shot 45.9% from beyond the arc. In his ninth NBA season, Arroyo owns career averages of 6.7 points and 3.1 assists per game. He posted a season-high of 18 points at Milwaukee on December 6.
The deal, of course, is for the pro-rated veteran's minimum, the most the over-the-cap Celtics can offer any player.
March, 5, 2011
3/05/11
3:55
PM ET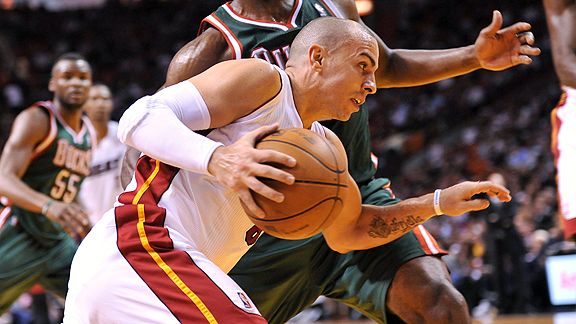 James Riley/NBAE via Getty ImagesThe Celtics added backup depth with the signing of Carlos Arroyo.
WALTHAM, Mass. -- In need of a veteran ball-handler to back up point guard
Rajon Rondo
, the
Boston Celtics
moved Saturday to sign
Carlos Arroyo
for the remainder of the season, a league source confirmed.
With
Delonte West
sidelined by a sprained right ankle, the Celtics were leaning on rookie
Avery Bradley
as the primary reserve ball-handler on an overhauled second unit. With Rondo's playing time escalating, including a team-high 42 minutes in Friday's win over the
Golden State Warriors
, Boston decided to use a roster spot that will open with
Chris Johnson
's expiring 10-day contract to add Arroyo.
Arroyo, a ninth-year point guard, was jettisoned by the rival
Miami Heat
earlier this week to make room for bought out
Mike Bibby
. Arroyo averaged 5.6 points and 2 assists per game in 49 appearances with the Heat, starting 42 games before his departure.
The 31-year-old Arroyo also has 34 games of playoff experience, including being with Miami for last year's first-round battle with the Celtics.
While the move is unlikely to tweak the Heat much, the Celtics do add a player that spent much of the season with a rival (certainly a benefit for any late-season addition). Boston also won a tug-of-war with the Heat earlier this week for the services of backup forward
Troy Murphy
.
Arroyo is unlikely to have much of a long-term impact if West is able to get (and stay) healthy, but Boston hasn't had a pure backup ball-handler behind Rondo very often over the last two seasons and it provides yet another veteran body that Rivers can toss out there when the situation allows. Projecting a 12-man roster for the postseason, it seems unlikely Arroyo would even make that cut should Boston get all of its troops healthy (a big if for a Celtics team battered and bruised all season).
March, 3, 2011
3/03/11
2:35
PM ET

Celtics president of basketball operations Danny Ainge said Wednesday night that Boston had
agreed to terms
with free agent swingman Sasha Pavlovic and on Thursday the team made it official. Here's the release from the team:
BOSTON, MA – The Boston Celtics announced today that they have signed guard/forward Sasha Pavlovic. Per team policy, terms of the deal were not disclosed.

Pavlovic, a 6'7" guard/forward, has posted career averages of 5.4 points and 1.8 rebounds in 466 career games with stops in Utah, Cleveland, Minnesota, New Orleans and Dallas. The native of Bar, Montenegro was a part of the 2006-07 Eastern Conference champion Cleveland Cavaliers and was a starter in each game on their run to the Finals. During that 2006-07 regular season he posted a career-high average of 9.0 points per game and shot 40.5% from three-point range in 67 games. Pavlovic also shot a career-high 41.0% from three-point territory during the 2008-09 season. He has played in 10 games so far this season split between Dallas and New Orleans was a starter in seven of those contests. He has averaged 4.6 points, 1.6 rebounds, 1.1 assists and shot 50.0% from the three point line in 17.9 minutes per game in those starts.
March, 2, 2011
3/02/11
7:40
PM ET

BOSTON -- After losing out to the
Dallas Mavericks
in their quest to add freshly bought out
Corey Brewer
, the Celtics are set to sign veteran swingman
Sasha Pavlovic
to add depth at the swingman position, a league source confirmed.
UPDATE
: After Wednesday's game, Celtics president of basketball operations Danny Ainge confirmed that the team has come to terms with Pavlovic.
Pavlovic, a 6-foot-7 wing player with ability to hit the 3-pointer, provides an emergency option behind
Paul Pierce
and
Jeff Green
should the ever-present injury bug get sting-happy again in the Celtics' locker room. Boston navigated the early portion of the season with only Pierce and
Marquis Daniels
at that spot, but a freak spinal injury to Daniels led to an overhaul at the position (including the move to trade starting center
Kendrick Perkins
in the deal that brought in Green from Oklahoma City).
Celtics president of basketball operations Danny Ainge admitted the team had conversations about Brewer, but noted the Mavericks had more money to offer than Boston, which is bound to the pro-rated veteran's minimum. That's what Pavlovic will earn.
While not identifying Pavlovic during his confab with the media, Ainge hinted at a player of his mold. "I'd like to shore up the wing position," Ainge said. "I'd like to bring in someone with some experience that's not old and washed up." Ainge added that a deal for such a player could be official before night's end.
The 27-year-old Pavlovic has played 466 regular-season games and another 42 postseason appearances. He appeared in 14 games this season for Dallas and New Orleans, making seven starts (and helping his teams to a 5-2 record during those first-unit appearances).
Pavlovic has averaged 5.4 points and 1.8 rebounds for his career.
March, 2, 2011
3/02/11
8:30
AM ET
ESPN.com's Marc Stein
handicaps the race for the services of Corey Brewer, putting Boston amidst the contenders, but noting they have the least to offer the defensive-minded swingman:
It shouldn't surprise you to hear that Boston is pushing as hard for Brewer as anyone, given that the Celts tried to trade for Brewer before Minnesota sent him to New York as part of the three-way Carmelo Anthony deal. Celtics president Danny Ainge and coach Doc Rivers are said to be Brewer fans and personally lobbying him. Hard.

But Boston and San Antonio, in this case, can't compete financially with the Dallas Mavericks, who have their full mid-level exception remaining -- worth just under $4 million as of Wednesday because the figure is reduced daily from its original $5.8 million at this juncture of the season -- to comfortably exceed any offer the Celtics or Spurs could make.

The Celts actually have the least to pitch financially of the three teams, sitting more than $5 million over the luxury-tax threshold and limited to offering a pro-rated share of the league minimum just as they gave Murphy. With the Spurs only about $1 million away from the tax line and likewise only possessing cap exceptions worth $1.5 and $1.2 million, respectively, Dallas would appear to have a clear bidding advantage over their neighbors from the NBA elite, fitting as it might be to see Brewer wind up with the Spurs given the frequent comparisons linking Brewer to Bruce Bowen.

Sources say Mavericks owner Mark Cuban, like Rivers, has been lobbying Brewer to try to seal a deal. There's a decent chance that Sasha Pavlovic, who earlier this season completed two 10-day contracts with Dallas, will return to the Mavs if they don't get Brewer ... and possibly land with Boston if the Mavs do.
Click
HERE
to read the full story.
March, 1, 2011
3/01/11
1:25
PM ET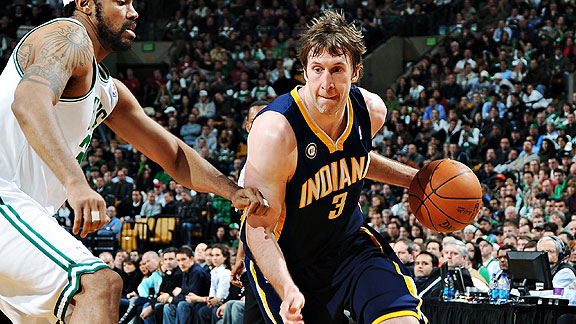 Brian Babineau/NBAE/Getty ImagesCan Troy Murphy be better than Rasheed Wallace was last season?
One of the lasting images from the NBA Finals last season was an overwhelmed
Shelden Williams
stumbling through four of the most head-shaking minutes in Finals memory during Game 2 against the
Los Angeles Lakers
. Those would have been Williams' final four minutes of action in a Boston uniform if not for the ACL injury suffered by
Kendrick Perkins
in Game 6, forcing Boston to lean on Williams for 14 minutes in the aftermath.
After spending much of their offseason beefing up their frontcourt to prevent such a reoccurrence, the Celtics likely had that image in mind while wooing
Troy Murphy
to Boston after the nine-year veteran secured a buyout from the
Golden State Warriors
this past weekend. The fact that it also prevented a chief rival from adding depth to its own paper-thin frontcourt only sweetened the deal.
The Celtics performed the textbook low-risk, high-reward addition by getting Murphy to agree to sign with Boston when he clears waivers Wednesday. The Green add a 6-foot-11 power forward who can stretch the floor with his perimeter shooting abilities and has been a rebound vacuum in past seasons.
Whether Murphy can rekindle that magic remains to be seen. If he can be anything close to the player he was for the
Indiana Pacers
during the 2008-09 season (45 percent shooter from 3-point land; tops in the league in defensive rebound percentage), then Boston just pulled off a heist by inking Murphy at the prorated veteran's minimum.
But even if he fails, the Celtics have won as well, because he'll never get the opportunity to find that spark with the
Miami Heat
.
March, 1, 2011
3/01/11
12:05
PM ET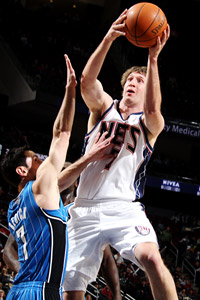 Nathaniel S. Butler/NBAE/GettyThe Celtics have won the battle for Troy Murphy's services.
From ESPN.com's Marc Stein
:
Highly coveted free agent Troy Murphy is signing with the Boston Celtics.

Murphy told ESPN.com via e-mail that he will join the Celtics after spending much of the past 48 hours agonizing between Boston and the Miami Heat. Murphy reached terms of a buyout with the Golden State Warriors on Sunday.

Murphy also received recruiting pitches this week from Portland, New York and Orlando, sources said, but the 6-foot-10 forward was always determined to sign with a top contender in anticipation of making the first deep playoff run of his career. Murphy has played in more games (639) than any other active player without appearing in the playoffs.
Click
HERE
to read the full story.
March, 1, 2011
3/01/11
3:00
AM ET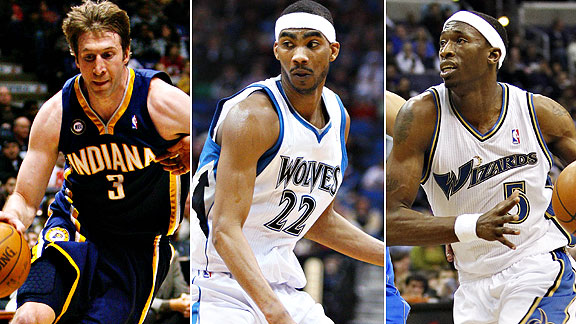 US PresswireThere's some familiar names emerging in the buyout market.
After clearing room on their roster at last week's trade deadline, the
Boston Celtics
are shopping for buyout deals. So who's on their radar? Peter May examines:
--
MAY: THRIFT SHOPPING WITH THE CELTICS
--
Troy Murphy has appeared in 639 games over 10 seasons, including a mere 18 in 2010-11. He last set foot on an NBA floor on Jan. 7, when he logged 11 minutes for the New Jersey Nets in a 97-77 loss at Washington. But he is in demand these days. When Murphy clears waivers on Wednesday, he will sign with a team that gives him the opportunity to do something he has never done: participate in an actual NBA playoff game. Yes, 10 years after being drafted No. 14 out of Notre Dame, Murphy will finally end his playoff drought. The only remaining question: where?
May examined all potential buyout candidates, including
Jared Jeffries
,
Rasual Butler
,
Jason Kapono
,
Josh Howard
,
Tayshaun Prince
,
Samuel Dalembert
,
Mike Bibby
,
Corey Brewer
,
Leon Powe
,
Dan Gadzuric
,
Vladimir Radmanovic
, and
Sasha Pavlovic
.
February, 28, 2011
2/28/11
8:25
PM ET
If it seems the
Boston Celtics
and
Miami Heat
are linked to every serviceable body obtaining a buyout this week, it's because it's practically true. Following in the footsteps of
Troy Murphy
,
Corey Brewer
and
Mike Bibby
appear to have been added to Boston's buyout watch (though Bibby sounds like a near lock for South Beach):
--
BREWER NEARS BUYOUT WITH KNICKS
--
The Knicks and Brewer are closing in on a buyout agreement that will make the former Minnesota swingman a free agent, sources close to the situation told ESPN.com.

Because Brewer will be officially released before March 1, he's eligible to play in the playoffs with another team.

Sources say Boston, San Antonio, Oklahoma City and Dallas are among the teams with the most interest in Brewer, who joined the Knicks only last week as part of the Carmelo Anthony deal.

The Celtics had previously tried to acquire Brewer from Minnesota before the Anthony trade went through.
--
BIBBY AGREES TO BUYOUT, HEADED TO HEAT?
--
Mike Bibby and the Washington Wizards have agreed to terms on a buyout.

In a stunning move, Bibby, whom the Wizards acquired from Atlanta last week in a trade for Kirk Hinrich, gave up his entire salary for next season. The 32-year-old point guard had one year and $6.2 million left on his deal.

"He sacrificed some money in order to win a championship," said David Falk, Bibby's agent. "Once you're past 10, 11 years in the league, you want to be in a situation where you can win. He's got some attractive options open to him."

Bibby is eager to sign with a title-contending team after clearing waivers, and sources say the Los Angeles Lakers, Boston Celtics, Miami Heat and Portland Trail Blazers are interested in him.
--
Forsberg's Analysis
:
Delonte West
's latest ankle injury, however minor, will leave the Celtics considering whether they need to bring in someone who can handle the ball in emergency situations, but that doesn't necessarily mean Boston needs to chase someone like Bibby (who's still on the Garden naughty list for his fair-weather fans comments from 2008). Murphy is rumored to be leaning towards South Beach as well now, which shouldn't come as too much of a surprise given the fact that there's more opportunity in Miami's frontcourt.
Brewer is the one player that Celtics' fans should be crossing their fingers for. Yes, Boston just landed
Jeff Green
to help fill that backup swingman position, but Brewer is a legitimate defender who would ensure the words "
Tony Allen
" never got muttered during the 2011 postseason. While no player obtained via the buyout market is likely to factor too heavily in Boston's postseason plans, Brewer might be the most likely of the bunch to find a way into the playoff rotation given his defensive talents.