September, 30, 2012
9/30/12
3:37
AM ET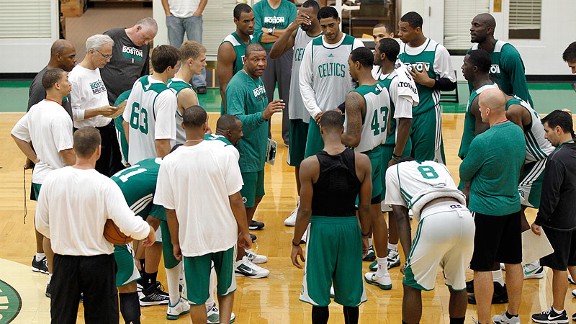 Greg M. Cooper/US PresswireThe Celtics gather around coach Doc Rivers on the first day of training camp.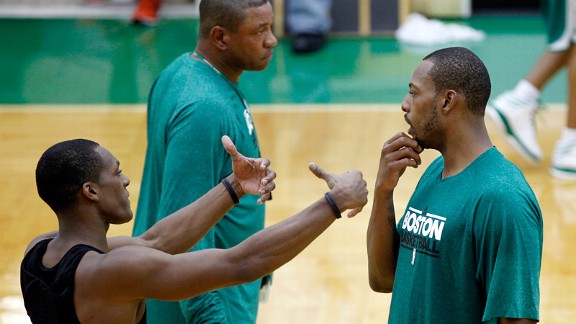 Greg M. Cooper/US PresswireIs Rajon Rondo telling Paul Pierce, "Jump on my back, Captain"?
September, 29, 2012
9/29/12
4:21
PM ET
WALTHAM, Mass. -- A handful of quick hits after the Celtics engaged in their first practice of the 2012-13 season on Saturday morning at the team's training center:
*
Focus on Green, Wilcox
: Not surprisingly, there's a heavy focus being paid to the conditioning of
Jeff Green
and
Chris Wilcox
early in camp. Green missed all of last season while undergoing surgery for an aortic aneurysm, while Wilcox missed the final three months with an enlarged aorta. Celtics coach Doc Rivers was particularly complimentary of Green's preseason shape, noting, "Jeff looked great. Actually, he had one of the better practices and I thought his conditioning was phenomenal." Later, Rivers added: "Jeff is just as healthy as everybody else. He has no restrictions or anything like that -- him or Chris. Chris we have to remember had [surgery] three or four months after Jeff, so he would be the one that, if we're going to worry about someone, it would be him. But neither one of them have any restrictions, they are fine."
*
Green can't hide his joy
: We'll have more on Green later in the day on ESPN Boston, but here's a sampling of his emotional first day back on the court: "I was trying not to smile too much during practice," he said. "I had to keep a straight face. I mean, it's hard. I let some emotions go, telling all the players that I'm happy to be back, just encouraging them. Just talking a lot for no reason, because I was just glad to be back on the floor."
*
Lee with first unit
: In the brief 5-on-5 work reporters saw at the end of practice,
Courtney Lee
was running with the first unit. Asked about his continuity with the four returning starters,
Rajon Rondo
said, "I kinda confused [Lee] a little bit, I was calling a bunch of different [plays]. But I told him where to go and he picked it up pretty quickly." Lee produced a defensive gem in front of reporters (see the video embedded above), swatting a
Jason Terry
pull-up jumper as the Celtics worked on situational late-game work (the starters were up two in the final seconds and Terry's jumper could have tied the game).
September, 29, 2012
9/29/12
4:11
PM ET
By
Greg Payne
| ESPNBoston.com
WALTHAM, Mass. --
Paul Pierce
is living proof of his own claim that health will be something of an X-factor for the Celtics this season. He enters training camp fully healthy, which is a far cry from his physical state when camp opened last December.
The start to Pierce's lockout-shortened season last year was derailed by a bone bruise in his right heel -- an injury that healed slowly and left Pierce scrambling to get back into game shape. He's grateful to not have to face those early season obstacles.
"It's definitely an advantage just to be able to come out here, be already in shape. Last year, injuries hampered me coming into training camp," Pierce said after the team's first official practice Saturday. "So, I can get off to a better start this year, hopefully, knock on wood, that I can get through training camp, get through preseason without any injuries, so I can get off to a better start this year. I think it's important that we stay healthy, it's important that we get off to a good start."
Pierce said it took him nearly half of the season last year to finally feel healthy again.
"Probably after the All-Star break, truthfully," Pierce said. "I got a good rhythm after the All-Star break, I got my legs up under me. First half, I was pretty inconsistent because of the lack of practice time and the injuries. Last year, with the way things went, we didn't get a lot of practice time, so I thought after the All-Star break I really got into a rhythm, and hopefully the way I played after the All-Star break, I can start off that way this year."
September, 29, 2012
9/29/12
3:45
PM ET
WALTHAM, Mass. -- The
Boston Celtics
officially opened the 2012-13 season with a near-three-hour practice on Saturday morning at the team's training center, but this was hardly their first time together in the gym.
Rookies had been in Boston for the better part of the past three months working out, while many of the veterans arrived in early September. Earlier this month,
Rajon Rondo
organized a field trip to Los Angeles for informal workouts in the backyard of fellow team leaders
Paul Pierce
and
Kevin Garnett
.
All of which meant it probably didn't actually feel like the first day of camp, right?
"No, it felt like Day 1 of camp," quipped Rajon Rondo. "It felt like it."
Yes, even with all the informal workouts, it's going to take these Celtics some time to get in the sort of shape that coach Doc Rivers prefers.
"It's a different conditioning," said Rondo. "You can run as much as you want on a treadmill, but once you get on the court, it's a lot of stop and go, a lot of contact. So everyone is not in tip-top shape, but that's why we have training camp."
Even with strides to make, the Celtics are well ahead of where they stood when camp abruptly opened after the lockout lifted last year. Rivers said numerous times last season that Boston's lack of conditioning, which left it injury prone in the early going, likely contributed to the team's lackluster start (something it didn't emerge from until after the All-Star break).
This year there's an urgency, even as the team prepares for a marathon 82-game slate. The Celtics have a four-day jump on much of the league (camps are only open to those competing internationally this preseason), but Boston went hard in its first session.
"It was a good day," said Rivers. "We had a pretty good practice. Some guys are in great shape, some guys are in average shape. But overall, with all the numbers, I thought it was a good practice."
September, 26, 2012
9/26/12
10:10
AM ET
Jesse D. Garrabrant/NBAE/Getty ImagesThe Celtics take a team picture outside The Colosseum in Rome in 2007.
BOLTON, Mass. -- The Boston Celtics will spend nearly a full week overseas at the start of October as part of the NBA Live Europe 2012 series, but if coach Doc Rivers had his druthers, it would have been an extended European vacation.
Unlike the team's chemistry-forming trip in 2007 -- coming off a summer that brought Kevin Garnett and Ray Allen to Boston -- the Celtics will hold a few days of training camp stateside this year before trekking to Istanbul and Milan for a pair of games to kick off their exhibition slate.
"I'm looking forward to it," Rivers said Tuesday at the team's golf tournament at The International. "I really wanted to, actually, go the first day after Media Day [on Friday]. We just couldn't do it for whatever reason. But I can't wait to go."
For Rivers, there's some uneasiness about splitting up training camp while making the trek across the Atlantic, but he believes the trip will almost certainly be a good thing for his squad.
"I haven't done it this way. The way we did it in [Rome and] London, we went right away, and we had camp over there. And I thought that was terrific," said Rivers. "This way, where you kind of cut up your camp, I'm not a big fan of that. But I do think it will have something. It'll be good for us. I just think when you're traveling together like this overseas, it's always pretty good."
Rivers still has a picture of the team outside the Colosseum (like the one above) from the 2007 trip hanging in his office. Players credited that trip with aiding how quickly the 2007-08 team forged its Ubuntu bond, which culminated later with Boston's 17th world title.
This year's squad has already made great strides to creating their own bond, most notably with Rajon Rondo organizing team workouts in Los Angeles in advance of the start of camp. Newcomer Jason Terry humorously feigned ignorance about the Los Angeles workouts on Tuesday, unsure if that was public knowledge, but fellow newcomer Jason Collins raved about what he saw on the west coast.
"It was impressive watching the pickup games and the depth that we have," said Collins. "We have a lot of good players, a lot of talent on this team."