Boston Celtics:

Cedric Maxwell
February, 2, 2012
2/02/12
3:33
PM ET
Steve Babineau/NBAE/Getty ImagesRadio tag team: Cedric Maxwell and Sean Grande.
The Boston Celtics will honor the radio tandem of Sean Grande and Cedric Maxwell before their 1,000th broadcast together prior to Friday's visit from the New York Knicks.
"The entire Boston Celtics organization would like to congratulate Sean Grande and Cedric Maxwell on their 1,000th broadcast together," said Celtics president Rich Gotham, who will be part of a pregame ceremony. "Grande and Max have become the voices of the Celtics on the radio for a whole generation of fans. They have exhibited great chemistry and professionalism throughout their partnership and we look forward to many more seasons of high quality play-by-play and analysis from them."
A quick rundown of the duo's history, courtesy of the Celtics:
Grande and Max began calling Celtics games together in 2001 on 1510 AM. In 2005, the game broadcasts moved to WRKO, and in 2007 to their current home on WEEI. During their 1,000 broadcasts, Grande and Max have provided the call for some of the great moments in Celtics history, including, Game 5 of the Eastern Conference quarterfinals against the Philadelphia 76ers, which marked the team's first playoff series win since 1992; the Celtics historic comeback in the 2002 Eastern Conference finals against the New Jersey Nets; "Max Night" when Maxwell's number was retired on Dec. 15, 2003; the epic Game 7 against Cleveland in 2008 Eastern Conference semifinals; and, of course, the night the Celtics won Banner 17 defeating the Los Angeles Lakers on June 17, 2008.
Mike and Tommy aside, the Garden hasn't seen a historic tag team moment like this since the Rock 'n' Sock Connection
took the WWF tag titles
from The Unholy Alliance back in August on 1999.
August, 15, 2011
8/15/11
8:52
AM ET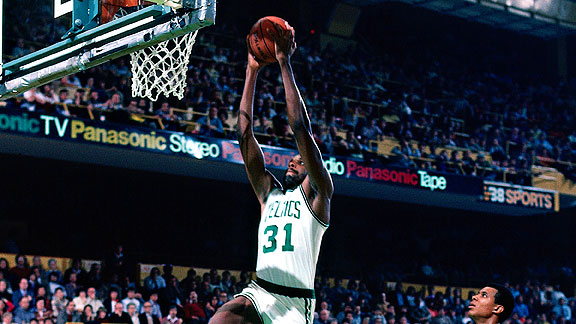 Dick Raphael/NBAE/Getty ImagesCedric Maxwell drives to the basket in his playing days.
All this week ESPN Boston will be chatting with Celtics legends, who will be discussing some of their favorite memories from their playing days, Paul Pierce's place in Celtics history, the team's aging core, and a slew of other topics. Today we check in with Cedric Maxwell, who was named NBA Finals MVP in 1981 while helping the C's take home their 14th championship in franchise history. Maxwell spent eight seasons in green, and had his number 31 retired by the team back in 2003.
What's your favorite memory from your playing days?
"Probably 1984, beating the Lakers. That was the best."
Was it your personal play that stood out or just winning in general?
"Just winning it. Beating somebody you really didn't like. I think that was the best."
You still reside in the area today. What's stuck out most to you about Boston over the years?
"Watching the city grow. Becoming more ethnic-friendly I would say. I think that's what I really like about the city. I've seen more diversity, I've seen how the city has grown, and I was one of those people that said I was never going to live here again, and I've been back here over 16 years."
Where would you rank Paul Pierce among all of the Celtic greats?
"Probably about 34th [laughs]. Paul's a great player, there's no doubt about it. I don't know where he would line up, because there [have been] so many great players with the Celtics. I mean, that is a Hall-of-Fame class that you look at. I always tease Paul, 'You might start on this championship team, but you couldn't have started for my championship team.' So, I have a lot of fun with him, but absolutely, Paul is a great player."
Can the C's still compete this season with their core another year older?
"Amazing. Absolutely amazing. I'm astounded by just how well they have done to preserve themselves. Kevin's still in amazing shape, Ray's in amazing shape, Paul. So you've got three guys who are 35 plus, I guess, who are still top athletes, and that to me -- I think that really shows the character of what this team has been about."
What are your thoughts on Doc Rivers as a coach and the ongoing respect he has earned from his veteran players?
"It just shows you his amazing shelf life. As you said, there are a lot of coaches who are screamers and yellers. Doc has become a personal friend, and you don't see that a lot with coaches and players. Normally, it's us against him. But Doc Rivers has made it about them, and he and everybody and the top players he has, have bought into that. And that's made it easier for him to connect. He made a point early on of saying, 'This is Kevin, Paul, and Ray's team,' and he gave them the ultimate respect. And in turn, they kicked it back on the other side and had the team do what they needed to do."
Greg Payne is a student intern for ESPNBoston.com