September, 26, 2012
9/26/12
10:10
AM ET
Jesse D. Garrabrant/NBAE/Getty ImagesThe Celtics take a team picture outside The Colosseum in Rome in 2007.
BOLTON, Mass. -- The Boston Celtics will spend nearly a full week overseas at the start of October as part of the NBA Live Europe 2012 series, but if coach Doc Rivers had his druthers, it would have been an extended European vacation.
Unlike the team's chemistry-forming trip in 2007 -- coming off a summer that brought Kevin Garnett and Ray Allen to Boston -- the Celtics will hold a few days of training camp stateside this year before trekking to Istanbul and Milan for a pair of games to kick off their exhibition slate.
"I'm looking forward to it," Rivers said Tuesday at the team's golf tournament at The International. "I really wanted to, actually, go the first day after Media Day [on Friday]. We just couldn't do it for whatever reason. But I can't wait to go."
For Rivers, there's some uneasiness about splitting up training camp while making the trek across the Atlantic, but he believes the trip will almost certainly be a good thing for his squad.
"I haven't done it this way. The way we did it in [Rome and] London, we went right away, and we had camp over there. And I thought that was terrific," said Rivers. "This way, where you kind of cut up your camp, I'm not a big fan of that. But I do think it will have something. It'll be good for us. I just think when you're traveling together like this overseas, it's always pretty good."
Rivers still has a picture of the team outside the Colosseum (like the one above) from the 2007 trip hanging in his office. Players credited that trip with aiding how quickly the 2007-08 team forged its Ubuntu bond, which culminated later with Boston's 17th world title.
This year's squad has already made great strides to creating their own bond, most notably with Rajon Rondo organizing team workouts in Los Angeles in advance of the start of camp. Newcomer Jason Terry humorously feigned ignorance about the Los Angeles workouts on Tuesday, unsure if that was public knowledge, but fellow newcomer Jason Collins raved about what he saw on the west coast.
"It was impressive watching the pickup games and the depth that we have," said Collins. "We have a lot of good players, a lot of talent on this team."
March, 27, 2010
3/27/10
9:35
AM ET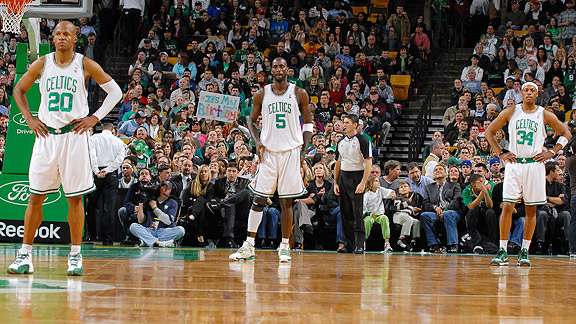 Brian Babineau/NBAE/Getty ImagesThe Big Three got more court time than
Doc Rivers
wanted Friday.
Despite winning six of their last seven games and boasting a season-long five-game winning streak at home, if there was one lament of the Celtics following Friday's closer-than-it-should-have-been triumph over the Kings, it's that the team is still struggling to put a full 48 minutes together.
The Celtics have endured a number of second-half collapses at the Garden this season. And while they've at least figured out a way to ultimately win these games -- at least for the past two weeks -- it's still a troubling trend that coach Doc Rivers would like to see end sooner than later.
On Friday, Rivers watched his team open a 24-point lead on numerous occasions both before and after halftime. The Celtics would have liked to lean on their bench the rest of the game after the lead spike at 24 with 2:53 to play in the third quarter, but that's when the wheels starting coming off a bit and the Kings ultimately rallied to within six points by the same point in the fourth quarter.
"I thought we stopped playing," said Rivers. "I wasn't real happy with it. It was really difficult for me to put the starters back in. I was just not going to -- but I did. It wasn't the bench's fault either and I told the starters that. I think it was [a] 24[-point lead], I don't even know what it was, but I thought before [the starters] went out it was 18, and I thought that was the difference. [The Kings] had a chance. We had the ball three or four or five times with the 24-point lead, had a chance to get it to 30, and I thought we didn't because of the way we started playing. And that allowed them to get to 18.
"Without Nate [Robinson, injured ankle], putting Tony [Allen] in at the point, I just though, now their margin of error was a four-point swing and [the bench] had to come out. So I didn't think it was fair to the bench. It looked like it was the bench's fault, and it really was not. But we won the game, and that's what you're trying to do. The only thing is, we're trying to become a 48-minute team and we were not. I told them, I'm not going to let that cloud how well we played for two and a half quarters. That was terrific basketball. We were getting stops, the ball was moving. And everything was great. So, overall when I watch the film, I'll watch that."
Kevin Garnett
and
Rajon Rondo
were asked if they were disappointed they had to come back in and there was a pregnant pause before they answered.
"No, I mean we were set up right there, to blow the game open, and I will admit we didn't do a really good job at finishing the game off," said Garnett. "But I thought that we came out with pretty decent energy. For the most part, we didn't ... give the bench enough room for error, if you will, to come in and play and make mistakes and all of the that. We were down a couple of guys and all of that other stuff.
"We know we can play better, we will play better, but we never mind playing. You don't want to get that messed up, or misconstrue anything like that. When you play, you play to open up the lead, and get a certain margin so that you have the freedom to sit down. But any time you have to come in the game, that's cool either way."
December, 14, 2009
12/14/09
4:28
PM ET
After a steady climb, the Celtics are back on top of Marc Stein's weekly
ESPN.com Power Rankings
.
The Celtics vault two spots to No. 1 this week, leapfrogging the Lakers and Magic in the process. Writes Stein: "It's true that the list of victims during Boston's 10-game win streak won't blow you away. Yet it's also true that seven of the 10 wins were roadies, which always says something, especially given L.A.'s soft schedule."
Also noteworthy is the biggest gainer of the week: the Memphis Grizzlies, who hop up five spots to No. 16. Writes Stein: "Yes, Zach Randolph should have been on the All-Star ballot. Yes, Rudy Gay has the whole league buzzing. Yes, Memphis is 4-1 in December and tempting us to use the R word --
riveting
-- even without Mr. Iverson."
Check out
this week's rankings
, or
give us your own rankings
.
The Cetics also remain on top of John Hollinger's
weekly statistical rankings
.
December, 8, 2009
12/08/09
8:57
PM ET
BOSTON -- Celtics coach Doc Rivers admitted he campaigned for Steve Pagliuca's Senate run, but couldn't vote in Tuesday's primary because he's not registered in Massachusetts.

"No, I vote in Florida," Rivers told reporters before Tuesday's game against the Bucks. "I'm off the hook. I did do some campaigning. I hope [Pagliuca] does well. I don't know what the results [will be], but I did [campaign]. I don't know if anyone listened to me, but if they did, good."

Pagliuca, a co-owner and managing partner of the Celtics, was one of four Democrats running for the seat vacated after the death of Edward Kennedy. Early returns had Pagliuca running well behind the lead.