November, 10, 2010
11/10/10
4:45
PM ET
AP Photo/Sue OgrockiGlen Davis steps up and takes a charge from Russell Westbrook Sunday in Oklahoma City.
It's the most thankless of NBA tasks (and one of the most challenging to perfect), but
Glen Davis
is now up to a eye-popping 14 charges taken this season through eight games (six times already he's drawn two charges in a game).
Here's a look at the Celtics' charge taken leaderboard (which Davis is dominating) and a look at the full rundown on infraction induction this season:
CELTICS CHARGE LEADERBOARD
1. Glen Davis - 14; 2.
Jermaine O'Neal
- 2; 3. (tie)
Semih Erden
,
Shaquille O'Neal
,
Nate Robinson
1.
Here's the complete rundown:
OCT. 26 vs. MIAMI (2)
1:43 (1st) - Davis (
LeBron James
)
8:43 (4th) - Davis (
Dwyane Wade
)
OCT. 27 vs. CLEVELAND (4)
09.7 (1st) - J.O'Neal (
Daniel Gibson
)
8:16 (2nd) - Robinson (
Ramon Sessions
)
6:25 (4th) - Davis (Sessions)
35.6 (4th) - Davis (
J.J. Hickson
)
OCT. 29 vs. NEW YORK (2)
9:45 (1st) - S.O'Neal (
Amare Stoudemire
)
2:18 (1st) - Davis (
Wilson Chandler
)
NOV. 2 vs. DETROIT (2)
4:26 (1st) - Davis (
Ben Gordon
)
2:44 (1st) - Davis (
Ben Wallace
)
NOV. 3 vs. MILWAUKEE (3)
1:15 (2nd) - Davis (
Ersan Ilyasova
)
4:52 (3rd) - Davis (
Drew Gooden
)
10:08 (4th) - Erden (
Corey Maggette
)
NOV. 5 vs. CHICAGO (3)
10:51 (1st) - J.O'Neal (
Luol Deng
)
45.1 (1st) - Davis (Deng)
9:34 (2nd) - Davis (
James Johnson
)
NOV. 7 vs. OKC (2)
11:07 (2nd) - Davis (
James Harden
)
7:08 (2nd) - Davis (
Russell Westbrook
)
NOV. 8 VS. DALLAS (1)
16.7 (2nd) - Davis (
Caron Butler
)
Our good friend Jason Ouellette from Red's Army put together a
compilation video
of Baby's charges if you want to watch the charge wizard in action.
October, 13, 2010
10/13/10
12:58
AM ET
PHILADELPHIA -- Standing next to each other on one side of the paint,
Boston Celtics
teammates
Jermaine O'Neal
and
Glen Davis
saw, at precisely the same moment, a Sixers ball-handler ready to drive from the opposite baseline.
Like two shoppers racing for a must-have Christmas gift on Black Friday, the two practically pushed each other out of the way trying to scramble over and draw an offensive foul.
In a way, it seemed appropriate. These two figure to be pushing each other to take charges all season long.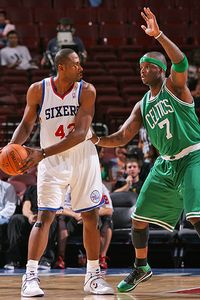 Joe Murphy/NBAE/Getty ImagesJermaine O'Neal has struggled offensively, but his defense has impressed Doc Rivers.
"It's a contest this year: Who can draw the most charges," O'Neal said after the game with a big grin. "And I believe I'm going to win it."
After making his debut Sunday, O'Neal anointed himself the undisputed charge champion of the world. All he's missing is a
Rasheed Wallace
-like title belt. It's an art he takes great pride in and isn't bashful about telling one and all how good he is at it.
Even if someone who disagrees with him happens to wear stripes.
The charge tally during Boston's 103-92 preseason loss to the Sixers on Tuesday between O'Neal and Davis was at one apiece when O'Neal stepped in as
Andres Nocioni
plowed into him while driving baseline in the third quarter.
The whistle blew and O'Neal looked up from the ground expecting to see the referee pointing in the opposite direction. Instead, the referee's fists hit his hips indicating a blocking foul on O'Neal, who then earned a technical foul for voicing his displeasure while on his back.
That's how serious O'Neal is about taking charges.
Click
HERE
to read the full story.