Boston Celtics:

ChargeWatch
January, 22, 2013
Jan 22
8:15
AM ET
Our occasional glance at the Celtics' team leaders in charges taken, with help from data logged by Synergy Sports:
16 - Rajon Rondo
15 - Jared Sullinger
8 - Paul Pierce
6 - Jason Terry
5 - Kevin Garnett
4 - Avery Bradley, Jeff Green
3 - Chris Wilcox, Jason Collins
1 - Brandon Bass, Courtney Lee
The Celtics have committed more charges (87) than they've taken (66). Chief offenders? Garnett (16), Rondo (11), Sullinger (10) and Green (10).
January, 11, 2013
Jan 11
8:00
AM ET
Jim McIsaac/Getty ImagesJared Sullinger absorbs an elbow from Tyson Chandler.
WALTHAM, Mass. -- Doc Rivers had hoped to keep dinged-up center
Jason Collins
on the bench during Wednesday's visit from the Suns, but as Phoenix made a third-quarter surge to take the lead, the Celtics' coach was begrudgingly forced to insert Collins into the game for size.
Collins admirably attempted to give up his body -- despite nursing hamstring and ankle injuries -- late in the third frame, absorbing contact from
Luis Scola
in the paint as he dished the ball to
Marcin Gortat
for a layup. Collins hit the floor hard, but didn't get a whistle. That's when Rivers lost it, earning only his second technical foul of the season while screaming at referee Josh Tiven as play proceeded back up court.
"I ask my guys to take charges, and when they don't get them, that's one of those push-button things for me, because that's a physical play and this guy is injured, he's out on the floor, and he takes a pretty good charge," Rivers said during his weekly appearance on Boston sports radio WEEI on Thursday. "And, you know, the official at that time just said, 'No,' and kind of waived his hands like, 'Get up, you're flopping.' That upsets you as a coach because a lot of teams around the league don't take charges, and our guys are willing to put their bodies in harm's way, and I felt like he should have got the charge."
Before his team practiced on Thursday, Rivers elaborated on the importance of taking charges.
"I love charges, I just think it just breaks the spirit," said Rivers. "They think they're going to get a layup, they don't see anyone blocking their shot, and somebody does that, takes the hit, and you see the other team picking the guy up. It's a frustrating play. And it makes you not want to drive anymore. Because a charge is physical for both guys, not just for the guy taking it. The guy driving doesn't like falling to the floor either. It's just a good play. I do get upset when a guy takes one and they don't give it. It's almost like there's a rule sometimes that if you take two or three, well, we can't give you five charges in a game. And I always say, 'Well, why not?'"
With that in mind, here's an updated look at Boston's individual leaders in charges taken (54 total) this season with help from data logged by Synergy Sports:
14 -
Jared Sullinger
13 -
Rajon Rondo
6 -
Paul Pierce
,
Jason Terry
5 -
Kevin Garnett
3 -
Chris Wilcox
, Collins
2 -
Jeff Green
1 -
Avery Bradley
,
Brandon Bass
0 -
Courtney Lee
,
Leandro Barbosa
And, on the opposite end of the spectrum, here are Boston's individual leaders in charges committed (72) this season:
13 - Garnett
9 - Green, Rondo, Pierce
7 - Sullinger
6 - Bass, Wilcox, Collins
2 - Terry, Lee, Barbosa
1 - Darko Milicic
November, 9, 2012
11/09/12
5:00
AM ET
Jared Wickerham/Getty ImagesJared Sullinger's ability to rebound and draw charges is a big reason he's in the starting lineup.
BOSTON -- Even as a young hoopster,
Jared Sullinger
understood the value of taking a charge.
"Freshman year [at Northland] High School [in Columbus, Ohio], playing against this [rival] team called Beechcroft High School," explained Sullinger. "We were up by one, guy came down the lane, I took a charge -- we won the game off of that and so I just understand what charges do for a basketball team. One, it's a turnover; two, it's a personal foul; three, you get the ball back, so you've got to sacrifice your body in this game."
The Celtics have employed some of the finest charge-takers in the game in recent seasons (
Glen Davis
,
Jermaine O'Neal
) and it appears Sullinger will carry that giving-up-your-body torch.
In four games, Sullinger has drawn a team-high three charges (of seven overall taken by Boston) and he probably deserved at least one more if not for rookie whistles in Washington. Sullinger has been getting it done with the help of some trickery that dates back to his high school days.
"When people see somebody -- at the time I was maybe 6-7, 6-6, 6-5, around there, and guys would always see me as a shot-blocker," said Sullinger. "I don't know why, but they would always see me as a shot-blocker, so what I did was, I acted like I'm going to go block the shot, I'd just stop and take the charge."
That move is still working in the pros, where Sullinger leans on his basketball IQ to make up for the size he gives up. Does he worry about wear-and-tear from giving up his body, the type that sidelined Davis and O'Neal at times during their Boston days?
"I think I've got enough cushion on my body to take that, so it doesn't really hurt me," said Sullinger. "I don't know about the other [players], but it doesn't hurt me."
January, 31, 2012
1/31/12
6:00
AM ET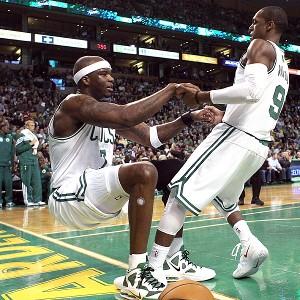 Elsa/Getty ImagesDespite the occupational hazard, Jermaine O'Neal keeps giving up his body for charges.
Tracking charges drawn is an inexact science because of the somewhat subjective nature of the call, but our good friends at HoopData are tracking the stat this season and it offers a glimpse into just how impressive Celtics center Jermaine O'Neal has been at giving up his body this season.
According to the site's stats, O'Neal currently ranks fourth in the NBA having drawn 15 charges in 15 games. He trails only Minnesota's Ricky Rubio (18), Sacramento's DeMarcus Cousins (17), and Washington's John Wall (16). But here's the more impressive part: all three of those players have at least four more games played and at least 200 more minutes of court time. Break it down by charges per minute played and O'Neal (one every 22.9 minutes) is far and away the leader in the clubhouse.
What's more, the league average is three charges with 334 minutes played. That means O'Neal is five times above the league average in his 343 minutes played.
The downside: O'Neal endures his fair share of injuries from giving up his body, including the most recent ailment -- a left knee bruise -- from taking a charge from Orlando's Hedo Turkoglu in last Monday's win.
"I'm still negotiating right now with [Celtics president of basketball operations] Danny [Ainge] on [contract] kickers," O'Neal joked last week. "They told me the other day that I'm second in the league in charges behind two guys that are tied for first. But I'm playing a lot less minutes, I'm playing like 20 minutes per game. Which I don't think the league's ever even seen that -- a guy that block shots and takes charges. It's a tough job to do. Basketball is about giving up your body. You don't stop, you can't stop because you don't want to be hurt. We are vulnerable to getting hurt on any given play -- a charge, or just running up and down the court. So, if that's what this team needs, I'm going to do it."
According to HoopData stats, Rajon Rondo and Keyon Dooling are second on the team having drawn six charges apiece. If an official charge metric existed last season, Glen Davis might have set an NBA record after establishing an insane pace at the start the season (nearly two per game before tapering late).