Boston Celtics:

Chris Paul
March, 12, 2012
3/12/12
11:05
AM ET
Brian Babineau/NBAE/Getty ImagesFor the first time since trade rumors swirled in December, Chris Paul and Rajon Rondo meet Monday.
LOS ANGELES -- Back in November of 2009, Celtics point guard Rajon Rondo and then-New Orleans Hornets guard Chris Paul got into an on-court dust-up that forced a referee to separate the two players, escalating an already budding rivalry between the two young point guards.
After the game, Kendrick Perkins, no stranger to the double-technical dance, said, "Sometimes you get into a little noise, talking, but it ain't nothing serious, I don't think. It's nothing personal."
Well, now it is personal.
Coming out of the lockout in December, the Celtics made a full-court press to pry Paul from the New Orleans Hornets, willing to part with Rondo in order to accomplish that. When Boston failed in its quest (and Paul eventually was dealt to the Los Angeles Clippers), Celtics president of basketball operations Danny Ainge stressed to Rondo how it was a compliment for his name to be mentioned in trade talks with one of the league's elite players and has since made sure to note how Rondo is Boston's best player.
But it's no secret what fuels Rondo. He often takes his play to another level on big stages against big opponents (just ask Jeremy Lin and the New York Knicks after the 18-point, 17-rebound, 20-assist effort Rondo produced earlier this month). On Monday night, Rondo and Paul meet for the first time since the trade talks in a nationally televised battle (10:30 p.m., ESPN) and you can't help but wonder how Rondo will respond.
Before Sunday's tilt with the Lakers, we spotlighted
Rondo's affinity for the national spotlight
. The question for Monday is simply whether Rondo can prevent getting too hyped going against Paul.
Here's a game-by-game glance at how Rondo has fared as a starter in head-to-head matchups with Paul:
Overall, in eight career starts against the Hornets (one game without Paul), Rondo is averaging 11.4 points, 6.1 assists, and 3.6 rebounds over 33.4 minutes per game. His offensive game seems to pick up a bit as he's shot 50 percent (39 of 78) in that span. As for Paul against Boston, in 11 career matchups, he's averaging 16.3 points, 8.9 assists, and 5 rebounds over 35.3 minutes per game.
One thing seems certain: Monday's game won't lack for intrigue. Simply watching the Rondo-Paul matchup should be excellent theatre.
December, 15, 2011
12/15/11
6:00
AM ET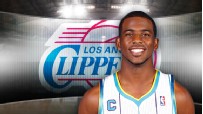 Chris Paul
is (finally) on the move ...
CLIPPERS LAND PAUL FROM HORNETS

The Los Angeles Clippers have acquired guard Chris Paul in a trade with the league-owned New Orleans Hornets. The Clippers will send guard Eric Gordon, center Chris Kaman, forward Al-Farouq Aminu and Minnesota's unprotected 2012 first-round pick to the Hornets for Paul. The Clippers will also receive two future second-round picks.
So what's the fallout here for the Celtics? A few thoughts:
1. The Celtics are more likely to collect an additional first-round pick for this summer's draft. As part of the
Jeff Green
-for-
Kendrick Perkins
swap in February, Boston obtained the Clippers' 2012 first-round draft pick. It was top 10 protected, but that should no longer be an issue given the overall talent Los Angeles now boasts. Considering that the 2012 draft could be loaded with talent, that's a nice asset to have, even if the pick will probably be lower than previously imagined (assuming, of course, Paul does indeed make the Clippers a better team).
2. Boston's visit to Los Angeles for a Hollywood doubleheader against the Lakers and Clippers in early March just got a whole lot more interesting. The lockout cost the Clippers a visit to Boston, so that March 12 battle -- one day after a rivalry game with the Lakers -- will be the only time that Celtics fans get a glimpse of the new-look Clips.
3. Celtics guard
Rajon Rondo
, the subject of numerous Paul trade rumors earlier this offseason, can stop worrying if Boston might make a big-splash move to obtain a player that Celtics president of basketball operations Danny Ainge had lusted over. Those flirations seemingly died last week. Regardless, that Rondo vs. Paul matchup on March 12 should be phenomenal theatre.
December, 5, 2011
12/05/11
10:25
PM ET
Mark J. Rebilas/US PresswireWould you trade for Chris Paul without a long-term extension?
The likelihood that the
New Orleans Hornets
trade
Chris Paul
seemingly increased Monday
, which will do nothing to quiet the speculation in these parts about whether the Celtics would be interested in obtaining New Orleans' star point guard. The question now becomes, would Boston be willing to acquire him even without the benefit of a long-term extension in place?
From
ESPN.com's Chris Broussard and Marc Stein
:
There is also a small handful of teams that has informed the Hornets they are prepared to trade for Paul with no assurance that they can keep him beyond this season. That list, sources say, includes the Rockets, Boston Celtics and defending champion Dallas Mavericks.

Each of those teams would be gambling that Paul would be won over by his new surroundings and either elect to play out the final season of his current contract (valued at $17.8 million in 2012-13) or opt out of his contract on July 1, 2012, and sign a new deal. Paul's 2011-12 salary is listed at $16.4 million.

Boston would appear to have the most to offer in such a scenario if the Celtics are willing to include point guard Rajon Rondo, but sources say that the Hornets are convinced that they can receive more from any of the so-called gambling teams than from the Knicks, who are widely regarded as Paul's No. 1 preferred destination.
Initially, the suggestion that Paul wouldn't ink a long-term deal with Boston was seen as a potential deal-breaker. Now it seems Celtics president of basketball operations Danny Ainge might be willing to roll the dice a bit in order to obtain one of the league's elite players.
Ainge came out last week and said the Celtics have "no intentions" of trading their own star point guard, Rondo, but he never said he wouldn't pull the trigger on the right deal. In fact, he stressed that it's his job to gauge the value of his assets and make the best moves for the long-term interest of his team. What's more, Ainge's lust for Paul is well-documented, including a near draft-night deal in 2005 that would have shipped out
Paul Pierce
in exchange for the opportunity to select Paul.
Why in the world would Boston consider a one-year deal -- particularly in a shortened season -- when Rondo is under contract for the next four years? One answer is that the Celtics might think they can win over Paul once he's here, with Boston's winning tradition and maybe the league's premier coach -- a former point guard himself -- able to convince Paul this is where he should be for the long haul.
But even if all attempts to re-sign him failed, the Celtics still would have a pair of safety nets. Boston could always swing a sign-and-trade next offseason or simply take advantage of shedding even more money off their books and becoming big players in free agency. The Celtics are already lined up to trim nearly $38 million in salaries between
Kevin Garnett
,
Ray Allen
, and
Jermaine O'Neal
(and the team could free even more cash if it amnestied Pierce and the two years, $31 million owed after this season).
But here's one other thing to ponder: Maybe the Celtics simply are unsure if Rondo's the player they want to build around after this season. Maybe there's legitimate concern about whether he's the sort of player that can draw other big-name stars to Boston and form the next core of this team in the post-Big Three era. Ainge said last week that he loves Rondo, but general managers have to look past emotions when examining the long-term interest of their club. The Celtics might truly believe in Rondo and his talents, but if they don't see him as the cornerstone of next season's roster overhaul, maybe there's motivation to try their luck with one of the league's biggest stars.
And maybe the most important thing to remember in all of this is who's at the controls for the Celtics. Ainge has absolutely no fear when it comes to shuffling his personnel with the goal of winning it all (last year certainly proved that). Even though it might shake up the chemistry, Ainge might believe that adding Paul would maximize the chances of winning this season in the potential last go-round for Boston's Big Three.
Ainge has rolled the dice before and bringing in Paul without a long-term extension in place would be another gamble he's likely willing to take.
August, 1, 2011
8/01/11
3:05
PM ET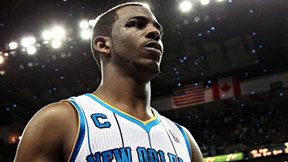 Derick E. Hingle/US PresswireChris Paul in Boston in 2012?
In a
series of 2012 free agent profiles
, ESPN Insider examined New Orleans point guard
Chris Paul
Monday. While trying to identify where Paul might land given his looming free-agent status, ESPN.com's Ric Bucher suggests
Boston is his "best fit"
and delivers a potential trade scenario next offseason (let's stress here that this is merely speculation and not fueled by any sort of actual trade dialogue -- we are in the midst of a lockout, after all):
His situation is muddied by the fact the league, in essence, owns him, since it currently controls the team. (Let's put aside, for the moment, how potentially rife with accusations of conspiracy that scenario is.) As much as CP3 would like to play in New York -- and I'd like to see him battling for Gotham with his longtime rival and current Nets point guard Deron Williams -- the Knicks have no chance of adding him as a free agent with Amare Stoudemire and Carmelo Anthony already on the books.

Since there is no obvious spot, I'm going to go off the boards and have him land in Boston in a deal for Rajon Rondo. Rumors of such a deal already made the rounds once. New Orleans does a sign-and-trade -- the owners' proposed new max salary of $11 million would make it a straight-up trade -- to get a great young point guard to build around rather than come up empty. Paul, meanwhile, gets the chance to squeeze one more ring out of Boston's existing Big Three; why wouldn't Ray Allen and Kevin Garnett re-sign to cap-friendly terms to give it to him?
The Celtics are scheduled to have plenty of cap room after the 2011-12 season -- assuming there is one -- with Garnett and Allen set to come off the books. They'd likely have enough cash to sign Paul without needing a trade to facilitate, but that scenario leaves them with two of the game's top point guards, an unlikely situation.
Give us your take in the comments: Would you approve of such a deal?
November, 1, 2009
11/01/09
7:36
PM ET
By
Brian MacPherson
| ESPNBoston.com
BOSTON -- Rajon Rondo had nothing to say about New Orleans' Chris Paul in the locker room after the Celtics' win on Sunday. He and Paul both had said plenty out on the court.
The two point guards drew matching technical fouls in the first half and had to be restrained from each other following the final whistle.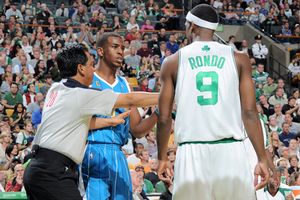 Brian Babineau/NBAE/Getty Images
A referee had to get in between young point guards Chris Paul and Rajon Rondo when things got heated Sunday night.
Paul remained out on the court even after Rondo had been dragged back to the Celtics' locker room, and the incident quickly died down from there. While Rondo didn't say anything about the scene, both Paul and Rondo's Celtics teammates downplayed it.
"Rondo is such a competitive player," Paul Pierce said. "You also know that Chris Paul is so competitive. Those guys, they compete. Every time they match up with one another, they expect each guy to go at one another."
Rondo had the upper hand on Paul early, finishing the first half with seven points and six assists to his rival's five points and three assists. Even more important, Rondo's Celtics went into the locker room with a nine-point lead.
But Paul took over in the third quarter, scoring 14 points in the first 12 minutes of the second half as the Hornets stormed back into the game. He finished with 22 points and eight assists.
"You like to see that," said Hornets guard James Posey, who played with Rondo in Boston two seasons ago. "It's not bad at all. That's all it is: It's two competitive guys butting heads."
Said Celtics center Kendrick Perkins, "Sometimes you get into a little noise, talking, but it ain't nothing serious, I don't think. It's nothing personal. They just like going at it. ... It started from the first time they got the double tech and kept going, but that's expected. They're both talented guards that are young in this league and proving something, and when you get a good matchup like that, they're going to go at it."
But what about how upset the Hornets' point guard looked?
"I just have that expression on my face sometimes," Paul said. "I'm a funny guy like that."
November, 1, 2009
11/01/09
1:37
PM ET
By
Brian MacPherson
| ESPNBoston.com

BOSTON -- Chris Paul scored 31 points on Friday, easily a game high in the Hornets' 97-92 win over the winless Sacramento Kings.
Rajon Rondo hasn't scored 31 points all season.
To say the two point guards in Sunday night's Celtics-Hornets clash exhibit contrasting styles is an understatement. And while Rondo certainly can score the way Paul can -- he put up at least 20 points more than a dozen times last season -- he's at his best when he's not scoring.
Two nights ago against the Chicago Bulls, Rondo took just two shots and finished with just two points -- and Celtics coach Doc Rivers pronounced his point guard "the most dominant player on the floor."
"Sixteen assists and eight rebounds," Rivers said, "and he controlled the tempo."
The last time Rondo outscored Paul head-to-head coincided with the Hornets' last win over the Celtics. Rondo scored 23 points on 10-of-15 shooting, finishing with more points than Paul as well as Kevin Garnett and Paul Pierce. Paul, on the other hand, scored 19 points and generally deferred to the hot hand of David West as the Hornets handed the eventual NBA champions one of just three losses they'd suffer during their final 18 games.
Since then, Rondo has averaged just 11 points per game against the Hornets -- and his Celtics have won three straight times.
Paul doesn't have the weapons around him that Rondo does; no other New Orleans player has scored more than 20 points in a game this season. If Paul doesn't score 20 points on Sunday night, the Hornets might be in trouble.
Rondo, on the other hand, will have to keep creating. The Celtics built a 15-point halftime lead on the Bulls with consistent ball movement and penetration. Rondo had as many assists (six) at intermission as the entire Bulls team, and the Celtics shot 60.7 percent from inside the 3-point arc even before they put the game away in the third quarter.
A handful of other notes from the TD Garden: The old Posey and the new Posey: James Posey, the celebrated sixth man from the Celtics' title team two seasons ago, will make his second appearance in Boston since his departure. He scored six points in 25 minutes of action when the Celtics hosted the Hornets a year ago.
Newcomer Marquis Daniels drew praise from his teammates for his play on Friday night -- a big deal given that Daniels is expected to fill a Posey-like role off the bench for the Celtics this season. Daniels played 25 minutes against the Bulls, more than Garnett or Ray Allen, and finished with seven points, four assists and two rebounds.
"I take great solace in knowing that Marquis is coming in the game or Eddie [House] is coming into the game or Rasheed [Wallace] is coming into the game," said Allen, who sat for much of Friday's first half with foul trouble. "Those guys are highly capable. They're starters on most teams in the NBA."
Okafor picks it right up: Former UConn star Emeka Okafor missed the entire preseason with a toe injury, but that didn't seem to hold him back. He has double-doubles in each of the Hornets' first two games, and he's shot better than 57 percent from the field in back-to-back games.
New Orleans acquired Okafor in an offseason trade for Tyson Chandler. In the Hornets' win over the Kings, Okafor scored 11 points and snagged a game-high 13 rebounds.
PODCASTS
Larry Lucchino, Red Sox
Play Podcast Red Sox president and CEO Larry Lucchino discusses his team's response to the Boston Marathon bombings, how the city bounced back from the tragedy and more.
Donnie Wahlberg, Actor
Play Podcast Actor Donnie Wahlberg talks about this year's Patriots' Day, his experience involving last year's Boston Marathon, security presence in the city and more.
Martin J. Walsh, Boston
Play Podcast Boston Mayor Martin J. Walsh comments on how this Patriots' Day differs from those in the past, securing the marathon, the role sports plays in the city and more.