Boston Celtics:

CountdownToLA
January, 30, 2011
1/30/11
3:15
PM ET
LOS ANGELES -- Celtics coach Doc Rivers took a lighthearted approach to the NBA's docking him $15,000 for failure to leave the court in a timely manner after being ejected in Friday's loss in Phoenix.
"I just told my last son [Spencer, a high school freshman] that's he's going to have to get a scholarship," joked Rivers. "The other three [children, Jeremiah, Callie, and Austin] did, so he's just going to have to get to work."
Turning more serious, Rivers said he wasn't surprised by the fine and acknowledged he didn't depart in a timely manner. But, truth be told, he doesn't even know what constitutes a timely manner and proposed a gimmick for the NBA to adopt after ejections.
"My proposal is: Give us a 30-second clock," said Rivers. "When a coach gets thrown out of the game, they should start the clock and give you 30 seconds to vent. That would be terrific. I think the crowd would get into that."
And Rivers said he ultimately has no problem with the fine: "The low numbers tells you they didn't think it was anything awful. So I'm good with it."
As for
Kevin Garnett
, who earned two technicals fouls and an ejection for a dust-up with Phoenix's
Channing Frye
in the fourth quarter of Friday's game, Rivers said he should appeal the technicals, but said Garnett might simply be beyond the issue at this point.
Rivers also sounded off about the notion that Garnett took a cheap low blow at Frye, who got tapped below the belt while following through on an errant 3-point attempt.
"Watch the game tonight, you'll see 10 guys poked in the stomach [being boxed out]," said Rivers. "A guy jumps and it hits you in wrong place -- it just happens, it's not a big deal."
Elsewhere before Sunday's showdown:
* The Celtics planned to start
Shaquille O'Neal
at center, not allowing themselves to get caught up in the symbolism of trotting out the familiar starting 5 in their first trip back to the Staples Center since Game 7 of the NBA Finals.
Kendrick Perkins
will remain in a reserve role in order to watch his minutes. That said, O'Neal picked up two fouls in 93 seconds Friday night against the Suns and Perkins was a quick entrant, joining his familiar floormates.
*
Glen Davis
tested the right hamstring he tweaked in Friday's loss before Sunday's game and was hoping to get the OK from team doctors to play, but Rivers acknowledged that Boston's sixth man might not be able to go. "It takes another body off the floor," Rivers said when asked about what Davis' loss would mean. "We've pretty much got accustomed to that. We would have to make a decision, depending on who [the Lakers] have on the floor. Do you go with two bigs at same time? I prefer not to ever do that. Or go small, with [
Lamar Odom
on the floor], which we don't want to do, either, but we may be forced."
* Lakers special assistant Craig Hodges spent part of the pregame watching
Ray Allen
warm up beyond the arc at the other end of the floor. Despite the hopes of some courtside, an impromptu 3-point contest between two of the best long-distance shooters in NBA history did not break out.
* Rivers on what's plagued his team lately: "We're not playing with any speed and we're not playing with any force... That's on the whole team. We showed them that, it happens at times. But rarely does it happen two times in a row. It has, and we play the Lakers tonight, so we have to fix that."
January, 30, 2011
1/30/11
12:05
PM ET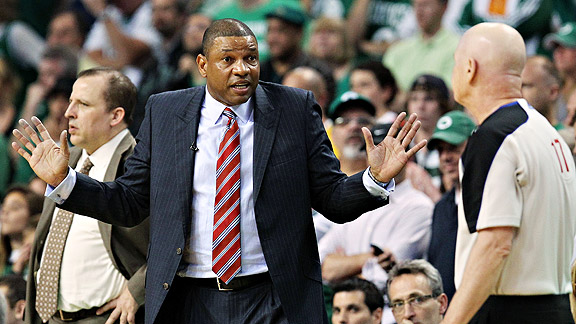 Ronald Martinez/Getty ImagesDoc Rivers chats with Joey Crawford during last year's NBA Finals.
Joey Crawford, who worked Game 7 of the NBA Finals last season, is part of an officiating crew for Sunday's Celtics-Lakers showdown that also features Marat Kogut and Tom Washington. This is Crawford's third Celtics assignment this season (he also reffed a an 89-84 loss to the Thunder on Nov. 19 and a 100-75 win over the Nets on Dec. 5.) Kogut was part of a the crew for Celtics-Magic on Christmas Day, but it was referee Bob Delaney that drew most of the ire from Shaquille O'Neal and his teammates.
January, 30, 2011
1/30/11
10:00
AM ET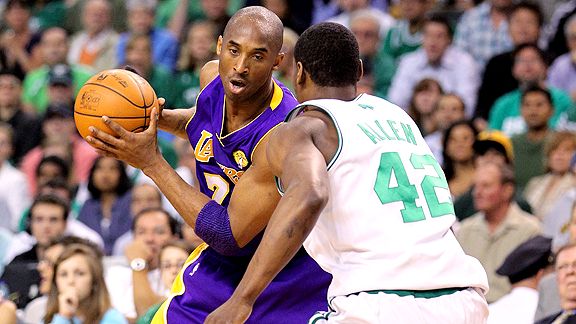 Ronald Martinez/Getty ImagesWhat will the Celtics do without their Kobe Stopper?
LOS ANGELES -- There hasn't been too much handwringing in Celtics Nation over the departure of
Tony Allen
this offseason. Top reserve swingman
Marquis Daniels
has provided a steady (and, more importantly, consistently healthy) backup behind
Paul Pierce
through the first 46 games of the season.
But Allen's departure will be thrust into the spotlight Sunday as the Celtics face the Lakers without a player that earned himself a handsome offseason payday from the
Memphis Grizzlies
thanks in large part to a reputation as the "Kobe Stopper."
According to ESPN Stats and Info, since the start of the 2009-10 season, including the postseason, Allen had limited Bryant to 0.69 points per possession and Bryant shot a mere 29.7 percent over a span of 45 possessions, generating a total of 31 points when the two players were matched up on each other.
In the 150 possessions when any other Celtics' defender was on Bryant, the Los Angeles' superstar averaged 0.91 points per possession, shooting 41.5 percent and generating 137 points.
Keep an eye Sunday on who the Celtics have defending Bryant, particularly when the second unit is on the floor. Boston needs to make Bryant work for his points, particularly if he's allowed to play sag-loving, roam-happy defense against
Rajon Rondo
at the other end of the court, preserving his energy.
January, 30, 2011
1/30/11
8:00
AM ET

(35-11, 13-8 away)
-- vs. --
(33-14, 18-6 home)

at Staples Center, Los Angeles, 3:30 p.m. | ABC, WEEI (850 AM)
GAME PREVIEW (via AP)
The NBA Finals seemed to go on forever last summer, stretching through seven games over two weeks until the exhausted Los Angeles Lakers finally edged the injury-depleted Boston Celtics with their last gasp in the final quarter.

After seven months to recover, the rivals finally are ready to go at each other again.

When they meet Sunday on the same Staples Center court where the Lakers won their 16th title and denied the Celtics their 18th, their epic shared history always looms in the background. They've won more than half of the NBA's total championships and met in 12 NBA finals, including two of the past three.

The franchises' generational animosity has been rekindled, as anybody could tell last June. Just don't expect them to acknowledge it in late January.

"Playing them doesn't really bring up anything extra," Lakers point guard Derek Fisher said with a shrug.

Boston added another spicy element to the rivalry in the offseason by signing Shaquille O'Neal, who won three titles and the NBA finals MVP awards in Los Angeles. Yet the Celtics' 38-year-old backup center is hardly the biggest concern for the Lakers -- not with both teams struggling to stay consistent during the grind leading up to the All-Star break.

Both are coming off embarrassing losses Friday night. The Lakers played horribly at home against lowly Sacramento, while Garnett and Celtics coach Doc Rivers were ejected while Boston scored a season-low 71 points in Phoenix. Garnett escaped suspension for hitting Phoenix's Channing Frye in the groin area, with the NBA saying it isn't looking into the matter but is still reviewing Rivers' actions.

The Celtics, who flew into Los Angeles late Saturday, still lead the Eastern Conference at 35-11, while the Lakers are comfortably in second place in the West at 33-14, well behind overall NBA leader San Antonio.

The Lakers went through a 2 1/2-hour practice at their training complex in El Segundo on Saturday, but not due to extra preparation for the Celtics. They usually spend the first part of practice correcting the mistakes of their last game, and that portion was extra-long after Friday's 100-95 loss to the 11-win Kings, likely the most embarrassing night of the Lakers' season.

"We've had some tough losses that kind of jump out at you, but it's just about being more consistent," Bryant said. "(We're) right where we need to be."
Read the full preview
HERE
.
FORSBERG'S THREE THINGS TO WATCH
Centers of attention: It really doesn't matter which center the Celtics choose to trot out with the starting unit Sunday as both Shaquille O'Neal and Kendrick Perkins will trigger an emotional response in Los Angeles. If it's Perkins, it will be the first time that a familiar staring 5 has been back on the court together for tip-off since Game 6 of the Finals when Perkins tore up his right knee. If it's O'Neal, who won three titles with Kobe Bryant and the Lakers at the start of this century, it'll at least rile up Lakers fans. Either way, Perkins and O'Neal will be key far beyond the jump ball ...
Rebound relationship: While it was the Lakers' dominance on the glass in Games 6 and 7 of the Finals that's best remembered for why Los Angeles emerged with the Larry O'Brien trophy, it's worth nothing that the team that won the rebound battle won every game during last season's Finals. The Celtics' big men, including Kevin Garnett and Glen Davis (if his hamstring allows), will have a little added motivation to show that, with a (somewhat) healthy frontline, Boston can hang with the Lakers' frontcourt this time around. Yes, Perkins is only in his third game back, Shaq has a sore right hip, and Davis tweaked a hamstring Friday night, so Boston has some built-in excuses if they struggle. But it would seem mentally deflating if the Celtics revamped their frontcourt this offseason, then went out and still got dominated on the glass against the very team that shaped how Boston was built this offseason.
Rondo & his Swag vs. Kobe & the Sag: Barring a wrinkle, the Lakers are going to put Kobe Bryant on Rajon Rondo and challenge Boston's 24-year-old point guard to beat them with his jump shot. Rondo has improved his elbow jumper, shooting a career-best 46 percent from the mid-range (16-to-23 feet) this season in increased attempts (2.9 per game, up from 2.3 attempts at 33 percent last season). Can Rondo seize the opportunity and make Sunday's game his playground? Or, coming off struggles in back-to-back games, does Rondo continue to labor and leave Boston's offense scraping for points again. It's hard to imagine Rondo being held down for a prolonged stretch.
January, 30, 2011
1/30/11
6:00
AM ET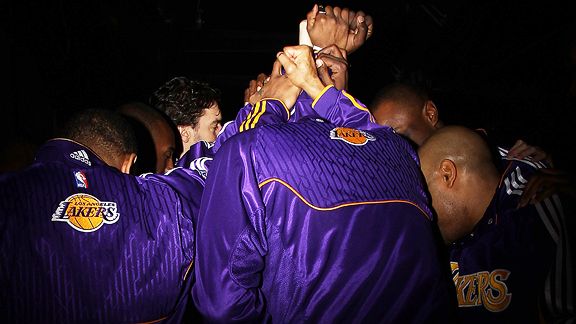 Ronald Martinez/Getty ImagesFor the first time this season, the Celtics and Lakers clash Sunday at the Staples Center.
LOS ANGELES -- For the first time since Game 7 of the NBA Finals, the Celtics and Lakers clash Sunday afternoon (3:30 p.m., ABC) at the Staples Center. As the hype reaches a crescendo, here's a fresh dose of preview content:
--
WHAT TO WATCH FOR: CELTICS VS. LAKERS
--
The Celtics and Lakers will be against each other Sunday, but ESPN Boston and ESPN Los Angeles joined forces to preview the matchup with a focus on Boston's success despite injuries, the Lakers losing in patches, Shaq's return to Hollywood, and predictions about Sunday's blockbuster. A sampling: "Boston has the emotional edge, but I think the Lakers are also sick of the whispers about lacking a true 'statement win' against the NBA's elite."
--
A 'BIG'-TIME MATCHUP FOR CELTICS AND LAKERS
--
Just more than seven months ago, the Boston Celtics lost Game 7 of the NBA Finals in Los Angeles. What's the biggest adjustment they've made since then? Adding three centers who each stand darn near 7 feet tall. The Celtics return to L.A. on Sunday to play the Lakers for the first time since being outrebounded by 13 and spending the postgame locker room drenched in salty tears rather than spraying champagne.
--
LAKERS IN SEARCH OF FIRST BIG WIN
--
There have been hundreds of highlights and big moments. There have already been plenty of big games. It's what hasn't happened for the Los Angeles Lakers this season that's becoming a little alarming: big wins. Oklahoma City Thunder? Eh … New Orleans Hornets on the road? Not bad, still eh … Those are good teams, not great ones. Those are teams the Lakers must keep down, not climb over.
Click
HERE
to read more in our Countdown to LA series.
January, 29, 2011
1/29/11
9:00
PM ET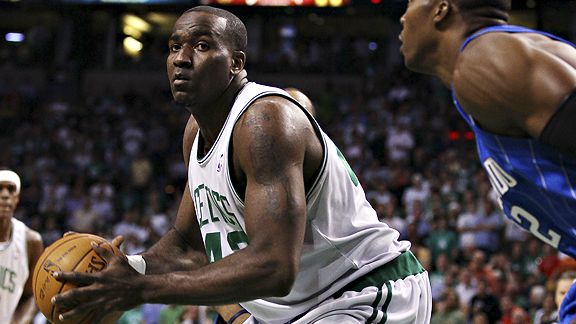 Elsa/Getty ImagesKendrick Perkins doesn't want to think about what-ifs after his knee injury in last year's Finals.
An injured Kendrick Perkins wasn't on the court in Game 7 of the 2010 Finals. Now back in action, he gets another crack at the Lakers writes ESPNBoston.com's Jackie MacMullan:
The bi-annual Boston-Los Angeles regular-season tilt will undoubtedly unleash another round of local teeth gnashing about Game 7 of last year's NBA Finals. How could the Celtics hold the Lakers to 32 percent shooting and coax Kobe Bryant into missing 18 of 24 shots and still lose the game? What if Rasheed Wallace had bothered to be in peak condition throughout the 2009-10 season? Maybe then he wouldn't have been running on fumes in that critical fourth quarter. And, of course, there's the old, familiar lament for Celtics fans: What if Perkins could have played in Game 7? Surely the outcome would have been different.



Nathaniel S Butler/NBAE/Getty ImagesKendrick Perkins was unable to play for the Celtics in Game 7 of the 2010 NBA Finals after injuring his knee in Game 6 against the Lakers.

Play that card if you like, but remember the Lakers toiled throughout the 2008 Finals without the young, oft-injured Bynum. "You really can't ever really say how a game is going to turn out," Perkins concurred. "I know one thing: I would have helped with the rebounding [in Game 7]. I would have helped with the defense. We only lost by four points. … Aw, it don't matter now, anyway.''

He's right. It doesn't. The Celtics have moved on and so have the Lakers. Perkins underwent surgery, completed a grueling rehabilitation program and made it back just in time to revisit the venue where his career collapsed in a heap. There have been tweaks to both rosters (Sasha Vujacic and Jordan Farmar are out, Matt Barnes and Steve Blake are in), but the nucleus of both rosters remains the same.
Click
HERE
to read the full story.
January, 29, 2011
1/29/11
4:00
PM ET
As the Celtics prepare to return to the Staples Center for the first time since losing Game 7 of the NBA Finals, coach Doc Rivers offers his opinion on how emotional the moment will be for his team.
Click
HERE
to watch the video.
January, 29, 2011
1/29/11
2:30
PM ET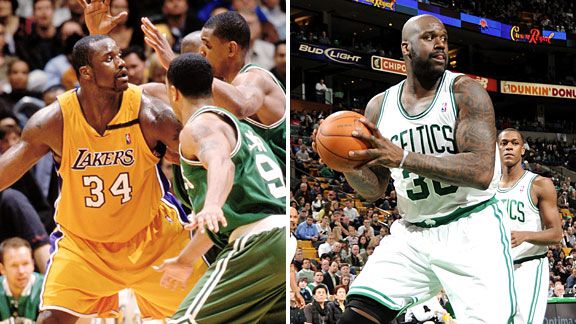 Getty ImagesShaquille O'Neal in Lakers' gold and Celtics' green.
There's never a shortage of storylines when the
Boston Celtics
and
Los Angeles Lakers
do battle. But that's especially true Sunday, as the two meet for the first time this season -- and the first time since last year's NBA Finals. ESPN.com's Jeremy Lundblad
examines three factors
that make Sunday one of the most anticipated games of the regular season, including:
1. Shaq's wearing green in LA: Shaquille O'Neal knows all about this rivalry. Back in his LA days, O'Neal faced the Celtics 10 times, averaging 29.9 points per game and 15.1 rebounds. He shot an incredible 67.1 percent from the field in those games, as the Celtics countered with the likes of Mark Blount, Tony Battie, Vitaly Potapenko and even Dino Radja. In those years, Shaq averaged more only against the Nets and the Magic, his former team.

2. The road to home-court advantage: Think this is just another game in January? Don't underestimate the significance of Sunday's matchup for home-court advantage in the playoffs. It's no sure thing that these two teams would meet in the Finals. With the best record in the NBA, the Spurs certainly will have their say down the line. Either way, it's these early head-to-head matchups that often determine who hosts Game 1.

3. How old is too old? Jerry West made headlines in Los Angeles last week by saying the Lakers were "getting long in the tooth" -- blaming their age for a lack of defensive consistency. "If there's a loose ball now, how often do they get to it? The reason you can't play defense is because you can't," West said to a group of Orange Country car dealers. Ten players on the roster are in their 30s, including four starters and the sixth man. The Lakers are indeed old. But if the Lakers are getting long in the tooth, the Celtics must be losing their teeth.
Click
HERE
to read the full story.
January, 29, 2011
1/29/11
1:00
PM ET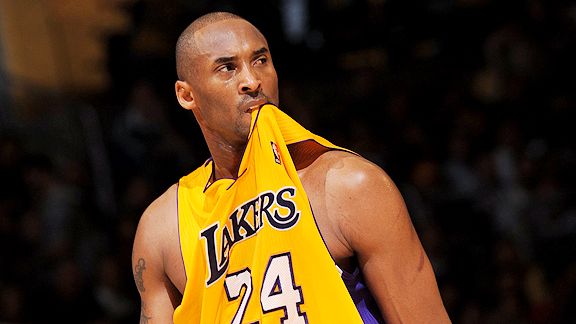 Noah Graham/NBAE/Getty Images
It's OK Kobe, you can talk about the Celtics now.
The
Los Angeles Lakers
did the best they could to limit the hype around Sunday's showdown against the
Boston Celtics
as co-captain
Derek Fisher
told the team after Thursday's practice
not to entertain questions about the Celtics
until after their game against the
Sacramento Kings
on Friday.
"It's just the right thing to do," Jackson said about the silent treatment. "We're about playing the game that's right now."
After a disappointing loss to the Kings on Friday, the Lakers were finally able (and willing) to look ahead.
ESPN Los Angeles' Dave McMenamin
provides the initial look-ahead
:
Once the Sacramento game was over and the Derek Fisher-issued gag order about the Celtics was lifted, the Lakers could offer their thoughts on the Boston team that they've gone 9-8 against overall in the regular season and postseason combined since the start of the 2008 Finals.

"They had a tough one [Friday] as well," said Bryant, referring to the Celtics loss to the Suns in a game where both head coach Doc Rivers and forward Kevin Garnett were ejected. "I'm sure they'll be looking to come in on Sunday and seek a little redemption, but we'll be ready to."

When asked what the biggest challenge Boston presents is, Bryant did not point to any member of Boston's Big Three of Garnett, Paul Pierce or Ray Allen.

"It's [Rajon] Rondo," Bryant said. "He's the catalyst, he makes things go at both ends of the floor. Kevin, obviously he's the captain defensively, but Rondo's all over the place with his play-making ability and I think that's the biggest challenge."
On the Celtics' side, the team was still fuming over Friday's technical-fest against the Suns, but Rivers did talk about moving forward in general.
"Well we just lost one game," said Rivers. "So we've lost one game and now we go to LA and it's going to be a very difficult game. It would've been a difficult game if we had won. We just have to try to get our rest, get in tonight, hopefully before 4 or 5 a.m. and see if our guys can get some sleep and then wake up and play a 12:30 game. We knew this would be a tough stretch with the amount of games in so little time before the season started. No one's going to feel sorry for us. We have to go out and do it."
January, 29, 2011
1/29/11
12:30
PM ET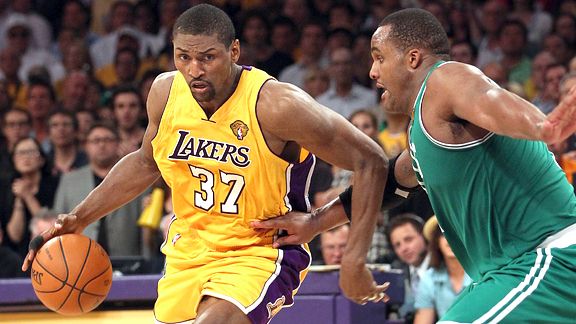 Christian Petersen/Getty ImagesThe Celtics will hear plenty about their Game 7 loss before Sunday's game.
When
our friends at the Land O' Lakers Blog
invited me to sit in with them and revisit Game 7 of the NBA Finals in advance of Sunday's Celtics-Lakers rematch at the Staples Center, I knew few people in Boston would hear it. Seven months removed, the wounds haven't quite healed; They might never unless the Celtics atone this June.
For most Celtics fans, it's still not easy to go down that road and examine what exactly went wrong. After watching pieces of the game again and studying the box score, even this reporter remains baffled at how Boston let Banner 18 slip away. They held the Lakers to 32.5 percent shooting overall -- limiting Kobe Bryant to 6-of-24 shooting -- and boasted a 13-point third-quarter lead. But it wasn't meant to be, the Celtics running out of gas six minutes before the finish line of a marathon season.
Click
HERE
to listen to the podcast (if you dare). Hop
HERE
for more details from ESPN Los Angeles' Brian Kamenetzky.
January, 29, 2011
1/29/11
11:45
AM ET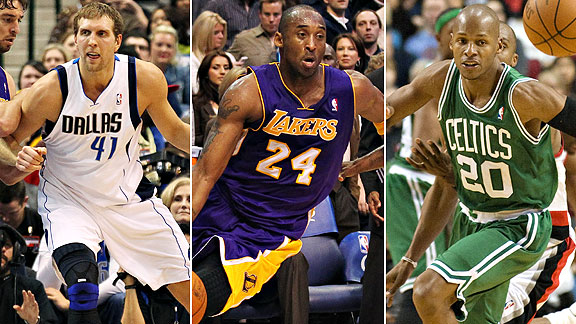 US PresswireWhat do these three have in common? They've all managed to put off The Change.
ESPN.com's Bill Simmons examines a handful of NBA players
defying the the aging curve
, with a focus on three players in Sunday's Celtics-Lakers showdown in
Paul Pierce
,
Ray Allen
, and
Kobe Bryant
. Here's a glance at the Boston players:
Pierce: This has been his "Linda Hamilton in 'Terminator 2'" season -- he showed up in spectacular shape and swayed his Hall of Fame chances. With Pierce's shooting touch, high basketball IQ and herky-jerky half-court game, I see him playing at this level for two more seasons after this one, followed by a three-year drop-off and retirement ... and if it plays out that way, he's a serious threat to retire with 27,500 points (moving him into the top nine all time) and official John Havlicek 2.0 status. It's true. Insert "lame joke from a Lakers fan saying that Springfield needs to get the wheelchair ready" here.

Allen: I hope you enjoyed the "Reggie Miller versus Ray Allen" debate. It's been over for a year. Right now, Ray ranks second in 3-pointers made (2,543, just 17 behind Reggie; nobody else is within 800 of them) and second in 3s attempted (6,388), only he's made 40 percent of them (one of 40 players who can say that). He's also the fourth-best free throw shooter ever (89.4 percent). Given his phenomenal work ethic, we can safely say 25,000 points, 3,000 made 3s and a 45-40-90 career percentages are in play. I just don't think we're seeing that again. His extended prime made him the most efficient shooting guard who ever lived; throw in his clutch shooting numbers (see sidebar) and it's been a wildly underrated career. Other than Reggie, you know who the biggest loser is here? Sam Presti, who made a totally defensible trade when he was rebuilding Seattle around Kevin Durant in 2007 (Allen and the rights to Glen Davis for the rights to Jeff Green, Delonte West and Wally Szczerbiak's expiring contract) and never imagined he was giving up five or six more killer Ray Allen seasons. I can't wait for the "40 for 40" documentary about the 2007 draft in 10 years.
Click
HERE
to read the full story.