Boston Celtics:

Daily Dime
February, 8, 2013
2/08/13
1:15
PM ET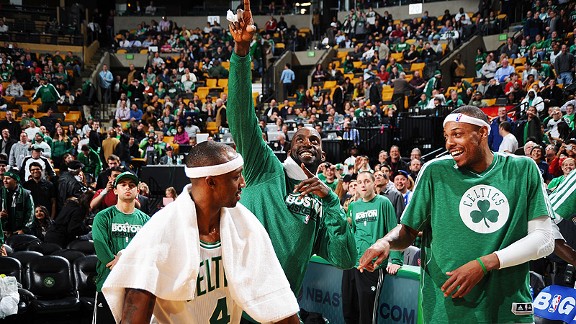 Brian Babineau/NBAE/Getty ImagesThe Celtics danced their way to their sixth straight victory Thursday against the Lakers.
From last night's
Daily Dime
:
Reloading, not rebuilding, was the plan this summer once Ainge coaxed Garnett into pushing off retirement. By surrounding Garnett, Pierce and Rajon Rondo with a talented supporting cast signed to long-term deals, the hope was Boston could compete once again with the top contenders in the Eastern Conference.

Despite universal acclaim for Ainge's moves, the new-look Celtics failed to click for a variety of reasons over the first half of the season, stumbling to a 20-23 record. A host of uninspiring efforts led to Doc Rivers' threatening the possibility of "getting guys out of here" after a game against Detroit on Jan. 18. Days later, Rondo tore his ACL, seemingly putting the death knell in the Celtics' season. Whether the Celtics could even make the postseason became the more pressing question, as any dreams of Boston remaining a threat in the Eastern Conference vanished to most fans.

After the injury to Rondo, common wisdom also said Ainge should look to deal the aging Pierce and Garnett (if he signed off on a deal to a contender) to maximize their value and improve Boston's future outlook. Yet as the rumors continue to float around Garnett and Pierce, the Celtics are quietly playing their best basketball of the season with their undermanned roster.
Hop
HERE
to read the full Dime.
January, 28, 2011
1/28/11
9:20
AM ET
ESPN.com's John Hollinger checks in from Portland with an update on Kendrick Perkins and his unexpected quick return to the court after offseason ACL surgery:
PORTLAND, Ore. -- It was in most respects a fairly perfunctory 88-78 win over an outmanned Portland team for the Celtics on Thursday night, but there is one aspect of this game that has big implications for the season as a whole.

Put simply, Kendrick Perkins was a beast. And if he can return to the lineup as a reasonable facsimile of the Perk of seasons past, it gives Boston another weapon in its quest to regain the championship.

The 6-10 center, who tore two right knee ligaments in Game 6 of the Finals last June and has been recuperating all season, gave the team a big lift off the bench in his second game back from injury with ten points and nine rebounds in 21 minutes. His statistics were good, but the qualitative side was even better. He didn't appear to have issues leaping or running, supplied his usual nails-tough post defense to help thwart Portland's leading scorer, LaMarcus Aldridge, and added healthy dollops of physicality and trash-talking swagger.

So good was Perkins that Boston coach Doc Rivers left him far longer than he'd originally planned in the first half, leaving Perkins weary. But while Perkins said his timing and conditioning are still far from peak level, his knee hasn't been a problem.

"I'm not where I want to be," said Perkins, "but I'm happy where I'm at."

"He was terrific," said Rivers. "I extended his minutes too long, because he was playing so well... I turned to [trainer] Eddie [Lacerte] and said. "Hey, you gotta tell me.' Eddie said he was good, but Eddie was looking at his legs and I was looking at his lungs."

Perkins' return could also come with benefits for Boston's shooters, as he showed with one of his trademark earth-shattering screens that absolutely leveled Portland's Wesley Matthews. While the play was called an offensive foul, it was indicative of the plays he's been making to set up teammates for the past three seasons.

"He and Kevin [Garnett] are clearly our two best screeners," said Rivers. "Ray [Allen] and Paul [Pierce] have really been looking forward to him getting back."

Perkins may not play as much in the Celtics' next game on Friday against Phoenix, both because the Suns sometimes play small and because he's on a back-to-back after a long flight, but he's itching for more activity and is likely to get it soon. With Shaquille O'Neal and Jermaine O'Neal both battling injuries of their own, Rivers may continue finding it troublesome to keep Perk's minutes down.

"Hopefully my body won't ache and I'll be good," said Perkins. "I'm just looking forward to playing. I feel like I've been on vacation for six months."
Click
HERE
to read all of Thursday's Daily Dime.
December, 23, 2010
12/23/10
9:45
AM ET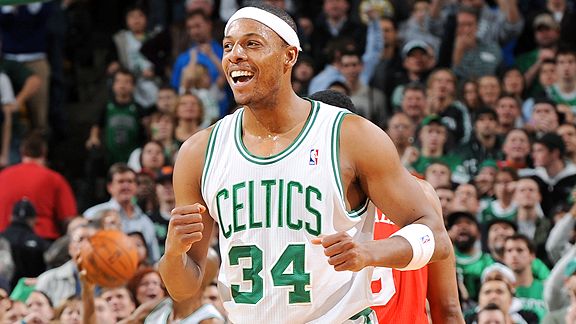 Brian Babineau/NBAE/Getty ImagesPaul Pierce overcame early struggles to help the Celtics to their 14th straight victory.
Another close win Wednesday gave the Celtics 14 straight. After all, grinding out victories is what good teams do:
BOSTON -- The Boston Celtics haven't lost in more than a month, boast an NBA season-best 14-game winning streak, and easily own the best record in a loaded Eastern Conference.

If only they could enjoy it.

On a winning streak best described as "gritty," the Celtics have won nearly half their games by single digits. Gino, the American Bandstand dancer who gyrates his way through the final moments of lopsided home triumphs, has been spotted only once during the streak (Dec. 3 versus Chicago), and coach Doc Rivers spends most of his free time trying to generate possible lineup combinations for a rotating cast of available bodies.

"It's not very enjoyable because, you've got so many guys [injured], you're just trying to figure out a lineup on the floor," Rivers said after Boston's scraped through an 84-80 triumph Wednesday night over a Philadelphia 76ers squad that lost by 45 points the night before.

"It is [the oddest streak] as far as I've been connected with. Usually when you're on a streak, everybody is healthy, everybody is playing well, and you're rolling. You can make the case it's the exact opposite with us."

Health? The Celtics played Wednesday without Rajon Rondo (ankle sprain), Kendrick Perkins (ACL surgery), Jermaine O'Neal (sore left knee/flu), and Delonte West (fractured right wrist). During the course of its winning streak, Boston has also been without Shaquille O'Neal (calf), Semih Erden (groin), Nate Robinson (foot), and Glen Davis (illness) for at least a portion of games.

Playing well? The Celtics shot a season-worst 38.8 percent Wednesday, going a gruesome 31-for-80 overall from the floor (this from a team that shoots a league-best 51.2 percent, with its closest competition three percentage points away). What's more, the Celtics were plagued by foul trouble and endured two technical fouls (Paul Pierce and Kevin Garnett) for yapping at officials on what Pierce later dubbed, "one of the most frustrating games in a long time."

Rolling? Sure, Boston has won 14 in a row, the longest streak in an NBA season decorated by winning patches (including 12-game streaks by the Spurs, Mavericks and Heat). So while Rivers can't always savor it, the bottom line is they don't seed the playoffs based on style points.

"We're finding ways to win, any kind of way, and that just shows the versatility of the team this year," Pierce said. "We've won games in the 100s, we've won games in the 80s, and we're finding ways to grind it out because we don't have the healthy bodies, and you don't know who's going to be in there, night in and night out. So we've got to win differently every night. That's the way it's going to be."
Click
HERE
to read the full Daily Dime.
Good teams win games they shouldn't, like Boston's victory over the 76ers, writes Peter May:
BOSTON -- Paul Pierce had that feeling. No, not the one in which he's sure everything is going in and he radiates heat. This one was the one in which he was sure he had stolen something -- and lived to tell about it.

"Sometimes it's good to sneak one out,'' Pierce said as he romped down the corridor leading to the Celtics' locker room after Boston's 84-80 victory over the Philadelphia 76ers on Wednesday night at TD Garden.

Following right behind him, a team official quipped, "This is a present under the tree."

Indeed it was. The Sixers, the same group who had been vaporized the night before in Chicago 121-76, deserved a better fate in this one.

They held the Celtics to a season-low in shooting percentage -- by a significant margin. They held the Celtics to 84 points, matching Boston's season-low in points.

They were aggressive, nearly sending commentator Tommy Heinsohn into cardiac arrest with a 31-21 advantage in free-throw attempts (it was 29-7 after three quarters.) They held their own on the boards, turned it over only 13 times and had two chances to tie the game in the final minute.
Click
HERE
to read the full story.
May, 14, 2010
5/14/10
1:00
PM ET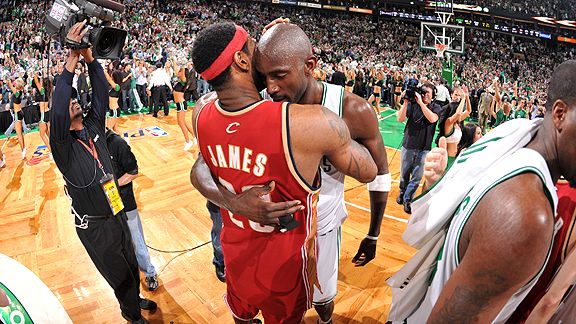 NBAE/Getty ImagesLeBron James and Kevin Garnett embrace after Game 6.
Just in case you're hankering for one last batch of LeBron James before we move on to the postseason, here's ESPN.com's Chris Sheridan's take on last night's potential last game in a Cavs uniform:
So which LeBron James do you want to believe?

The LeBron who said he hasn't given much thought to what he's going to do with his future?

Or the LeBron who said "my team has a game plan"?

Because James said both of those things after finally making his way to the interview room more than an hour after the Cavaliers' season came to a swift and stunning end with a 94-85 loss to the Boston Celtics in Game 6 of their Eastern Conference semifinal.

Myself, I'll go with the LeBron behind Curtain No. 2, and beyond that I'll only go so far as to say I believe he has played his final game for the Cleveland Cavaliers. It's been seven long years for James in Cleveland, and as Kevin Garnett pointed out, it's hurtful at times when you cannot get your youth back.

And the crossroads James now finds himself at is the one at which he chooses between staying in the state where he was born and raised, the state where he was loved like no other professional athlete Ohio had ever produced, or moving on to the next stage of his life, the stage where he breaks beyond the boundaries that have confined him to a Midwestern comfort zone and goes on to bigger and better things.

Chicago? Miami? New York?

Could be any one of those three, and whoever knows exactly what details Team James' game plan entails isn't yet spilling those beans.

Celtics fans certainly had fun letting James know their prediction, chanting "New York Knicks" whenever he stepped to the foul line on a night when his triple-double of 27 points, 19 rebounds and 10 assists was buttressed by his nine turnovers.

James did not speak to the specifics, whether pro or con, of playing in any of those cities -- or even the possibility of remaining in Cleveland.

What he said he'd do is go into the summer with the proper mindset, something I asked him to define in the final question he took in his postgame news conference.

"It's all about winning for me, and I think the Cavs are committed to doing that," he said. "But at the same time I've given myself options to this point, and like I said before, me and my team, we have a game plan that we're going to execute, and we'll see what we get."

James also was asked what he could say to the people in Cleveland, and it was noteworthy that he used the past tense in saying "We had a great time together."

Great, at least, until they booed him Tuesday night in the disappearing act that'll go down as the LeBacle.
Click
HERE
to read more in Friday's Daily Dime. Or hop
HERE
, for much more coverage of James and his impending free agency.
April, 18, 2010
4/18/10
8:10
AM ET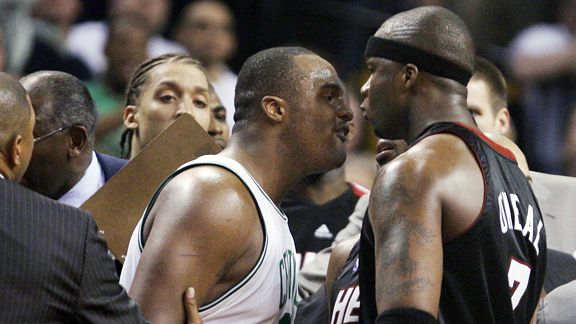 AP Photo/Charles KrupaGLen Davis and Jermaine O'Neal were in the middle of Saturday's scrum.
BOSTON -- A glimpse at the ESPN stories from Boston's Game 1 victory over Miami Saturday:
Sheridan: TA turns tide with defense on Wade
By the time the pushing, shoving, elbowing and jawing commenced late in the fourth quarter, and well before Quentin Richardson dismissed Paul Pierce and Kevin Garnett as "actresses," it was already too late for Dwyane Wade and the Miami Heat.



Brian Babineau/NBAE/Getty ImagesTony Allen goes hard to the basket.

He, and they, had already had the life smothered and squeezed out of them by Tony Allen, the designated defensive specialist on one of the league's most intense defensive-oriented teams.

For the first 27 1/2 minutes, this game was all Miami. For the final 20 1/2, it was all Boston -- and all because of the lesser-known of the Celtics' two Allens, the one without the sweet jump shot, the nine All-Star appearances and the Jesus Shuttlesworth movie role on his resume.

That other Allen, the one named Tony, put on a display of defensive proficiency against Wade that rendered the superstar a non-factor for a key long stretch of the second half as Boston came back from a 14-point deficit and defeated Miami 85-76 Saturday night in a game that featured a full-blown skirmish (not a fight, however, since there needs to be at least one punch thrown to qualify for a fight) with 40 seconds left that prompted Q-Rich to go after Pierce and Garnett afterward with everything short of a wheelchair reference.

But by then, this one was decided. And Allen was the reason why.
Click
HERE
to read the story in today's Daily Dime.
May: Pierce triggers turning point
There it was, the pre-recorded plea for all to see and hear. Paul Pierce, on the Jumbotron, reminding Celtics fans that it was, indeed, the playoffs, and to respond accordingly.



Brian Babineau/NBAE/Getty ImagesPaul Pierce shook off a tough shooting night to pace the Celtics.

Only problem: Pierce and the Celtics were playing like it was Game 83 of the uninspiring regular season they had just supposedly ended. They were losing. They looked detached. Their coach even told his players they looked as though they had quit.

It was midway through the third quarter and Miami was starting to pull away in Game 1 of the Celtics-Heat playoff series. Dwyane Wade was going into full Mariano Rivera mode a bit earlier than usual, scoring 10 points in a 15-2 run. The Celtics, meanwhile, were doing all the same, stupid things they had done so often in Games 1-82: too many turnovers, too many missed easy opportunities, surrendering the boards. When Wade went through the lane and casually tossed in a 10-foot floater, the Heat led 61-47 with 7:03 left in the game.

Pierce then heeded his own entreaty, snapping out of a funk and, in the process, dope-slapping the Celtics back into the here and now. The defense kicked in, which was a welcome sight to Celtics fans. So, too, was the sight of No. 34 at the other end of the floor. He had a team-high 16 points and the Celtics overcame their regular-season ways to take an important, if inelegant, 85-76 victory.

"We pride ourselves on our defense,'' Pierce said. "But at the end of the day, you do have to put the ball in the bucket."
Click
HERE
to read the full story.
Forsberg: The spark they've been missing?
Before Saturday, the Celtics and Heat didn't have any playoff history. But in the fracas that ensued in the waning moments of Boston's 85-76 Game 1 triumph, this series ratcheted up to an intensity typically reserved for Celtics-Lakers.



AP Photo/Elise AmendolaKevin Garnett jaws with the Heat during a fourth-quarter fracas.

Tempers flared after Paul Pierce tumbled to the ground in front of the Miami bench with an apparent right shoulder injury with 40 seconds to play. Miami's Quentin Richardson stood defiantly over Pierce and suggested he was exaggerating the injury, to which Kevin Garnett took umbrage and expressed such with an elbow to Richardson's head when pushing and shoving ensued.

After the game, Richardson sounded off on Pierce and Garnett, calling them "actresses" and summing up his feelings on the pair by saying, "I don't like them and they know it."

The Celtics have enough troubles now as, if the NBA keeps with past precedent, Garnett -- who was assessed with two technical fouls and was ejected -- is likely to be suspended for at least one game for the elbow incident.

But it might be Richardson's tirade that leaves the biggest mark on this series.
Click
HERE
to read the full story.
March, 16, 2010
3/16/10
9:31
AM ET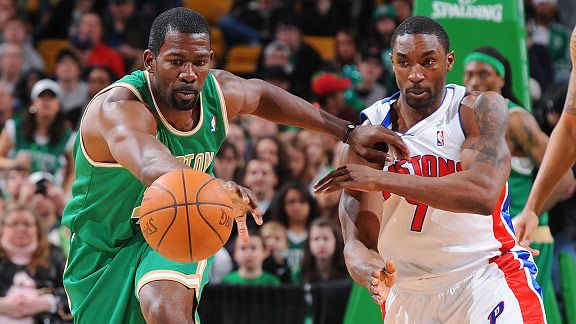 Brian Babineau / NBAE / Getty ImagesMichael Finley is providing what Rasheed Wallace couldn't.
BOSTON -- When the
Boston Celtics
went shopping for a free agent to push them over the top in the 2009-10 season, they coveted a veteran with championship experience who could space the floor and hit big perimeter shots.
So hell-bent on delivering such a talent, Celtics brass boarded a private jet to Detroit during the offseason, hoping to lure
Rasheed Wallace
to Boston. The Celtics went so far as to overpay for his services, offering a three-year contract to assure he'd end up in green.
And while the 35-year-old Wallace hasn't nearly lived up to expectations, the same prototype showed up on the Celtics' doorstep earlier this month when
Michael Finley
arrived in town after receiving a buyout from the
San Antonio Spurs
.
Arriving with none of the expectations assigned to Wallace, Finley has already exceeded Boston's highest hopes by providing instant offense off the bench, even as he dives into the playbook.
Finley erupted for a season-high 15 points in less than 14 minutes Monday night, connecting on 6-of-7 shots, including a trio of 3-pointers, to help the Celtics thrash the visiting Pistons 119-93 at TD Garden.
In four games with Boston, the 15th-year veteran, from the same 1995 draft class as Wallace, is averaging 8.6 points, 2.4 rebounds and 0.8 assists in 14 minutes per game. That's on par with what Wallace is giving the Celtics at 9.5 points, 4.1 rebounds and 1.1 assists over 23.1 minutes per game.
And it's costing the team more than $5 million less this season.
Fortunately for Boston, as polar opposites as the players are off the court -- Finley a sage veteran who said he'd be willing to impart wisdom to any players looking for it, while Wallace is the brash jokester who offers everyone a piece of his mind, from teammates to officials -- they've actually formed a formidable pairing on the floor.
Click
HERE
to read the full story in today's Daily Dime.
January, 29, 2010
1/29/10
3:29
PM ET
ESPN's John Hollinger topped
Friday's Daily Dime
with his take on the Celtics-Magic battle, including the struggles of Boston's veterans, most notably
Kevin Garnett
:
From Boston's end, Garnett was invisible, and not just with his defense on the final play. He finished with six points and seven rebounds in 33 minutes and twice failed to finish alley-oop plays at the basket. On the crucial play against Lewis he played his customary in-your-grill defense, only he lacked the dexterity to stay in front of him on the drive -- a recurring pattern during Orlando's second-half comeback.

Playing his third game since missing 10 games with what was diagnosed as a hyperextended right knee, Garnett appeared to favor his leg noticeably throughout. Afterward he insisted that nothing was wrong -- "I just played like [expletive]," he said, "pure [expletive]." Few observers believed him -- at least the part about nothing being wrong with his leg.

Garnett's woes are particularly concerning to Celtics fans because they so closely mirror the events of last season. In March, Garnett returned from a knee injury that seemed minor at the time, only to quickly lose effectiveness and end up missing the entire postseason. Ironically, it was a national TV game against Orlando when the extent of the problem became apparent -- he had four points in 17 minutes in a March 25 loss to the Magic and was not seen on the court again. That was his fourth game back from injury; this was his third.

"He was off today, the answer is yes, but I think he's OK [physically]," said Celtics coach Doc Rivers. "Some days you wake up and you just don't have it."

Left unanswered was the question of whether Garnett might find it. While the Celtics and Garnett continue to insist that everything will be fine, after what happened last season they have virtually no credibility in this department. Observers who saw Garnett laboring up and down the court a week after he supposedly had a clean bill of health should feel free to wonder if things are worse than the Celtics have acknowledged publicly -- much as they were a season ago.

Of course, Lewis' drive wouldn't have succeeded except that no help defense came from behind Garnett, despite having had ample time to do so. The closest defender, Wallace, inexplicably stayed next to Dwight Howard at the opposite block rather than rotating down to the baseline to stop Lewis' drive.

Wallace was thought to be the final piece of the puzzle, but he's been noticeably overweight all season and largely content to hang out at the 3-point line rather than using his considerable post skills. Thursday he started blazing from outside, making his first five shots, but finished with only two rebounds in 26 minutes and shot an air ball at the buzzer to end the game. He also moved into the league lead in technical fouls with his 12th after protesting a lack of an and-1 call on a rare post-up basket. We'd present his side of how things went, but he declined to be interviewed.
January, 12, 2010
1/12/10
8:55
AM ET
BOSTON -- Despite winning the first two meetings of the season against the
Boston Celtics
,
Atlanta Hawks
coach Mike Woodson refused to elevate the status of his team to NBA elite before Monday's game.
After Monday's 102-96 victory at the TD Garden, he doesn't have to. Having now rallied from halftime deficits three times against the Celtics this season, including twice on Boston's home turf, the Hawks have established themselves as legitimate postseason contenders simply with their play against a foe regarded by some as the class of the Eastern Conference.
Sure, the Celtics were playing without
Kevin Garnett
when the Hawks defeated them twice in the past four days. Yes, Atlanta has just as recently wilted against top competition (see Saturday's 32-point drubbing in Orlando).
But as Boston discovered two seasons ago during its own title run, no one wants to see the Hawks in the postseason. And isn't that the true sign of an elite squad?
Read more in today's
DAILY DIME
.
December, 11, 2009
12/11/09
9:06
AM ET
ESPN NBA analyst Tim Legler says the Celtics business-like approach has helped them quietly compile the best record in the Eastern Conference and they'll continue to silently succeed with their no frills approach. More from Legler:
As I sat and watched Boston scratch out their 18th win of the season in Washington on Thursday night it occurred to me that even with all the Celtics have accomplished over the last two and a quarter seasons they are still, remarkably, underrated.

Surprisingly, Doc Rivers doesn't feel slighted or disrespected. No, he is actually fine with it because it motivates his team as they employ a quietly determined approach to consistent excellence.

Underrated? Really? Let me explain.
Hop over to today's
Daily Dime
to read the rest of Legler's analysis and the other nine drops of NBA knowledge from Thursday night's action.