Boston Celtics:

Darko Milicic
November, 21, 2012
11/21/12
5:25
PM ET
BOSTON -- The Boston Celtics announced Wednesday that they have waived center Darko Milicic.

"Darko has asked us to release him so he could deal with a personal matter," Celtics president of basketball operations Danny Ainge said in a press release. "The whole Celtics family wishes Darko and his family well."

Celtics coach Doc Rivers detailed Tuesday how Milicic's mother is ill back in his native Serbia and, coupled with a non-existent role with Boston (he played 4½ minutes in one regular-season game), had left Milicic leaning towards departing the team. Rivers said he supported Milicic's decision and left the final decision to him.

At least for the moment, this ends a 10-year NBA career that will be remembered for Milicic's inability to live up to his draft hype. The Pistons selected him with the No. 2 pick in the 2003 draft, one spot behind LeBron James, but in front of the likes of Carmelo Anthony, Chris Bosh, and Dwyane Wade.

The Celtics now have an available roster spot, but Rivers indicated that the team would be patient in its search to add a body, possibly waiting until later in the season to preserve room for the trade or waiver deadlines.

November, 20, 2012
11/20/12
2:43
PM ET
By
Greg Payne
| ESPNBoston.com
WALTHAM -- Celtics coach Doc Rivers said it's likely that reserve center
Darko Milicic
will leave the team for the remainder of the season in order to be with his ill mother in Serbia.
"Most likely, yeah," Rivers said when asked if Milicic was done.
"Stuff with his family has been going on for a while. We've talked about it three or four times. You know, it's probably 50-50, but once you get the one side working, it's always going to win out."
Milicic hasn't played since the Celtics' home opener Nov. 2 -- his only appearance of the regular season -- and didn't travel with the team last weekend for Sunday's game against the
Detroit Pistons
.
Rivers said the team has known about Milicic's family issues for some time, but that he didn't think it would result in Milicic leaving the team.
"No, no. We were hoping not," Rivers said. "But his mom gets sick, he's not playing, the whole sickness, it happens. I didn't fight it much. I told him he's got to do what he thinks is right, and I'm going to support him one way or the other. But it's been going on for a little bit now.
"You could see a change when he found out his mom wasn't doing well. There's no doubt about that," Rivers added.
Rivers said the team won't rush to fill Milicic's roster spot.
"No rush at all," Rivers said. "We're going to look around, but I can tell you we're in no rush."
Other notes from Tuesday's session:
November, 20, 2012
11/20/12
10:15
AM ET
Steve Mitchell/US PresswireCeltics coach Doc Rivers understands the frustrations of center Darko Milicic.
Celtics coach Doc Rivers said he understands Darko Milicic's situation and has informed the 10th-year veteran that it is his decision whether he'll stay with the Boston Celtics the remainder of the season.
Making his weekly appearance on Boston sports radio WEEI (93.7 FM), Rivers acknowledged that Milicic is dealing with family issues in his native Serbia, coupled with a frustration from a limited role with Boston so far this season, and Rivers will allow Milicic to make a final decision about his future.
A Yahoo! Sports report Monday indicated Milicic is leaning heavily towards leaving the Celtics.
"Well, it's up to him right now," said Rivers. "He has some family issues, more his [ill] mom, and not playing and being in another country. The NBA hasn't exactly gone great for him over his career. So it's a lot of reasons for him to want to leave. I understand that, and I told him that. I pretty much left it up to him. He has my blessing either way."
Rivers said the Celtics won't be in a rush to fill that roster spot if Milicic elects to depart.
"I don't think we are in any rush to [fill the spot]," said Rivers. "If we see somebody out there that we think could help us, if Darko leaves, then yes. If not, patience usually helps in our league, especially after the All-Star break [when] guys get released, or other guys become available. I think we'll be patient."
November, 20, 2012
11/20/12
6:00
AM ET
Brian Babineau/NBAE/Getty ImagesDarko Milicic at work for the Celtics during the preseason.
A handful of thoughts on the heels of a
Yahoo! Sports report
that indicates center Darko Milicic is leaning towards leaving the Celtics:
*
WHERE DO THINGS STAND?
: Milicic did not travel with the team to Detroit on Sunday and was excused for personal reasons (the Yahoo report suggests his mother is ill). A league source said Monday that the Celtics have been accommodating with Milicic's situation and appear to have left his future in his hands.
*
LIMITED IMPACT THUS FAR
: On the surface, Milicic is an expandable piece. The 10th-year center has appeared in only one game for Boston, logging 4½ of court time in a 99-88 loss to the Milwaukee Bucks during the Celtics' home-opener on Nov. 2. But Boston would lose a serviceable 7-footer, one who showed an ability to thrive defensively in the preseason. The Celtics know far too well the importance of depth at the center position and, if Milicic elects to depart, that would erode a layer of that restocked depth, shuffling rookie Fab Melo -- now with the Maine Red Claws of the D-League -- a step closer to an emergency role unless the team adds further big-man depth down the road.
*
WRIST INJURY ALTERED THE COURSE
: Milicic was a late-offseason signing, but he had an excellent training camp. Emerging as a top reserve, one who matched up with Kevin Garnett in practice as Boston's second-team center, Milicic showed an ability to be a factor at both ends of the court during four preseason appearances (his offensive numbers were an eyesore, but he was an excellent passer and screener, while he thrived in clogging up the paint and rebounding at the other end of the floor). A wrist injury forced Milicic to miss the final four games of the exhibition slate, and slid him behind Chris Wilcox on the center depth chart. Rivers has leaned on a 10-man rotation at the start of the season, relegating Milicic and fellow veteran big man Jason Collins to emergency roles.
*
BOSTON'S NEW BACKUP PLAN?
: If Milicic elects to depart, it's unlikely the Celtics will see much in the way of cap relief, even if a buyout is facilitated. Boston stood at $71.9 million in committed salary at the start of the season and is already dangerously close to the $74.3 million tax apron it cannot exceed after utilizing the full value of the mid-level exception this past offseason. Milicic is on a minimum contract, earning $1.3 million, of which the Celtics pay $854,000 with the league picking up the rest of the tab. When Keyon Dooling retired this summer, Boston facilitated a $400,000 buyout (and he now works for the team's front office). Celtics president of basketball operations Danny Ainge has previously suggested the bi-annual exception is not in play this season, but Boston seemingly could add another minimum-contract player to fill that 15th spot. Given Rivers' tight rotation and Boston's limited funds, it would seemingly benefit the team to sit tight until later in the season to fill that roster spot. With limited wiggle room, the Celtics probably only have one chance to add another body to the roster this season and, without an immediate need for a big to replace Milicic if he departs, the team could wait to see who emerges on the free-agent market later in the season when their needs might change.
November, 19, 2012
11/19/12
3:57
PM ET
By
Greg Payne
| ESPNBoston.com
Michael Dwyer/AP PhotoDarko Milicic poses at the Celtics' media day.
Celtics reserve center Darko Milicic reportedly is leaning toward leaving the team for the remainder of the season and returning to Europe due to a family matter, according to a report from
Yahoo! Sports
.
Milicic did not travel with the Celtics to Detroit over the weekend, and according to the Yahoo! report, he's considering a return to Serbia to be with his ill mother, and also is frustrated with the lack of a defined role for him with Boston.
After performing well during the preseason, Milicic quickly fell out of coach Doc Rivers' rotation, appearing in only one of Boston's first 11 games.
Milicic, 27, was taken with the second overall pick in the 2003 NBA draft by the Detroit Pistons and has never lived up to his lofty draft position. Now in his 10th season, Milicic already has played for six NBA clubs -- Detroit, Orlando, Memphis, New York, Minnesota and Boston -- and it's unclear what a return to Europe would mean for his NBA future.
Milicic was considering staying in Europe before the start of the current season, entertaining offers from several top clubs, including Real Madrid, before ultimately signing with the Celtics for the veteran's minimum late in September.
For his career, Milicic has averaged 6 points and 4.2 rebounds in 18.5 minutes per game.
October, 8, 2012
10/08/12
11:02
AM ET
By
Greg Payne
| ESPNBoston.com
AP Photo/Michael DwyerCeltics center Darko Milicic has made a big impact early in the preseason.
It took less than 19 minutes of floor time, but Darko Milicic showed on Sunday exactly what he can be for the Boston Celtics this season.
In a game that saw the Celtics put forth a balanced box score -- six players scored in double figures -- Milicic stood out through terrific defense, a focus on rebounding, and an overall court presence that opened things up for his teammates, as Boston ran past Armani Milano, 105-75.
Milicic scored just two points, but hauled in a team-high nine rebounds to go along with a team-high four blocked shots, showing considerable strides on the defensive side of the ball, compared to Boston's first preseason outing in a 97-91 loss to Fenerbahce on Friday.
Friday saw Milicic slow on his rotations, particularly against Fenerbahce's dynamic point guard, Bo McCalebb, but with the overall team defense clamping down on Sunday, Milicic thrived, sliding to the appropriate spots well before Milano could get to the rim in a position to score the ball.
Two of Milicic's blocks came off of help defense, while his other two came in one-to-one coverage, when he allowed his man to commit to his move in the paint before rising up to smack the ball away.
Playing in the second and fourth quarters, Milicic seemed to embrace his hefty 7-foot frame on Sunday, utilizing his considerable size in every area he was able to find success. He used it to block shots, to reach rebounds ahead of the opposition, and he used it on the high post -- the spot on the floor the Celtics have stuck him at most through two preseason games. C's head coach Doc Rivers understands that he has a capable passer in Milicic, which is why he's so willing to line him up at either one of the elbows, where he receives an entry pass and allows the action to develop around him. A quick kickout pass can lead to an open look for a teammate, or allow Milic to re-position himself to set a bulky screen to free up one of Boston's perimeter players.
September, 20, 2012
9/20/12
5:53
PM ET
By
Greg Payne, Special to ESPNBoston.com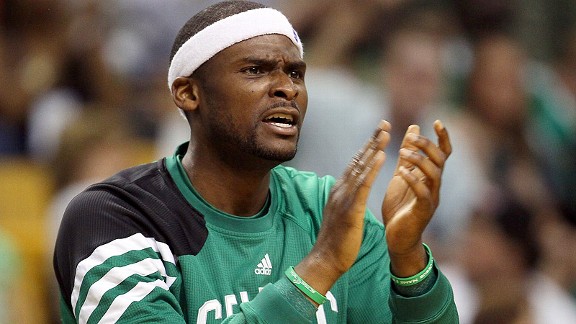 Elsa/Getty ImagesKeyon Dooling is calling it quits after 12 years with the Celtics, Clippers, Heat, Magic, Nets and Bucks.
The
Boston Celtics
announced Thursday afternoon that they waived veteran guard
Keyon Dooling
after the 12-year NBA veteran informed the club he would be retiring in order to spend more time with his family.
Dooling's agent, Kenge Stevenson, said in a statement: "Keyon has decided that he has given the NBA 12 good years and that it's time to pursue other interests and spend more time with his family. He will never forget his time with the Boston Celtics."
In his only season in a Celtics uniform, Dooling emerged as a strong veteran presence in the locker room last year, while overcoming early season injuries and contributing to Boston's lengthy postseason run. He finished the season with averages of 4 points and 1.1 assists over 14.4 minutes per game. He was re-signed to a one-year, veteran's minimum contract late in July.
"We'll miss Keyon's spirit and energy, both on and off the court," Celtics president of basketball operations Danny Ainge said in a statement. "The whole Celtics family wishes him well as he enters the next phase of his life."
Over the course of his 12-year career, in addition for playing for Boston, Dooling, 32, suited up for the
Los Angeles Clippers
,
Miami Heat
,
Orlando Magic
, New Jersey Nets and the
Milwaukee Bucks
. He finished his career with averages of 7 points and 2.2 assists, having shot 34.9 percent from 3-point range.
News of Dooling's departure comes mere hours after the Celtics agreed to a veteran's minimum deal with free agent center
Darko Milicic
. Boston will still have 13 guaranteed contracts entering training camp.
The departure of Dooling bodes well for several of the players Boston currently has signed to partially or non-guaranteed contracts, including
Dionte Christmas
,
Jamar Smith
and rookie
Kris Joseph
. All three players could spend time at shooting guard and will be competing for one of the final roster spots when training camp opens in a little more than a week.
September, 20, 2012
9/20/12
12:05
PM ET

From colleagues Marc Stein and Chad Ford:
Free agent center Darko Milicic has decided to stay in the NBA and continue his career with the Boston Celtics, Milicic's agent, Marc Cornstein, confirmed to ESPN.com.

Milicic, after weighing strong interest from teams abroad trying to lure him back to Europe -- such as perennial Spanish power Real Madrid -- has committed to join the Celtics and is scheduled to be in Boston by week's end to make the deal official.

Milicic, 27, spent the past two seasons with the Minnesota Timberwolves but was released in July via the amnesty clause with two seasons left on a four-year, $20 million contract signed with the Wolves in the summer of 2010.

The former No. 2 overall pick -- selected by the Detroit Pistons ahead of Carmelo Anthony, Chris Bosh and Dwyane Wade in the 2003 NBA Draft -- also played for Orlando, Memphis and New York before his Minnesota stint.
Hop
HERE
to read the full story.
July, 15, 2012
7/15/12
11:35
AM ET
AP Photo/Jim MoneWould the Celtics be interested in former No. 2 pick Darko Milicic?
Throughout the offseason, there will be reports and whispers about players that the Celtics might be interested in. Each time a name bubbles up, we'll ask an ESPN Boston writer to react to the rumor. Next up: Darko Milicic
cleared amnesty waivers
and a
Yahoo! Sports report
indicated Boston was a frontrunner to land his services. Like a summer romance, could this love truly last?
ESPN Boston reaction
: The Celtics have done a solid job beefing up their frontline this offseason, bringing back Kevin Garnett, Brandon Bass, Jeff Green, and Chris Wilcox, while also drafting Jared Sullinger and Fab Melo. There's still the possibility of hanging onto restricted free agent Greg Stiemsma as well. But, as Boston has learned in each of the last center-ravaged seasons (losing Kendrick Perkins, Shaquille O'Neal, Jermaine O'Neal, and Wilcox late in the year and impeding their playoff runs) you can never have enough serviceable big men.
The question, of course, is whether Milicic is a "serviceable" big man. A bit of a cult figure, Milicic is a 27-year-old 7-footer who has averaged 6 points and 4.2 rebounds per game since being drafted No. 2 overall by the Detroit Pistons in 2003. In that time, he's bounced around to five different teams and enjoyed varying amounts of mediocrity. Here's what you need to know: In each of the last two seasons, Milicic has ranked in the 17th percentile of all NBA players in terms of points per play, according to Synergy Sports data. Even when averaging 8.8 points per game during the 2010-11 season with Minnesota, he was not an efficient scorer. He's an eyesore in the post on offense (despite that fact that more than half of his offense came on post-ups in 2010-11, he averaged a mere 0.657 points per play, ranking in the 12th percentile) and he can't finish off cuts. For a 7-footer, his rebounding percentages are atrocious (for his career, 18.2 percent on the defensive glass; 13.3 percent overall).
So why in the world would the Celtics -- or anyone else -- be interested? Well, Milicic's individual defensive numbers are decent and, throw him next to Kevin Garnett on a defensive-minded team and those stats will get even better. And you keep going back to the fact that he's a 7-footer; they don't grow on trees. Anything more than a minimun deal, however, might be a reach. Yes, you have to pay for big-man depth, but Boston is seemingly stocked enough that it probably shouldn't commit the biannual exception. That could seemingly be better utilized at the guard position, possibly retaining the likes of Mickael Pietrus or Keyon Dooling (depending on how Boston's quest for a frontline shooting guard goes).
Bottom line
: Teams seem to think they can extract that No. 2 pick-caliber talent out of Milicic, and no one has done it yet. Of course, the legend of Darko would likely only grow in Boston, making him a Scalabrine-like figure. --
Chris Forsberg