Boston Celtics:

Deadline2011
March, 17, 2011
3/17/11
1:05
PM ET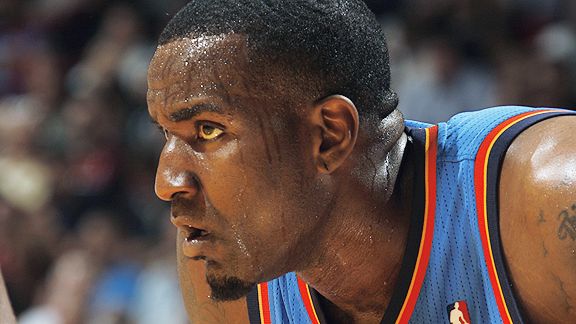 Issac Baldizon/NBAE/Getty ImagesKendrick Perkins was blindsided by his trade to Oklahoma City.
Three weeks later,
Kendrick Perkins
reflects on the "emotional" trade that sent him to Oklahoma City and says he was touched by the Boston fan reaction:
--
PERKINS REBOUNDING AFTER 'EMOTIONAL' TRADE
--
Like most of us, Kendrick Perkins never saw it coming. Two and one-half weeks ago, he was a Boston Celtic, going through the morning shootaround at the Pepsi Center in Denver. There was a game that night against the Nuggets, although the injured Perkins was going to be spectator, having injured his knee two nights earlier in Golden State. Perkins, of course, never made it back to the Pepsi Center for the game that night. After the shootaround, his agent, Bob Myers, called and told him of the possibility of a deal. Perkins had no clue.
Rivers revealed that he put a stop to an initial deal involving Perkins, but swayed when Oklahoma City offered the
Jeff Green
/
Nenad Krstic
package. "At the time I talked to him, it was a different deal and I did put a stop to that one. But I also told him that something might still happen,'' Rivers said.
March, 4, 2011
3/04/11
12:45
PM ET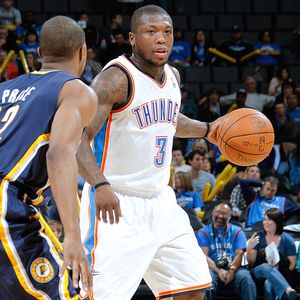 Layne Murdoch/NBAE/Getty ImagesNate Robinson appeared in one game with the Thunder before surgery.
The Oklahoma City Thunder announced that guard Nate Robinson underwent arthroscopic surgery on his right knee Friday. For those scoring at home, that means that all five Celtics players that were traded away at the deadline are currently injured in some form or another.
First things first, here's the release from the Thunder:
Oklahoma City Thunder guard Nate Robinson underwent successful arthroscopic surgery on his right knee the team announced today.

The 5-9 guard first experienced discomfort in the knee following the team's practice on Monday. After deliberation, Robinson and the team made the decision to proactively address the situation.

"After consulting with our medical team, we have decided this is the best course of action to resolve the issue with certainty, and have Nate back on the court as we enter into the final stages of the season," said Thunder Executive Vice President and General Manager Sam Presti.

Robinson is expected to miss 4-6 weeks. The University of Washington product has appeared in one game for the Thunder, since being acquired on Feb. 24, scoring six points in eight minutes of action.
Kendrick Perkins, the other half of the Thunder's trade haul in a deal that brought Jeff Green and Nenad Krstic (and a future first-round draft pick) to Boston, inked a long-term extension with Oklahoma City, but is sitting out then next 2-3 weeks recovering from a left knee sprain suffered in his final appearance with the Celtics.
Luke Harangody played eight minutes in his debut for Cleveland the other night, but left with a hip injury. He is questionable for Friday's game. Meanwhile, fellow rookie Semih Erden is still battling a strained right adductor (as well as a seasonlong shoulder injury), and has yet to debut for the Cavaliers.
After being dealt to Sacramento, Marquis Daniels is not expected to be back on the floor any time soon (if at all this season) after suffering a spinal cord injury that ultimately might have forced Boston into making all their deadline moves.
The Celtics shrewdly turned all those dinged-up players into Green, Krstic, Troy Murphy, Sasha Pavlovic, and Chris Johnson. Those players have already dressed for 11 combined games since last week's deadline (the injured players have appeared in a mere two games for a combined 16 minutes).
Ironically, Boston still can't escape the injury bug with Glen Davis (strained patella tendon), Shaquille O'Neal (inflamed right Achilles), Jermaine O'Neal (left knee surgery), and Delonte West (sprained right ankle) all currently sidelined.
Alas, four injuries is better than nine.
March, 1, 2011
3/01/11
11:00
AM ET
NBA.com/ThunderKendrick Perkins at his introductory press conference with Oklahoma City.
The
Oklahoma City Thunder
signed center
Kendrick Perkins
to a multiyear contract extension, the team announced Tuesday.
"We had a unique opportunity to enter into discussions with Kendrick to solidify his future with our organization," general manager Sam Presti said in a statement. "We are pleased to know that he will be a part of our core group now and in the future. Kendrick's blue-collar, team-first approach aligns with the vision we hold for building a sustainable team in the Oklahoma City community."
Click
HERE
to read more on the extension.
--
Forsberg's analysis
: As part of Thursday's deadline deal that sent Perkins and
Nate Robinson
to Oklahoma City in exchange for
Jeff Green
and
Nenad Krstic
, the Thunder trimmed a tiny bit of cap space (a little over a $1 million), which gave them just enough additional wiggle room to help hammer out a contract extension with Perkins. With Boston over the salary cap, the team couldn't offer more than a four-year, $22 million extension this season, while Oklahoma City was able to use that small cap space to offer Perkins as much as $13 million more on a four-year deal (For a more detailed explanation, hop
HERE
).
Here's the key passage from
Larry Coon's CBA FAQ
explaining how this works:
Only teams under the cap can renegotiate a contract, and the salary in the then-current season can be increased only to the extent that the team has room under the cap. Raises in subsequent years are limited to 10.5 percent of the salary in the first renegotiated season. The renegotiation may not contain a signing bonus.
Kudos to Oklahoma City for getting a deal done, not only facing the prospect that Perkins could test the free-agent waters after this season, but facing a March 1 deadline to get this extension done. Could Perkins have landed more money this offseason? Certainly. Would it have been with a team like Oklahoma City that's positioned to be a contender for the foreseeable future? Probably not. Plus, Perkins gets the security of a long-term extension with an uncertain labor forecast (and potential lockout) looming. It's a win for both sides.
February, 25, 2011
2/25/11
2:22
PM ET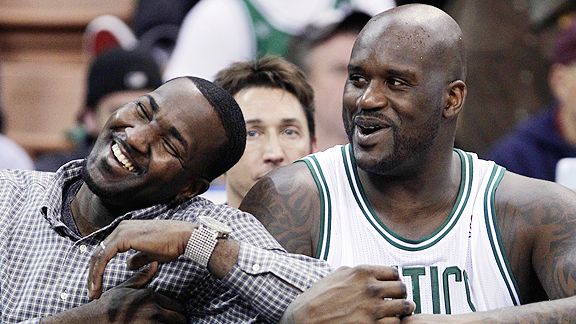 AP Photo/Charles KrupaKendrick Perkins and Shaquille O'Neal share a laugh earlier this season.
There's no feeling quite like your favorite team trading someone you genuinely liked, writes ESPN.com's Bill Simmons:
--
SIMMONS: CELTICS WILL MISS PERKINS
--
And there's the rub. We don't play basketball on paper. I cared about this particular Celtics team more than any Celtics squad since Reggie Lewis was alive -- and that includes the 2008 title team -- mainly because the players enjoyed one another so much. I wasn't surprised to hear that Perkins cried for most of the day Thursday, that Boston's veterans were infuriated by the trade, that Rondo (Perk's best friend) was practically catatonic heading into Thursday night's game in Denver. These guys loved one another. As recently as last season, you couldn't have said that. But Shaq loosened everyone up; so did four full years of the core guys being together; so did Doc's belated maturation into an impactful coach (believe me, I'm as shocked as anyone); so did the contract extensions (Boston's four All-Stars are signed through at least 2012); so did the bonding experience of blowing Game 7 and having that purple confetti fall on their heads; so did the enduring belief that nobody had ever beaten them when they were healthy.
Later, Simmons writes: "Selfishly, I wanted one more chance with them: Garnett, Pierce, Allen, Rondo, Perkins, Baby and Doc, the only seven guys who mattered here. But that's the thing about sports -- 'them' always seems to change when you least expect it."
February, 25, 2011
2/25/11
12:30
PM ET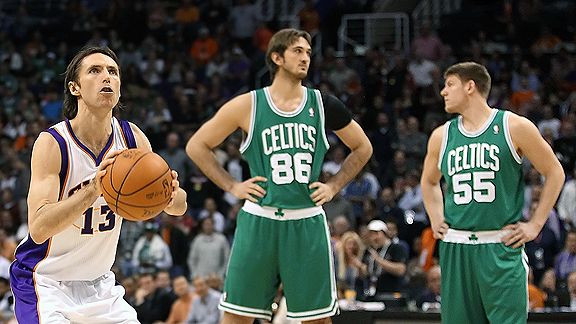 Christian Petersen/Getty ImagesSemih Erden and Luke Harangody are the latest rookie shuttled out of Boston.
DENVER -- Five leftovers from a dizzying deadline day with a focus on the those other than
Kendrick Perkins
that saw their tenures in Boston end as the Celtics made a trio of moves at the deadline buzzer:
--
1. ROOKIES EARN HIGH PRAISE FROM RIVERS
--
Celtics coach Doc Rivers admitted he didn't get to know
Luke Harangody
and
Semih Erden
nearly as well as he would have liked. That's a familiar rookie lament in Boston. But unlike many first-year players that spent their time glued to the Celtics' bench, Rivers heaped praise on the duo that logged decent floor time before getting shipped to Cleveland Thursday in exchange for a future second-round draft pick.
"I love Luke because every day he did the same thing: He played hard like a Kamikaze and I was most afraid of him in practice with our guys," joked Rivers. "But I love him, the way he played, and he never complained. He just did his job everyday.
"Semih probably loved me because he couldn't understand a word I was saying. That was probably a treat for him. But he's going to be good player. I don't think people realize how injured Semih was, not only with the groin, but his shoulder. He's probably going to need surgery on both. But he knew we were down and he played. That was pretty cool."
--
2. KG: DEPARTED ARE BROTHERS FOR LIFE
--
While lamenting the shakeup in team chemistry, Kevin Garnett suggested Boston will find a way to emerge stronger because of this. But he didn't mask the pain in saying goodbye to five players, one third of the full roster.
"We will adjust," said Garnett "I'm just speaking on today, the 24 hours we've had to deal with, it's been very difficult. But we'll continue to push, continue to do the things we do. We'll get through this.
"For the most part, I just want to wish Perk, Luke, Semih, [
Marquis Daniels
] and everybody who was here -- those are brothers for life."
February, 25, 2011
2/25/11
9:35
AM ET
DENVER -- The
Boston Celtics
suffered an 89-75 defeated at the hands of the
Denver Nuggets
, but the real loss happened hours before the game even tipped off:
--
FORSBERG: EMOTIONAL C'S COPE WITH LOSS OF PERKINS
--
Just hours after Boston completed three deals as part of a roster overhaul, the most noteworthy of which sent starting center Kendrick Perkins to Oklahoma City in an NBA trade deadline shocker, the Celtics' locker room ran the gamut of grief. From denial to mild anger to depression to acceptance, Boston players struggled to grasp the loss of a core member of the Big Three era. "A tough day to play basketball, you know?" Garnett said after the Celtics fell 89-75 at Pepsi Center. "A very tough day to play basketball. To even concentrate, to be bluntly honest. It's not even about a teammate, it feels like we lost a family member today."
--
MAY: ON THE CONTRARY, C'S DID QUITE WELL
--
Examining the Celtics-Thunder trade on its merits, I think Celtics president of basketball operations Danny Ainge has once again come out on top. (There's also a first-rounder in there, as well -- a 2012 Clippers pick.) Let's begin with the article of faith that the team that gets the best player usually makes out the best in the trade. Green is the best player among the four. I can't imagine any general manager, including Presti, disputing that. Green is 24 years old. He was averaging 15.2 points a game, third on the Thunder behind Kevin Durant and Russell Westbrook. He started all 49 games he played, averaging 37 minutes per contest.
--
LUNDBLAD: C'S RISK-TAKING COULD PAY OFF
--
So just how valuable was Kendrick Perkins to the Celtics' defense? Let's focus on the post, where Perkins did most of his prowling on defense. In the previous three seasons, the Celtics' post-up defense ranked either first or second in the NBA in opponent points per possession. This season, with Perkins missing 43 games, Boston has dipped to fourth. In that span, Perkins established himself as an elite post defender. He ranked third in both 2007-08 and 2008-09 in points allowed per play in post-up situations. Last season, he was sixth.
--
HOLLINGER: C'S GRADE OUT AS A B

--
Everyone in Beantown is puzzled by this deal, but the Celtics desperately needed a wing and had a surplus of centers. Obviously, dealing Perkins was a risk, and getting the Clippers draft pick is of questionable value for a team trying to win a title right now. I wrote more about the move HERE, but suffice it to say I can understand the logic as long as the Celtics think it's the Miami Heat and San Antonio Spurs, not the Orlando Magic and Los Angeles Lakers, who present the greatest threats to their title hopes this season.
February, 24, 2011
2/24/11
11:42
PM ET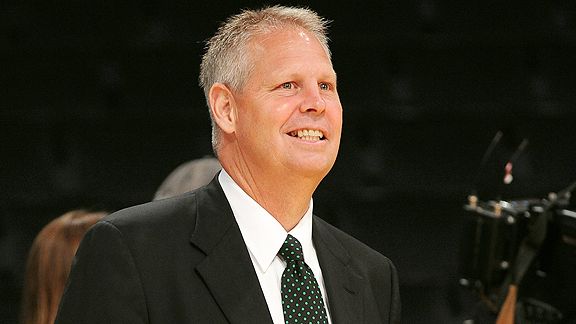 Noah Graham/NBAE/Getty ImagesWill Danny Ainge be smiling when we look back at this trade in the future?
Boston Celtics
president of basketball operations Danny Ainge said Thursday night that while he "agonized" over the "very, very difficult decision" to trade center
Kendrick Perkins
, he thought the move to get
Jeff Green
and
Nenad Krstic
made the Celtics a better team going forward.
"We think it upgrades our team, ultimately," Ainge said in an interview on Boston sports radio station WEEI. "You always have to give up something of value to get something of value in return. We feel this will help our team this year and help us in the future as well."
Trading Perkins was made all the more difficult because of Perkins' popularity among teammates and fans and the fact that he was part of the Celtics' championship core. Ainge said that while his now former teammates might be stung by the move initially, he thought "in time they will see the benefits to our team."
"We agonized over it. Both Doc [Rivers] and I agonized over it. Went back and forth. ... It was a very, very difficult decision to make, yet one we thought was best for the team and where we're headed. His teammates, I think they will give Krstic and Green a chance to come in and show what they're capable of doing. At the same time there are some emotions there. They were very close."
February, 24, 2011
2/24/11
10:45
PM ET
DENVER -- A collection of news and notes before the
Boston Celtics
visited the
Denver Nuggets
Thursday night at the Pepsi Center, just hours after Boston made three moves at the NBA trade deadline while overhauling its roster for a late-season push:
Maybe it was simply the lack of bodies, but it was a very quiet Celtics' locker room before Thursday's game. Most of the veterans declined to talk with
Delonte West
handling the role of player spokesman of sorts on the heels of all the wheeling and dealing by Celtics president of basketball operations Danny Ainge.
"At the end of the day, we're still professionals, this is part of the game," said West. "I'm eight years in, so I'm never really shocked by anything any more. It's part of the game. Of course it's sad to see a couple of our brothers go, but I think they'll be all right."
For now, the Celtics still seemed a bit shellshocked after a flurry of moves that saw
Kendrick Perkins
and
Nate Robinson
shipped to Oklahoma City in exchange for
Jeff Green
,
Nenad Krstic
, and a future first-round pick; Rookies
Semih Erden
and
Luke Harangody
dealt to Cleveland for a future second-round draft pick, and
Marquis Daniels
sent to Sacramento with cash considerations for a future protected second-round draft pick.
Even Celtics coach Doc Rivers admitted the jury is initially out on the trades, but felt like they will pay dividends for Boston down the road.
"The bottom line is: We'll see," said Rivers. "We think we did pretty well today... Whoever is the single best player in the trade, that's who you try to get. Whether that's Jeff Green or Perk, we don't know that. Krstic is a good piece for us as well. He spreads the floor, which I think is great for Rondo. Jeff Green spreads the floor, too...
"We needed to get that [small forward or power forward] swing guy. One of the things I was just saying is that this gives us the ability -- like the year we won it -- at times we can go small with Green at the 4 and Kevin at the 5, with Paul and Ray spreading the floor. We've been trying to get that lineup ever since [Jame] Posey left. You forget how many times we did that in the playoffs, which was every fourth quarter. We haven't been able to duplicate that and, in some ways, it's hurt Rondo."
Rivers admitted it was hard to part with Perkins, a player that he had been paired with during his entire Boston tenure. Asked if he had a chance to talk with Perkins before he left the team Thursday, Rivers said simply, "Perk and I had a great talk."
Rivers then picked up the phone and raved to Oklahoma City coach Scott Brooks about the type of player he's getting in Perkins.
"I talked to Scotty for a long time today, that was his biggest concern: Losing two high character guys from his locker room," said Rivers. "I told him, with Perk, he's getting maybe the best one in the league."
Rivers indicated that once
Shaquille O'Neal
(inflamed right Achilles) is healthy enough to return to action, he will be the team's starting center and his play with the starting unit this season was a big reason Boston was able to make this deal.
"Shaq's a key component of this," said Rivers. "We need to get Shaq healthy and Shaq will be healthy. If Shaq plays great, this deal was actually really good for us. That's on Shaq. We have to get Shaq in great shape, get him ready, get him healthy. He's really going to be important for us in the playoffs."
February, 24, 2011
2/24/11
10:30
PM ET

DENVER -- The
Boston Celtics
signed center
Chris Johnson
to a 10-day contract Thursday as a stopgap in their overhauled (and still dinged-up) frontcourt.
Johnson, a lanky 6-foot-11 center out of LSU, averaged 16.9 point, 9.6 rebounds, and 2.8 blocks per game this season with the Dakota Wizards of the NBA Development League. After spending time with Boston in training camp, he earned a call-up from the
Portland Trail Blazers
earlier in the year and appeared in two games.
Johnson is the third LSU big man on the Boston roster, joining
Shaquille O'Neal
and
Glen Davis
. It's a nagging right Achilles injury with O'Neal that forced the Celtics to reach out for Johnson, especially after trading away both
Kendrick Perkins
and
Semih Erden
in separate deals Thursday.
"We had him in camp," Celtics coach Doc Rivers said before Thursday's tilt against the new-look
Denver Nuggets
. "He'll play tonight. He won't know what he's doing, but he'll be out there and he'll be out there early. We needed a body and he can play a little bit. He's been terrific in D-League."
Johnson, ironically, was assigned No. 86 (maybe out of sheer necessity). That number, of course, was previously owned by Erden.
February, 24, 2011
2/24/11
4:35
PM ET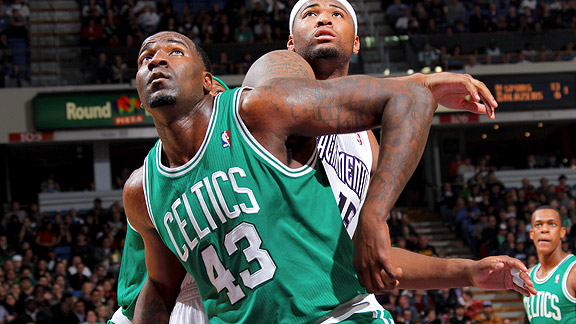 Rocky Widner/NBAE/Getty ImagesKendrick Perkins is off to Oklahoma City in a deadline shocker that brings Jeff Green to Boston.
DENVER -- While we wait for the dust to settle on the Celtics' dizzying wheelings and dealings at the NBA trade deadline, here are five quick thoughts on the roster shakeup:
1. Wow
-- While there's always an air of tension around deadline day, the Celtics arrived at the Pepsi Center Thursday morning with all their available bodies and coach Doc Rivers preached a focus on that night's game against the Nuggets. Just two hours later, the roster had been tipped on its head and it will be interesting to see if a shorthanded Boston squad can focus on its new-look opponent Thursday night in a national TV game.
2. Moves for now, future
-- The Celtics desperately needed another swingman and in getting one (
Jeff Green
) that was better than what they might find on the buyout scrap heap, Boston paid a steep price in starting center
Kendrick Perkins
. What that move suggests to me is that the Celtics were not confident in their ability to re-sign Perkins this offseason and protected themselves from losing him on the free-agent market. It also seems to signal that the team will instead attempt to focus on locking up
Glen Davis
long term in the offseason.
3. Going Green
-- The addition of Green is a very intriguing move, especially with eyes toward a Boston bench that has struggled with offensive consistency for much of the past two seasons. Boston gets the much-needed backup that will allow them to ease up on minutes for
Ray Allen
and
Paul Pierce
moving forward, while also developing a player that can slide into the starting lineup when Allen's time in Boston is over.
4. They're not done
-- The Celtics have also cleared roster room by trading
Semih Erden
,
Luke Harangody
, and
Marquis Daniels
, Boston can still be aggressive in pursuing players (like potentially forward/center
Troy Murphy
) that end up in the buyout scrap heap. When
Shaquille O'Neal
is healthy, Boston has a formidable top 8 (with Green, Davis, and
Delonte West
off the bench) that could potentially get a boost if
Jermaine O'Neal
can get healthy (and anyone else the team can lure to town).
5. Chemistry shakeup
-- The biggest question in all this might be how is Perkins' departure received by a close-knit team that spent an entire offseason preaching about how much he was missed in Games 6 and 7 of the NBA Finals. Sure, Boston got by just fine without him at the start of the year, but there was always the fact that he'd be back for a playoff push. Last year, the Celtics were rattled when struggling reserve guard
Eddie House
got traded for
Nate Robinson
. After the shock wore off, Boston moved on and made its Finals charge. Can it do the same this year?
February, 24, 2011
2/24/11
3:15
PM ET

DENVER -- In a trade deadline shocker, the Boston Celtics traded Kendrick Perkins and Nate Robinson to the Oklahoma City Thunder in exchange for Jeff Green and Nenad Krstic, sources confirmed to ESPN.com.
Click
HERE
to read the full story, including other moves Boston made at the deadline buzzer.
February, 23, 2011
2/23/11
8:45
PM ET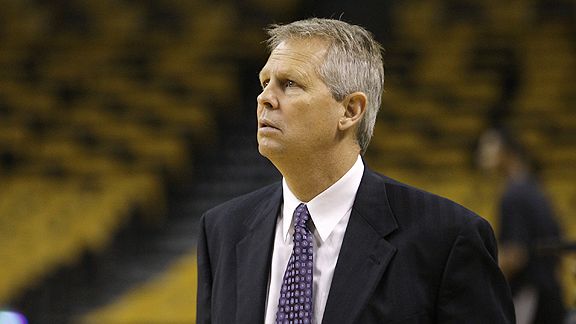 AP Photo/Charles KrupaDanny Ainge has some tough decisions to make while shaping Boston's roster for the second half.
Celtics president of basketball operations Danny Ainge finds himself with a handful of options at the trade deadline, none of which is particularly appealing.
--
FORSBERG: AT TRADE DEADLINE, C'S IN A BIND
--
The Celtics need additional bodies. Their roster is maxed out at 15 players. Something has to give. But the question as the clock ticks toward Thursday's 3 p.m. NBA trade deadline is what is Boston willing to give up? Is it worth cutting ties with a young player with potential in order to land a much-needed backup? Is it better to wait until after the smoke clears and examine what remains in the rubble, then determine if it's better than what you've currently got? There are no simple answers, but Celtics president of basketball operations Danny Ainge must operate with one simple fact in mind: Boston has a team built for a run at an NBA title and these chances, while bountiful in recent seasons, are never guaranteed. Sometimes you have to sacrifice a bit of the future to take advantage of what you currently have.
--
Bonus link
:
Peter May's players to keep an eye on