Boston Celtics:

Dennis Johnson
June, 5, 2014
Jun 5
5:45
PM ET
WALTHAM, Mass. -- The freckles beneath his eyes hint at his connection to the Boston Celtics and when Arizona's Nick Johnson was asked what it meant to be working out for the team, his eyes shot skyward and scanned Boston's championship banners and retired numbers before landing on his uncle Dennis' No. 3.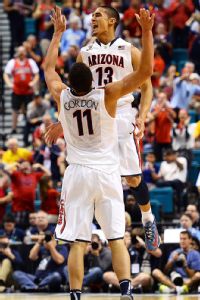 Ethan Miller/Getty ImagesArizona's Nick Johnson is the nephew of former Celtics great Dennis Johnson.
"I came in here last night, it was a great feeling," Johnson said earlier this week after working out for the Celtics at their training facility. "I had never been here; actually, I've never been to the Garden or anything. It was great, just coming in here, looking at the numbers, the retired jerseys, the championships banners. It was a great feeling."
Johnson, a 6-foot-3 combo guard, is projected as a potential second-round pick in the 2014 NBA Draft. He's insanely athletic, accentuated by a vertical that's been measured as high as 47 inches (a hand-me-down from his father "Jumping" Joey Johnson, who played professionally overseas). But Johnson's got a little bit of his uncle's tenacity in him, particularly on the defensive end, and he's ready to play with the same chip on his shoulder as his Hall-of-Fame bloodlines (Dennis was a second-round pick for Seattle in the 1976 draft before going on to win three NBA titles, including two with Boston).
Johnson said he grew up a Celtics fan given that his uncle played his final seven seasons here. But Johnson was only 14 when Dennis passed away in February 2007 and hadn't gotten serious about hoops at that point. In fact, it wasn't until more than a year after Dennis' untimely passing that Johnson really immersed himself in learning about his uncle's career.
"The first time I really really watched [Dennis on film] was when the Celtics-Lakers played again [in the 2008 NBA Finals]," explained Johnson. "They started showing all the old games between Magic [Johnson] and Larry [Bird] and everything. It was great to watch that, and that's really the first time I got to watch extensively and see what he brought."
March, 10, 2014
Mar 10
12:45
PM ET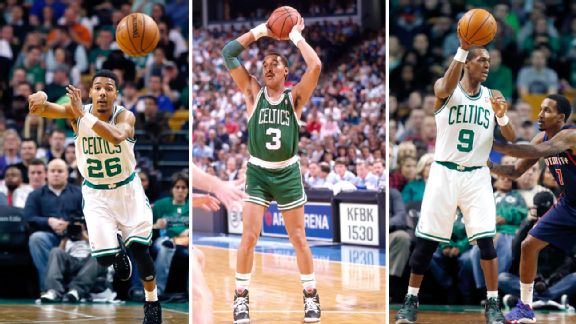 AP PhotoPhil Pressey and Rajon Rondo are bringing back Dennis Johnson's wristband look.
BOSTON -- Starting with a visit from the Indiana Pacers earlier this month, Boston Celtics point guards Rajon Rondo and Phil Pressey have been sporting double white wristbands as part of their in-game attire. Some have wondered if it was a tribute to Celtics legend Dennis Johnson and his signature look.
Pressey smiled wide when the comparison was mentioned, but said the story behind the look isn't that interesting. Rondo and Pressey, locker neighbors inside TD Garden, spotted a teammate wearing a white wristband before a recent game and the idea was hatched to go with the throwback look. They've even tried to goad some other teammates into joining them (without success thus far).
It's hard to argue with the results. Since debuting the look, Rondo is averaging 14.3 points, 11.3 assists, and 5.3 rebounds, 2 steals over 36 minutes per game. Pressey's line isn't as glossy -- 1.8 points, 4 assists, 1.3 steals per game -- but his 4:1 assist-to-turnover ratio is a big reason why he's maintained quality minutes in Boston's backcourt.
Rondo's on-court look has always been a subject of fan interest, most notably his headband that was a staple of his early playing days but makes only cameos lately.
Maybe Rondo and Pressey can spark a league-wide wristband revival. Hey, it's better than the short shorts.
August, 14, 2010
8/14/10
10:45
AM ET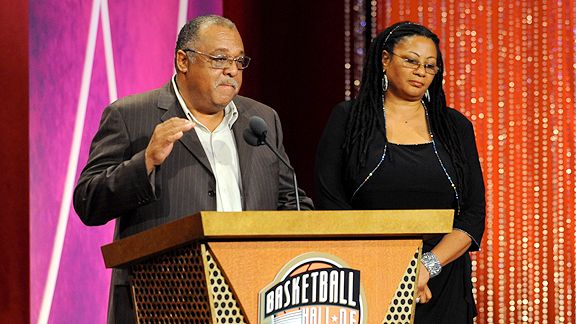 Andrew D. Bernstein/NBAE/Getty ImagesDennis Johnson's brother, Gary, and wife, Donna, talked at his enshrinement Friday night.
The late Dennis Johnson was posthumously inducted into the Basketball Hall of Fame on Friday:
Dennis Johnson was posthumously inducted into the Naismith Memorial Basketball Hall of Fame as a member of the Boston Celtics on Friday night in Springfield. Johnson's wife, Donna Johnson, and brother, Gary Johnson, accepted the honor on his behalf, giving thanks to Charles Barkley for repeatedly saying on television over the past several years that it was "shameful" that Johnson was not yet in the Hall.

A video montage was shown at the start of Johnson's presentation, during which Hall of Famers and former Celtics Larry Bird, John Havlicek and Bill Walton spoke. Bird said Johnson was "the best player I've ever played with" during the montage.
Click
HERE
to read the full story.
You can also check out the
full speech on NBA.com
, or hop
HERE
to read more about all of the Hall of Fame inductions.
The rest of Friday's links and info:
August, 12, 2010
8/12/10
2:45
PM ET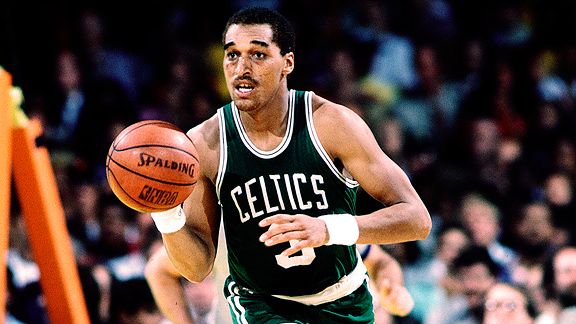 John McDonough/Icon SMIDennis Johnson becomes the latest Celtic to enter the Hall of Fame Friday.
The late Dennis Johnson's induction into Springfield is the latest proof of a deep Celtics connection to the Basketball Hall of Fame. Will Danny Ainge be next? ESPN Boston's Peter May explains:
The Celtics have always had a proprietary interest in the Basketball Hall of Fame. It may be partially due to geography; the team in Boston is the NBA's closest to the shrine in Springfield. It may be because the Hall and the Celtics' dynasty emerged at nearly the same time, the Hall inducting its first class in 1959 (despite the absence of a physical structure, which would come nine years later) while the Celtics were amassing titles with stunning regularity in the late 1950s and 1960s.

The Hall doesn't make its inductees wear a hat, so to speak, at the enshrinement ceremony. They don't have to choose a team. But if they did, and if Dennis Johnson could come back from the dead for the induction Friday and make his choice, it would almost certainly be as a member of the Celtics. That's how so many remember him and that's how the Hall is promoting his induction, in pictures wearing a Celtics uniform.

The man known as DJ won two titles with the Celtics and was an almost automatic All-Defensive Team selection. But he also won a title with Seattle and was MVP of the NBA Finals in 1979. He was first-team All-NBA with the Suns. But he spent more years in Boston than in either Seattle or Phoenix, not that that really matters. He is remembered as a Celtic. Period.
Click
HERE
to read the full story.
April, 4, 2010
4/04/10
12:23
AM ET
Nathaniel S. Butler/NBAE/Getty ImagesDennis Johnson is set to be enshrined in Springfield.
It would have been nice if Dennis Johnson were alive for his long-overdue election to the Hall of Fame. Of course, teammates and fans knew he was a legend all along says ESPN Boston's Peter May:
"The fact that Dennis Johnson is not in the Hall of Fame is a disgrace to the sport of basketball and I am embarrassed." -- Bill Walton

Those were Big Bill's thoughts 15 years ago or so, when Dennis Johnson was first eligible for the Hall of Fame. Year after year, DJ waited for a call that never came, that never had a chance of even being made. He was deemed unworthy.

And then he died in February 2007.

But his wife, Donna, and his family and friends, including Walton, a Hall of Famer in his own right, will finally see a basketball injustice undone when Johnson is announced as a member of the Hall of Fame, Class of 2010, on Monday. Yes, it took way, way too long. Yes, it's a travesty that DJ himself didn't live to see it happen.

But to those who watched him play and were able to appreciate the singular greatness of the player, it is an honor richly deserved and long overdue.

"It really doesn't come as a surprise to me," said former Celtics general manager Jan Volk. "The surprise is that it took so long. Anyone who ever played with or against Dennis Johnson knew that no one competed harder. And the bigger the game, the better he played."

Johnson didn't have dazzling numbers, Hall of Fame numbers if you will. He averaged 14.1 points a game. But numbers never defined DJ. He was a certifiable terror on defense (still an overlooked talent in Hall of Fame voting) and was as disruptive a force as any guard in his era.
Click
HERE
to read the full story. For more on Johnson's career, hop
HERE
.
April, 3, 2010
4/03/10
3:54
PM ET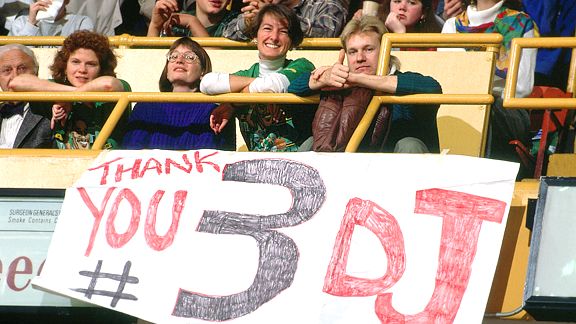 Lou Capozzola/Getty ImagesFans show their support for Dennis Johnson at the old Boston Garden.
Former Celtic guard Dennis Johnson, who played with the original Big Three and helped Boston win two NBA titles (1984 and '86) and Seattle win one (1979), has been elected to the Naismith Hall of Fame, the Boston Globe and WBZ's Steve Burton are reporting. The official announcement is expected to come Monday morning, according to the reports.
The Celtics have not confirmed the news.
Johnson, who died at age 52 of a heart attack in February 2007, played 14 seasons in the NBA, the final seven with Boston. He was considered a defensive specialist and one of the top guards of his era. He was one of 19 nominees who were announced in February, and many in the basketball world feel his inclusion in the Hall is long overdue.
Johnson, known as DJ, was a five-time All Star and was named the 1978-79 NBA Finals MVP.
Johnson, who played four years with Seattle and three with the
Phoenix Suns
, had his number 3 retired by the Celtics in 1991.
February, 12, 2010
2/12/10
12:29
PM ET
Former Boston Celtics guard Dennis Johnson is among the list of finalists who will be considered for enshrinement in the Basketball Hall of Fame in 2010, the NBA announced Friday.
The Class of 2010 will be announced on April 5 before the NCAA's men's championship game in Indianapolis. A finalist needs 18 of 24 votes from the Honors Committee for election into the Basketball Hall of Fame. The Class of 2010 will be enshrined during festivities in Springfield on August 13.
Here's more details from the NBA:
DALLAS, Texas and SPRINGFIELD, Mass. – February 12, 2010 – The Naismith Memorial Basketball Hall of Fame today named an elite list of players, coaches and teams as finalists who will be considered for election to the Hall in 2010. Gaining the honor of being named a Hall of Fame finalist is one of the true highlights of a career in the sport of basketball. This year's list includes two-time NBA MVP and 14-time NBA All-Star Karl Malone of the Utah Jazz and Scottie Pippen, a six-time NBA champion as a member of the Chicago Bulls, both first time nominees. They will be considered along with previous finalists, such as legendary high school coach Bob Hurley of St. Anthony's in Jersey City, N.J. and Cynthia Cooper, who helped the Houston Comets win four WNBA titles.

Also headlining the list for 2010 are three legendary teams, including the 1960 United States Men's Olympic Team, the 1992 United States Men's Olympic "Dream Team" and the All-American Red Heads, a finalist selected by the Women's Committee. The announcement was made today in Dallas, Texas in conjunction with the 2010 NBA All-Star festivities.

The complete list of finalists includes: From the North American Screening Committee: players Dennis Johnson, Bernard King, Karl Malone, Chris Mullin, Scottie Pippen and Jamaal Wilkes; coaches Bob Hurley, Don Nelson and Tex Winter; contributor Jerry Buss and the two USA Olympic teams. From the Women's Screening Committee: Cynthia Cooper, Harley Redin and the All-American Red Heads team. From the International Screening Committee: coach Vladimir Kondrashin and Brazilian Legend Maciel "Ubiratan" Pereira while Richard Guerin and Gus Johnson represent the nominees from the Veteran's Screening Committee.
Don Nelson, his No. 19 already hanging in the rafters in Boston, is among the other finalists with Celtics ties.
Here's the blurbs included on Johnson and Nelson:
DENNIS JOHNSON – Player, was one of basketball's toughest defenders, earning nine consecutive NBA All-Defensive team honors during his 14-year professional career. He was a major part of three NBA championship teams and won MVP honors at the 1979 NBA Finals as a member of the Seattle SuperSonics. He played with Seattle from 1976-80 and was traded to the Phoenix Suns where he played from 1980-83. He finished his NBA career with the Boston Celtics (1983-90) where he won NBA championship rings in 1984 and 1986. Known as "D.J." to teammates and fans, he was named to five NBA All-Star teams while scoring more than 15,000 points and compiling 5,000 assists before retiring in 1990. (Born Sept. 18, 1954; Died February 22, 2007).

DON NELSON - Coach, a native of Muskegon, Michigan, began his career as an NBA player for the Chicago Zephyrs (1962-1963) and went on to play for the Los Angeles Lakers (1963-65) and the Boston Celtics (1965-1975). He then went on to coach in the NBA, leading the Milwaukee Bucks (1976-1987) to seven consecutive division titles (1979-1986) when he recorded seven straight 50-plus win seasons. He currently coaches the Golden State Warriors. Nelson also coached the New York Knicks (1995-1996) and the Dallas Mavericks (1997-2005). Nelson is one of only two coaches in NBA history to record 250 victories with three different teams. He is a three-time NBA Coach of the Year winner, and currently ranks second in NBA Coaching history for wins. He was named as one of the NBA's Ten Best Coaches of All-Time when the league celebrated the NBA at 50. Nelson has over 40 years of NBA experience as a player, coach and general manager. His No. 19 jersey was retired by the Boston Celtics.