Boston Celtics:

Deron Williams
March, 14, 2011
3/14/11
1:26
PM ET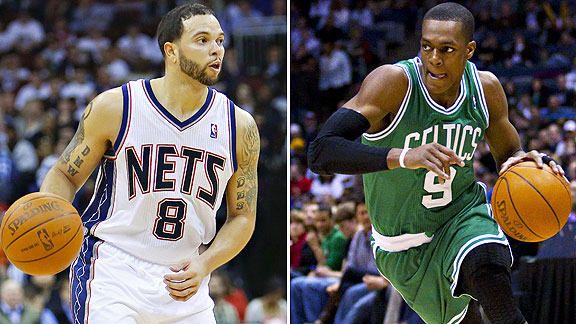 US PresswireThe better point guard: Deron Williams or Rajon Rondo?
Who's the better point guard: Rajon Rondo or Monday's foe, the Nets' Deron Williams? ESPN Insider breaks it down:
--
WHO'S BETTER: RONDO OR WILLIAMS?

--
Point guard is the deepest position in the NBA. Never before have there been so many quality floor generals in both conferences, and never before has the debate raged this fiercely about who among them is the best. Deron Williams and Rajon Rondo's styles are at the opposite end of the lead guard spectrum. The once maligned Rondo has become the Boston Celtics' most valuable player, and Deron Williams toggles between potentially the best point guard in the league and the guy who never gets enough credit. Now they occupy the same division, so there's no better time for them to square off in our weekly matchup. It's D-Will's power and speed against Rondo's cunning and unselfishness.
ESPN the Magazine's Chris Palmer breaks the matchup down in four categories, with Rondo earning advantages in key strength (basketball IQ) and secret skill (creative passing). But the overall winner? Palmer gives the nod to Williams.
February, 23, 2011
2/23/11
11:55
AM ET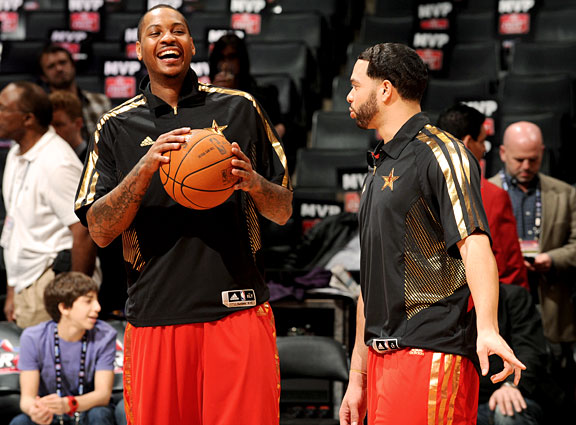 Andrew D. Bernstein/NBAE/Getty ImagesHead east, young men: Anthony and Williams are bound for the Atlantic Division.
If nothing else, the star power in the Atlantic Division has jumped up a notch this week. After losing out to the New York Nicks in the
Carmelo Anthony
Sweepstakes, the
New Jersey Nets
appeared to counter Wednesday by
hauling in All-Star point guard
Deron Williams
from the
Utah Jazz
in what might be an even more impressive haul.
The number of
Rajon Rondo
vs. Williams battles just doubled and adds another horse to the "Who is the best point guard in the East?" race (And just imagine if
Chris Paul
ever finds his way to New York to join Anthony and
Amare Stoudemire
).
As we
noted in the aftermath of the Anthony trade
, the Celtics probably don't have much to fret this season, but the road to the postseason is getting decidedly more difficult to navigate in future seasons. No longer is the Atlantic Division such a breezy stroll, and the lower half of the Eastern Conference is improving, which will make the early rounds of the playoffs no cupcake, either.
Before the first meeting with the surging Knicks this season, Celtics coach Doc Rivers was asked if he liked the idea of a little in-division competition.
But asked if he liked having a little divisional competition, Rivers playfully squashed that talk as well.
"No, I kinda liked it the other way," joked Rivers. "Let's hope it goes back that way."
Sorry, Coach, it looks like it's only going to get tougher.
November, 11, 2009
11/11/09
4:43
PM ET
BOSTON -- A handful of pregame notes before the well-rested Boston Celtics (7-1) host the Utah Jazz (3-4) at the TD Garden:
Williams starts: When Utah coach Jerry Sloan stepped out to talk to the media before Wednesday's game, the Jazz's media relations relayed that point guard Deron Williams had underwent treatment in the afternoon and was loosening up on the court, but his status remained uncertain.
Two minutes later, after Sloan had gone over the auxiliary plan of starting rookie Eric Maynor and using Ronnie Brewer to handle the ball more, word came that Williams would indeed play.
"I have to change my thoughts," joked Sloan. "Want me to start over?"
Sloan said he'd monitor Williams like any injured player and be sure not to do anything that could aggravate the injury.
The Celtics probably weren't overjoyed with the news, but they had been bracing for Williams throughout the week. Boston knows, regardless of a balky back, it needs to keep Utah's supremely talented guard in front of the defense and not let him create going to the basket.
"One of the things we do tell [Rajon] Rondo with him is that his speed becomes his quickness and power," said Celtics coach Doc Rivers. "If we can somehow slow him down, then you can use your speed. If you let him catch it on the run all day, you can have problems. Even if you're in front of him, he'll blow through you, he's that strong."
That led to a lot of talk about Williams as a bigger guard (6-foot-3, 205 pounds) and his ability to post up opposing point guards given his size advantage. It harkens back to Rivers' era of point guards.
"I kid with Rondo all the time, there's no way he could have played in our era," said Rivers. "We'd beat the hell out of him. The handcheck was so important, but they've taken that away. That's probably a good thing."
Rivers did note that guys like Spud Webb and Mugsy Bogues still found a way to compete in that era, so talent transcends all. But he also admitted that bigger guards like Williams, Chauncey Billups and even Derrick Rose ("He's not as tall, but he's powerful," said Rivers) pose matchup problems in this age of the small and quick guards.
"I hope the small, quick guy that's thin -- I hope that's the type of guy that gives [Williams] problems," Rivers joked about Rondo. "There are guys that give certain guys problems, I don't know if that's a speed guard or not [with Williams]. We'll find out."
No Scalabrine: As expected, the Celtics will be without reserve forward Brian Scalabrine, who is recovering from back spasms. Scalabrine, who started the season on the sideline with a right ankle injury, tweaked his back last week and sat out Friday's loss to Phoenix.
Despite gutting out 20 minutes in Saturday's win over New Jersey with the Celtics bench thinned by the absence of Marquis Daniels (personal matter), Scalabrine has been given some time to rest his back with Daniels back with the team.
Fellow reserve big man Shelden Williams, who Twittered about potential side effects from the H1N1 vaccine he received earlier this week, said he was feeling much better and was ready to go Wednesday.
Remembering veterans: Rivers said he would relay some stories about veterans to his team before Wednesday's game, hoping to honor those who served our country on the holiday in their name.
Rivers, who noted his dad was an Army veteran, said it was important to remind his players of these type of moments.
"I'll ask the guys if they even know what day it is," said Rivers. "A lot of people don't. My dad was a veteran, so I do understand and appreciate this day."
Schedule talk: Despite three solid days of rest after a stretch of eight games in 12 days, the schedule continues to be a hot topic of conversation. Ray Allen admitted the stretch whizzed by given all the activity, but said the schedule can be grueling for more than just the amount of games in a certain span.
"It can come in so many different ways. I think last year we had a game in [Indiana], then one in Boston, then it was off to Texas -- something like that," said Allen. "We adjust and adapt to whatever we need to do."
November, 11, 2009
11/11/09
10:51
AM ET
Utah Jazz star point guard Deron Williams sat out Wednesday morning's shootaround, the Salt Lake Tribune reported, and appears unlikely to play against the Boston Celtics at the TD Garden on Wednesday night (7:30 start).
Williams told the Tribune his strained back had gotten worse and that he probably would not play in the game if it felt the way it did at the morning shootaround. He had planned on seeing a chiropractor Wednesday afternoon.
If Williams does not play, the Jazz would suit up just one point guard -- rookie Eric Maynor -- and nine total players.
Williams is averaging 21.4 points, 10.7 assists, and 4.9 rebounds per game.
ESPNBoston.com's Chris Forsberg will be at the Garden on Wednesday night providing pregame and postgame updates.