Boston Celtics:

Derrick Rose
April, 29, 2012
4/29/12
11:28
AM ET
Dennis Wierzbicki/US PresswireChicago's Derrick Rose is helped off the court Saturday after tearing his ACL.
ATLANTA -- Celtics coach Doc Rivers expressed disappointment in the
season-ending ACL injury
sustained by Bulls point guard
Derrick Rose
during the team's Game 1 win over the
Philadelphia 76ers
on Saturday.
"Sad. I hated it," Rivers said. "I talked to [Bulls coach and former Celtics assistant Tom Thibodeau] for a long time last night. You hate to see that. He's a good kid and, it doesn't matter if he's not, you don't want anybody to get injured. That's just tough. You know my rule: You go down and there's nobody around, it's a bad injury. [Rose],
[Iman] Shumpert
-- it's just tough to see that."
The Celtics and Bulls would meet in the Eastern Conference semifinals if top seeds take care of business in the opening round, but Rivers dismissed the idea of both looking ahead or acknowledging that the playoff road might have gotten easier to navigate.
"We've got to play the Hawks, that's our focus," Rivers said.
Rivers also took umbrage with those that have lamented Rose being on the court at the time of his injury. Rose suffered the injury while trying to leap off his left foot in the lane with 1:22 left in Saturday's 103-91 victory.
"That's ridiculous," Rivers said. "You want to win the game. Heck, [the 76ers] cut the lead -- it's ridiculous."
February, 15, 2011
2/15/11
9:00
AM ET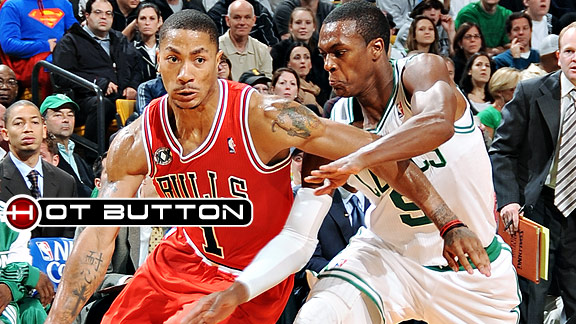 Steve Babineau/NBAE/Getty ImagesDerrick Rose vs. Rajon Rondo: Who's the best PG in the East?
With the 2011 NBA All-Star game right around the corner, ESPN Boston debuts the
Hot Button
feature this week by posing the question: Who's the
best point guard in the East
,
Rajon Rondo
or
Derrick Rose
?
ESPN Chicago's Nick Friedell offers the defense of Rose (no one has done more with less this season), while I offer the Rondo argument (the player who most consistently guides his team to victory). Check out the full debate, vote, and offer your own take in the discussion.
Click
HERE
to participate in the Hot Button poll.
November, 6, 2010
11/06/10
1:45
PM ET
AP Photo/Charles KrupaRajon Rondo races the other way with a steal as Derrick Rose chases.
Judging solely on the box score, you might call the
Rajon Rondo
vs.
Derrick Rose
battle Friday night a bit of a push. Rondo came back to earth a bit (at least in terms of otherworldly ball distribution), registering 10 points, 11 assists, and four steals over 40 minutes, while Rose countered with 18 points, nine rebounds, and five rebounds over 46 minutes.
But a glance at the plus/minus is your first hint of Rondo's dominance. Boston's point guard finished a team-best plus-14, while Rose was a minus-8. The folks at ESPN Stats and Information crunched the numbers even further and found that, when the two guards shared the floor, Boston held a whopping 21-point edge. Here's how the numbers shook down over that span of 36:29:
| | Rondo | Rose |
| --- | --- | --- |
| FG/FGA | 5/9 | 6/13 |
| FT/FTA | 0/0 | 2/2 |
| Points | 10 | 14 |
| Assists | 10 | 8 |
| Turnovers | 4 | 5 |
| Team Points | 89 | 68 |
Rondo and Rose also went 1-on-1 in the final play of regulation with the Bulls looking for the win. Rose appeared to make a move on Rondo, but he recovered in time to strip the ball before a potential shot, forcing the extra session.
"At first I thought it was going to be pick-and-roll," said Rondo. "But then I saw him wave guys off, so I just took it as a challenge."
Rondo, playing through plantar fasciitis that the team trainer suggested should have sidelined him for Friday's game, wasn't willing to back down against arguably his chief rival among young point guards.
"It's going to take a lot to keep me out of these type of matchups," admitted Rondo. "I like competing, especially against guys like Derrick."
Celtics coach Doc Rivers confirmed the two players were fired up for the matchup, but heaped praise on what his player was able to accomplish, particularly with the ailing feet.
"Down the stretch, [Rondo's] defense, his hands -- the steal on the inbound play, the deflection steal at the end of the game on the last shot -- he was great," said Rivers. "I mean, Rose got one drive in the overtime and he yells to the bench, 'My fault!' He was just locked in tonight. And that's what we needed."
Added captain
Paul Pierce
: "He was locked in. When he goes against the top guards, he's so locked in on the defensive end, not that he's not every night. He takes it as a challenge and you see that in him before the game. You see his focus. He was phenomenal on defense on rolls. That late stop he had when Rose could have got a shot up to win a game -- I just thought it was phenomenal defense. He just gets his hands on so many balls throughout the course of a game. That was a big stop for us."
November, 6, 2010
11/06/10
1:45
AM ET
BOSTON -- Emerging from the trainer's room more than an hour after Boston completed its 110-105 overtime triumph over the
Chicago Bulls
Friday at the TD Garden, Celtics point guard
Rajon Rondo
downplayed the severity of his "sore" feet, stressing he's fine after coach Doc Rivers suggested he had a "mild" case of plantar fasciitis that nearly prevented Rondo from suiting up.
"It's fine," said Rondo, who only shrugged when asked to confirm the diagnosis of plantar fasciitis. "It's cool. It's sore, that's all."
It wasn't so cool Friday morning, when team trainer Ed Lacerte advised Rivers that Rondo should skip Friday's game in lieu of rest. But when Rivers approached Rondo soon after, he brushed off the diagnosis and said he was playing.
"Listen, this morning, Eddie told me that Rondo wasn't playing because of his foot," said Rivers. "And 10 minutes later, I go down so we can watch film and Rondo said, 'I'm playing; I'm fine.'"
Rivers said before Friday's game that Rondo would be on a short leash and the first sign of soreness would result in him being yanked. The Celtics did just that, pulling Rondo earlier than usual in the first quarter, but he ultimately played 40 minutes, 13 seconds overall.
Rondo contributed 10 points and 11 assists, while also providing some key defense, including a late-game strip of
Derrick Rose
that prevented the Bulls from getting off a potential game-winning shot at the end of regulation.
"The only thing we did, and you could tell, we subbed him early," said Rivers. "I think with five or six minutes [left] in the first [quarter] we subbed him. And then we did it again [after] halftime. And, overall, that may have helped him with his wind."
Rondo's feet became a concern after Wednesday's win over the Bucks when Rivers indicated his point guard's feet were so sore he couldn't carry the ball up the court on consecutive possessions. Rondo suggested after Friday's game that the soreness developed over time and, while the only true way to heal is rest, he doesn't plan to miss any time because of the injury.
"I was able to tolerate it tonight," said Rondo, who got treatment and a massage after the game. "We're just taking precautions, that's all."
But the most telling statement from Rondo might have come when asked about his matchup with Derrick Rose, a monster story line before any meeting between the two teams. It's clear Rondo didn't want to take a backseat Friday.
"It's going to take a lot to keep me out of these type of matchups," admitted Rondo. "I like competing, especially against guys like Derrick."
Rose was one of the members of a Team USA squad that won gold at the 2010 FIBA World Championships after Rondo voluntarily departed the team before the start of the tournament. Rondo seems to have something to prove against guards that were ahead of him on the depth chart for Team USA and that would include Oklahoma City's
Russell Westbrook
, who he'll be matched up with Sunday if he's able to play against the Thunder.
"They get fired up for each other, I'm sure," Rivers said of the Rondo-Rose matchup. "That's human nature. And it doesn't get any easier; We play a pretty good guard [Westbrook] in the next game [Sunday vs. the Thunder] as well. But it's good. They're both sensational."
If those guards weren't sensational, Rondo's plantar fasciitis might seem a lot more severe than he's letting on.
October, 30, 2009
10/30/09
5:00
PM ET
By
Brian MacPherson
| ESPNBoston.com
A handful of tidbits from Chicago Bulls coach Vinny Del Negro before tipoff Friday night at the TD Garden:
Rose still limited: Point guard Derrick Rose, who missed three weeks with an ankle tendon injury, played 33 minutes in the Bulls' season opener on Thursday and might not play quite that much against the Celtics on Friday. (Rose averaged 37 minutes per game during the regular season a year ago and 44.7 minutes per game in the Bulls' marathon first-round series against the Celtics.)
Del Negro left himself some leeway, though.
"I'd like to keep him around 30," he said, "but let's see how the flow of the game goes and see how he feels. As he gets loose, he feels good. He got a little fatigued from a conditioning standpoint at the end [Thursday] night."
New look in the paint: The Celtics, of course, didn't have Kevin Garnett available in the playoffs a year ago, opening up the paint a little bit for Joakim Noah (10.1 points, 13.1 rebounds in seven games) and Tyrus Thomas (9.6 points, 6.3 rebounds). No such luck this time around.
"With Garnett back, they're a different team," Del Negro said. "Everyone knows that."
For Chicago, too: Paul Pierce, meanwhile, scored at least 20 points in six of the seven playoff games against the Bulls, but he didn't have to deal with Luol Deng, whose length has made him a tough matchup for Pierce. Deng missed the playoffs with a stress fracture in his right leg but is expected to start on Friday. How he deals with Pierce might be one of the key subplots of the game.
Deng had 17 points and nine rebounds against the Spurs on Thursday.
"He's long, and he gives us more size," Del Negro said. "Last year, obviously, we didn't have as much length or depth or versatility as we have now. We'll try to use that to our advantage. Having Luol back has been a big factor for us."
Alarming development: The Bulls had to deal with a 4 a.m. fire alarm at their hotel Friday morning. It probably would have been more annoying, though, if they'd gotten to their hotel earlier than 3 or 3:30 a.m. They weren't exactly in the middle of a deep sleep at that point.
"We got plenty of sleep and had a late walk-through, so it was fine," Del Negro said.
October, 29, 2009
10/29/09
6:16
PM ET
The challenges keep coming for Celtics point guard Rajon Rondo. First it was Cleveland's Mo Williams, then a Raymond Felton/D.J. Augustin combo against Charlotte. Chicago's Derrick Rose is next as the Bulls visit the TD Garden Friday.
But the way Celtics coach Doc Rivers sees it, the opposing guards are the ones who need to prepare for a challenge.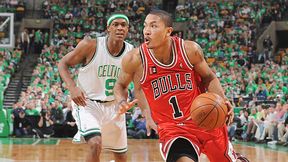 Brian Babineau/Getty Images
Chicago's Derrick Rose and the Celtics' Rajon Rondo opened some eyes with their play in last season's memorable playoff series.
"I think Rondo has established himself as a guard that other guards are going to get up for, too," said Rivers. "No longer is he just trying to measure himself. They measure themselves against Rondo now. When you reach a level like
Paul Pierce
-- and that's what [Rondo] wants to do -- there are no off nights. Every night someone is trying make their name off of you."
In a way, the Rondo-Rose matchup is a battle of two guards trying to secure their spots in the upper echelon of NBA point guards. Ask someone who the best at that position is and you'll likely hear names like Chris Paul, Deron Williams and Steve Nash.
Maybe it's time to start putting Rondo and Rose in the conversation.
Rondo has been downright brilliant to start the 2009-10 season, averaging 9 points, 10.5 assists and 3 steals per game in wins over the Cavaliers and Bobcats. What's more, he's shooting a scorching 64.3 percent from the floor, spinning all sorts of shots in from under the basket and showing confidence in his midrange jumper (something he spent the offseason working on with former NBA great Mark Price).
New teammate Rasheed Wallace has offered high praise for Rondo after each game, noting in Cleveland: "Rondo plays a hell of a game. He sets the table and make sure everyone gets the ball." That's a delicate line Rondo must straddle in Boston. On another team, he might be leaned on to provide more scoring, but he sacrifices some of that spotlight to the Big Three here.
Rose, meanwhile, is likely to catch even more of the spotlight this season with Ben Gordon having departed for Detroit. Rose will have to bump up his 16.8 points per game from a season ago to help the Bulls keep moving forward.
The NBA's reigning Rookie of the Year limps in with an injured wheel. Rose missed three weeks in the preseason with a right ankle tendon injury, but started Thursday's season opener against the Spurs.
"I'm feeling good," Rose told ESPNChicago.com. "My ankle is warming up. I'm feeling a lot better out there. Now I'm just ready to play."
If he didn't prove himself during the regular season of his rookie campaign, Rose had his coming-out party last April at the Garden. He erupted for 36 points and 11 assists in a 105-103 overtime victory in Game 1 of the teams' memorable first-round playoff series. Rose's 36 points tied Kareem Abdul-Jabbar's record for a rookie making his postseason debut.
Rose went on to average 19.7 points, 6.4 assists and 6.3 rebounds in the series, which the Celtics won in seven games. Somewhat lost in the hoopla around Rose was just how good Rondo was in that series.
In the Game 1 loss, Rondo had 29 points, 9 rebounds and 7 assists. Two days later, Rondo erupted for 19 points and 16 assists in a Game 2 victory. Rondo's best effort might have been a 28-point, 11-assist performance in a crucial Game 5 win at the Garden.
On Friday, the guards renew acquaintances. And if Rondo needs any extra motivation, he need only spend a few minutes on YouTube. Search for "Rondo and Rose" and you'll get numerous copies of Rose crossing over on Rondo during last season's series, as well as Rose's block to seal a triple-overtime win in Game 3.
Rondo got the last laugh last season, but this rivalry is just getting started.