WALTHAM, Mass. -- Let's play everyone's favorite game: Whose Stat Line is it Anyway?
Player A: 8.2 pts, 3.4 reb, 20.4 mpg, 40.5 FG%, 20.6 3PT%, 12.8 PER
Player B: 6.5 pts, 4.3 reb, 18.1 mpg, 42.3 FG%, 30.8 3PT%, 12.3 PER
Hint: Both are rookie stat lines, 15 years apart. You have 30 seconds, good luck.
[Jeopardy theme music]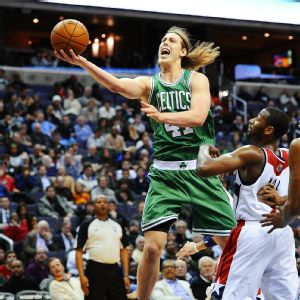 Brad Mills/USA TODAY Sports
Kelly Olynyk flashes great potential but must develop his game to earn more playing time.Player A is Dirk Nowitzki's rookie line in 47 games for the Dallas Mavericks during the 1998-99 campaign. Player B is Kelly Olynyk's stat line through 41 games this season for the Boston Celtics.
Now, let's be explicitly clear here: We are NOT suggesting that Olynyk is going to be an 11-time All-Star or league and Finals MVP who spends his entire career in one jersey. But consider this exercise a friendly reminder that it takes a little time for every rookie to find his place in the NBA.
The jumping off point for this exercise is that Nowitzki and the Mavericks make their lone visit to TD Garden Sunday to meet the streaking Celtics. It's the first time that Olynyk gets to share the NBA floor with one of his NBA idols.
Yes, the flowing hair, the No. 41 jersey, the sweet-shooting stroke, Olynyk hasn't exactly run from that which inevitably leaves observers making the Nowitzki comparison. Olynyk is bashful when that chatter arises, saying he's humbled to even be mentioned in the same breath as a player with as decorated a career as Nowitzki.
Comparisons to the man Gerald Wallace calls the "German Assassin" aside, a breakout performance at the Orlando summer league set first-year expectations for Olynyk unfairly high. The impatient types worry the Canadian 7-footer won't reach his potential, despite simply enduring the typical ups and downs of the NBA rookie.