Boston Celtics:

Dirk Nowitzki
February, 9, 2014
Feb 9
1:11
AM ET
WALTHAM, Mass. -- Let's play everyone's favorite game: Whose Stat Line is it Anyway?
Player A
: 8.2 pts, 3.4 reb, 20.4 mpg, 40.5 FG%, 20.6 3PT%, 12.8 PER
Player B
: 6.5 pts, 4.3 reb, 18.1 mpg, 42.3 FG%, 30.8 3PT%, 12.3 PER
Hint: Both are rookie stat lines, 15 years apart. You have 30 seconds, good luck.
[Jeopardy theme music]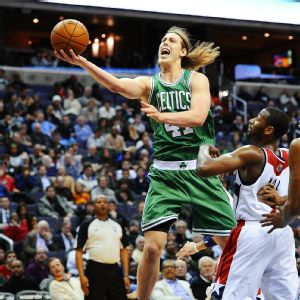 Brad Mills/USA TODAY SportsKelly Olynyk flashes great potential but must develop his game to earn more playing time.
Player A is Dirk Nowitzki's rookie line in 47 games for the Dallas Mavericks during the 1998-99 campaign. Player B is Kelly Olynyk's stat line through 41 games this season for the Boston Celtics.
Now, let's be explicitly clear here: We are NOT suggesting that Olynyk is going to be an 11-time All-Star or league and Finals MVP who spends his entire career in one jersey. But consider this exercise a friendly reminder that it takes a little time for every rookie to find his place in the NBA.
The jumping off point for this exercise is that Nowitzki and the Mavericks make their lone visit to TD Garden Sunday to meet the streaking Celtics. It's the first time that Olynyk gets to share the NBA floor with one of his NBA idols.
Yes, the flowing hair, the No. 41 jersey, the sweet-shooting stroke, Olynyk hasn't exactly run from that which inevitably leaves observers making the Nowitzki comparison. Olynyk is bashful when that chatter arises, saying he's humbled to even be mentioned in the same breath as a player with as decorated a career as Nowitzki.
Comparisons to the man Gerald Wallace calls the "German Assassin" aside, a breakout performance at the Orlando summer league set first-year expectations for Olynyk unfairly high. The impatient types worry the Canadian 7-footer won't reach his potential, despite simply enduring the typical ups and downs of the NBA rookie.
(
Read full story
)
June, 1, 2011
6/01/11
12:25
AM ET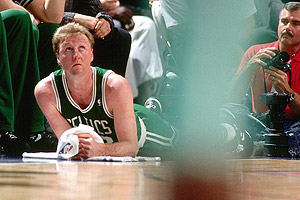 Nathaniel S. Butler/NBAE/Getty ImagesLarry Bird watches from the sideline in some of his final playing days with the Celtics.
After
all that hubbub
about whether it was fair to compare Mavericks forward
Dirk Nowitzki
to former Celtics forward Larry Bird, it turns out Larry Legend was
actually honored by it all
:
[Mavericks coach Rick] Carlisle has gone to great lengths during Nowitzki's playoff surge to dismiss longstanding and increasingly frequent comparisons between the two, noting that Nowitzki is nearly three inches taller and plays mostly as a power forward, while Bird operated as a small forward for the bulk of his career.

Bird, though, acknowledged in a phone conversation Tuesday before Game 1 of the Finals that he does see "a lot of similarities."

"He's had a great run (in the playoffs), but I've always been very impressed with him," Bird said. "His work ethic, his loyalty to his country. It's really an honor for me to have people compare us.

"He rebounds. He plays at his own pace. He sort of controls the tempo on offense. It'd be nice to be 7 foot and when they run plays and switch (defenders) on him, it doesn't bother him at all. He can see over everybody.

"He's got the step-backs. He gets to the rim. The difficulty of some of the shots that he makes ... one thing about him is that he's always got great balance. His shot looks like he's falling away, but he's got a lot of balance when the shot goes up.

"I understand (the comparisons). I've always felt it's an honor when they compare anyone to me, because I haven't played ball for 20 years."
Check out the
full article
for more from Bird, including the fact that you might be able to take him in a game of H-O-R-S-E nowadays.
May, 25, 2011
5/25/11
2:08
PM ET
First Take
debates whether it's fair
to compare Dirk Nowitzki and Larry Bird (and before your blood pressure approaches dangerous levels while waiting for the video to load, the overwhelming consensus is that, no, it's not a fair comparison).
February, 4, 2011
2/04/11
12:45
PM ET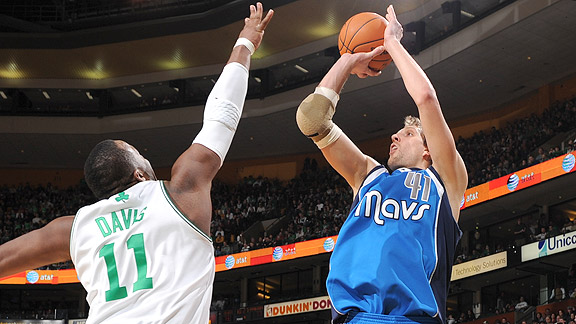 Brian Babineau/NBAE/Getty ImagesDirk Nowitzki shoots over Glen Davis last season.
Maybe it's a good thing
Dirk Nowitzki
only visits the TD Garden once per season.
According to Elias Sports Bureau, Nowitzki's career scoring average in Boston (
27.7 points in 11 career games
) is the fourth-highest all-time (minimum 10 games). The three names ahead of him don't even need first names: Jordan (32 points per game), Abdul-Jabbar (30.7) and Chamberlain (29.7). Needless to say, some lofty company.
Nowitzki may have produced his finest effort in Boston last season, erupting for 37 points on 14-of-22 shooting over 44 minutes in Dallas' 99-90 triumph. The Celtics have never held Nowitzki to less than 18 points in Boston (2002 and 2009) and six times he's finished with 30 points or more here.
What's more, Nowitzki, a career 47.5 percent shooter, is averaging 50.2 percent shooting in Boston (105 of 209 overall) over those 11 visits.
For the 2010-11 season, Nowitzki is averaging 23.2 points, 6.9 rebounds and 2.5 assists per game in 39 appearances. The Mavericks are 31-8 when playing with him, but a mere 2-7 when he was out. Celtics coach Doc Rivers didn't hesitate to attach the MVP to his name.
"[The Mavericks] were in a slump because Nowitzki was out," said Rivers. "It's as simple as that. When he's healthy, they play well.
"You can make a strong argument for him as MVP -- him and [Chicago's]
Derrick Rose
are probably the two frontrunners, and [Miami's] LeBron [James]. [Nowitzki is] having a heck of a year."
December, 21, 2010
12/21/10
11:25
PM ET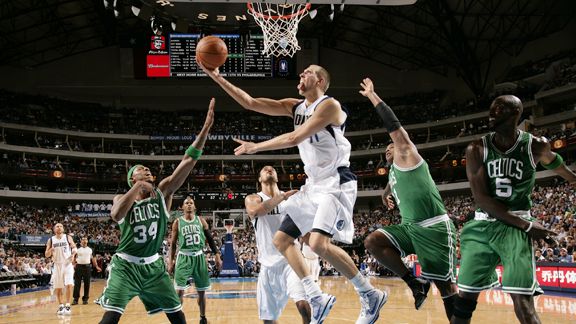 Danny Bollinger/NBAE/Getty ImagesDirk Nowitzki drives on Boston during November's meeting in Dallas.
Dallas Mavericks
forward
Dirk Nowitzki
passed
Boston Celtics
legend Larry Bird to move into 25th place on the NBA's all-time scoring list Tuesday against the
Orlando Magic
.
"I just got a text message from Larry right as the game ended saying to congratulate Dirk and that he's always been a huge fan. They've had a chance to spend some time together. I'm sure he's going to text Dirk and I'm sure that will be very meaningful for Dirk." -- Mavericks coach Rick Carlisle
Click
HERE
to read the full story.
March, 20, 2010
3/20/10
2:00
PM ET
Warning: Wallace coming for retribution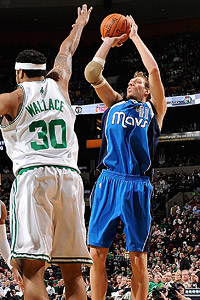 Brian Babineau/NBAE/Getty ImagesRound 2: Dirk Nowitzki vs. Rasheed Wallace.
That's the
headline this morning
at our sister site,
ESPN Dallas
, as
Rasheed Wallace
and the
Boston Celtics
prepare to visit the
Dallas Mavericks
Saturday evening at American Airlines Center. If you remember when the Mavericks visited Boston back in January, Wallace got himself in trouble with the league for criticizing officials after landing in foul trouble while guarding
Dirk Nowitzki
.
As part of his tirade against the officials -- which ended up
costing him $35,000
-- Wallace noted he'd seek "retribution" when the teams met again. It was pretty innocuous, actually, but when Wallace speaks, people tend to listen.
So, two months later, as the teams prepare to joust for the second and final time this season, there's a curiosity in Dallas about what Wallace meant by retribution.
But here's the thing: Wallace's focus needs to simply be on playing well. And, let's be honest, Wallace has been fined enough throughout his career that it's not like the $35,000 from January has lingered with him.
Coming off one of his more solid efforts of the past two months Friday in Houston, Wallace will undoubtedly be a key cog in helping to defend Nowitzki and the surging Mavericks. But Wallace is hardly the impact player he was when the teams first met.
Wallace posted his best month of the season in January, due in large part to the starts he drew in place of injured
Kevin Garnett
, averaging 13.1 points, 4.6 rebounds and 1.5 assists over 30.6 minutes per game that month. Since then it's been a steady decline, with Wallace averaging 7 points, 4.2 rebounds and 0.5 assists over 20.1 minutes in March.
Wallace has struggled with his shot -- both inside and out -- since then, but in Friday's win over the Rockets, he grabbed nine rebounds in 19 minutes, while scoring seven points. For a day, people won't be screaming for an uptick in minutes for little-used
Shelden Williams
.
But don't expect any "retribution" tonight. If anything, Wallace simply needs to use this rematch as added incentive to elevate his game further, especially with the playoffs inching near.
Wallace got in trouble when he noted back in January: "[The officials] don't like tough defense on [Nowitzki], so, of course, I get a whole lot of [expletive] calls. That's how the story goes, I'm not worried about it. We'll see them again."
The Mavericks made a late third-quarter run with Wallace on the bench with four fouls. Asked if he thought that was the difference in the game, a 99-90 Dallas victory, Wallace said, "Actually, I honestly can't remember which one the fourth foul was, there was so many bogus [calls], but I'm not worried about it. Like I said, we'll see them again. We go down there in about a month or so. There will be retribution."
PODCASTS
Bill Simmons, NBA
Play Podcast Grantland's Bill Simmons discusses the state of the Lakers, Phil Jackson's future, the perception of Rajon Rondo, Doc Rivers' impact on the Clippers and more.
John Farrell, Red Sox
Play Podcast Red Sox manager John Farrell talks about whether he expected his team to make such a turnaround in one season, his relationship with his players, fans' expectations for the squad and more.